June 16, 2006
---
VISIT WITH DOUG MARGERUM
We had the recent opportunity to visit with Doug Margerum, owner of the Wine Cask restaurants (Santa Barbara and Los Olivos) and the man behind the annual Santa Barbara Futures wine events. As if that weren't enough, Doug also makes his own wine. And, as if even that weren't enough, he makes wine for a few other people, as well - about 5,000 cases in total. Finally, he's a damn fine chef in his own right.
Somehow we really lucked out and Doug combined both of these talents into one visit - barrel tasting AND lunch! Doug makes his wines at two separate locations - for now, at least. The reds are made back behind Curtis winery on Foxen Cyn Rd., and the whites are made at Fred Brander's winery, a few miles away in Los Olivos.
First up was a trio of wines that will go into a high-end blend ($50) called "Ten Goal." Named after the perceived pinnacle of skills for a polo player, this wine will be under the Barrack label, the owners of Happy Canyon Vineyard.
2004 Barrack Happy Canyon Vineyard Merlot - thick on the palate, with nicely ripened black cherry, black raspberry and plum. Really chewy in the mid-palate, with a nice smooth finish.
2004 Happy Canyon Vineyard Cabernet Franc - lots of fruit throughout, with a nice herbed touch on the front end, and smooth long finish.
2004 Happy Canyon Vineyard Cabernet Sauvignon - whatever you think you've heard about SYV Cabs, forget it. This is nicely ripened (not the least bit overripe) cassis and dark cherry fruit, with a lovely balance and long finish.
2004 Happy Canyon Vineyard (blend of above wines) - Doug did a little 3-into-1 blend here, using the 40% Merlot, 20% Cab Franc and 40% Cab. Although I didn't pick up anything particularly spicy in either of the previous three wines, the spice really jumped out on this blend. Nice and meaty in mouthfeel, with great balance, terrific and a delicious clove scent to the dark fruit.
------------
2004 Happy Canyon Vineyard "Piocho" - loaded with spicy dark fruit and a waft of herbs, this mostly Cab Franc blend delivers a lot of flavorful fruit on the front end, mellowing out nicely through the long finish.
2005 Happy Canyon Vineyard "Chukker" - based on another polo term for period of play, this was an interesting "why did they do that" kind of wine. Well, the answer was: because Doug wanted to experiment a bit. This Nouveau-style Cab Franc is a fermented blend of whole berry and whole cluster fruit. No oak, the wine has an almost piercing purity of fruit in the nose, bright mouthfeel, chewy and very long finish.
2004 Margerum Vogelzang Syrah - this is one of the warmer vineyards in SYV, and this Syrah is a bit more ripe and tarry in style. Delicious rich flavors in the mouth, but also a bit monolithic, and in want of some higher and lower notes.
2004 Margerum Black Oak Syrah - from a young vnyd on Alisos Cyn in the Los Alamos area of SBC, this spicy and hi-toned wine has gobs of fruit, and a lot of chew at the mid-palate. Very nice!
2004 Margerum Alondra del los Prados Syrah - from a two acre vnyd in the SYV, this wine has rich, tarry and roasted flavors, excellent balance, and a delicious long finish. Seems very complete, with beautiful flavors over the whole bandwidth. Co-fermented with a small % of Viognier.
2004 Margerum Colson Syrah - from a vnyd in SMV, or more specifically - find Byron winery and just keep going on back into the canyon. Fascinating nose of light tar, roasted grains, with minerals galore. Very nice balance throughout. Terrific stuff!
2004 Margerum Purisima Mtn Syrah - from Steve Beckmen's vnyd on Ballard Cyn Rd, this is a nice rendition, with lots of big dark berry, huge mouthfeel, and superb balance.
From here, we stopped the Red show to go over to Brander and taste some of Doug's whites from barrel.
2005 Margerum Alisos Pinot Gris - juicy and mouthwatering, with nice stone fruit flavors, and beautiful balance.
2005 Margerum Westerly Sauvignon Blanc - tropical aromas and flavor, touch of mineral, very nice balance and crisp long finish.
2005 Margerum Purisima Mtn Sauvignon Blanc - light tropical aromas and flavors - slightly lighter than the Westerly, but more to the pink grapefruit rind, with lovely balance and finish.
2005 Margerum Vogelzang Sauvignon Blanc - round, more acids and crispness, great balance and finish. My fav of the three.
2005 Margerum Grenache Rose - meaty in scent and flavor, with a light floral quality, terrific balance and finish.
2005 Margerum Late Harvest Reisling - amazingly smooth throughout, with notes of pear and a bit of apricot.
2005 Margerum Very Late Harvest Sauvignon Blanc, Purisima Mtn - well, this was one dessert of a wine. Rich and sweet, and...well, what a delicious end to the tasting.
But wait...there's more!
From Brander, it was back to Doug's place on Foxen Cyn Rd for a little lunch. I figured sandwiches, but Doug had something else in mind. He fired up the BBQ, and out of the fridge comes this tri-tip. Then he set about making a salad, and a morel and white bean cassoulet! Now this is lunch!
Go over to the rack and pick out a bottle, Doug says. What about the Chave stuff, I asked, trying to casually mispronounce it. Sure...get the '01. Now, this wasn't going to be nearly ready to drink - Doug knew it, I knew it...hell, we all knew it. But, wine is for moments like these, and Doug knew that too.
Winegeeks, winemakers, and wine. We had a blast. Thanks a million for your time and generousity, Doug. Oh, and damn fine wines, too!

June 6, 2006
---
VISIT TO COLGIN
Okay, now this is probably going to sound like a shaggy-brag story, but it really happened, and I thought it was pretty cool, so I just wanted to share a few notes.
Jay Selman and I were in up in Napa Valley to cover the auction, and had some free time Thursday morning. Says I: "What do you think we should do this morning?" Says he: "Well, you want to go over to Colgin and taste some Aubert and Colgin?" "Duh! Let me find my keys!"
With a view of Lake Hennessey, the Colgin property sits nestled in some really magnificent surroundings. The presence of the Lake creates a significantly different diurnal flow, giving this area a wider range in temperatures than the valley floor.
The absolutely spotless winery is cleverly housed in a round building. Tank hatches peek through stainless grating arranged in a semi-circle on the top floor sorting room. Mark Aubert points out the sorting table, and ask us to imagine it like the hand of a clock, able to move effortlessly from one tank to another. On the lower level are specially built dual-jacketed Mueller SS tanks, each capable of running hot or cold glycol concurrently. What a beautiful facility. Did I mention that it was spotless?
After a look at the wine library and the Colgin cellar: "well, how about some wine, says Mark Aubert." "We're right behind you."
2002 Aubert Chardonnay – Quarry Vnyd, Sonoma County. (Hyde clone, from a steep south-facing vineyard (up to 40 degree slopes) that Mark planted while at Peter Michael. The '05 will be the last vintage of this bottling, as Peter Michael will be keeping the fruit.) The nose is a huge blast of juicy and lightly smoky pear and tropical notes (it got full ML), with touches of minerals, sweet lemon and toast. Very rich mouthfeel of pear, baked apple and tropical flavors, with perceptable minerality and excellent balance throughout, and very long seamless finish.
2004 Aubert Pinot Noir – UV Vnyd, Sonoma County. (Calera clone, from a small vineyard off Laguna Road next to Kistler. "UV" is a reference to vnyd owner Ulysses Valdez. Very sensuous and seductive nose of mixed dark fruits, with an intriguing spicy core, and underlying note of something lightly feral. Gorgeous mouthfeel, this is just filled with seamless fruit from beginning to end. Excellent balance, the juicy acids continue to trickle through the very long clove-infused fine-grained finish.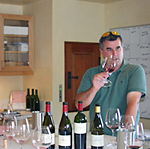 2004 Colgin Red Wine – IX Estate. Now in its 3rd vintage, this Bordeaux blend has progressed from about 85% Cabernet to the current 60% Cabernet, 22% Merlot, 13% Cabernet Franc, and 5% Petite Verdot. The "IX" represents the parcel number of the property. Nose of dark cherry, cassis, truffles, and clove, with an fascinating light gamey streak. Very dark, dense and juicy in mouthfeel, remarkably smooth textures and fine-grained tannins last through the very long finish. As soon as I put this into my mouth, I recall hearing a Borg voice in my head, "…spitting is futile; you will assimilate this wine." What a knockout!
2003 Colgin Syrah – IX Estate. Very dark in color, with a lovely nose of dried and fresh meats (Mark suggested charcuterie, which seemed quite apt), with lots of floral accents (I picked up gardenia and rose, Jay found lavender, and Allison thought violets). Very rich mouthfeel, lots of dark chewy fruit, beautiful textures, and again – excellent balance through the very long finish.
A definite quadruple "Wow!" visit.