---
VISITS - Napa Valley

Grape-Nutz finally got back out on the road with a few days up in Napa Valley. The idea was to keep the visits to three per day, in hopes of getting some nice photos of harvest and crush - which, as it turns out had started earlier this month for many vineyards due to early September heat spikes. In fact, I was more than a little worried that we would miss all the action. But, not to worry, we managed to get some harvesting at Dominus, some crushing at Larkmead and Anomoly, and there was still plenty of fruit hanging throughout the valley - mostly Cabernet.
Driving up Wednesday morning, we provisioned ourselves a bit in Napa, then headed for St. Helena to check-in. From here, it was a late afternoon appointment to visit Castello Amorosa, the Tuscan-style castle and winery built by Daryl Sattui, owner of V. Sattui. We were initially skeptical that this might be a Disneyesque, and seemingly unnecessary attraction to site in Napa Valley. Well, I guess you could say - it is and it isn't. It's not a "fake castle" by any stretch, with brick and stone being brought in from Europe, but one could still easily question it's relative value to the neighborhood. On the other hand, this is probably going to appeal to those with families who come visiting the area. And let's face it, aside from the Sterling cable car ride, nothing else hereabouts (well, maybe the Wine Train) has much family entertainment appeal.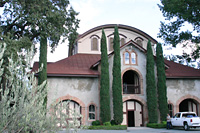 Thursday began with a visit to Larkmead. Since we were coming back on Friday for cover some crushing action, assistant winemaker Dan Petroski invited us to sample some barrels and bottles. Always a treat here. From Larkmead, we grabbed a little lunch and headed over to Revana. Not much going on here at the time either, and it sounded like we just missed catching winemaker Heidi Barrett. Of course we had to sample the current release Cab and their new project in Oregon's Willamette Valley, Alexana Pinot Grigio. Nice stuff. Departing Revana, we were off to visit with Peter Mondavi Jr. at Charles Krug winery. We wanted to see the restoration of the Carriage House and the Redwood Cellar, which both date from the early 1880s. Peter led us through both immense buildings, and it wasn't at all difficult to see how they had managed to spend $22M in the process.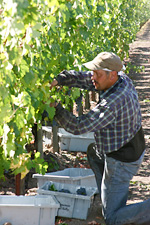 Friday began with a re-visit to Larkmead to watch their state-of-the-art equipment process some Malbec grapes. "It's not very pretty; it's kind of an ugly grape," commented one of the interns. hey, to us it action - verifiable proof that we were here at crush time. It was over to check out Anomoly next. This 10-yr old producer has been cranking out some really nice Cabs in a Valley noted for really nice Cabs. We could see they were processing some fruit, but our arrival was all Steve Goldfarb needed to take a break from his position on the sorting line. We walked around the vineyard to hear how it all began, and then dropped down into the barrel room to sample some of his wares. It was just as advertised - some really good Cab. From Anomoly, we grabbed a quick sandwich at Dean & Deluca and headed south for Dominus. I'd wangled a tour of the place primarily to photograph the building. I figured if we got to taste some Dominus in the process - we were up to the task. Well, not only did we get to taste, but on our arrival we were informed they were in the process of picking and asked if we'd like to shoot this as well. It was terrific timing, and we followed the crew members up 3-4 rows, marveling at their speed and efficency. Finally, we stopped to see if anything was happening at Paradigm, but were apparently too late catch any action.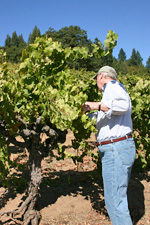 Saturday was going to be a bit more relaxed, with just two visits. We met Peter McCrea at Stony Hill winery, justifiably famous for its wonderful Chardonnay. The regime of no malolactic fermentation and cooperage of neutral oak creates a wine very suitable for aging. Peter treated us to some Gewurztraminer and Reisling as well. An excellent trio, and if you've not investigated the wines from this winery, you're really missing something.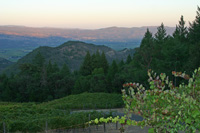 From here it was up to Lagier Meredith on Mt. Veeder. I'd been here a few times, but not since they built a house, planted a few more blocks, and included some Mondeuse Noire. 'Some what?' you're probably asking. Well, to save you the Wikipedia time, it's a red grape from the Savoy region of France, and is a bonified Rhône variety. Who knew. Well, obviously former Davis Professor Carole Meredith did. It's not a big block, but it certainly ought to be interesting to see what it becomes. We enjoyed Carole and Steve's hospitality into the evening, then headed back to camp.
Sunday it was time to head back to SoCal. But, we vowed to return again...and again...and again.
---
VISITS AND INTERVIEWS - Russian River Valley, Mendocino Co. & Sonoma Coast,

GrapeRadio was asked to so some more grower interviews for Williams Selyem Winery (see previous interviews), as a videolog for use on their website. Since this is always more of a privilege and a pleasure, rather than a task, we got started early each morning.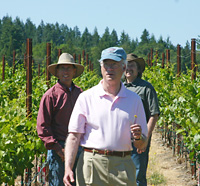 We joined our cinematographer Mark Ryan up in the Russian River Valley for the first round of interviews that actually took place back on June 4th, where we talked with Bob Cabral about the local Bucher Vineyard, then paid a vist to their new Litton Estate Vineyard - just down the road from the winery. (After years of making wine on the Allen property, they're constructing a new winery, cave and tasting room at the Litton Vineyard.) We were also able to spend some time with owner John Dyson, discussing past, present, and future plans for the winery and vineyards.
We then headed north to Anderson Valley to catch up to Kurt Schoeneman, owner of Ferrington Vineyard, and speak with both he and his vineyard manager Norman Kobler about the differences between growing Pinot here versus the RRV. We even got Kurt to take us a litle jaunt around the 70 acrea property.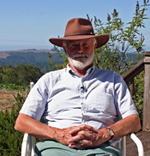 Then, I joined Mark up in the RRV on September 6th for a morning visit with David Cobbs at Coastlands Vineyard. Located out near Occidental on the 2nd or 3rd ridge in from the ocean, Coastlands sits about 800-1200 ft in altitude and has a commanding view of the Pacific (it's just 4 miles from Bodega Bay - 'as the crow flies'). This former marine biologist seemed to make a natural segue to winegrowing, and has 15 acres of Pommard, Martini, Wadenswil, and Mt. Eden clones planted here.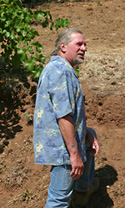 After a brief stop in Bodega Bay for fuel and sandwiches, we headed up to the Cazadero/Ft. Ross area to spend the afternoon with grower Donnie Schatzberg and his wife at their Precious Mountain Vineyard. The Schatzberg's were part of the 'back to nature' movement of the '70s, and have now been here long enough to have vines over 35 years old - which, as Donnie pointed out, bears scant resemblance to a nice fat valley vine of the same age. Dry farming is no doubt one of the main reasons for his vines' slenderness, and Donnie is proud to say he only gets about 1 ton/acre. When the Schatzberg's arrived, they found a mountain top overgrazed by sheep and completely denuded. It now abounds with pines, madrones, fruit and nut trees, and of course, grape vines -- all of which were planted entirely by hand. To look at all of this flora, you'd never suspect that all of this grew over the last 35 years. Amazing!
We certainly should get some nice video for Williams Selyem, as well as a couple of video podcasts for GrapeRadio.