I traveled with a few friends from the Bay Area to the Central Coast three weeks ago, timing our trip to coincide with the Santa Barbara Vintners' Festival weekend. I've done this for many years, although I've never actually gone to the festival itself, instead going to the many wonderful winery open houses over the weekend. A couple of my friends reserved a time-share condo in a new complex in Solvang - that was a great idea, a central location very close to most of the restaurants where we were planning to have dinner, and a much more relaxing place to stay than a motel.
There were some relatively unremarkable winery visits on this trip, so I'll just focus on the better ones here.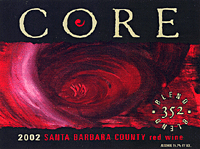 Core: After driving down from the Bay Area Thursday morning, we met Dave Corey at one of the cavernous Central Coast Wine Services (CCWS) buildings in Santa Maria, where he makes his wines. We tasted through lots of '05 barrels, just prior to blending - Grenache Blanc, Roussanne, Grenache (including the barrel of Grenache that's being offered in this year's Wine Cask futures program), Mourvedre, Tempranillo, Cabernet, different co-fermented varietals, reds on Roussanne lees....whew, we tasted through a ton of barrels! And we tasted some previews of upcoming fall releases of '04 Elevation Sensation, Hard Core, and "Mr. Moreved", plus some future releases (including "Cuvee Fletcher", which should be killer juice). All really interesting stuff - it's fascinating to barrel taste with Dave as he explains which barrels he plans to use in which blend, and what elements they'll add to the blend - upfront fruit, structure, mouthfeel, etc. I wish we could have participated in his blending "party" the following week....maybe one of these days. Dave continues to make some really nice blends, different from most other California Rhône style wines I've tasted.
Fess Parker: I had contacted Mikael Sigouin about tasting his Kaena wines. Since the last time I had visited him a year ago, Mikael had taken on the position of assistant winemaker at Fess Parker as part of a change in the winemaking team there, and he suggested that we also taste some of their wines during our visit. Conveniently, part of Fess Parker's winemaking facilities are now almost right next door to CCWS, so we drove the short distance to their building and met Mikael there. We also said hello to Larry Schaffer, who had also invited me to visit Fess Parker while I was in the area. From Mikael's talk with us and the barrel samples of several '05 wines, it seems like the winery is making an effort to upgrade the quality of their wines, particularly their higher-end wines. I was interested to taste some of their new efforts as I hadn't visited the winery in 4 or 5 years. We tasted several barrels of Ashley's Vineyard Pinot and a couple of Rodney's Vineyard Syrah - all quite promising. It will be interesting to follow Fess Parker's wines over the next few years - I think good things are in the works.
Kaena: Mikael proceeded over to his own small group of barrels in the large Fess Parker facility. We tasted through about a half-dozen very good '05 Grenache and Syrah samples - I thought the Larner Grenache in particular stood out among these. Some blended '04s were delicious - we had tasted the individual components of these a year ago and Mikael has done a great job blending them. Wish I could remember more specifics but after all the barrels we'd sampled that afternoon my memory was obviously getting fuzzy by that time! All in all, Mikael is producing some really nice Rhône style wines, and Kaena is a label to watch.
Blair Fox: Blair, who became the head winemaker at Fess Parker about a year ago, joined us after we'd finished tasting the Kaena wines, and he pulled a few barrel samples from his own small label, Blair Fox Cellars. We tasted some Syrahs which were very nice. If I remember correctly, at least one sample was from the Paradise Road Vineyard, a warmer-climate vineyard compared to most in the County - it's located near Lake Cachuma. I recall tasting one or two other wines from this vineyard over the weekend - it's quite distinctive in comparison to most Santa Barbara County wines grown in more cool locations.
Thursday dinner was at the Ballard Inn - this is the best restaurant I've been to in Santa Barbara wine country, and we were treated to another excellent dinner there from Chef Budi Kazali. In my view, the Ballard Inn and Hitching Post are the two "must" restaurant visits in the area.
Melville: We stopped at Melville on the day they were releasing their '05 Clone 76 Inox Chardonnay - consistently one of my favorites. The new release did not disappoint. Other highlights were the '04 Estate Pinot Noir and '04 Carrie's Pinot Noir. They were sold out of the '05 Estate Viognier - we tasted the '05 Verna's Viognier, which was nice but not as good as I recalled their '04 Estate was.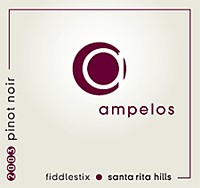 Ampelos: Almost right next door to the Loring/Cargasacchi/AP Vin/Pali "Pinot Prison" at the northwest edge of Lompoc is another small group of industrial buildings, where Ampelos and Ken Brown wineries have recently moved in. As Ken Brown was busy washing wineglasses when we arrived, we started out tasting the Ampelos wines. Peter Work was pouring a Rosé and several reds. The Syrah Rosé was very nice, but several of the reds were even better - the '03 Fiddlestix Vineyard Pinot and '03 Evans Ranch Syrah were my favorites. After I asked Peter about his '04 Estate Pinot, as I'd tasted it at World of Pinot Noir in March, and he brought out a sample - it's not yet ready for release. I think this wine will be exceptional, and their vineyard could become one of the top ones in the SRH area. Several people in my group signed up to buy the Estate Pinot when it's released later this year.
Ken Brown: By the time we finished tasting the Ampelos wines, Ken Brown was back behind his small table. Ken is one of the true Pinot pioneers of Santa Barbara County - he founded Byron Winery in the '80s. He was pouring several '04 Pinots and '03 Syrahs. Very good wines across the board, with my favorites being the Santa Barbara County Pinot (actually preferred this to their SRH Pinot), Clos Pepe Vineyard Pinot, and Bien Nacido Syrah. We didn't taste Ken's Rosé until later that weekend - at the Ballard Inn tasting room - but it was excellent.
Foxen: We managed to get to Foxen when it was not too crowded (a difficult feat, especially since "Sideways"). Mariana, the tasting room manager, and her entertaining terrier Mabel are always fun to visit with. As usual, Foxen's wines were very good - I thought the standouts were the Chenin Blanc and the Cuvee Jean Marie Rhône blend.
Ovene: We headed to CCWS again to taste with Paul Lato. He was running late, and as we were wandering around one of the huge CCWS buildings, someone came up and asked who we were looking for, and when he found out we were waiting for Paul, he offered to have us taste some of his own wines. It turned out that we had met Jeff White of Ovene Winery, a relatively small and new producer making Syrah, Cabernet, some whites, and a killer dessert wine. Unfortunately this was another fuzzy memory period for me and I'm short on specifics - I need to start taking notes!
Paul Lato: After finishing our visit with Jeff White, we followed Paul the very short distance to his own barrels. For those of you who don't know his wines, Paul makes tiny amounts of exquisitely crafted Pinot and Syrah - fewer than 10 barrels in all, two different Pinots & two Syrahs. His wines combine impressive concentration and intensity of fruit with an elegance and restraint that seems unusual in California. He's not shy with new oak, but his wines stand up to it with ease. His '05 barrels include Pinots from Gold Coast and Solomon Hills Vineyards, and Syrahs from Larner and Bien Nacido. All were top-notch, the highlight being one barrel of Bien Nacido Syrah that reminded me of SQN (though I've only tasted a couple of those) - and it turns out that Paul's block in the vineyard is right next to the SQN block. He's totally uncompromising in his approach to winemaking, and I think as his wines become better-known he's going to make a big splash.
We tried out someplace new to us for dinner on Friday - A-Ru in Buellton. John Tomasso had recommended it very highly, and we were not disappointed. Very good sushi, extremely fresh and well-prepared. We even brought a bottle of Japanese wine to dinner - a white from the Koshu grape, made by Grace Winery. We weren't quite sure what to expect, but it turned out to be a very pleasant wine that went quite well with the sushi.
Babcock: First stop on Saturday morning was at the Babcock open house. We tasted their current regular releases, which were nice but unexceptional. We then went on to a special tasting of their limited "Terrior Exclusives" - I thought the best were the Cargasacchi Pinot Noir, Hearthstone Syrah, and Vogelzang Cabernet. Finally, there was a vertical of their "Fathom" Bordeaux-style blend, vintages from '97 to '03. Interestingly, of all of them, the '97 and '03 were my two favorites.
Alma Rosa: For those of you who don't know, Alma Rosa is the new winery started by Richard Sanford. Chris Burroughs, formerly the tasting room manager at Sanford Winery, followed Richard to his new venture, and he was pouring at "Camp Alma Rosa" - a very clever setup of the inside of their small industrial park space made to look like the inside of a miner's tent. Alma Rosa featured a Pinot Grigio, Chardonnay, Sta. Rita Hills Pinot, and "La Encantada" Pinot (basically their reserve bottling). The Pinots are from Richard Sanford's own organically-farmed vineyard. They were all very good, especially the Chardonnay (which Chris accurately described as a Chardonnay for people who don't like California Chardonnay) and the "La Encantada" Pinot.
Andrew Murray: Now in their new location, not far from the Firestone Winery - unfortunately it's not nearly as scenic as the old spot, but that would have been a lot to ask. Andrew and his family were pouring a bunch of new releases - my favorites were the '05 Viognier (I think the Viognier has probably been their most consistently good wine in recent years), '04 Estate Syrah, '04 Bien Nacido Syrah.
Carina / Tensley: Visited the tasting room just off the main street of Los Olivos. We started on the Carina side of the room. The Tierra Alta Grenache and the "7%" (Colson Canyon Syrah with 7% Viognier) were my favorites there. The Tensley wines were all outstanding, starting with the '04 Blanc, a blend of Grenache Blanc and Roussanne from Camp 4 Vineyard. Three '04 Syrahs followed, from Tierra Alta, Thompson, and Colson Canyon Vineyards. The Tierra Alta was my favorite by a hair over the Colson Canyon. All three were delicious and showed their distinctive vineyard character.
Waltzing Bear: We walked the hundred feet or so down the street from Tensley to the Wine Country wine shop. Dave Corey and Brad Lowman were there pouring their wines that afternoon. Since we'd tasted with Dave a couple of days earlier, we spent most of our time tasting Brad's Waltzing Bear Pinots. Brad was pouring all five Pinots he's released to date, starting with his '02 Cargasacchi Jalama Vineyard, and proceeding to four '03s - Cargasacchi Jalama, Rancho Ontiveros, Solomon Hills, and Garys'. All very nice wines, with the Rancho Ontiveros being my slight favorite over the Cargasacchi Jalama (although a couple of others in my group preferred the Garys'). Brad's making some very good Pinots, yet another up-and-coming label to watch.
Saturday dinner was at a long-time favorite in the area, Thai Cuisine in Lompoc. Love their green papaya salad! We've found on previous visits that Curran Grenache Blanc is a terrific match with their food.
Cambria: We stopped in before heading over to the big ABC/Qupé open house on Sunday morning. They were pouring a nice lineup of wines, including a few that I found especially interesting - some limited single-clone wines. These included an '02 Clone 667 Pinot and '02 Clone 23 Pinot, and '01 Clone 877 Syrah. Interesting program to bottle these single clones separately, and although they were all good wines, I had the feeling that some blending might well have improved them.
Au Bon Climat/Qupé: Always one of the highlights of Vintners' Festival weekend, the ABC/ Qupé open house is a great party. With a terrific lunch catered by American Flatbread in Los Alamos, there are loads of wines to taste from ABC, Qupé, and their related labels. My only criticism of the tasting was that I felt the whites were served too cold - I had a hard time getting much of an aroma from most of them. Favorites included the ABC '05 Pinot Blanc / Pinot Gris and '03 Knox Alexander Pinot Noir, Cold Heaven '05 Le Bon Climat Vineyard Viognier, Verdad '05 Albarino, Qupé '04 Purisma Mountain Grenache, '04 Stolpman Vineyard Syrah, '03 Alisos Vineyard Syrah. Also, the Qupé '01 Bien Nacido Hillside Syrah library wine that was being poured was fantastic. Funny story - a guy comes up to one of my friends during the open house and asks where the Qupé Syrahs were being poured (and the guy pronounced the winery name as "Kee-oop"). My friend points out where they were, and the guy then turns around and takes off in the opposite direction!
Flying Goat: Several wineries were holding open houses on Sunday afternoon at the Lompoc "Wine Ghetto" on the east edge of town, so we headed out that way. We started out at Flying Goat, where Norm Yates was pouring his Pinots. He actually started us out with a teaser - a sample of some '05 sparkling wine (from Pinot, of course) that's not yet ready for release. It was delicious, and was quite a hit with everyone there. We moved on to the '04 Pinots, and found that Norm has done separate clonal bottlings for his Rio Vista Pinot - a Clone 2A and a Dijon Clone bottling. I preferred the Clone 2A, and in fact that one and the Rancho Santa Rosa Pinot were my two favorites of all the Pinots. All the Flying Goat wines were very tasty.
Fiddlehead: Our group met up with John Tomasso at Fiddlehead, in the next group of industrial buildings in the "Wine Ghetto". "Fiddlechix" Kathy Joseph and Karen Steinwachs were there, pouring three Sauvignon Blancs (my favorites were the '04 Happy Canyon and '03 Gooseberry, both non-ML) the '05 Pink Fiddle Rose, and several Pinots - favorites were the '00 Elton, from Willamette Valley, and the '02 Fiddlestix Lalapalooza.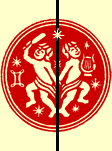 Palmina: The last stop in the "Wine Ghetto" as at Palmina, where Chrystal Clifton was pouring seven of their Italian varietal wines (Steve Clifton stopped by for a brief appearance). Three '05 whites - Traminer, Pinot Grigio, and Tocai Friulano - were all from the recently-planted Honea Vineyard in Santa Ynez Valley, the first crop from this vineyard. All three were very good, with the Tocai Friulano being my favorite. A Rosato and three reds followed - the '04 "Alisos" blend of 75% Sangiovese / 25% Merlot is always very nice. The '04 "Undici" Sangiovese and '03 Nebbiolo really seemed very young and a bit tough to judge at this point.
Ballard Inn Tasting Room: Before heading back to Solvang, we made a slight detour to the Ballard Inn tasting room, where Barry Rossum was manning the small tasting bar. The wine line-up is always very good - usually including Arcadian, Curran, Kenneth-Crawford, Palmina, and Carhartt. This time Barry also was pouring Ken Brown and Lane Tanner. Lots of good wines, my favorites being the Ken Brown Rose and Kenneth-Crawford Larner Grenache.
Can't visit Santa Barbara County wine country without dinner at the Hitching Post. We met up there with John Tomasso, Peter Cargasacchi, and Dave & Becky Corey (with baby Fletcher Corey too!). The food, wine, and company were all outstanding!
We headed back to the Bay Area on Monday, and stopped for lunch in Paso Robles, where we were joined by Raquel Rodriguez of Hug Cellars (unfortunately Augie was out of town). Raquel recommended a relatively new Italian restaurant, Gaetano. The lunch there was delicious, and I'll have to remember this place and give it a try for dinner sometime.
As always, thanks to everyone my friends and I visited for being so generous with their time and their wine!