Lodi - July 2013
Since 2006, I've been making a barrel or two of wine with friends that we split among ourselves. This year we're making Petit Verdot from a small vineyard in Lodi that I've visited and written about before. Three of us got together in mid-July to visit the vineyard and check out the progress of the fruit. As a bonus, we took a look there at some Marzemino – quite possibly the only planting in California of that obscure grape variety – that Bryan Harrington of Harrington Wines (where I work part-time) was due to get this year.
Alan, Russell, and I met at the Rockridge BART station parking lot in Oakland, and I took over the driving from there. We headed out through Walnut Creek and Concord before crossing the San Joaquin River at the Antioch Bridge and continuing into the California Delta. There, the Sacramento and San Joaquin Rivers and some of their tributaries form a huge maze of meandering sloughs, man-made channels, and islands bordered by earthen levees. After driving along a curving levee road, we turned east, soon passing through rich farmland that's actually below sea level, kept dry by the levees. Reaching Lodi, we skirted the southern edge of the city and made our way to Hux Vineyard.
We found the driveway leading to Hux Vineyard and parked in the shade of a large tree, knowing that the day's weather forecast was for temperatures in the area to reach 100 degrees. A group of us had visited here with Dave & Barb Huecksteadt in April 2008. Sadly, Dave passed away in 2010, but Barb has continued his work with both the vineyard and with making wines under the Hux label. Just a moment after we parked and got out of the car, Barb (and her two friendly dogs) came over to greet us. In addition to taking care of her two children, pets, vineyard, and winery, Barb works for the San Joaquin County Office of the Agricultural Commissioner – she's got a full plate!
Tasting Notes: Upcoming Releases

Hux 2012 "Dave's Aria," Lodi (tank sample). 100% Marzemino. Dark color, very floral aromatics, along with red fruits, spice, and a big herb component. Medium-full bodied with a lively texture, firm tannins, and a long finish – highly distinctive and very nice.
Hux 2011 Petit Verdot, Lodi (tank sample). 100% Petit Verdot. Very dark color, this was a bit closed at first but opened up with some air to display black fruits, a touch of earth, and lots of spice. Medium-full bodied with good acidity, finishing with more moderate tannins than most Petit Verdot.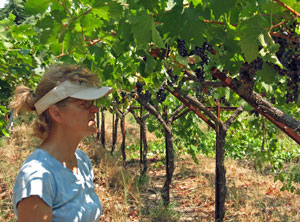 The 3½-acre Hux Vineyard is located in the Mokelumne River AVA – the central and best-known part of the overall Lodi appellation. The vineyard site features sandy loam soil and the region's characteristic cooling afternoon breezes that temper the hot summer days and significantly lower the night-time temperatures. The warm climate and generally dry growing season lead to less risk of mold and related problems with the fruit than in many coastal areas. Dave originally planted the vineyard around 2000, and it is now home to a variety of grape varieties, including Grenache Blanc, Roussanne, Zinfandel, Petite Sirah, Mourvèdre, Petit Verdot, Graciano, Souzão, Aglianico, Teroldego, and Marzemino. Barb has been making a small amount of Hux wine but also sells fruit to other producers and to home winemakers. She had mentioned Lodi's Jeremy Wine Company as one buyer of her fruit, and in fact their Tempranillo was picked immediately after our Petit Verdot and Marzemino in September.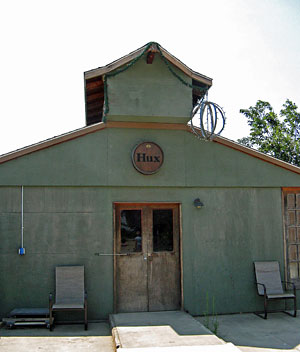 A quick note on Marzemino, since it's such a little-known grape variety. Indications are that it originated in Italy, probably in the northeastern part, and the first known mention of it dates from the 15th Century. The wine's brief moment of fame came from a line in Mozart's opera Don Giovanni – just before being sent to hell, the title character exclaims "Versa il vino! Eccellente Marzemino!" (Pour the wine! Excellent Marzemino!). These days there is not much Marzemino grown even in Italy, with most of the plantings in the Trentino region. Research has shown that the variety is the offspring of Teroldego and the sibling of Lagrein, a likely parent of Refosco, and part of the larger Pinot family. Since Marzemino is not yet a recognized variety by the TTB, it cannot be labeled by the varietal name in the US, so Barb has labeled her Hux Marzemino as "Dave's Aria" – a tribute to Dave's vision in planting the grape as well as a clever reference to the mention in Mozart's opera.
Barb thought it would be a good idea to take a look at the vineyard right away, before the morning started to heat up too much, so we walked over to the Marzemino vines. As we passed along the vine rows, I noticed a distinction of the vineyard that I remembered from my previous visit – the unusually tall quadrilateral trellising system for the vines. Besides aiding in the air flow through the vine canopies, this makes it very easy to walk below the high trellis wires from one row to the next throughout the vineyard – quite a practical feature!
The Marzemino grape clusters were large, and still going through veraison (changing color) during our mid-July visit. Barb told us that the Marzemino fruit is generally one of the last picked at her vineyard, usually in later October and sometimes in November, but it finished veraison soon after our visit and ripened considerably earlier this year. The nearby Petit Verdot clusters had smaller berries that looked to be nearly finished with veraison. After we'd checked out those two varieties, Barb led us on a tour through the rest of her vineyard. It was notable how carefully she had been tending the vines to produce high quality fruit, keeping the crop load lower than I've seen at a number of other Lodi vineyards over the years. And as is important at a vineyard in a warmer site such as this, the fruit zone was well-protected by the leafy vine canopy from too much sun.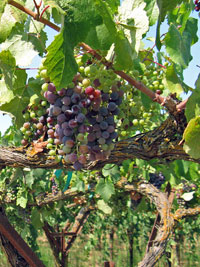 Marzemino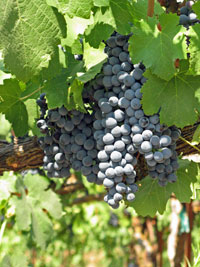 Petit Verdot
Speaking of too much sun, we were starting to get that ourselves as the late-morning temperature was going up quickly. So we followed Barb into her small winery space next to the vineyard to taste a couple of her wines that are currently in tank – very small tanks since there's not that much wine! We sampled both the "Dave's Aria" Marzemino and the Petit Verdot, and the Marzemino was a particular standout – flowers, herbs, spices, and red fruits combined with a rich texture, very unusual and distinctive. Barb has been making a number of other wines from her fruit, including Roussanne, Mourvèdre, Tempranillo, Graciano, and Souzão.
We walked back to the car and said goodbye to Barb. With all the other work she's doing, she may step back from winemaking, at least for awhile. But she's continuing to do a fine job with growing some interesting and different grape varieties at Hux Vineyard. Less than two months after our July visit, I returned to the vineyard with Bryan Harrington before dawn to help with the Marzemino and Petit Verdot pick – now fermented and pressed, the wines will rest for awhile in barrel.
We decided to make another stop before lunch, and I suggested St. Amant Winery, another place I'd visited in April 2008. I've continued to take note of their wines since then, especially at the annual tastings of the Tempranillo Advocates, Producers, and Amigos Society (TAPAS) for wines made from Iberian grape varieties. These wines are a key part of the St. Amant production, but far from the only part.
Tasting Notes: Current Releases

St. Amant 2011 Barbera, "Tools of the Trade," Lodi. Sourced from a 40-year old vineyard. Medium color, this showed cherry, smoke, spice, and sweet oak aromas. Medium weight on the palate, with lots of characteristic Barbera juicy acidity, and finishing with fairly mild tannins.

St. Amant 2011 Syrah, "The Curmudgeon," Amador County. Blended with a little Tempranillo and Souzão. Medium purple color, with plum and black pepper on the nose, along with undertones of spice and vanilla/oak. Medium-bodied and lively, with a moderately tannic finish.

St. Amant 2011 Souzão, Amador County. Blended with a little Tempranillo, made mostly in neutral oak. Medium-dark color, displaying aromas of bright raspberry and plum fruit, dried herb/tobacco, black pepper, and earth. Medium-full bodied and structured, with lively acidity and a lingering finish with moderate tannins, nice.

St. Amant 2012 Zinfandel, "Old Vine," Mohr-Fry Ranch, Lodi. Sourced from head-trained vines planted in 1944. Medium color, bright plum and blueberry, smoke, spice, and a dash of sweet oak. Medium-bodied with a bright mouthfeel and a firmly tannic finish – could use more time in the bottle to smooth out a bit, but it's already delicious.

The Bootleg Society 2011 "Speakeasy Red," Lodi. The 2011 vintage includes about 60% Zin from Marian's Vineyard, planted in 1901, plus Barbera, Tempranillo, Souzão, and a "secret." Dark color, showing more upfront vanilla/oak than the previous wines, along with dark berry fruit and lots of spice. Rich mouthfeel, with grippy tannins on the finish.

St. Amant 2010 Tempranillo, "The Road Less Traveled," Amador County. Medium-dark purple, this featured black fruits, a big tobacco component, earth, spice, and vanilla aromas. Big and structured on the palate, finishing with firm, chewy tannins that still need time to settle down.

St. Amant 2011 "Bootleg Port," Amador County. Made from five Portuguese grape varieties – Bastardo, Souzão, Tinto Roriz (Tempranillo), Touriga Nacional, and Touriga Franca. Medium-dark color, with ripe plummy and grapey notes, along with spice, pepper, and touches of chocolate and oak. Moderately sweet with a long, smooth finish.

St. Amant NV Tawny Port, "Lot No. 6," Amador County. From 100% Bastardo grapes harvested in the 2003, 2004, and 2005 vintages, aged in neutral oak. Medium-light brick-garnet color, displaying ripe plummy fruit, caramel, baking spices, and brown sugar on the nose, along with a nutty element. Rich but lively mouthfeel, with medium sweetness and firm tannins on the lingering finish, nice.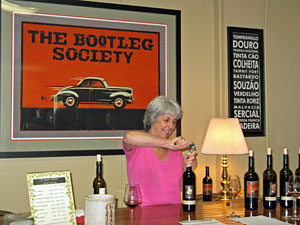 We arrived at St. Amant shortly after noon. The winery and tasting room are located in a small portion of the enormous old Guild Wines building on the east side of Lodi. This had been the blending, aging, and bottling plant for a group of co-operative producers called the Wine Growers Guild. In the mid-20th Century, Guild Wines was one of the largest wine brands in the country.
St. Amant was founded by Tim and Barbara Spencer, and the winery name comes from Barbara's maiden name. The Spencers had planted a vineyard in 1972 on their property in the Jackson Valley area of Amador County, about 30 miles northeast of Lodi. This was originally planted to Zinfandel and Sauvignon Blanc, which they sold to local wineries. In 1979 they grafted two acres of their Zin vines over to five Portuguese grape varieties – Touriga, Tinta Cão, Alvarelhão, Bastardo, and Souzão. Their first wine was a traditional Port made from this fruit in 1981, and St. Amant continues to make fine Port-style wines. The Spencers moved their winery from Amador County to Lodi in 1996, though much of their fruit is still sourced from their Amador vineyard, which was replanted in the 1990s due to phylloxera. They also buy Zinfandel and Barbera fruit from Lodi. Tim Spencer passed away in 2006, and the winery is now run by Barbara and their son Stuart. Stuart is a busy guy – he also works with the Lodi-Woodbridge Winegrape Commission and he's the current TAPAS President as well.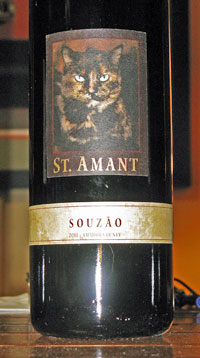 I'd tasted with Stuart during my 2008 visit to St. Amant, but he was out of town this time, and Barbara was behind the small tasting counter. Another group was already there but Barbara welcomed us and made sure we all had plenty of room to taste. I tasted eight current releases, passing on a couple that I'd tasted recently – the "Miss Independent" Verdelho and "The Old Soldier" Touriga, both of which come from the Spencers' Amador vineyard. Of those two, I particularly liked the lightly floral stone fruit aromas and crisp finish of the Verdelho. We tasted one wine that was specially created for the St. Amant wine club – The Bootleg Society "Speakeasy Red," a robust red. As we tasted the Zinfandel, Barbara told us that the 2012 Mohr-Fry Ranch bottling she poured for us had just been released. The St. Amant Mohr-Fry Zin is sourced from vines planted in 1944, while their Marian's Vineyard Zin (the most recent bottling was sold out) comes from a block of Mohr-Fry Ranch that dates to 1901. The Spencers added some Cabernet Sauvignon to their Amador vineyard in 2012, so we may see a St. Amant Cab in the future.
St. Amant's red wines are typically fermented in both open- and closed-top stainless steel tanks, and aged in both French and American oak. Ports are all made in neutral oak. Their most distinctive Port – the non-vintage Tawny made entirely from Bastardo grapes (a variety known as Trousseau in France) – goes into older barrels and is never topped or racked. We finished our tasting with two St. Amant Ports made from traditional Portuguese grape varieties, and both were very good. We stayed for awhile talking with Barbara after we'd finished tasting – she's a great source of information on the Lodi area and its wines.
As I've found over the years, St. Amant's wines tend to be more restrained than those from some other Lodi wineries, featuring fine balance and lacking the noticeable sweetness that is present in many wines from the area. The Verdelho, Souzão, Mohr-Fry Zinfandel, and Tawny Port were all standouts but the rest of the wine line-up was not far behind. Barbara and Stuart continue to do a fine job on these wines, and St. Amant remains one of the best Lodi wineries I've found.
By the time we left St. Amant, we were pretty hungry – and thirsty too – so lunch at Lodi Beer Company sounded like a good idea. Located on School Street in the quaint downtown area of Lodi, the food is nothing all that memorable, but it's solid pub-style fare and reasonably-priced, and the cold red ale I enjoyed that's brewed on-site certainly hit the spot on that hot day.
After lunch, we thought we would head to a couple of local wineries I had not visited before. We drove a few miles north from central Lodi to the small town of Acampo, where our destination was the tasting room of Dancing Coyote Wines. I had first run across their wines at one of the TAPAS tasting events a few years ago – they specialize in various lighter white wines and I've enjoyed many of the ones I've tasted in the past.
Tasting Notes: Current Releases

Dancing Coyote 2011 Albariño, Estate, Clarksburg. Very light straw color, featuring stone fruit and apple aromas, fresh herbs, and a lemonpeel note. Medium-light weight on the palate with a lively texture and finish.

Dancing Coyote 2011 Grüner Veltliner, Estate, Clarksburg. Very light color, this showed white peach, herbs, and a spicy note on the nose. Medium-light bodied, this had a bright mouthfeel and crisp finish, quite nice and distinctive.

Dancing Coyote 2011 Verdelho, Estate, Clarksburg. Very light color, this was riper and more fruit-forward, with nectarine and a touch of tropical fruit, along with hints of spice. Slightly richer mouthfeel than the first two wines, with a smooth finish.

Dancing Coyote 2011 Pinot Grigio, Estate, Clarksburg. Light straw color, this showed a distinct floral character along with pear, apple, and herbs. Bright acidity along with a fairly round mouthfeel and long finish, nice.

Dancing Coyote 2012 Chenin Blanc, Estate, Clarksburg. Off-dry, about 1.0 residual sugar. Very light color, displaying apple, fig, and a touch of orangepeel on the nose. Medium-bodied with a smooth texture and finish.

Dancing Coyote 2011 Gewürztraminer, Estate, Clarksburg. Off-dry, about 1.5 residual sugar. Very light straw color, this had bright floral aromas along with intense lychee fruit and a touch of spice. Medium weight and round on the palate, with a slightly sweet finish, nice rendition of this style of Gewürz.

Dancing Coyote 2011 Rosé of Pinot Noir, Estate, Clarksburg. Very light pink, with strawberry and herb notes. Lively and refreshing, with just a touch of sweetness on the finish.

Dancing Coyote 2011 Moscato, Estate, Clarksburg. About 6.0 residual sugar. Very light color, featuring characteristic floral, perfumey Muscat aromas, along with an orangepeel note. Round mouthfeel with less apparent acidity than the previous whites, and a noticeably sweet finish.

Dancing Coyote 2011 Pinot Noir, Estate, Clarksburg. Light ruby color, showing raspberry and spice on the nose. Lighter-bodied with good acidity and milder tannins.

Dancing Coyote 2010 Petite Sirah, Clarksburg. Made from purchased fruit. Medium-dark purple, dark berry fruits, black pepper, baking spices, and touches of flowers and vanilla/oak. Medium-bodied with a lively texture and moderate tannins, nice.

Dancing Coyote 2010 Tempranillo, Sierra Foothills. Medium-dark color, with tobacco/dried herb, spice, earth, and plum aromas. Bigger and more structured on the palate, with fairly grippy tannins on the finish.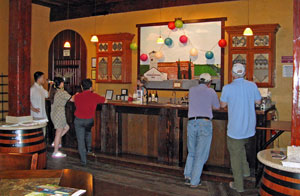 We had a little difficulty finding the tasting room at first – it's located among a cluster of large, industrial-looking buildings. We spotted some signs and a doorway that looked like the tasting room entry, but the sign by the door was for McCormack-Williamson Winery. But it turned out we were in the right place, as Dancing Coyote is the label of McCormack-Williamson, a farming operation that's nearly 100 years old. McCormack Ranch itself was established in the 1890s and is now a fifth-generation family business. Located in the Delta area, the ranch grows wheat and barley, and they raise grass-fed sheep and goats there as well. Since 1998, the family has also been farming over 600 acres of winegrapes in the Clarksburg AVA just west of the Sacramento River about 30 miles northwest of Lodi, and they launched Dancing Coyote Wines in 2001. Tom and Celia McCormack run the winery, and Chad Joseph is the winemaker.
The Clarksburg area is in the northern part of the Delta region, and it tends to be a bit cooler than Lodi. The first modern winegrape plantings there were made by the Bogle family in the late 1960s. Though there has been some recent recognition for Clarksburg wines – Chenin Blanc in particular, but also other whites and Petite Sirah – the region is still not widely-known. The issue is similar to what Lodi has struggled with over the years – more than 40,000 tons of grapes are harvested each year in Clarksburg, but about 90% of that total goes into wines made outside the appellation, and a good deal of fruit ends up in broader "California" blends.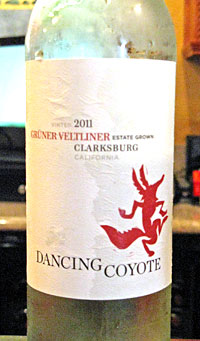 We were greeted in the tasting room by Bridget, who was behind the long, rustic wooden bar. The Dancing Coyote name refers to coyotes that are supposed to get into the vineyards at night and chew on the irrigation lines before dancing and howling in the moonlight…at least that's the winery's version of the story! Just as interesting is the true story of the building in Acampo that houses the winery and tasting room. It was originally built as a granary in 1868, and was converted in the early 1900s to a winery, which became known for Port and brandy – mainstays of the Lodi wine region for many years. Bridget told us that this had been the Acampo Winery, which Cesare Mondavi had acquired and run in the 1930s. The facility had continued to be a winery since that time, and the McCormacks purchased it in 1998. The Dancing Coyote wines have been made there since the start, and the tasting room has been open for about four years.
As mentioned earlier, Dancing Coyote focuses mostly on lighter, aromatic white wines that seem to do so well in the Clarksburg region. In recent years they've added Pinot Noir to their line-up – as with nearly all of their wines, this is made from estate-grown fruit. I'd never tasted a Pinot from Clarksburg before, and although it was certainly nothing profound, it was a light and pleasant rendition of the variety, one I could see being served slightly chilled. All of the whites are cold-fermented and aged entirely in stainless steel, with no malolactic fermentation. They remain in contact with the light lees in tank to gain some added complexity and texture. All of the wines are bottled under screwcap. The emphasis is on a fresh style that highlights the delicate aromatics of the different varieties, and nearly all the wines are made dry, with very little residual sugar. Alcohols for the whites and the Pinot are in the 13-13.5% range (the Chenin Blanc is even less), and even the Petite Sirah is under 14%. The sweet Moscato weighs in at only 7.5%. The wines are very good values to boot, with the whites all going for $12 and the reds just $14.
Dancing Coyote makes good use of their Clarksburg fruit to produce bright and pleasant wines, particularly their many white varieties. The Grüner Veltliner, Pinot Grigio, Gewürztraminer, and Petite Sirah were my favorites of the wines we tasted. You'd have to look hard to find better values for crisp and aromatic white wines from California than those of Dancing Coyote.
I figured it would make sense for us to head west from Dancing Coyote, to shorten the drive a bit on our way back to Berkeley. Since I've been interested for a few years in wines made from Spanish and Portuguese grape varieties in California and Lodi has been one of the leading areas for these wines, I thought a visit to St. Jorge Winery might be interesting – I'd noted before our trip that Portuguese varieties were their specialty. Located a couple of miles northwest of Acampo near the Mokelumne River, the St. Jorge facility is housed in a couple of brightly-colored Mediterranean-style buildings. By this time, the temperature had climbed to near 100 degrees – pretty hot for Alan, Russell, and me, all used to the cooler weather around San Francisco Bay – so we didn't waste any time getting from the car and into the tasting room.
Tasting Notes: Current Releases

St. Jorge 2011 Verdelho, "Seco," Lodi. Light color, with ripe peach and orangepeel aromas. Medium-bodied with a round texture and smooth finish.

St. Jorge 2011 Verdelho, Lodi. About 1.2 residual sugar. Light straw color, this showed riper and more intense stone fruit and tropical fruit character. Moderately sweet in the mouth and on the finish.

St. Jorge 2010 Tempranillo, Silvaspoons Vineyard, Lodi. From Tinta Roriz clone. Dark color, with ripe plum, spice, and earth notes. Medium-bodied with a fairly round texture and moderate tannins.

St. Jorge 2010 Alicante Bouschet, Lodi. Very dark color, displaying bright blackberry, spice, and sweet oak on the nose. Big and structured, with good acidity and firm but not aggressive tannins.

St. Jorge 2009 Touriga, Silvaspoons Vineyard, Lodi. From Touriga Nacional. Medium-dark color, this featured bright black cherry and earth aromas, along with undertones of spice and vanilla/oak. Medium-full bodied, with a moderately grippy tannic finish.

St. Jorge 2009 Souzão, Silvaspoons Vineyard, Lodi. Medium-dark purple, with more upfront vanilla/oak plus dark berry fruit and spice. Fairly rich on the palate, with chewy tannins.

St. Jorge 2010 "Vinho Tinto Dolce," Lodi. Port-style wine with all five traditional Port grape varieties, aged 36 months in French oak. Dark color, showing aromas of ripe stone fruit, plum, and chocolate. Medium-full bodied with bright acidity, and a long, tingling finish with moderate tannins, nice.

St. Jorge 2010 "Vinho Cor de Rosa," Lodi. Carignane-based Rosé wine. Light pink-salmon color, this had watermelon and lots of spice on the nose. Fairly smooth mouthfeel with a dry and slightly chalky finish.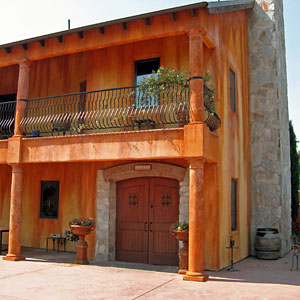 Jenise Vierra was behind the tasting bar and welcomed us in. The tasting room and bar is quite ornate, reflecting the old-world heritage of the grapes and wines. Jenise's husband Vern is of Portuguese ancestry, and his family comes from the island of St. Jorge (São Jorge) in the Azores, where they had farmed and produced wine. Vern planted the Estate vineyard behind the winery in 2008, and Vern and Jenise opened the winery soon afterwards.
Jenise started our tasting with two Verdelhos – one dry and one off-dry – and then continued with the winery's reds. Some of the wines were paired with small bites of cheese and Portuguese sweet bread. She also called Vern, who was working in the cellar that afternoon, so we could meet him. After a few moments, he came in, and we continued our tasting, finishing with a Port-style wine made from five of the traditional Port grape varieties. In addition to the wines we tasted, St. Jorge makes several others, including Trincadeira, Tinta Cão, "Vinho Tinto Belo" (a blend of Tinta Roriz, Souzão, and Touriga Nacional), Zinfandel (I guess even a winery specializing in Portuguese varieties has to make a Zin if they're in Lodi!), and "Sobremesa" – a Torrontés dessert wine. Vern told us that he has some Alvarelhão that's currently still in barrel as well.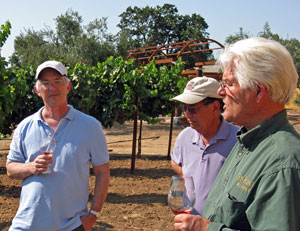 After we'd tasted through the wines, Vern asked if we'd like to take a look at the vineyard. Even in 100-degree weather, I can't resist a vineyard tour! Before we headed outside, Vern poured us one more wine, a Carignane-based Rosé called "Vinho Cor de Rosa," and we all took our wineglasses with us into the vineyard. Vern told us that grew up on a dairy farm and went on to farm walnuts before growing grapes. The 4-acre vineyard includes Verdelho, Souzão, Touriga, Trincadeira, Tinto Roriz, and Carignane. As is the case with a number of Iberian grape varieties, some of these are commonly known under other names as well – for example Tinto Roriz is well-known as Tempranillo, while Trincadeira is sometimes called Tinta Amarela. The vineyard soil is a silty clay, and Vern added more vines in 2012 to the original 2008 plantings. He said that the varieties he's planted need plenty of heat to ripen, and that some, such as Touriga, can be prone to rot in more humid sites. Some of the non-Estate fruit for the St. Jorge wines comes from Ron Silva's well-known Silvaspoons Vineyard a few miles to the north.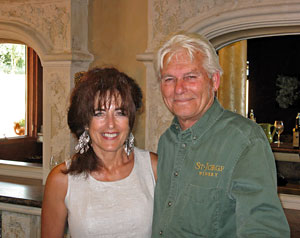 Vern told us that his initial winemaking experience was making Port, and that he then decided to make a dry version of each of the Port grape varieties. The grapes for the St. Jorge wines are destemmed but left whole-berry rather than crushed. The reds typically get a three-day cold-soak before going through temperature-controlled fermentations and then barrel-aged for about 18 months prior to bottling. Not surprisingly, the wine labels feature an image of St. Jorge (St. George) slaying a dragon.
We had a pleasant time with Vern and Jenise at St. Jorge. This was my first experience with their wines, and the Touriga and the "Vinho Tinto Dolce" Port-style wine were my favorites of the wines we tasted during our visit. I was curious about the Trincadeira – a variety little-seen in California – but didn't get a chance to try it…maybe on my next visit.
After we'd finished up our tasting at St. Jorge, we zipped back to the car and turned up the air conditioning to full blast. It was an easy and uneventful drive back to Berkeley – where it was thankfully much cooler – and I dropped off Alan and Russell at their cars.
Zinfandel is still the king of grapes in Lodi, but this area and nearby appellations such as Clarksburg and Amador are quickly becoming known as prime locations for some of California's less-common grape varieties, especially Italian and Iberian ones. It was fun to explore some of these wines from all of the wineries we visited on our short trip. These producers are taking a chance by making wines from varieties most California consumers have never heard of, and they're succeeding with them. In addition to making some interesting and often very good wines, a big plus to the bottlings from these producers is their cost – only of couple are over $30 and most are considerably less than that – a pleasant surprise in comparison to so many California wines. As always, thanks to everyone that we visited for being so generous with their time and their wine!