A Visit to Waxwing Wine Cellars - April 2015
This was one of those days when the timing works out perfectly. I had traveled to San Jose on a Sunday morning to help my friend Kyle Loudon bottle several Pinot Noirs for his Coterie Cellars label, and I was due to head to San Francisco to get together with a few friends for a late-afternoon barbecue. So I had some spare time between those two things – what to do? By a stroke of luck, I happened to spot a post on Facebook by wine blogger Cyrus Limón (his sólosyrah blog focuses on cool-climate California Syrah) for an open house at Waxwing Wine Cellars in Belmont that afternoon. Just about halfway up the Peninsula between San Jose and San Francisco, this was perfect location and perfect timing!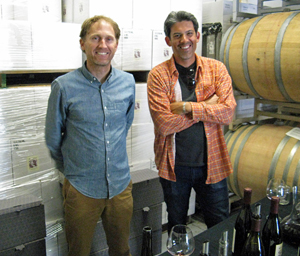 I pulled up to the Waxwing facility, located in a warehouse space near the rear of a rather plain industrial park at the edge of Belmont, and parked out in front. I'd wanted to taste the Waxwing wines for awhile, as I'd heard good things about them from a couple of people. Scott Sisemore is the Waxwing proprietor/winemaker. He'd worked for several wineries before launching his own label with the 2007 vintage. Scott has a degree in microbiology from Oregon State University, and after gaining an interest in wine after college, he realized that this was a good background for getting into winemaking. Starting in the early 1990s, he worked for a custom crush facility in Mendocino County, then for well-known wineries including Ravenswood, Rosenblum, and Pellegrini, and including harvest work as far away as in Chile and India. With all this work, Scott still found time to return to college, earning a degree in viticulture and enology from UC Davis.
Tasting Notes: Current Releases

Waxwing 2014 Riesling, Tondré Grapefield, Santa Lucia Highlands. Very light straw color, with subtle stone fruit and citrus aromas. Medium-light bodied with bright acidity, and a long finish with just a touch of sweetness.

Waxwing 2014 Pinot Noir Rosé, Blair Vineyard, Arroyo Seco. Light salmon/pink color, this displayed savory, herbal notes upfront along with red fruits and a hint of flowers. Medium-light weight with a lively mouthfeel and a refreshing finish, nice.

Waxwing 2013 Pinot Noir, Lester Family Vineyard, Santa Cruz Mountains. Light ruby color, featuring spice, tea leaf, and floral notes plus cherry and raspberry fruit and a touch of forest floor. Medium-light bodied with fine balance and acidity, and fairly mild tannins on the clean finish, very nice.

Waxwing 2013 Pinot Noir, Spring Hill Vineyard, Sonoma Coast. Light garnet/ruby color, this was less fruit-forward than the previous wine, with a more earthy and herbal character, along with red fruits and spice. Medium-light weight on the palate with a fairly bright mouthfeel and a bit firmer finish – this could use more time in the bottle to integrate the components.

Waxwing 2013 Syrah, Lester Family Vineyard, Santa Cruz Mountains. Medium purple color, with lots of pepper on the nose – mostly black pepper but a touch of jalapeño as well – with black fruits, spice, and earth. Medium-bodied with a lively texture, and a stony mineral note with moderate tannins on the long finish, very nice now and should age well too.

Waxwing 2013 Syrah, Flocchini Vineyard, Sonoma Coast. Medium-dark purple, showing more forward and ripe dark fruit aromas plus black pepper, earth, and spice. Bolder and more structured in the mouth, finishing with chewy tannins that will take some bottle age to smooth out.
In the mid-2000s, Scott left his winemaking work, moving from Sonoma County to the San Francisco Peninsula to become a stay-at-home father, caring for his new son so his wife could pursue her career in the biotech industry. But he still wanted to work with wine and decided to establish Waxwing, where he started out working mainly on weekends. The winery name comes from the Cedar Waxwing bird, which is featured on the wine labels. Scott and his wife now have two young boys, and since they're now old enough to attend school during the week, Scott has a little more time than before to spend at the winery. It's still a small-scale project but growing – starting with fewer than 100 cases per year, it's currently around 1,000 cases total. To accommodate the increasing Waxwing production, Scott was able to move in 2014 from a custom crush facility in San Carlos to his current space in neighboring Belmont.
With his time constraints and small production, Scott has wisely chosen to limit both the grape varieties and vineyard sources he works with. The first Waxwing vintages were Pinot Noir from Toboni Vineyard in Russian River Valley, and Scott branched out to Syrah starting in 2009 with a bottling from Flocchini Vineyard in the Petaluma Gap region of the Sonoma Coast. He looks for cooler-climate vineyard locations, with a goal of producing wines with bright acidity and moderate alcohol. Winemaking is very basic, and reds are fermented with large percentages of whole-cluster fruit – both by choice and necessity, since a destemmer is one piece of equipment that Scott doesn't own! Scott buys mostly once-used French oak barrels, so the influence of oak is limited in the wines.
The small winery space still had a good crowd of people when I arrived toward the end of their open house. Scott was behind the wine table along with Cyrus Limón, who helps out at Waxwing. They poured six current releases, many of them bottled fairly recently. First up was a 2014 Riesling, only Waxwing's second bottling of that variety and the first one sourced from Tondré Grapefield in Santa Lucia Highlands. Whole-cluster pressed and made entirely in stainless steel, it's just off-dry (about 1.6% residual sugar), and with only 11.9% alcohol it's fresh and zippy on the palate. Next was a 2014 Pinot Noir Rosé from Blair Vineyard in the Arroyo Seco AVA of Monterey County, also whole-cluster pressed and displaying a savory character that's unusual in most California Rosés.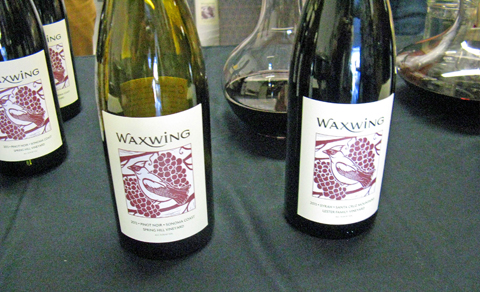 Pinot Noir and Syrah form the largest part of Waxwing's production, and I moved on to taste two of each, all from the 2013 vintage. The first Pinot was from Lester Family Vineyard, in the Corralitos region of the Santa Cruz Mountains. 2012 was Scott's first year working with fruit from this cool lower-elevation hillside site. The current 2013 release, made mostly from 115 and 667 clones planted in 1998, was a standout – really showing the character of the Corralitos region. I followed this with a Pinot sourced from Spring Hill Vineyard, located at the very southern edge of Sonoma County in the Petaluma Gap area. Planted in the early 2000s with a number of Pinot clones, Scott began working with this vineyard in 2010. The 2013 bottling is mostly from Swan clone along with some 115 and Pommard.
Two Syrahs concluded the tasting, beginning with one from Lester Family Vineyard. I've had many Pinots made from Lester Family fruit, but I'm not sure I've run across a Syrah from there before – they only have two acres of Syrah planted there. The Waxwing bottling is made entirely from Hermitage clone, and it was very distinctive – peppery, lively, and elegant. The Flocchini Vineyard Syrah, from a site in the Petaluma Gap, showed a different side of the grape. From Noir clone vines planted in 2002, this was darker, richer, and more tannic.
The Waxwing wines are mostly available at restaurants and wine shops in the Bay Area along with a few other locations, although the website may be the best bet for finding these small-production wines – there were only about 50 to 200 cases produced for the bottlings I tasted. Prices range from the low $20s to the upper $30s for the two Pinots – very reasonable for the quality. For fans of cooler-climate Syrah, the Lester Family Syrah at $32 is an outright steal. I'm very glad that I was able to stop by and taste the Waxwing wines. Due to the small production and limited distribution, this is a label that flies well below the radar, but it's deserving of wider recognition. The Pinot Rosé is one of the better ones I've tasted so far this year, and both the Pinot Noir and Syrah from Lester Family Vineyard are distinctive wines that are delicious now and should only get better with some time in the cellar. This was my first time tasting the Waxwing wines with Scott, and I'll be sure to check out more of his wines in the future.