Cornas Masterclass - Friday, 10:00AM
CORNAS MASTERCLASS
LES VINS DE VIENNES :
2000 Les Vins De Vienne - Cornas. Dark ruby color. Knockout nose of floral, vanilla, and toasty aromas. Slightly sweet-sour mouthfeel, with delicious blackberry, and spicy black cherry flavors. A lovely wine, with a long smooth finish.
2001 Les Vins De Vienne - Cornas. Dark ruby garnet color. Floral, almost candied nose. Sweet-sour blackcherry flavor, and somewhat more tart and puckery in mouthfeel than the '00, and not nearly as sweet as the nose seems to promise. While this will obviously evolve, I'm not sure if it'll be as seductive as the '00.
THIERRY ALLEMAND:
2000 Thierry Allemand "Reynard" - Cornas. Very dark purple ruby color. Rustic, slightly sulphered nose of licorice, tar, and camphor. Slight acidic edge to the chewy blackberry fruit; both gripping and bright in mouthfeel, with a nice stemmy quality. Medium smooth tannins give the wine a light chalky/dusty element on the palate. Dense tannic long finish.
2000 Thierry Allemand "No Sulphur Cuvee" - Cornas. Dark purple ruby color. Intense nose, and very similar to the "Reynard," though more overtly fruity and somewhat crisper. Very smooth on the palate, this cuvee seems a lot less rustic, with a lovely mouthfeel and a very long smooth finish.
(Moderated by Ehren Jordan, winemaker - Turley Cellars, co-owner and winemaker - Failla Wines. Ehren translated the questions and answers for this closer look at Cornas, and producers Yves Cuilleron of Vins de Viennes, and Thierry Allemand.)
The tiny appellation of Cornas comprises only about 260 acres, and is the southern-most red wine producing area in the northern Rhone. At Cornas, the Rhone Valley flairs out, thus escaping the wind tunnel effect of the other northern districts. The result is a climate that is significantly warmer, with very little rainfall. The soils of Cornas are largely granite-based, becoming more gravely to the north and semi-sandy to the south.
The south or south-east facing vineyards are mostly on hillsides, and are tightly spaced, with low head trained vines that use no trellising - they have just a single stake for support. In Allemand's case, the vineyards are mostly hand-farmed, and no irrigation is used.
Thierry Allemand's vineyards are over 40 yrs old. He does no scientific fruit analysis - he merely tastes the grapes to check ripeness. (In fact, Ehren explained that Thierry wouldn't even know what to do with such equipment - such were Thierry's non-technical and non-interventionist methods.) Allemand de-stems clusters by hand if he feels the stems aren't ripe enough to go through fermentation with the fruit. He makes three wines, using whole cluster fermentation and a combination of wood and stainless steel. After two punch downs during fermentation, the wine is left on its own, and Thierry does no racking during the 18-22 months in 60 gal barrels. No new wood is used, and no fining or filtration takes places before bottling. Production is about 1,000 cases, and the wines [would] retail for an estimated $45-60/bottle. As it turns out, Thierry Allemand's wines have extremely limited distribution in the U.S. For instance, the "No Sulfur Cuvee" is only imported by a Manhattan restaurant.
Les Vins de Vienne is a partnership of Yves Cuilleron and Francois Villard. They produce small lots of wine from each of the districts in the appellation, aging the wines in about 50% new wood for 18 months, and giving them a light egg white finish with no filtration. The wines retail for about $35/bottle.
Impressions: Less about tasting through the wines with the panel, this seminar was largely an education in the terroir of Cornas and a Q&A session. Ehren Jordan fielded questions from the audience, translating them into French for the panel, and then translating the answers back into English for the attendees. Since Yves has been something of a "regular" at previous HdRs, Ehren seemed to direct most of the questions to Thierry. Although I don't speak French, it seemed to me that Cuilleron echoed most of Allemand's comments - at least as far as I could tell.
In contrast to Yves frequent HdR attendance, it seems that Thierry Allemand "...never leaves Cornas." At least that was the substance of Ehren's introduction, as he related how when he would eagerly mention that Thierry Allemand was coming to HdR in conversation with wine importers and others in the business, he was always told not to get his hopes up, because everybody knows that "Thierry Allemand never leaves Cornas." It was especially interesting to hear about Allemand's low-tech non-intervention methods. I found the discussion fascinating, although tasting through the wines with the panel would have been instructive.

Syrah: Just the Facts, Ma'am - Friday, 11:30AM
SYRAH
CAKEBREAD
2002 Cakebread Syrah - Syrah Noir, Phelps - 3309 Rootstalk. Very dark purple ruby color. Nose was a melange of smoky espresso, roasted coffee, blackberry and just a touch of stems. Smooth and sweet mouthfeel; very tasty with just a trace of bitterness on the very long finish.
2002 Cakebread Syrah - Alban Selection #1- 3309 Rootstalk. Very dark ruby color. Slightly more candied and tarry in the nose. Sweet licorice and tar flavors, deliciously chewy mouthfeel, with a toasty long smooth finish that picks of just a touch of sweet-sour flavor.
2002 Cakebread Syrah - ENTAV #174 - 3309 Rootstalk. Dark purple violet color. Toasty, dried pasta nose of blackberry and slightly earthy tones. Blackberry with a hint of tar on the palate, just a bit more off-sweet/sour in mouthfeel, with hints of brown sugar and caper - sort of a BBQ/A-1 sauce quality.
2002 Cakebread Syrah - ENTAV #877 - 3309 Rootstalk. Medium-dark purple-violet color. Initially sweet mouthfeel, gets a bit more tart at mid-palate, which stays until finish. Flavors of bittersweet chocolate, mocha, and bacon. Slight acid balance, very long finish.
SAXUM
2002 Saxum Syrah - Heart Stone Vnyd - Clone #174. Black purple color. 'Wow' nose of blackberry, coffee, cocoa, tar, with touches of bacon. Chewy and very concentrated on the palate, smooth and almost silky, with flavors of tarry cocoa and chocolate, smooth, tasty, with excellent balance and lightly sweet very long finish. Ripe in nose and mouth, this one never crosses the over-ripe line. Incredible!
2002 Saxum Syrah - Heart Stone Vnyd - Clone #470. Black purple color. Very tarry nose of blackberry, and licorice. Seems substantially more dense and monolithic than the #174 clone. Huge, and very chewy with a very concentrated feel on the palate, and a very long tannic finish. What a brute, this one slaps you up both sides of your face, and warns you to blend it with something more seductive. Incredible...Hulk, that is!
2002 Saxum Syrah - Denner Estate - Clone #99. Very dark purple ruby color. Bright nose, with aromas of licorice, and boysenberry. Slightly sharp and crisp on the palate, with a bit of tartness to the very long finish. This clone is obviously intended to provide the backbone and structure to something a bit more voluptuous. Maybe the next sample will provide this?
2002 Saxum Syrah - Denner Estate - Estrella Clone. Dark purple violet ruby color. Very tarry and slighly chalky with its moderately smooth tannins. Lots more mocha than previous clone, this wine seems to have a high viscosity, but also seems to roll off the side of the glass easily. An obvious touch of oak accentuates the mid-palate here, and the flavors and texture blend well through the long finish.
(Moderated by John Alban, the seminar gave us a closer look at the origins and the clones of Syrah, with panel members Lee Hudson of Hudson Vineyards, Justin Smith of Saxum and James Berry Vineyards, and Professor Emeritus Carole Meredith of UC Davis.)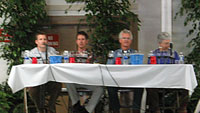 (l to r) John Alban, Justin Smith, Lee Hudson, Carole Meredith
'The rumors of its origins were greatly exaggerated,' to paraphrase Mark Twain. This was just one of the facts presented here about everyone's Rhône hearthrob, Syrah. We also were reminded that it's not from Iraq or somewhere else in the Middle East after all - it actually is from France. The mother of Syrah turns out to be a grape known as Mondeuse Blanche; and the father is a grape called Dureza. Of note, is appears that Dureza may have come from antiquity, since it has been mentioned by Pliny in 71AD as having been around "...since time immemorial." Well, since that first propagation, mother Mondeuse Blanche has been reduced to about 12 acres of vines worldwide. And, while that's small, father Dureza has disappeared completely.
All of these facts were just groundwork for a presentation on clones - sort of an 'everything you wanted to know about clones, but were afraid to ask.' Okay, I'll be the first to admit to more than a little misunderstanding about this subject, so Professor Meredith's presentation was just what I needed to get clear on the clone issue.
A clone arises naturally in nature; it happens when a variant shoot appears on an otherwise normal vine. These "mutations" are somewhat rare events. Of course, the older the variety, the more likely the opportunity to develop a variant. If this variant is selected for propagation, you have a clone of the original. What's the difference between a "clone" and a "selection?" Well, a clone comes from the cuttings of a single vine, while a selection comes from cuttings of several vines within a vineyard.
Want more? Okay, there's "clonal selection,"which is the process of collecting many variants - selecting them for such things as smaller berries or other unique qualities. In France, clonal selection has been practiced for about 40 years, where they are frequently taken to ENTAV, the French bureau that holds vine cuttings for evaluation, pending certification and registration - sort of an INS for grapes. Thus far, of the 554 submissions to ENTAV, only 16 have been registered - 12 from the Northern Rhone, and 4 from the southwest of France.
French Syrah clones have only been [legally] imported into the U.S. for a few years. So far, nine ENTAV clones have been made available in California, adding to the many "local" clones, many of which have come from undocumented sources, including France and Australia. The fact of the matter is that each of the clones planted in California will likely produce unique characteristics, depending largely upon soil and geographic conditions. Finally, the selection of specific rootstalks is largely based on soil conditions.
Justin Smith showed several cross-section slides of the James Berry Vineyard on Paso's Westside (west of Hwy 101). This, and many of the surrounding vineyards are primarily made up of broken rock, calcareous soil, and light clay and loam. Owned by the Smith family, the James Berry Vineyard is one of the finest on the Central Coast. Meticulously farmed by Justin and crew, the prized fruit from this vineyard also owes a nod to the geography and soil. The Westside of Paso is generally cooler than the Eastside. Add to this, an interesting natural break in the north-south Santa Lucia range occurs at a point called the Templeton Gap, allowing cooler ocean breezes to penetrate into the vineyards of the Westside.
Next, grower Lee Hudson gave us an very nice statistically-oriented introduction to his 180 acres of vineyards in the Carneros area. The Hudson Vineyards are widely dispersed in many micro-climates, and are frequently cited as excellent examples of cool climate syrah vineyards. Among those using Hudson Syrah: Cakebread, Kongsgaard, Jade Mtn, Havens, Elyse, Etude, Neyers and many others. The key here is soil and geography. The soil is shale, broken sandstone, and silty loam. The vineyard gets plenty of sunshine, but also gets cooled off sufficiently by its proximity to San Pablo Bay. Lee presented several interesting aerial slides produced by a company named VinImage. Based on a color profile, it was easy to see the differences of canopy thickness in his each of blocks - each represented by a different clone.
Impressions: A very interesting presentation by Carole Meredith about clones, rootstalks, and the ultimate value of "the site," or shall we say, terroir. From the presentation, it became clear to me that there's a whole lot of research that goes (or, ought to go) into picking which clone to plant, and where to plant it. The differences between the "cool climate" and "warm climate" wines was instructive as well. Tasting through the wines seemed to bear out much of what was being presented, and I learned a whole new appreciation for the complexity of vineyard management.

Torbreck: What's in a Name - Saturday, 9:00AM
TORBRECK:
2001 Marsanne/Viognier/Roussanne. Medium yellow color. Obvious characteristics of each of these varietals, with aromas of apricot, honey, light citrus and a hint of citron. Delicious mouthfeel and taste, very nice balance - more about plush taste and feel.
2002 Viognier/Marsanne/Roussanne. Medium yellow color. Seems surprisingly crisper in aromatics, with a crisp mouthfeel and a bit of grip on the finish. Apparently, '02 was a cooler year - which accounts for thethe difference of the blends.
2001 Woodcutters Red. Made from the younger shiraz fruit, this wine sees no new oak, which probably helps smooth it out a bit. Touch of Cabernet in this wine (Dave doesn't favor Cab for the Barossa), which also probably acts as a counter point to the stiff slight off-sweet bitterness in the Shiraz. Nice wine.
2002 Woodcutters Red (Tank Sample). Dark purple ruby color. Very aromatic sample, with a sweet nose and mouthfeel, excellent concentration and very long finish.
1999 Juveniles. A GSM blend based largely on unwooded Grenache, Juveniles was originally commissioned for Willie's Wine Bar in Paris. In contrast to the name, the fruit is not from young vines. Huge floral blast on the nose, with aromas of raspberry, black cherry, and toast. Very tasty and balanced.
2002 Juveniles. Rich and sweet on both the nose and palate. Huge concentration or fruit, and a staggeringly long finish. In a word - Killer!
1999 The Steading. Lovely nose of spicy blackberry, vanilla and clove, along with a hint of eucalyptus. Lots of weight on the palate, very good balance, smooth long finish.
2001 The Steading. Somewhat moderated aromatics, and a bit more tannic than the '99, this one's got similar concentration, though the mouthfeel feels a slightly leaner.
1999 The Descendant. Dark purple ruby color. Beautiful nose of blackberry, with a light floral touch, along with tar, licorice and toast. Quite tannic on the palate, the dark fruit does seem to have a detectable apricot-like streak - though it could be the power of suggestion, since this has a touch of Viognier. The 'Descendant' name comes from the fact that the vineyard was planted with Run Rig cuttings.
2001 The Descendant. Dark purple ruby color. Lovely floral quality to the dark fruit nose. Somewhat bitter in mouthfeel initially, but does seem to sweeten up a bit by mid-palate, and get smooth, tasty and seamless through the finish. Again, a bit of Viognier or Roussane/Marsanne is usually in the blend.
1999 The Factor. Nose dark fruit, with lots of chocolate and mocha accents. Tight mouthfeel, but with obvious gobs of chewy fruit. Excellent balance, very long finish. A really nice wine. 100% Shiraz, usually held in neutral oak.
2000 The Factor. Chocolate and cherry nose, this seems slightly brighter in aromatics than the '99. Sweet-sourdark cherry fruit, moderately chewy mouthfeel, good balance, long finish. A Run Rig wasn't made in 2000, so, this is basically a declassified Run Rig.
1999 Run Rig. Dense, spicy ripe nose. Very spicy fruit on the palate, with seamless flavors and texture, and a very long smooth finish. A touch of Viognier is usually added just before bottling. (The fruit for the Factor and Run Rig comes from the same vineyards; though the Run Rig probably gets the equivalent of the "reserve" fruit, and does get more new oak.)
(Moderated by Michael Havens, the seminar gave us a in-depth look at Torbreck wines, and Dave Powell, the man behind the wines.)
As we seated ourselves at 9:00AM, a staggering array of wines - two placemats worth of 13 glasses was spread out in front of each us. Add to this a water bottle, a water cup, and a spit cup, and we had just about maxed out the table space allotted per person - not that I'm complaining! With all this table ware in front of us, it was anyone's guess how long it would take to hear a crash somewhere in the room. But, everyone was amazingly coordinated - the expected crash never came. Kudos to all.
The vineyards in the Australia's Barossa are among the best in the world. This is due to both geography and the excellent soil conditions, but also to the fact that these vineyards were all planted nearly 150 years ago, so there was nothing to research - most of the hard work had already been done. Dave Powell was fortunate to practically "...walk right into" several Barossa vineyards that had been left fallow as a result of governmental missteps during a major wine glut* in Australia in the 1980s. And, in 1995, Torbreck (named after a Scottish forest) was born.
For Dave Powell, a man who studied economics and also worked as a lumberjack, the dream to build his own high-end wine label came from a developing interest in wine - specifically, red wine. Powell began in 1980 with Yalumba, and moved on the the likes of Blass, and Peter Lehmann, before creating his own label at Rockford. By '95, Torbreck had 3 tons of grapes to work with, and by 1999 Dave was starting to accumulate vineyard holdings and accessible acreage through "share-farming" relationships for total planting of over 250 acres.
Dave Powell seems sensitive to the fact that his wines have less alcohol than many other wines from Oz. Dubious competitors have all but accused him of adding water to reduce his alcohol levels. But Powell has found that these levels can be controlled during fermentation. He also gets chided about his oak program. Eschewing the "no wood - no good" slogan of some winemakers, Dave prefers to allow the fruit to do the talking, and uses very little new wood - and no wood on the Grenache in the Juveniles program.
A rabid non-interventionist, Dave favors tasting the fruit in the vineyard, and doesn't use or advocate use of a refractometer. In fact, he even mentioned that if he were to find one of his people using a refractometer, he "...put it where the sun doesn't shine." Dave also prefers blends - fairly obvious in his lineup of blended reds.
Torbreck's production for '02 was 43-45,000 cases. About 40% of that production stays in Australia, and 45% is exported to the U.S.
*During the 1980s, as Australia was faced with a wine glut, the government paid people to pull out their vineyards. Unfortunately, this resulted in many old vine vineyards being up-rooted and destroyed. Things got ugly when the responsible government bureau ran out of money to pay off those pulling vineyards. The result was a large exodus of growers from several wine areas (including the Barossa), that left many vineyards to lie fallow.
Impressions: just being able to taste through these was pleasure enough. Michael Havens' astute moderating and Dave Powell's assured comments were just icing on the cake. Anybody can make a fruit bomb...okay, not ANYbody. But, these wines have a balance not normally associated with many people's impression of Australian wines. The interview-discussion-talk was a smooth as silk -- just like most of Dave Powell's wines.

The Wines of John Kongsgaard - Saturday, 10:30AM
KONGSGAARD:
2001 Roussanne. Lots of dried pasta qualities, with just a few touches of floral and sweet peach, as well as a lingering wiff of sulpher. This was co-fermented in mostly 2-4 yr old oak,with 1 new barrel added each year. 60% Roussanne. Rich, yet crisp on the palate, this seesm an ideal blend of the two varieties.
2002 Roussanne. Heavy nose with huge floral aromatics, lots of honey and peach. Sweet rich mouthfeel with plenty of viscious texture - like white peaches in heavy syrup, with a few rose petals added. Kongsgaard mentioned that this blend of 60% Viognier was just about at his threshold for Viognier.
1999 Hudson Vnyd Syrah. Tarry with dark berry aromatics and a hint of pepper. High-toned, tight and tannic on the palate, the blackberry flavor seems to hide in the background, with more tar and a bit of stem in the foreground.
2000 Hudson Vnyd Syrah. Nose of espresso, tar, licorice, and roasted qualities. More obvious in oak notes, the wine seems slightly more accessible than the '99, and drinks quite well now.
2001 Hudson Vnyd Syrah. Very dense, extracted and concentrated nose. Massively fruity, with a nice melange of tar, licorice, and asphalt notes. Excellent mouthfeel, chewy and rich, with excellent balance and structure, and a very long finish.
2002 Hudson Vnyd Syrah. Massive blackberry nose - lush and layered withlots of licorice and tar background notes. Very clingy on the palate, plenty of dark and tarry flavors, and long finish.
(Moderated by Michael Bonaccorsi, the seminar gave us a in-depth look at the man behind Arietta and Kongsgaard wines.)
Introduced by John Alban, the start of this seminar had all the trappings of a Friar's Club roast of Michael Bonaccorsi. John described Michael's initial reaction to the Alban wines when John tried to get him to carry the wines at Campanile, where Bonaccorsi was sommelier. According to Alban, Bonaccorsi thought the wines "sucked!" Michael Bonaccorsi looked a little sheepish, although it's hard to say whether or not it was true. No matter, this is how legends are made.
John Alban went on to describe how he, Mat Garretson, and Vicki Carroll made a road trip to Napa to sign up talent for current and future HdRs. After their first stop successfully landed Kongsgaard's appearance for 2003, Alban immediately declared the trip a complete success - and half-seriously suggested they (or at least, he) might just as well head home. Well, we now had icon status now firmly established for John Kongsgaard.
After Alban's introductions, Kongsgaard wasted no time in jesting about the power of sommeliers in general, and how it was both his and Alban's turn to be apply a little heat to Bonaccorsi's feet. Meanwhile, Mike was taking all this ribbing good-naturedly, returning nothing but compliments. With his new career as a winemaker, Bonaccorsi seemed obviously aware that he was now pledging their fraternity.
John Kongsgaard's family has been in the Napa Valley since the early 1920s, when his grandfather bought some land just north of Napa city (near those two 'bumps' between Silverado Trail and Hwy 29. His grandfather intended to use the hills as quarry material for his construction company, but it never happened - thankfully. After working with some of the bigger winemaking names of the time, John established his reputation at Newton winery, where he was winemaker from 1983-95. He moved on to become a partner in Luna winery, a new startup on the site of the former St. Andrews winery. The move allowed John to focus on his own label. He made 4 barrels of wine in 1996, and is up to 40 barrels at present. So, this was something of a unique opportunity. John Kongsgaard doesn't make much wine, and here each of us were, sitting with a Syrah vertical, basically drinking his library collection.
John is big on taking care of things in the vineyard, attempting to eliminate unwanted fruit at that point, rather than waiting for it to get to the sorting table. The fruit is destemmed and mostly crushed, although he leaves some whole berries to get processed with the juice. He continues to allow the juice to lie on the skins for quite awhile after fermentation is complete. Influenced greatly by Michel Rolland, John believes that wines are best left alone to become what they must (no pun intended).
In discussing his wines, John mentioned something particularly of interest - something he referred to as "oxidative death, or slumber." It is this period that we often refer to as a "dumb" phase, in which the wine is closed down temporarily. Waking from this 'slumber,' the wine is refreshed and has usually taken on new and pleasing characteristics, some of which would have been previously been considered to be unpleasant notes.
Impressions: it's remarkable to drink through anyone's library collection - much less John Kongsgaard's. He seemed like some gentle giant sitting up there, reflecting on his passion for winemaking, and offering sage information and advice to all who would ask. At the end of the session, when he was gratefully thanked for his participation at the 2003 HdR, he said it was he who should be thanking us. He felt that this event was something akin to "...a gathering of the clan," and it was his pleasure "...to be invited to the mother church to preach to the faithful." Oh yes, the wines weren't too shabby, either.