(l to r) Andrea Mullineux, James Molesworth, Davis Trafford, Marc Kent, Eben Sadie, and Chris Mullineux
(Moderated by Wine Spectator Senior Editor James Molesworth, this seminar takes look at the current crop of Syrah/Shiraz wines coming from South Africa.)
The first seminar from the 2010 Hospice du Rhône, was designed to introduce us to what has been happening with Syrah in South Africa. Aptly titled, "We've Come a Long Way Baby," it did indeed gave us a glimpse of what was and what could be, while showcasing the current crop of wines coming 'Out of Africa.'
SOUTH AFRICAN SYRAH :
1986 Fairview Reserve Shiraz - Paarl. This wine was never exported due to restrictions during apartheid. Methods of winemaking for this wine include destemming, long skin contact, and undergoing ML in barrel. Slightly brickish red in color, there was an aroma of barnyard in the nose, along with earth and mushroom - though there was plenty of dark fruit underneath that first whiff. Lots of dark fruit on the palate as well, and the wine holds nicely and finishes slightly soft, with a hint of sweetness.
1994 Stellenzicht Syrah - Stellenbosch. From 28 yr old vines growing in schist. Very French in aroma, with not traces of jamminess. Slightly rigid on the palate, with tannins still resident - but just filled to the brim with fruit. Excellent balance and very nice acid backbone. Gorgeous stuff.
2001 Boekenhoutskloof Syrah - Wellington. From a warmer region with higher rainfall, this wine was made in large open top wooden cuvees. Bigger and richer than the preceding wines, which was evident in the nose as well as initial mouthfeel. That said, the wine turned decidedly 'Old World' from mid through latter palate, erasing any preconceived notion that this was going to be a jammy monster.
2006 Boekenhoutskloof Syrah - Wellington. Made in concrete cuvees, using softer grape maceration methods, which definitely yielded a more fruit-forward wine. As with the wine above, this also started out more New World, but regained its footing to a Cote Rotie-look-alike with its smoky scent and flavor.
2008 Mullineux Family Syrah - Swartland. From dry-farmed vineyards growing in schist and decomposed granite. Seemingly notes of whole cluster ferment in the nose, along with something of a flowery co-ferment scent as well - yet, winery notes do not indicate this. Definite asphalt and licorice driven scents, with lovely fruit and fine-grained tannins, excellent mouthfeel and balance.
2005 Tulbaugh Mountain Vineyards Syrah Mourvedre - Tulbaugh. From an area know previously for its jug wines, this is from a young 6 yr old vineyard, planted on virgin land. Tons of fruit in mouthfeel, huge and chewy body, with excellent balance and plenty offine-grained tannins throughout the long finish.
2005 Sadie Family " Columella 2" Syrah Mourvedre - Swartland. From 8 different vineyards (both young and old). Dark and brooding nose, with lots of asphalt aromas and some new oak. Almost Petite Sirah-like in taste and structure, there is a light floral note to the 80/20 blend. Smooth and rich on the palate, with none of the usual New World heaviness.
2007 De Trafford Shiraz - Stellenbosch. Spicy and fragrant oak contribute to the lovely nose. Initially soft in mouthfeel, the wine gains weight at mid through latter palate, finishing long with elegant tannins. Certainly plush throughout, the wine also carries 15+% of alcohol...not that there's anything wrong with that!
South Africa has a long history of wine, beginning beginning with the Dutch settlers. However, the recent history of South African wine seems irrevocably tied to the period know as apartheid, a system of legal racial segration that lasted nearly a half-century, drawing the world's ire, and saddling the country with sanctions and trade embargoes from other nations.
When apartheid finally ended in 1994, South African wineries had hoped to make up for lost time. However, the quality was spotty and its wines were not well received. Yet, it was this same public dislike that ultimately pushed the wineries to improve quality. The most shocking discovery from this seminar was that Syrah is merely 10% of the country's wine production!
So, on to the particulars. The '86 Fairview wine in this tasting was a delightful surprise, being made at time that could easily have been called a vacuum in the South African wine industry, this wine demonstrated both the terroir of South Africa, as well as the staying power of Syrah from these parts.
Fairview has been around a long time. The first wine was made on this farm (originally owned by French Huguenots) was 1699. Bought in 1937 by Charles Back I, an immigrant from Lithuania. His son, Cyril Back took over the reins in 1955 and immediately set about replanting the vineyards. Cinsault, then fairly ubiquitous in the Cape winelands, was ripped up and replaced with the more classic Cabernet Sauvignon and Shiraz, as well as Pinotage.
Charles Back II started farming with his father in 1978, having completed his oenological training at leading local agricultural institution Elsenburg, and took over full responsibility for the farm upon his father's passing in 1995. Fairview has come full circle: from its days as one of the Cape's earliest wine farms developed by French Huguenot Steven Verwey at the turn of the 17th century, to its current position as one of South Africa's most successful, enduring, innovative wineries firmly ensconced in the 21st century.
The Stellenzicht wine was one of my favorites in this tasting. The farm is located on the slopes of the Helderberg Mountain between Stellenbosch and the Atlantic Ocean. Its history of dates back as far as 1692, when it was part of a much bigger piece of land granted to Barendt Hendrikse, who named the property Rustenburg.
In 1981 Hans-J Schreiber acquired a part of the old Rustenburg farm, then called Alphen, from the Bairnsfather-Cloete family who also owned the Constantia wine estate and produced the famous Constantia wines. It was Hans Schreiber who renamed the Alphen farm Stellenzicht ("view of Stellenbosch") Vineyards, and immediately began an extensive replanting program to provide the farm with the best clonal material. The building of a modern cellar followed to produce a range of red and white wines.
The Boekenhoutskloof wines were especially fascinating - almost chameleon-like. At first sniff, I expected them to be quite New World in style. But, on the palate, they took a 180 degree turn and seemed much more Old World in style. Founded in 1776, Boekenhoutskloof is one of the oldest farms situated up the "Valley" in the Franschhoek foothills. Marc Kent is the winemaker, cellarmaster, and part owner of this homestead and wine farm. Boekenhoutskloof shot to prominence with its first Syrah (1997) and is today rated among the Cape's leading producers. They don't make a lot iof wine (approximately 600 cases of the Syrah, 800 of Cabernet), but what they do make is scrumptious.

The majority of grapes for the Boekenhoutskloof wines are outsourced as the home vineyards are too young. The Shiraz is sourced from the Wellington area, northeast of Paarl, which is around 14 years old and planted to a single clone which yields about seven tons per hectare. Marc Kent joined Boekenhoutskloof in 1994, and is intent on bringing out the terroir in each wine. Apparently Marc pays frequent visits to France, which would seem to be the inspiration behind his style and philosophy of winemaking.
Mullineux is a Family winery producing a small number of wines from the granite and shale based terroirs of the Swartland. The winery is based in Riebeek Kasteel, and was established in 2007 by young husband and wife winemaking team Chris and Andrea Mullineux.The first vintage was released in June 2009. We have put together a group vineyards in the most interesting parts of the Swartland, which are mostly found around the shale and schist based Riebeek Kasteel Mountain, and the granite based Paardeberg mountain. Their vineyards are both dry-farmed as well as sustainably farmed.
Chris Mullineux has had stints at de Trafford and Rustenberg wineries in South Africa, Chris has also worked harvests at wineries in Cote Rotie, Bandol, the Languedoc, Roussillon, and California. Andrea has her degree in Viticulture and Oenology from the University of California, Davis and after completing a handful of harvests in the Napa Valley, Andrea decided to broaden her winemaking knowledge overseas. Her first stop was in Stellenbosch, South Africa. She then went on to work in Chateauneuf-du-Pape where, on the same trip, she met Chris at a wine festival in Champagne.
Eben Sadie grew up in South Africa and began his career as winemaker with Charles Back. After travelling to Europe, he realized that what was missing in South African wines was tradition. Leaving South Africa, he worked harvests in Germany, Austria, Italy, Oregon and Burgundy, to develop a sense of place, terroir, for the wines from his native country. Departing Charles in 2000, he made 17 barrels in his first vintage for Sadie Family. When he started Columella he knew the wine had to be a blend - and not just of grape varieties, he also prefers to blend vineyards from specific areas as well.
In a relatively short time, he has established himself as something of a superstar. Seemingly quiet and introspective, his philosophy of winemaking seems Old World both in thought and deed. He picks his wines early, preferring a hint of green
rather than the overripe flavors that seem currently in vogue. He crops low, uses natural yeasts and lets the grapes take care of the rest.
David Trafford was never formally trained as a winemaker. He is self-taught, developing a working knowledge of winemaking from local winemakers and a vintage spent in St Emilion. "I never chose winemaking as a profession - it was thrust upon me. I chose Architecture as a profession, but live on land with such great vineyard potential, it was impossible not to get involved in the wine business."
David explained that a lot of his effort is spent trying to grow ripe vines to produce properly ripe fruit. The grapes are handpicked and fermented with indigenous yeasts in various small tanks, with a pre-fermentation and post fermentation phase and regular cap punch downs. The wine is then transferred from the fermentation tanks directly to small French oak barrels for malolactic fermentation, to better integrate flavors. The wines remain in barrels ( 30 - 50 % new ) with gentle, carefully timed rackings in a cool damp underground cellar for approx. 18 - 22 months - depending on the vintage. This is done to create a period of stabalization, flavor development and phenolic polymerization, rather than a passive period of oak flavor extraction. Thereafter, the wine is minimally handled, and includes a light fining with egg whites and no filtration prior to bottling.

Impressions: Wine Spectator Senior Editor adeptly covered the country's past history of winemaking as well as the basis for today's huge increase in quality, as these wine display. Very impressive wines from, cliche as it may sound, people with passion. If the wines from these five producers are any indication, the South African wine future looks very bright indeed.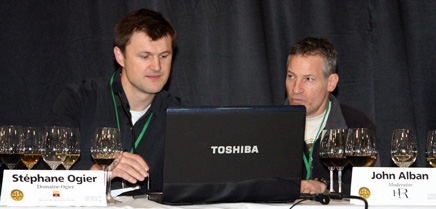 Stephane Ogier and John Alban
(Moderated by John Alban, we take a look at the wines from Domaine Ogier, with an emphasis on noting the distinction between the older generation of wines, versus those from Stephane Ogier.)
Another eagerly awaited seminar, this introduction to the current wines of Côte Rôtie superstar Domaine Ogier had us all salivating well in advance. On taking our seats, we noticed something unusual - two of the nine glasses were empty. Were they merely delayed in pouring the wines, we wondered. Nope. It turned out in fact that two of scheduled wines were unavailable -- this is they failed to arrive with the rest. There was plenty of humorous speculation by John Alban and Stephane Ogier as to what may have befallen the missing wines (Stephane postulated that a truck driver somewhere was having a really good week). So, although there was an insufficient quantity to pour at the seminar, there thankfully would be enough to pour these missing wines at the afternoon's tasting.
2008 Ogier Viognier de Rosine, Vin de Pays (Viognier). Medium straw color. Lightly sweet and floral nose, with pear and white peach. Initial sensation in mouthfeel of flower petals, with good texture and moderate flavors and sort of a Gruner/Gwertz/Sauv Blanc quality in taste. Fascinating, and unlike any Viognier I've had before!!
2008 Ogier Condrieu. Lovely aromatic fruit, this version is more flower petal than full-on flower. Very elegant expression of the variety, with less overt fruit and more nuances. Lovely!
2007 Ogier L'Ame Soeur, Vin de Pays (Syrah). Gorgeous dark fruit from a vineyard planted in 2001. Hint of Côte Rôtie smokiness, very nice acids and fruit, with an off-sweet/dry mouthfeel and a slight charcuterie aftertaste. Slightly soft, juicy finish to the wine.
2007 Ogier Lancement, Côte Rôtie. Although Stephane nearly always leaves some stems in the ferment, there are no stems here - largely because he feels the area itself has contributed its own sense of "noble vegetables," an rough English translation of what he feels stem inclusion would otherwise imbue on its own to the wine. There seems a definite hit of Viognier to the roasted/smoky quality here. Very nice balance, with edgy acids seeming to weave in and out thorugh the mouthfeel, and the wine finishes strong.
2007 Ogier Belle-Helene, Côte Rôtie. Quite the opposite terroir of Lancement, Ogier considers this to be their best location in the Côte Rôtie and always includes at least 15% stem inclusion. Quite smoky and roasted in nose and mouthfeel, with a decided meeat/blood scent, and a further steak juice quality to the mouthfeel and thorough the long finish.
2001 Ogier Reserve du Domaine, Côte Rôtie. Quite similar to the Belle-Helene, with an additional hint of soy and tamarind. While not overtly Côte Rôtie scented in the nose, it definitely comes through in the mouthfeel. A fabulous wine, though still quite young.
2005 Ogier Vin de Pays (Roussanne). Single press on the waxy and toasty wine. Some oxidation noted, with a slightly sweet touch to on the palate that almost approaches a late harvest style. Very tasty, with almost a Riesling-like scent and flavor woven into the otherwise big fruit punch on the back end.
Located in the northern part of the France's Rhône Valley, the translation of is Côte Rôtie is literally "roasted slope," and is named after the region's very steep south facing slopes that have ideal exposure to the sun.
There are two main slopes, Cote Brunes & Cote Blondes. The darker Brunes soils consist of rich clay and iron, producing firm and robust wines. The lighter soils of the Blondes slope contain more slate and limestone, making elegant and softer wines. As with all Northern Rhone appellations, Syrah is the only grape allowed in Cote-Rotie, however rules allow for up to 20% of Viognier to be blended into the red wines, giving them a touch of aroma and elegance.
Prior to 1980, Michel Ogier sold off both his fruit and the wines he produced to the large negoçiant Marcel Guigal. Michel later began to bottle wines under his own label. Today, more than 20 years later, Michel's son Stéphane is in charge of the property. His youth, energy and passion for the vineyards and winemaking have resulted in the estate's rise to superstar status over the past ten years. In that short period, Domaine Ogier has become known for stylish Cote-Rotie and seems to be firmly established among the finest growers. In addition, they also produce perhaps the best value wine in the northern Rhone, La Rosine. From vines just outside the appellation of Côte Rôtie this pure Syrah is fresh and full of red fruit. The tiny estate, located in the village of Ampuis, consists of 15 acres (6 acres are within the Côte Rôtie appellation).
Stéphane has also been purchasing vineyards on the other side of the Rhône River in Seyssuel, near Vienne. His newest wine comes from these southwest-facing slopes, which have soils much like those of the Côte Brune. Stéphane believes the potential to be extraordinary, and you can see the excitement in his face as he talks about the vineyard. Called l'Âme Soeur (soul mate in French) this Vin de Pays is 100% Syrah fermented and aged in cask, of which about ½ is new oak. Beautiful-balance, silky texture and loads of rich black fruits, the l'Âme Soeur has a smoky, spicy palate and very long finish.

Impressions: the concept of globalization usually gets a bad rap when discussing wine. We've somehow come to assume that a wine region's traditional values are better off if kept segregated from the rest of the winemaking world. Afterall, how better to preserve "old world" winemaking values, right? Well, I think this seminar clearly demonstrated how an "old world" grower-producer can actually evolve by embracing any sound methods, regardless of whether it's from the new or the old world.


Charles Smith - Man in Motion
(Moderated by Alan Kropf of Mutineer Magazine - though it should be said that aside from an introduction, Charles was a one-man show. This seminar gave us a look at Walla Walla Syrahs from the bigger is better philosophy.)

After seating ourselves for Saturday's first (albeit early) seminar, we noticed a flute of Champagne at each place setting. Interesting, we'd never been served Champagne at an HdR seminar before - why now, I thought. The appointed time came and went with no outward sign of the seminar starting. The wines were all poured, and I'd seen both the presenter and moderator on stage earlier. What was the delay, I wondered. Fifteen or so minutes later, the moderator stepped up on stage and grabbed a microphone. Wearing a ball cap and big shades, he told us to "Put your hands together for Charles Smith. Come on, he needs a real loud welcome." When the applause finally hit the right volume, Charles, rushed out with hair flying and leapt on stage. At this point, moderator Alan Kropf of Mutineer Magazine (said to be targeted for "Millennials") basically benched himself while relinquishing the stage to Charles Smith, owner/winemaker for K Vintners. Constantly moving around the entire stage, Charles proceeded to talk about what a wine could be - no, ought to be - illustrated with slides of Lawrence Welk ("do you want a wine like this?") and Robert Plant ("or, do you want a wine like this!"). It was an interesting opening to the morning - literally a wake-up call to many I'm sure.
2006 K Vintners Syrah - Pheasant Vineyard, Wahluke Slope. Big, jammy and lush, with notes of tar and asphalt and an almost a Petite Sirah quality. Mouthfilling and mouthcoating, with a interesting mineral quality.
2006 K Vintners "The Deal" Syrah - Sundance Vineyard, Wahluke Slope. Somewhat meatier and gamier than the preceding wine, with a nice acid edge to the big fruit. Good balance and tasty finish.
2006 K Vintners Syrah - Cougar Hills Vineyard, Walla Walla. About 70% whole cluster from a vinyard littered with cobblestones. Smoky and roasted in both aroma and flavor, the wine is rich and chewy, with flavors of licorice, meat, and tapenade.
2006 K Vintners Syrah - Wells Vineyard, Walla Walla. Charles spoke reverently about this wine, from a vineyard with new owners who recently tore out the Syrah. 100% whole cluster, and smells every bit of it. Huge nose of dried herbs. Inky and big-framed, somewhat backward, yet also nicely balanced.
2006 K Vintners Syrah - Phil Lane Vineyard, Walla Walla. Slightly sweeter than the preceding wines, and a bit Petite-like, this wine carries a dark chocolate scent and flavor, with notes of licorice and tar. Nice fine-grained tannins compliment the big rich mouthfeel and finish.
2006 K Vintners "Motor City Kitty" Syrah - Stoneridge Vineyard, Royal Slope, Columbia Valley. From a region about 200 miles north of Walla Walla. Quite peppery, with herbed notes of whole cluster and a hint of floral aromas. Arguably softer in mouthfeel, but big and rich on the palate, with good balance and finish. 15.5% abv.
2006 K Vintners "Royal City" Syrah - Stoneridge Vineyard, Royal Slope, Columbia Valley. Huge fruit-filled fruit bomb. Less, if any, whole cluster notes. Big, rich and massive on the palate, with tannins to match. With it 17% alcohol, this one fully deserves its skull and crossbones on the label.
For ensuing 90 minutes, a hyperactive Charles Smith, mic in hand, moved about the stage proselytizing about making and drinking wine, and dropping a few "F" bombs to punctuate his excitement. Unfortunately, he also took a few profane and humiliating swipes at the poor soul running his slide show (an employee of his, I was later told). The audience appeared variously stunned, puzzled or amused, and there were periods of time when one wondered if this was really winemaker Charles Smith, or some mental escapee who merely wandered into the hall by mistake.
As I looked around the room, reactions of the attendees varied - largely based on age. I half expected to see some people leaving the presentation, either offended, annoyed or both. But, I didn't see anyone leave, and I think overall the seminar was well received as sort of an amusing, if sophomoric, approach to schooling us on how a wine 'ought to taste' in today's world.
So, who is Charles Smith, and in our little sequestered world of winemaker worship, what entitles him to preach to us? Well, owner-winemaker Charles Smith with his mop of Sideshow Bob hair, bad-ass attitude and bold packaging arrived in the Walla Walla Valley following eleven years in Scandinavia managing rock bands. Okay, maybe that's not a the same as a UC Davis degree, but he apparently does have some winemaking chops - as exhibited by some huge scores given by the Wine Advocate for several recent wines. In addition, Charles is emblematic of the latest wave of new world winemakers - extrovert, brash, experimental, and looking for some immediate gratification in the beverage we all love. Originally hailing from northern California, Charles says he has been involved with wine "personally and professionally" his entire life. It's hard to doubt, given his obvious enthusiasm for the beverage. That said, he's also quoted as saying, "It's just booze – drink it!" And fittingly, Charles descended the stage during and toward the end of his presentation to personally deliver more Champagne to anyone who wanted it - and there were more than a few interested people.
Currrently K Vintners is producing wine from 3 different viticultural zones: Red Mountain, Columbia Valley and the Walla Walla Valley. Each of these areas are proving to be unique and expressive for the viticulture of Syrah. In April '02 K Vintners planted two separate blocks of vineyards to Syrah adjacent to the winery in the rocky dry creek beds that run through their property. The winery produces small lots of single vineyard Syrah, with production level at 2000 cases per year, divided between five wines. The "K" Syrahs all seem to show a different terroir in their flavors.

Impressions: educational, despite the bombastic approach. I've long admired Washington Syrahs - especially those from Walla Walla Valley, an area that actually spans both Washington and Oregon. Charles' wines were not unlike his personality. And, aside from terroir, isn't that something that we might expect from any winemaker?

(l to r) Philippe Cambie, Vincent Maurel, Michel Tardieu, and Jeb Dunnuck
(Moderated by The Rhone Report's Jeb Dunnuck, this seminar which takes an in-depth look at the Châteauneuf-du-Pape wines produced by Vincent Maurel, Michel Tardieu, each with the consultation of Philippe Cambie.)
A look at the Châteauneuf-du-Pape wine styles and innovations of Vincent Maurel and Michel Tardieu - as well as the impact of Philippe Cambie as a consultant to both winemakers.
Starting in 2002, brothers Pascal and Vincent Maurel took over management of the family domaine, Clos Saint Jean, with some of the best situated vines in all of Chateauneuf-du-Pape, all in the area of La Crau. One of the first things they did was hire Philippe Cambie as consulting oenologist/viticulturist, and he is, as is well-known to readers of Robert Parker's writings, one of the greatest oenologists of Chateauneuf. Up until September 8, the year 2002 was one of the most promising vintages in recent times, but again, sadly, there was the disastrous flood that ruined the vintage. The Maurels sold off the entire crop to negociants, and made no wine.
THE WINES OF VINCENT MAUREL, MICHEL TARDIEU and PHILIPPE CAMBIE:
2007 Clos Saint Jean - Châteauneuf-du-Pape Blanc. About 1/3 each Grenache Blanc, Roussanne, and Clairette. Noticable citrusy Grenache Blanc scent, with touch of the Roussanne richness in the nose. Slightly waxy texture to its chewy body, excellent balance and long delicious finish.
2007 Tardieu-Laurent - Châteauneuf-du-Pape Blanc. A 50/50 cepage of 60 yr-old Grenache Blanc and 20 yr-old Roussanne. Slight waxy paraffin scent initially, with an elegant fruity light citrusy/floral aroma thereafter. Slightly nutty in flavor with a light waxy texture on the palate. Spent 1-yr in new oak, something of a Tardieu trademark.
2007 Tardieu-Laurent - Cuvée Spéciale Châteauneuf-du-Pape Rouge. 100% 80+ yr-old Grenache from La Crau. 100% whole cluster fermentation. Gorgeous nose of toasted herbs, soy sauce and tamarind, along with a light scent of whole cluster ferment. Rich and mouthfilling, tannic, but amazing length with persistent fruit throughout the very long finish. Wow!
2007 Clos Saint Jean - Deus Ex Machina Châteauneuf-du-Pape Rouge. A 60/40 cepage of Grenache and Mourvedre. Rich and ripe in aromas - complex and nicely interwoven elements. Lots of sweet red/black fruit. Big and gets even bigger on the palate through the very long finish and aftertaste. Believable as a New World example of the genre - except for the core of this wine, which remains classically French. Difficult to put into words, but this could have come from nowhere other than CdP. A tour-de-force!
2006 Tardieu-Laurent - Cuvée Spéciale Châteauneuf-du-Pape Rouge. From La Crau. Inky color, slightly chalky/mineral in the nose, along with lots of spices including tamarind. Chalky fine-grained tannins in texture, with a stern backbone, excellent balance and very long finish.
2006 Clos Saint Jean - Deus Ex Machina Châteauneuf-du-Pape Rouge. 100% whole cluster fermentation. Relatively lighter in color than others in flight (normal w/whole cluster). Slightly ripe nose, with some chalky mineral notes. Negligible whole cluster scent. Lovely red fruit, big, but with excellent acids and balance, leading to a very long slightly sweet finish.
2005 Tardieu-Laurent - Cuvée Spéciale Châteauneuf-du-Pape Rouge. From La Crau. Nose of India ink, toasted herbs and some whole cluster scent. Very fresh on the palate, with vibrant fruit peeking through above the sea of tannins.
2005 Clos Saint Jean - Vieilles Vignes Châteauneuf-du-Pape Rouge. A bit closed in the nose, with traces of smoky fruit and herb. Big, rich, and slightly ripe, with notes of cocoa, talc, and mineral. Very nice balance and finish, though a bit riper than I'd prefer.
2004 Tardieu-Laurent - Cuvée Spéciale Châteauneuf-du-Pape Rouge. From La Crau. Drop dead gorgeous nose of deep red fruit, talc, toasted herb, and nicely integrated whold cluster scent. Packed with fruit, though slightly front-loaded, with excellent balance, medium tannins, and very long excellent finish.
2004 Clos Saint Jean - Combe des Fous Châteauneuf-du-Pape Rouge. Cepage of 60% Grenache (100 yr-old), 20% Syrah, 10% Cinsault, and 10% Vaccarèse. Very closed in the nose. Big chewy body, excellent level of ripeness, and very textural in mouthfeel with fine-grained, though firm and still very present tannins.
There are three cuvees at Clos Saint Jean. The Clos St. Jean classic is about 85% old-vines Grenache (younger Grenache is sold off to negociants), 10% Syrah, 3% Mourvedre, and 2% old-vines Cinsault. Another cuvee is called Combe des Fous (Hill of Fools). This cuvee is from a specific parcel on Crau that used to be considered too difficult to work due to the large stones, but the Maurels' grand-father was fool enough to think he could succeed here. The Grenache is from old-vines parcel (70% of the cuvee), with the balance being the Maurels' best Syrah aged in barrique, with a small amount of Cinsault. The third cuvee, Deus Ex-Machina, and as it's base (60%) has the Maurels' 100 yr-old Grenache vines, with the remaining 40% a low-yielding Mourvedre. The property covers 43 ha. situated at lieu-dit La Crau. All grapes are de-stemmed before fermentation. The maceration lasts for about 35 days. For Grenache no ageing in wood but the other red varieties are aged in new or one-year-old barrels for about 12 months.
Michel Tardieu began in the wine business as a négociant (with Dominique Laurent), but has expanded his talents to that of winemaking, creating the Tardieu-Laurent label for marketing wines from the Rhone valley. They succeeded in finding wines from very old vines and from good producers. Their goal was to produce top wines and not to be a firm with great volume of production. They were soon known for the use of new oak, and this is still a kind of trade mark for the firm. Today Tardieu runs the firm on his own. He and consultant Philippe Cambie make the winemaking decisions.
Two-thirds of Michel Tardieu's production is in the southern Rhône, where Michel has working relationships with 60 growers, including 40 in Châteauneuf-du-Pape. The remaining wines are produced in northern Rhône, where Tardieu's network includes 40 growers. Widely recognized for having secured long-term, Michel makes hand-shake deals with vignerons who carefully guard the location of their properties. He selects vineyards with 50- to 100-plus-year-old vines. During the course of the year, he regularly visits the vignerons and walks their vineyards, sharing technical information, winemaking techniques and even declaring when the grapes are ready to be harvested.

Once picked, the grapes are sorted and all of the wines are fermented at the vignerons' properties under Michel's cautious control. To achieve this effectively, Michel works in close cooperation with Philippe Cambie, a reputable oenologist in the Rhône Valley. Philippe intervenes on behalf of Tardieu-Laurent during the winemaking process and follows the cuvées in each domaine, ensuring they are made to represent the philosophy of Tardieu-Laurent. He also provides technical support to his vigneron partners and supports the analytical follow-up of the wines throughout their élevage.
The barrels, which hold 228 liters each, are shorter and wider, with less surface area than a Bordeaux-style barrel. These special barrels have thicker staves and a deeper bilge for the lees to collect during long aging periods, between racking of the wines.
Tardieu-Laurent makes approximately 17 wines each year, two-thirds of which are produced in southern Rhône. The remaining wines are produced in northern Rhône. Wines have to be vinified and to be kept in the area of origin until local authorities have approved the right to the name. Therefore Tardieu delivers barrels to keep the wines at the producers until February after the harvest. Then the wines are transported to the cellars in Lourmarin and kept there for the rest of the ageing process.
Philippe Cambie is the Rhone's Super-Star winemaker-consultant who has crafted some of the Rhone's most compelling wines over the past two decades. A firm believer in the quality of Grenache, Cambie is credited by many as the man that turned the Southern Rhone around. Continually noted by critics as the premier consultant and enologist in the Southern Rhone, he was dubbed "the Michel Rolland of the Rhône" by Robert Parker, Philippe Cambie is one of the top enologists in the Southern Rhône, and responsible for many of Châteauneuf-du-Pape's cult wines – indeed, he is credited with helping to craft 4 of the 100 point Chateauneuf du Papes from the 2007 vintage. Cambie's reach throughout the region is massive; leaving no property or project too large or small without his services.

Impressions: this seminar ought to be a primer on Châteauneuf-du-Pape. Filled with quality information and amazingly brilliant wines. During this seminar, Philippe gave most of the on-point responses to questions, and his English is excellent. I had to question why a translator (supplied by Wilson-Daniels) was even needed.
2010 HdR : Tastings | Seminars | Auction Lots | Photo Journal