Tablas Creek Vineyard
by Eric Anderson
(excerpted from Vol.8 No.3, Journal du Vin, March 2000. Brad Harrington, Michael Poston and I paid a visit on 3/21/00 to Tablas Creek Vnyds in Paso Robles for a tour and tasting.)
Details, Details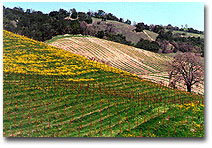 It was 1989 when the joint venture between Robert Haas of Vineyard Brands and the Perrin family of Chateau de Beaucastel purchased 120 acres in the rolling hills on the Westside of Paso Robles. The pH of the shallow limestone-clay soil and the local climate appeared to be very close to that of Chateau de Beaucastel, and they felt that this location would produce Rhone varietal wines with their own particular qualities. They believed that using French vines, rather than American vines, would give the wines a great heritage, yet also impart a true sense of California "terroir."
Send In The Clones
While awaiting customs clearance on the French cuttings, planting began in 1991 using American vines. This afforded the winery an opportunity to get into the swing of the operation. Beginning in 1993 with rootstocks supplied by Beaucastel, Tablas Creek began to work at propagating the French cuttings for planting. Setting up a full nursery, it was their original intent to only produce material for themselves. However, interest, or rather demand, for the French (Tablas) clones from many Central Coast vineyards (Zaca Mesa, Beckmen, Tensley), as well as such stalwarts as Ridge and Phelps added a new dimension to their project. The Grenache, Mouvedre, and Syrah fruit grown from these clones made a stunning debut in several wines at the recent Santa Barbara Futures Tasting. Tablas Creek should be highly commended for its good neighbor attitude and willingness to "share the wealth," as it were, with its nursery program.
A Three Hour Tour
As we pulled in past the gate for our 10:00AM appointment, we noticed some unusual features in the stone retaining wall around the back and side of the winery. Oddly, there seemed to be square cutouts spaced evenly about every 50 feet. Drainage, we wondered to ourselves. No, these were portals that had been left open purposely to reveal the substrate limestone,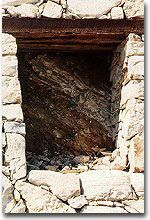 a nice testament to Tablas Creek's seriousness about the local terrior. We were met inside by Denise Chouinard, who then introduced us to Neil Collins, the cellar master and vineyard manager for Tablas Creek. Originally from England, Neil worked with John Munch at Adelaida Cellars until '97. As Neil related, the past experience with Munch had him making some very extracted wines, something that raised a few eyebrows with his new employers. "These seem a little too extracted," they would say. "Too extracted?" he'd mutter to himself, not sure there really was such a thing. But, this seems like a perfect match. Neil knows what he wants to put into a wine, and more than that, he knows how to get the most out of the Tablas Creek fruit - balance, structure, complexity, and some extraction.
Robert Haas had already started conducting a tour of the vineyards and facility for a large group from the Japanese Wine Press, so Neil elected to carry on, leading us back and forth between the two storage rooms, trying to stay out of the way of the main tour. As we tasted each wine, it was very instructive to see the differences that each of the components give to the final blend of both the red and the white. Though they've been experimenting with various techniques and varietals, they have no intention of bottling their wines as single varietals, at least not for public consumption. Neil mentioned that they have also been experimenting with some co-fermenting techniques. But, because of the different ripening rates for each variety, the practice probably won't get very wide spread. Nevertheless, one can't help but think that playing with a blended wine, rather than a single varietal, is a lot more fun, and challenging.
Honor Among Thieves
Back and forth we went, from tank to barrel to bottle to tank, with Neil practically forcing us to taste wine. He would drop the wine thief into a barrel, extract it, and aim it at us. What could we do? We tried to resist - but it was futile. We spent about 90 minutes with him just discussing Tablas Creek and winemaking, in addition to tasting through an array of fine wines in the making. One of the more enlightening comparisons was trying the two Westside Syrahs (the American vs. the French clone) side by side. Same varietal, same growing conditions, same wine-making techniques, same French oak, but different parents. Yet, they were day and night apart. Many of the barrels were "works in progress," thus not intended to be final products.
The '94, '95, and '96 vintages yielded wines which were made with fruit from the American vines, and labeled as 'Adelaida Hills Assemblage Rouge' ('94), and 'Tablas Hills Cuvee Rouge' ('95-6). The 1997 bottling marked the first vintage that wines have been made from the French clones, and this vintage is labeled 'Tablas Rouge'. A new winery was completed in in time for the 1997 harvest; previous vintages were made at Adelaida Cellars, a short distance away. The fruit is dry farmed, using organic methods to control pests and disease. Only native yeasts are used in fermentation, and very little new oak is used in barrel aging. Current production at Tablas Creek is about 3,000 cases, with an intended production of about 25,000 cases by 2008.
Unfortunately, all goods things must end. As we were standing in the reception room thanking Neil for the great time, Robert Haas stepped out from the office to introduce himself and thank us for coming by. A very nice gesture. We continued to chat a bit about the internet, and web sites. Tablas Creek currently has a webpage under the parent company site, Vineyard Brands, but it sounds as though they're putting the final touches on their own site as we speak. It was a fabulous visit! Everyone was very friendly and gracious, and I couldn't be more impressed with an organization and its staff if I tried.
Brief impressions of the 13 wines tasted:
'99 (from barrel) blend of 50% Roussanne, 25% Marsanne, 25% Viognier. Very aromatic, with sweet floral and apricot notes. Some [expected] residual sugar on palate, but excellent balance. This is roughly the % mix in the final blend.
'99 (from barrel) 100% Vermintino. This was taken from a small plot and done as sort of an experiment , something that would even-out the acids in the Roussanne and Marsanne. Wine from this grape is apparently bottled on its own as "Rolle" in Provence. Somewhat neutral in nose, with just hints of sweaty lemon or flavored tonic water. Undergoing secondary fermentation, so still lightly spritzy in mouth.
'99 (from tank) blend of 50% Roussanne, 50% Viognier. Nose of floral and apricot notes, with very nice
balance of residual sugar and acids. Has a full mouthfeel, without a ponderous or oily texture. Very nice.
'98 Tablas Blanc. (from bottle) Blend of 50% Roussanne, 25% Marsane, 25% Viognier. Very aromatic, with sweet floral and peach notes. Excellent balance, lightly crisp, long smooth finish.
'99 (from tank) 100% Mourvedre. Huge meaty nose of chocolate, mocha, rare steak juices, and blackraspberry fruit. Big on the palate, chewy texture, long finish. None of the funky vitamin/Ovaltine nose here, just dense and delicious smelling and tasting. Super stuff!
'99 (from tank) blend 63% Counoise, 31% Grenache, 6% Syrah. Big chocolate, blueberry and blackberry nose, with the Counoise somewhat suppressing the floral qualities of the Grenache. Initially, blueberry jam all over the palate. The sweet chewy fruit picks up a stern backbone at mid palate and finishes with a nice melding of flavors and balance.
'99 (from barrel) 100% Counoise. Massive blueberry jam nose. Huge and fleshy mouthful of blueberry fruit on the palate, with a nice sweet finish. 15.3% alcohol.
'99 (from barrel) 100% Grenache. Sweet raspberry/blackberry and floral nose. Hefty mouthfeel, with a massive core of fruit, and substantial streak of acids and tannins. 16.5% alcohol.
'99 (from barrel) 100% Syrah "AV" (American Vnyd) - Estrella (thought to be from Chapoutier) Clone, from Qupe. Off-sweet blackberry nose. Still undergoing Malolactic, so palate has a slight spritz and aspirin-like aftertaste. Very fruit forward, with complexities in background.
'99 (from barrel) 100% Syrah "VF" (Vignes Francaise) - Beaucastle (Tablas) Clone. Very gamey, with old leather and intense barnyard qualities in the nose. Good chewy mouthfeel with an herbal and leather off-sweet taste. In contrast to the "AV" Syrah, this has many of the complexities in the foreground, with a brooding black fruit background.
'99 (from barrel) blend of 40% Mourvedre, 30% Grenache, 20% Counoise, 10% Syrah. Dense nose of blackberry/blueberry fruit, with floral and gamey notes. Big on mouthfeel, delicious blackberry fruit, long smooth and seamless finish. Very nice!
'98 (from 1200 gal barrel) blend of 40% Mourvedre, 30% Grenache, 20% Counoise, 10% Syrah. Complex nose of blackberry fruit, with some floral and herbal and leather notes. Moderate-full mouthfeel, complex black fruits, long smooth and fruity finish. While less chewy than the '99, it still has substantial if subtle flavors.
'97 Tablas Rouge. (from bottle) Blend of 34% Mourvedre, 30% Grenache, 30% Syrah, 6% Counoise. Dense nose of blackberry/blueberry fruit, with floral and gamey notes. Big chewy mouthfeel, forward blackberry fruit, long smooth and seamless finish.
---
---
Copyright © 1993 - 2004, Eric Anderson -
All rights reserved
No original material may be reproduced without written consent
Mail & Comments - Eric Anderson