Melville Vineyards
by Eric Anderson
photos courtesy of: Michael Poston
(excerpted from Vol.8 No.6, Journal du Vin, November 2000. Michael Poston and I paid a visit on 11/26/00 to Melville Vnyds in Lompoc for a tour and tasting.)
Details
This recently established winery (tasting room opened July 2000) is located right next door to Babcock, on Hwy 246. Situated on a small hill just off the highway, the Tuscan-inspired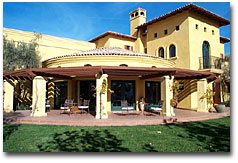 villa that serves as both the winery as well as the beautifully appointed tasting room, is an immediate attention grabber. The property looks great too, with vineyards filling the space between the road and the winery.
The Melville family brings past experience to their new venture here in the western Santa Ynez Valley. Previously, Ron Melville and family were operating a successful grape growing business in Calistoga, farming the usual Chardonnay, Merlot and Cabernet Sauvignon. The quality of their fruit was excellent, and much of it found its way into the reserve wines of Geyser Peak, Dry Creek Vineyards, and Chateau St. Jean -- no small feat. Deciding to relocate the family, yet continue in the grape growing business, Ron selected an 82 acre location in Lompoc, and began to pursue his interest in Pinot Noir. Recently, the project took on additional emphasis, and Ron, along with sons, Brent and Chad, became not only growers of high quality Pinot Noir, but also decided to become winemakers as well. Their 1999 debut vintage includes a Santa Maria and an Estate Pinot, as well as a Santa Rita Hills Chardonnay. A miniscule amount of Estate '99 Syrah (23 cases) was released December 1, 2000.
Melville currently has 75 acres under vine on the property, distributed to produce about 55% Pinot Noir, 30% Syrah, and 15% Chardonnay. In 1998, they added another 55-60 acres (of the 100 owned) in Cat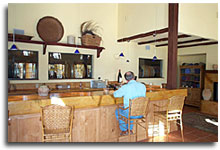 Canyon (near Los Alamos). The Melvilles have planted 11 clones of Pinot Noir in mostly sandy and loamy soil (with some clay), as well as 3 clones of Chardonnay, and 7 clones of Syrah, on 5 different rootstocks. Although currently augmenting the fruit from outside sources while waiting for maturity of their vines, intentions call for Melville to become Estate-only with the 2000 vintage. Aside from their own production, the Melville fruit is largely committed to other local wineries: Brewer-Clifton, Babcock, Jaffurs, Santa Barbara Winery, Lane Tanner, and Ojai. Ron selected Greg Brewer as winemaker for the label, given Greg's stellar reputation and familiarity with Santa Barbara County fruit. Brewer, formerly of Santa Barbara Winery, also has his own Brewer-Clifton label, which is now utilizing the Melville facility as well.
...so, I stuck my head in...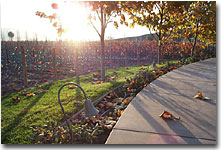 On arriving, we first met with tasting room director, Megan Wright, who started us out with the '99 SMV Chardonnay. Chad Melville then stepped out to introduce himself, and after an in-depth description and tour of the grounds, the winery, and their winemaking approach, we proceeded to "wade into" a little barrel tasting. In expressing yields, most wineries speak in terms of tons-per-acre from the vineyard. Given the high-density plantings, Melville prefers to use pounds-per-vine as a way to express its yields. In the case of the Estate Pinot, the 1/3 ton per acre translates to 1/2 lb per plant. Chad explained Melville's current and preferred method of bin-fermenting the fruit, using extended maceration, 35% carbonic maceration, and gravity feed to minimize handling the fruit.
At one point, Chad uncovered a bin of fermenting Pinot to show us the fruit and stems "cooking." By impulse, I stuck my head into the bin I took in a big wiff -- big mistake. The huge CO2 blast felt like I was drinking 7-Up with my nose! Chad's role as Assistant Winemaker keeps him involved in the day-to-day processes with Greg, something he obviously relishes. "Wanna try the 115 clone with different levels of stems," he asked, climbing up a stack of barrels with the wine thief in hand. He seemed just as fascinated as we were at discovering the results of different techniques used for each wine. Actually, one of the really interesting things about barrel tasting is the ability to taste all of these individual raw materials -- the effects of using various clones and yeasts. This is never more obvious as with Pinot Noir. Melville also appears to have all the raw materials be very successful in this venture, and we may be witnessing a rising star.
Brief impressions of the 11 wines tasted:
1999 Melville Chardonnay - Santa Rita Hills (67% Sweeny Cyn; 33% Estate). $20. Smoky and crisp nose, with smoke, citrus, and sweet oaky nuances in the mouthfeel. Saw 50% new oak, 25% ML. Aroma/Taste: A-/A-
-- in the winery...
2000 Melville Pinot Noir (from barrel) 777 clone - 3-yr old vines. Big, fresh, perfume-laden, candied nose. Huge young mouthfeel, with a bit of malolactic (ML) leading to a slightly chalky-fruit finish. Aroma/Taste: B+/B+
-- tasting the 115 clone fermented with various levels of stems:
2000 Melville Pinot Noir (from barrel) 115 clone - 3-yr old vines. Fermented on 30% stems. Dark black cherry nose.
Lots of sweet fruit, chewy mouthfeel, with ML largely dissapated. Aroma/Taste: A-/A-
2000 Melville Pinot Noir (from barrel) 115 clone - 3-yr old vines. Fermented on 50% stems. Slightly restrained stemmy nose, with floral notes. Chewy mouthfeel, with bing and black cherry fruit, and lots of oak and toast on the palate. No ML noted on long finish. Aroma/Taste: A-/A-
2000 Melville Pinot Noir (from barrel) 115 clone - 3-yr old vines. Fermented on 100% stems. Very floral and stemmy aromas, with a sweet black cherry and candied-cinnamon quality in the nose. Very youthful mouthfeel, with flavors of freshly crushed fruit, and plenty of astringent tannins through the long finish. Aroma/Taste: A-/A-
-- tasting the differences using the same yeast used on different clones:
2000 Melville Pinot Noir (from barrel) 113 clone. Fermented on 33% stems. Floral and meaty nose, with some stems and toast. Full and fleshy mouthfeel, with lots of young cherry fruit, and medium-long finish. Aroma/Taste: B+/B+
2000 Melville Pinot Noir (from barrel) 114 clone. Fermented on 33% stems. Very meaty, bacon-like quality in the nose. Full mouthfeel, with lots of black cherry, cranberry, and toast. Aroma/Taste: A-/A-
-- and one using just the indigenous yeast:
2000 Melville Pinot Noir (from barrel) 115 clone - indigenous yeasts. Fermented on 33% stems. Basket press; 1st crop from these vines. Very youthful mouthfeel, with largely restrained black cherry flavors, and a hint of ML on the back end, leading to a long finish. Aroma/Taste: B+/B+
... back in the tasting room...
1999 Melville Pinot Noir - Estate. $25. Smoky, black cherry nose. Medium-full mouthfeel, with Bing cherry flavors to the omewhat sweet/sour fruit, and a nice toasty finish. Mainly juice from the 115 clone, with a small amount of 114. 40% new oak used. 33% fermented with stems. Aroma/Taste: A-/B+
1999 Melville Pinot Noir - Santa Maria Valley. $24. Very nice black cherry/cinnamon nose. Medium mouthfeel, fruity and slightly candied flavors, falls off a bit on the finish. From 30-yr old Santa Maria Hills Vnyd. 33% fermented with stems. Aroma/Taste: A-/B+
1999 Melville Syrah - Estate. $25. Lightly fruity aromas of blackberry, boysenberry and smoke. Medium weight, somewhat fleshy mouthfeel, medium-long finish. First crop from 3-yr old vines. 23 cases made. Nice first effort. The lighter flavors and texture of this wine is no doubt due to the immaturity of the vines. I expect that future vintages will put on more weight. Aroma/Taste: B+/B+
---
---
Copyright © 1993 - 2004, Eric Anderson -
All rights reserved
No original material may be reproduced without written consent
Mail & Comments - Eric Anderson