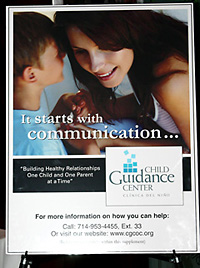 I recently attended what organizers hope will be the second of a continuing series of wine auctions - all in the name of charity. The Share Our Wine auction was started...

"TO RAISE MONEY FOR THE CHILD GUIDANCE CENTER. FOUNDED IN 1967 BY A GROUP OF CONCERNED PARENTS AND MENTAL HEALTH PROFESSIONALS, CGC IS A 501 C (3) PRIVATE, NON-PROFIT THAT CURRENTLY PROVIDES SPECIALIZED OUTPATIENT MENTAL HEALTH, CHILD ABUSE AND SUBSTANCE ABUSE COUNSELING SERVICES TO OVER 950 CHILDREN AND FAMILIES PER WEEK. SERVICES ARE PROVIDED THROUGH THREE MAIN LOCATIONS IN THE CITIES OF BUENA PARK, FULLERTON AND SANTA ANA AND THREE SATELLITE LOCATIONS IN ORANGEAND SANTA ANA. ADDITIONALLY, CGC PARTNERS WITH A NUMBER OF PRIVATE, NON-PROFIT AND GOVERNMENTAL AGENCIES TO FACILITATE LINKAGE WITH OTHER NEEDED SOCIAL AND MEDICAL SERVICES. CGC CURRENTLY PARTNERS WITH UC DAVIS MEDICAL CENTER TO PROVIDE PARENT-CHILD INTERACTION THERAPY SERVICES AT ITS SANTA ANA LOCATION."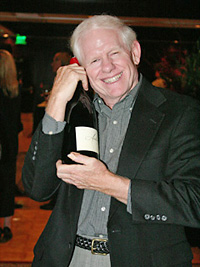 The price of admission: $50 and a bottle of wine with a similar street price, and you were admitted to the silent auction. The event was held at Morton's, across from Costa Mesa's South Coast Plaza. The Board Room at Morton's turned out to be a perfect venue for us, and once the doors were closed - for the regular patrons, as well. Bottles were arranged on four different tables, with bid sheets at the foot of each of the individual lots. Along with bottles brought by each of the attendees, several winery-donated lots really provided some fascinating bidding items. How does Screaming Eagle, a 3L bottle of Williams Selyem Pinot Noir, Pride Mtn Reserve, several Aubert wines, some Shafer Hillside Select, a couple of big bottles of Trefethen, Opus One, Mouton, etc, etc. There was even a teaser in the group - a bottle of Gallo Thunderbird.
The evening began with complimentary Louis Roderer sparkling wine and a number of appetisers. The food was fabulous, especially the mini-hamburgers. A great evening of plenty of Hors-d'Oeuvres and a seemingly endless supply of wine made for some loose wallets, and I'm sure a very successful event.