October 30, 2006
---
RUSSIAN RIVER VALLEY - redux, with the Pinot on the River festival
This past weekend I attended the 3rd annual Pinot on the River Festival, held this year at the Vintner's Inn and John Ash & Co. brand new Event Center in Santa Rosa. This multi-day event (Thurs-Sun this year) consisted of a couple of "road trips" to wineries on the pre-event days of Thursday and Friday, while Saturday and Sunday contained no less than seven seminars, two tastings, and sumptuous dinner on Saturday evening. Very enjoyable, and, aside from the final tasting, a nice small intimate event.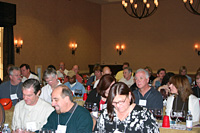 Kudos to the organizers (Pinot Report's Greg Walter & Eric Hall) on the Sunday tasting. At four hours in length (Noon-4:00), it seemed like a daunting undertaking - both for wineries as well as for guests (unlike Saturday's tasting, Sunday's Grand Tasting was open to the public). You might think that four hours of Pinot would have produced a lot of staggering. Ironically, it was just the opposite. I'm sure people felt less rushed to get to the tables, and seemed to pace themselves. And another thing -- At 3:50, only two wineries had run out of wine or had left. This is almost unheard of.
On the downside, seminars seemed to run into endless delays in Saturday. The first seminar finally started 40-45 minutes late, and that in itself threw everything else into a tailspin. That said, everyone seemed to take it in stride, so it appeared that everyone was determined to have a good time.
It will be awhile before I get the tasting and seminar notes posted, but just to whet your appetite, here were some of my favorites of the show (in no particular order):
'05 Harrington - Brousseau, and Gap's Crown
'05 Skewis - Bush
'04 Sojourn - Sangiocomo
'04 Freeman - RRV
'05 Peay - Pomarian, and Scallop Shell
'05 Kosta Brown - Garys', Koplen, and Keefer
'05 August West - Rosella's
'04 Du Nah - Estate
'03 Clos Du Val - Carneros
'04 Dutton Estate - Jewel Block
'04 Etude - Carneros Estate, and Deer Camp Estate
'04 Failla - Hirsch
'04 Native 9
'04 Vergari - Du Nah Vnyd
'05 MacPhail - Toulouse
'04 Inman - Olivet Grange
'04 Roessler - La Brisa (Kanzler)
October 11, 2006
---
RUSSIAN RIVER VALLEY - visits and interviews
Brian Clark and I joined our cinematographer Mark Ryan up in the Russian River Valley for visits to Williams Selyem, and interviews with growers Joe Rochioli, Howard Allen, and Jim Forchini. Our goal - a couple of podcasts for GrapeRadio, and a video podcast or two for W/S.
Arriving early Monday, we immediately went over to Williams Selyem to see how crush was going - and it was indeed going! This operation is a well-oiled machine, with everything moving at stop watch precision. Grapes come off the truck, get dumped onto the sorting table, and get moved to the fermenting bins ASAP. Aside from documenting the process, our job was to stay the hell out of the way - something that we were mostly able to do well!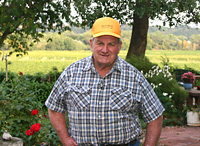 After racing into town at Noon for a quick bite, it was back to Westside Road for an interview with Joe Rochioli, Jr. Meeting out in front of the winery/tasting room, we told him we needed someplace quiet to conduct the interview. Joe suggested his patio deck - which, since it's right next door, has exactly the same view as the tasting room - perfect! We began at 1:30, and were slightly concerned how long we'd be able to keep Joe from things that might have needed his attention. Well, by 6:00, we figured that was a moot point. What a blast - what a great guy, with lots of great stories.
The next morning we had a cancellation, so we took the opportunity to run over to one of Williams Selyem's Estate vineyards - the Drake Vineyard, as well as pick up some footage of the RRV. It had been raining off and on since morning, but we were able to get a break as we checked out this relatively new vineyard across the river from Guerneville.
From here, it was back to interview Howie Allen, owner of the famous Allen Vineyard right near (actually surrounding) the W/S winery. Crush was still actively going on, so we had to try to find a quiet place to record. Luckily, we were right in Howie's back yard - literally! We set up behind an old barn on the Allen property, and cranked away. Great guy!
Up bright and early Thursday for our scheduled interview with Bob Cabral, head winemaker and General Manager for Williams Selyem. After that, it was over to Dry Creek to meet with Jim Forchini to discuss old and new vine Zin. Then finally, back to meet with Mark Malpiede, Marketing Director for Williams Selyem.