Rhône Reunion - April 2014 - Part 2
Our "Rhône Reunion" group had sprung from the idea of getting friends together again in the absence of the annual Hospice du Rhône (HdR) event in Paso Robles. Most of us had first met each other at past HdR events, and many of us had not seen each other since the final HdR in Paso in the spring of 2012. While our get-together was not an attempt to re-create HdR, we did want to carry on some parts of that overall experience – the dinners and winery / vineyard tours that we'd always arranged on our own – and most of all we wanted to share in each other's company again.
Our group traveled to Paso Robles from many parts of the country – Mel Hill from Chicago, Charlie & Pat Chadwick and Terry & Joan Hyde from Virginia, Bennett Traub from the Los Angeles area, Mike Ripley-Lotee from the California desert, and Bob Summers…well, you never quite know where "Backroad Bob" will be at any given time!
We'd visited Nick Elliott of Nicora, Mark Adams of Ledge / Catacombs / Kazoo / California Soul / Los Topos, Amy Butler of Ranchero, and Anthony Yount of Kinero / Denner on Friday, and we had another full day of wine touring planned for Saturday.
Saturday - April 26, 2014
Tasting Notes: Current Releases

Law 2010 "Beguiling," Paso Robles. 94% Grenache, 6% Syrah. Medium-dark color, this had aromas of ripe red fruit, lots of spice, and touches of herbs and sweet oak. Medium-bodied with a moderately rich texture, this finished with chalky tannins.

Law 2010 "Sagacious," Paso Robles. 44% Grenache, 42% Syrah, 14% Mourvèdre. Darker color, featuring both red and black fruits on the nose along with dried herbs, earth, a hint of black pepper, and plenty of spicy oak. Rich but lively mouthfeel, with bigger tannins on the finish – needs more time but quite intriguing.

Law 2010 "Intrepid," Paso Robles. 100% Syrah, fermented in large-format French oak cooperage, aged in barriques. Very dark color, this showed more ripe black fruits, mocha, bacon, smoke, spice, and vanilla/oak. Big, rich, and structured, this had a firmly tannic finish – this has lots of upfront appeal but should benefit from time in the cellar.

Law 2010 "Audacious," Paso Robles. 44% Grenache, 26% Cabernet Sauvignon, 20% Syrah, 10% Petit Sirah. Dark color, with upfront herbs on the nose along with dark berry fruit, spice, and sweet oak. Big and structured on the palate, with grippy tannins that will need time to settle down.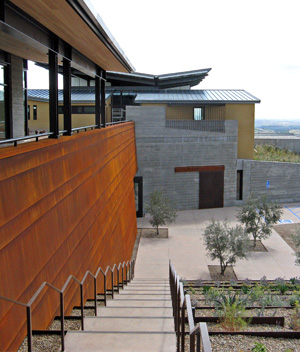 Most of our group reassembled on Saturday morning (a couple of people headed off to do their own things for at least part of the day) and drove west from town along Peachy Canyon Road. The narrow road curves through the mountains, and it always takes longer to get from "Point A" to "Point B" than I think it will. But we'd given ourselves plenty of time and we eventually reached our first destination of the day at Law Wine Estates, where we were scheduled to meet Oliver Esparham, Law's general manager.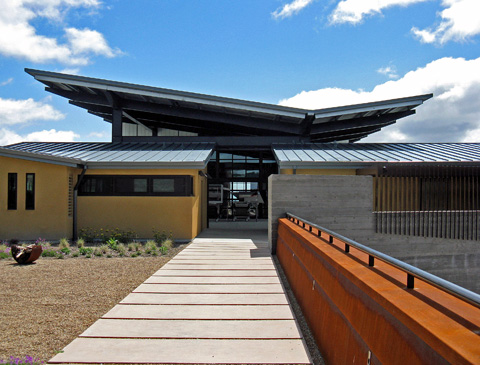 After entering through the gate from the road, we headed up a hill to the winery but we were not quite sure where we were supposed to meet there – this was the first time any of us had been to the facility. We parked at the back of the winery and I called Oliver to check whether we were in the right place. It turned out that we'd gone too far, but after Oliver came out to greet us, we realized that our mistake enabled us to get a nice tour through the winery itself before ending up at the tasting room, where we were supposed to have arrived. As we made our way toward the through the winery, Oliver told us that he'd studied enology and viticulture at UC Davis and was a self-described "cellar rat" before landing at Law.
Law is a new label, with the inaugural vintage being 2010 and the winery having been completed just in time for the 2013 crush (earlier wines were made at Denner). Owners Don and Susie Law are from Colorado, and purchased their 250-acre property, which extends on both sides of Peachy Canyon Road, in 2007. The location is close to the historic HMR Vineyard, and adjacent to Daou and Glenrose. The Laws love Rhône wines and wanted to make that the focus of their new wine label, but they're also fans of Priorat – the property reminded them of Spain – and the vineyard includes grape varieties typically found in wines from that region.
The initial vineyard plantings came in 2008, following extensive investigation of the soils – over 40 soil pits were excavated. The soil throughout much of the vineyard is high in calcium carbonate. Highly-regarded viticulturist John Crossland designed the vineyard layout, with input from both the Laws and from their winemaker Scott Hawley (who also has his own Torrin label). There are around 60 acres planted at the hilly site, at elevations ranging from about 1,600 to 1,950 feet. Varieties currently planted include Grenache (some head-trained), Syrah, Carignane, Tempranillo, Mourvèdre, plus smaller amounts of Cabernet Sauvignon, Petit Verdot, and Petite Sirah, with the Grenache and Syrah making up around 65% of the total. New plantings will include more Mourvèdre, as well as Clairette, Roussanne, and Marsanne. The vineyard is farmed organically but is not certified, and the goal is to dry-farm the site if possible.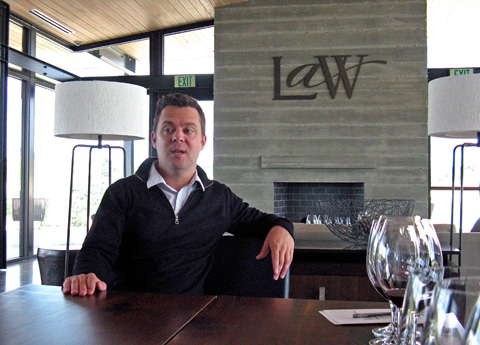 The striking modern winery building is built into a hillside to allow for gravity flow during the winemaking process – Scott also had significant input on the winery design. The shaded crushpad is on the upper level, with fermentation tanks below. Barrel rooms and case storage are another level down, dug into the hill with concrete walls to aid in natural cooling. Other environmental features of the winery include collecting rainwater in an underground tank, and also recycling wastewater – minimizing water use is crucial these days with access to groundwater in Paso Robles becoming more difficult. The heart of the winery is the row of 22 custom-made concrete fermentation tanks, featuring heating / cooling coils embedded within the concrete. The tanks are about 3.5-ton capacity, and are designed to allow for punchdowns rather than pumpovers. There are also some 1.5 to 2 ton stainless steel fermentation tanks for smaller lots. Unlike many wineries where concrete tanks are used mainly for aging wines, the ones at Law are specifically made for fermentation only rather than aging.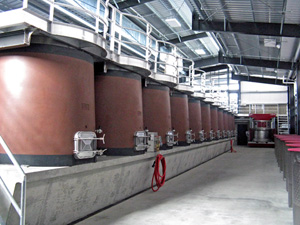 As with a number of other vineyards in the area, the fruit at Law retains good acidity even at higher brix – Oliver told us that they may pick fruit as high as 30 brix and the pH will still be in the 3.4-3.6 range. For this reason, no acid additions are needed. Efforts are being made to modify the farming to ripen the fruit at lower brix, and the Law team feels that as the vines mature, they will regulate the sugar/acid balance better. Fruit is picked at night, and is into winery before 9am and processed by early afternoon. There is a wide range of whole cluster percentages used in the fermentations, with up to 100% for some lots. There is generally a 7-10 day cold soak, then tanks are warmed up to start native yeast, with a 3-4 week fermentation period. Basket presses are used to press the wines into barrels on the lower level, and radiant floor heating warms the barrel rooms when needed to aid in malolactic fermentation. Syrahs are generally aged in barriques, with Grenache in puncheons. The Law facility had two concrete "egg" tanks when we visited, but they are planning to buy more of these as well as large wood foudres for aging the wines. Wines are barrel-aged for 20-22 months, then another year in bottle before release. The facility was built for a 10,000-case capacity, and about 80 tons of fruit were crushed there in 2013.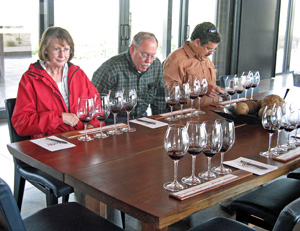 Our group arrived at the tasting room, a steel / concrete / glass structure at the winery's upper level, and boasting a beautiful view of the surrounding hills. We sat at a large table as Oliver poured all of us samples of each of Law's 2010 wines. All of the Law bottlings are made entirely with estate-grown fruit. We started with the Grenache-based "Beguiling," followed by "Sagacious," a GSM blend. Next was the 100% Syrah "Intrepid," and the final wine was a Priorat-inspired blend called "Audacious." All were big and structured for aging, with the richer "Intrepid" bottling most typical of the "big Paso style" that the area has become known for. Oliver told us that Carignane will replace Petite Sirah in the "Audacious" blend when the vines mature. The 2011 vintage Law wines have been released since our visit, and include one new bottling – a 100% Grenache called "The Nines." The 2011 blend components are similar to the 2010s for the "Beguiling" and "Intrepid," while there's significantly more Mourvèdre in the 2011 "Sagacious" (34%), and the 2011 "Audacious" features more Cabernet and Syrah, with only 18% Grenache. Total production has grown from about 1,600 cases for the 2010 vintage to around 2,200 for 2011.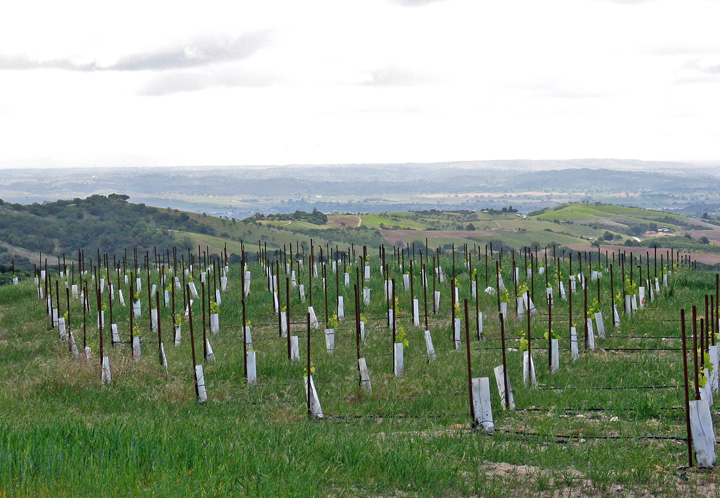 Our visit to Law was a memorable one – Oliver was a fine host, the tasting was set up beautifully, and the Law winery and tasting room were stunning. While the experience was more formal than our other visits – the tasting room is open to the public but is appointment-only – Oliver made us all feel relaxed and he was very knowledgeable about the wines and winemaking. The 2010 Law wines that we tasted were big – all in the neighborhood of 16% alcohol – but remarkably balanced and polished, without the "heat" that often accompanies higher-alcohol wines. And although the wines displayed lots of upfront fruit and tannic structure, their polish and refinement set them apart from many other big Paso reds. The "Intrepid" was my favorite of the four – it might have been the biggest and baddest of the bunch but it also showed great complexity despite being 100% varietal – with the "Sagacious" close behind. It should be interesting to follow the Law wines as the vineyard matures and both farming and winemaking become more dialed in. For fans of bigger Paso Robles reds, Law is certainly a producer to watch.
Tasting Notes: Current Releases

Tablas Creek 2013 Rosé, "Dianthus," Estate, Paso Robles. 57% Mourvèdre, 28% Grenache, 15% Counoise. Light salmon/pink color, with watermelon, earth, and spice notes along with a hint of flowers. Medium-light bodied, with a fairly smooth texture and finish.

Tablas Creek 2013 Vermentino, Estate, Paso Robles. 100% Vermentino, fermented in stainless steel. Light straw color, featuring apple and pear fruit plus herb and lemonpeel notes. Medium-light weight with vibrant acidity and a slightly chalky mineral texture on the crisp finish, nice.

Tablas Creek 2012 "Côtes de Tablas Blanc," Estate, Paso Robles. 34% Viognier, 30% Marsanne, 30% Grenache Blanc, 6% Roussanne, fermented in stainless steel. Light straw color, this showed bright stone fruit and tropical fruit on the nose, plus a touch of fresh herbs. Medium-bodied with a richer texture than the previous wine and a clean finish.

Tablas Creek 2012 Roussanne, Estate, Paso Robles. 100% Roussanne, fermented in neutral 1200-gallon French oak foudres and 170-gallon French oak demi-muids. Slightly darker color, with stone fruit and pear, herbs, and vanilla/oak aromas. Fairly creamy texture and smooth finish – intriguing now but should become more interesting with bottle age.

Tablas Creek 2011 "Esprit de Tablas Blanc," Estate, Paso Robles. 64% Roussanne, 26% Grenache Blanc, 10% Picpoul Blanc, made in both stainless steel and oak. Light straw color, displaying ripe stone fruit, lees, spice, and undertones of oak on the nose. Rich yet lively mouthfeel with a long, smooth finish – another white that deserves time in the cellar.

Tablas Creek 2012 "Côtes de Tablas," Estate, Paso Robles. 60% Grenache, 25% Syrah, 10% Counoise, 5% Mourvèdre, aged in 1,200-gallon French oak foudres. Lighter garnet color, aromas of bright red fruits, spice, fresh herbs, and black pepper. Medium-light weight with vibrant acidity and fine tannins on the clean finish, nice.

Tablas Creek 2011 Mourvèdre, Estate, Paso Robles. 100% Mourvèdre, aged in 1,200-gallon foudres. Medium-light color, with gamy, earthy, and herbal aromas along with black cherry and plum fruit. Medium-bodied, this had fine acidity and moderate tannins on the lively finish, nice.

Tablas Creek 2011 "Esprit de Tablas," Estate, Paso Robles. 40% Mourvèdre, 30% Grenache, 20% Syrah, 10% Counoise, aged in 1200-gallon French oak foudres. Medium color, with more upfront plum and darker berry fruit than the previous wine, plus earth, grilled meat, and herbs. Moderately rich and structured on the palate, finishing with chalky tannins.

Tablas Creek 2011 "En Gobelet," Estate, Paso Robles. 29% Mourvèdre, 27% Grenache, 26% Tannat, 18% Syrah, aged in foudres and puncheons. Medium garnet/purple color, this featured more floral aromas along with plum and black cherry, iron, black pepper, dried herbs, and undertones of sweet oak. Medium-full bodied, lively, and structured, with big but refined tannins, nice.

Tablas Creek 2011 Tannat, Estate, Paso Robles. 95% Tannat, 5% Cabernet Sauvignon, aged in barriques. Medium-dark purple, showing a slight floral note plus black cherry, earth, and black pepper. Big and structured, finishing with grippy tannins.

Tablas Creek 2004 Vin de Paille, "Quintessence," Estate, Paso Robles. 100% Roussanne, dried on straw-covered benches, 233 grams per liter residual sugar. Medium-light gold color, with fresh apricot, spice, and honey aromas. Rich but not cloying, this had a long smooth finish.

Tablas Creek 2010 Vin de Paille, "Sacrérouge," Estate, Paso Robles. 100% Mourvèdre, dried on straw-covered benches, 126 grams per liter residual sugar. Medium-light garnet color, this featured black cherry, chocolate, and spice on the nose. Quite rich and moderately sweet, this had an interesting stony mineral character on the long finish.



When we'd planned out our two days of Paso Robles wine touring, we wound up with an empty time slot in the middle of our Saturday schedule. We knew we'd need a place to have lunch and preferably some wine to taste. What better place to do that on the far Westside of Paso Robles than at Tablas Creek! We tossed around the idea and before you knew it, Mel had gotten in touch with Tablas Creek's Jason Haas to ask him about visiting there. Jason was going to be out of town, but he let Mel know that he'd have someone take good care of us when we arrived.
Of all the places we stopped at during our Rhone Reunion wine touring, Tablas Creek felt more like "home" than anywhere else. We'd all been there before, most of us on numerous occasions. Yet it's still a favorite spot – terrific wines, friendly staff, relaxed atmosphere – hard to beat. Tablas Creek is co-owned by the Perrin family (of Château de Beaucastel fame) and Robert Haas (founder of Vineyard Brands importers). Their 120-acre estate vineyard near the junction of Adelaida Road and Vineyard Drive was first planted in the early 1990s. As with a number of other vineyards in the area, the site features calcareous shale and clay, soils valued for their similarity to that of many great European vineyards.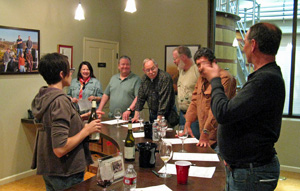 The vineyard was certified organic in 2003 and has been farmed using more biodynamic techniques in recent years. In fact, 20 acres are now farmed completely biodynamically, and incorporate sheep, alpacas, and llamas into the vineyard ecosystem. The vineyard features fairly dense planting and is dry-farmed as much as possible. The vine cuttings used for planting were brought over from Château de Beaucastel and went through the long quarantine process to ensure that they were virus-free prior to use. "Tablas Clone" vines have since been widely propagated in California and are planted in many vineyards throughout the state. Varieties at Tablas Creek include many of the classic Châteauneuf-du-Pape grapes – Viognier, Roussanne, Marsanne, Grenache Blanc, Picpoul, Syrah, Grenache, Mourvèdre, and Counoise. A few non-Rhône French varieties are also planted – Vermentino (Rolle), Chardonnay, Petit Manseng, and Tannat.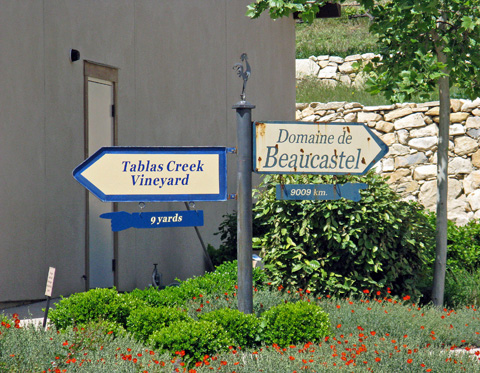 Neil Collins is Tablas Creek's longtime winemaker. White varieties are whole-cluster pressed and fermented in barriques, stainless steel, and in 1,200 gallon foudres – as with all Tablas Creek wines, they're fermented using native yeasts. Reds are destemmed, and after fermentation they are typically aged in larger-format vessels including the winery's well-known foudres. Many of the big foudres are now easily visible from the new tasting room, added to the winery about three years ago.
Tablas Creek features several lines of wines. Its Patelin de Tablas line, introduced a few years ago, includes both estate fruit and fruit purchased from neighboring vineyards (all other Tablas Creek wines are made entirely from estate fruit). Côtes de Tablas, formerly the "introductory" line from Tablas Creek, took a deserved higher profile after the Patelin de Tablas line was launched. The top end is Esprit de Tablas (formerly Esprit de Beaucastel) – the winery's finest blends modeled on those from Château de Beaucastel. There are also some varietal wines (almost always 100% varietal), a few small-production blends, and sweet wines. Total annual production is now around 25,000 cases.
After we all headed into the main tasting room, we were welcomed by Lauren Cross, Tablas Creek's marketing coordinator. She led us into a side tasting room, where we sampled 11 current releases plus one special library wine. We started off with the winery's always-tasty Rosé – it's gone by the name "Dianthus" since the 2012 vintage. A series of whites and reds followed, including Côtes de Tablas, Esprit de Tablas, and a couple of varietal wines (Vermentino and Tannat). The Tannat is unusual for Tablas Creek's varietal wines in that it's not always 100% varietal – in most years it's blended with a small amount of Cabernet Sauvignon, as is often done in southwestern France. We also tasted the "En Gobelet" blend – it comes entirely from dry-farmed, head-trained vines and is not produced in every vintage. We finished our tasting with two Vin de Paille sweet wines, including a 2004 Roussanne – quite a treat.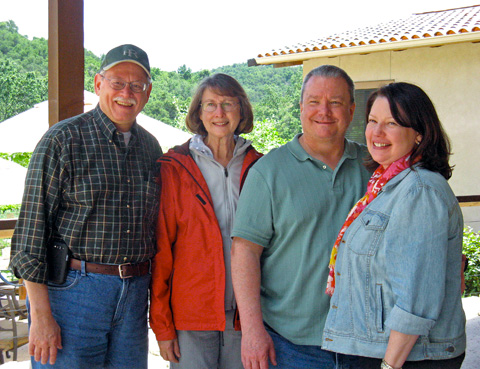 I always enjoy visiting Tablas Creek, and this time was no exception. Although we'd arranged a tasting for our group there on fairly short notice, Lauren (and Jason) came through for us. It was a nice touch for Lauren to pour for us in the smaller tasting room – it certainly made the experience more memorable. As usual, I enjoyed the Tablas Creek wines quite a bit. Though it's unlikely that you would mistake them for wines from the Southern Rhône, they're closer to that model than most from Paso Robles (and most from California in general, for that matter). And after all, they're not meant to be imitations of Rhône wines, but California expressions of wines from Rhône grape varieties. Favorites included the 2013 Vermentino, 2012 "Côtes de Tablas," 2011 Mourvèdre, and 2011 "En Gobelet." Tablas Creek has done a remarkable job of retaining the high quality and distinctiveness of each of their wines while expanding their production to meet increasing demand. And on top of that, their website and winery blog are among the best out there. Although putting Tablas Creek on our winery tour itinerary was a late addition, it was very worthwhile.
Unlike the previous day, this one was warm and sunny, so we had a relaxing lunch on the winery patio. We enjoyed our sandwiches and box lunches so much the day before from Red Scooter Deli that we ordered from them again, and we picked up chilled bottles of Tablas Creek "Dianthus" Rosé and Vermentino to share.
Tasting Notes: Current Releases, Barrel Samples & Library Wines

Harrington 2012 Fiano, Luna Matta Vineyard, Paso Robles. 100% Fiano, made entirely in stainless steel. Light greenish straw color, this had a slight matchstick note at first but it blew off to reveal lemon, flowers, and a slight saline note. Medium-light bodied with a lively texture and a stony mineral component on the finish, nice.

Broc 2007 Mourvèdre, Luna Matta Vineyard, Paso Robles. Medium garnet/purple color, this was earthy, with iron, spice, oak, and darker fruit in support. Medium-full bodied with good acidity and moderate tannins.

Broc 2008 Mourvèdre, Luna Matta Vineyard, Paso Robles. Similar color to the previous wine, but with brighter and more upfront red fruit aromas plus iron and gamy notes and with oak well in the background. Medium weight on the palate with a livelier texture and fine, slightly chalky tannins, nice.

J Dusi 2013 Syrah, Luna Matta Vineyard, Paso Robles (barrel sample). From 174 clone. Vibrant purple color, this showed bright and primary ripe plum and darker berry fruit, plus smoke and spice notes. Medium-rich texture with moderate tannins – still in need of time to develop further in barrel.

Barrel 27 2012 "Luna Matta Cuvée," Luna Matta Vineyard, Paso Robles (barrel sample). 40% Grenache, 40% Syrah, 20% Mourvèdre, aged in puncheons, this was to be bottled about a month after the tasting. Medium-dark color, with intense ripe red and black fruit, earth, and vanilla/oak on the nose. Big and structured on the palate, finishing with chewy tannins.

Giornata 2011 Nebbiolo, Luna Matta Vineyard, Paso Robles. Lighter garnet color, very floral aromas plus earth/tar, herbs, and bright cherry fruit. Medium-light weight with vibrant acidity and big but fine tannins, nice already and should age well.

Harrington 2010 Nebbiolo, Paso Robles. Sourced from about 40% Luna Matta and 60% Berardo vineyards. Medium-light color, this showed riper red fruits along with floral notes, earth, and touches of smoke and herbs. A bit bigger in texture than the previous wine, with lively acidity and a firm tannic finish.

Wind Gap 2009 Nebbiolo, Luna Matta Vineyard, Paso Robles. Slightly lighter garnet color, with a more tarry character on the nose, with flowers, spice, and black cherry fruit. Medium weight with a bigger structure than the two previous wines, finishing with big, chewy tannins – needs lots of time but has good potential.

Gang of Six 2009 Nebbiolo, Paso Robles. Sourced from 50% each Luna Matta and Berardo vineyards, 50% whole-cluster fermentation. Light garnet color, more fruit-forward cherry, plus floral, earthy, and spicy notes. Medium-light weight with lots of structure and a grippy tannic finish.

Harrington 2008 Nebbiolo, Paso Robles. Sourced from about 40% Luna Matta and 60% Berardo vineyards, about 25% whole-cluster fermentation. Medium-light color, with a slightly riper fruit profile and lots of spice, with floral and herbal notes more in the background. A bit smoother on the palate with less aggressive tannins than the previous Nebbiolos.

Giornata 2011 Aglianico, Luna Matta Vineyard, Paso Robles. Dark color, featuring dark berry fruit, smoke, earth, dried herbs, and pepper. Fairly full-bodied with vibrant acidity, this finished with grippy tannins – needs time in the cellar but very promising.

Giornata 2007 Aglianico, Luna Matta Vineyard, Paso Robles. Dark color, this had more ripe, upfront plummy fruit along with earth and spice notes. Big and structured, with firm, chalky tannins.

Ryme 2007 Aglianico, Luna Matta Vineyard, Paso Robles. 100% whole-cluster fermentation. Dark color, with a more spicy and savory character than the previous two wines, along with darker fruit and a touch of pepper. Richer texture in the mouth than the previous two wines, finishing with big, chewy tannins – could still use more bottle age but very intriguing.



We left Tablas Creek and drove back up Peachy Canyon Road for our last appointment of the day at Luna Matta Vineyard. Bennett had arranged this visit with his friends John Ahner and Jody McKellar, who own the vineyard, and both Bennett and I had coordinated further with vineyard manager Stephy Terrizzi. Bennett and I had been to Luna Matta on a number of occasions but this was the first time for most of the others in the group. The plan was not only to tour the vineyard but to taste a number of wines from various producers, all sourced partly or entirely from Luna Matta fruit. We headed up the dirt road from the main gate, and parked near the small house on the property, where we met John, Jody, and Stephy.
John and Jody live in the Santa Cruz area – John's background is as a landscaping contractor. The property had been used for both cattle grazing and as a walnut orchard – there are still about 40 acres of walnut trees there. John and Jody have also added nearly 80 olive trees, mostly Cortina. Initial planting for the vineyard was in 2001, and continued for a few years afterwards. Currently around 36.5 acres, the vineyard ranges from about 1,600-1,900 feet in elevation. Like other sites in the Peachy Canyon Road area, it's a bit north of the well-known Templeton Gap, so it's somewhat warmer.
The vineyard features clay topsoil that extends from around 6" to 48" below the surface, with fractured calcareous rock below. It's a hilly site, featuring multiple slopes and aspects that allow for a number of grape varieties to do well there. Varieties include Picpoul Blanc, Grenache Blanc, Fiano, Moscato, Nebbiolo, Aglianico, Sangiovese, Grenache, Mourvèdre, Syrah, and Carignane. As with other vineyards in the area, the hope is to someday be able to dry-farm the vines, but it's not yet certain whether that will be possible. Stephy and ranch foreman Francisco Madriz head up the team working with the vines – the vineyard is farmed organically and received CCOF organic certification in 2010.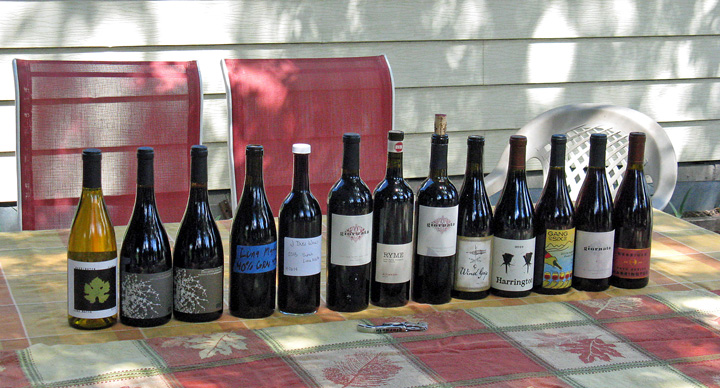 We decided to start out with tasting the wines sourced from Luna Matta fruit and walk through the vineyard afterwards, so we all sat around a couple of tables that had been set up outside the house. A pretty good afternoon wind had started to whip through the mountains – a typical occurrence at Luna Matta. Bennett and I had each brought a couple of bottles to supplement those supplied by John, Jody, and Stephy, and we ended up with a total of 13 wines to taste. Producers included Sonoma County's Wind Gap and Ryme, Berkeley's Broc Cellars, San Francisco's Harrington Wines (where I work part-time) and Gang of Six (a non-commercial wine I make with a few friends), and Paso's J Dusi, Barrel 27, and Giornata (the label of Stephy and her husband Brian). While I avoid writing tasting notes for wines from producers I work with, I decided to make an exception here in the interest of providing a more complete overview of this unique tasting of wines from Luna Matta.

We tasted bottlings of Fiano, Mourvèdre, Syrah, a GSM blend, Nebbiolo, and Aglianico. A couple of these were barrel samples, while others went back as far as the 2007 vintage. The Syrah barrel sample was from J Dusi Wines – winemaker Janell Dusi is the granddaughter of famed Paso Zin grower Dante Dusi. Also of note is that the Ryme Aglianico was the first fruit that Ryan and Megan Glaab bought for their new label in 2007, and they've continued to buy fruit from Luna Matta since then.
After our tasting, most of our group walked up the hill from the house and into the vineyard with Stephy and Jody. Unfortunately John had hurt his ankle earlier that day and stayed behind. The hillside didn't look that steep from the house but we sure felt the climb by the time we reached the top end of the vine rows! The composition of the vineyard continues to be fine-tuned – Picpoul Blanc was grafted over from Syrah in 2008 and Fiano was grafted from Sangiovese in 2011. After returning to the house, Jody asked whether any of us were interested in taking a look at the newer plantings higher up the hill. A few us jumped into ATVs with Jody and Stephy, who drove us high above the main part of the vineyard – this was my first time up there. The topsoil was noticeably rockier in this area, with a number of chalky-looking stones scattered around. We looked at a recent Carignane planting, and Stephy told us that future plantings on this high hilltop will include Counoise.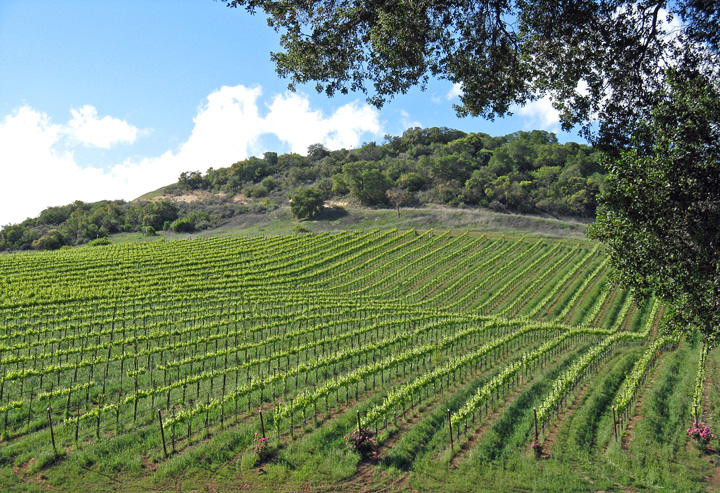 Our visit to Luna Matta Vineyard was a perfect way to finish up our two days of wine touring. John, Jody, and Stephy did a great job of putting together the tasting and of leading the vineyard tour. Tasting the broad variety of wines sourced from the vineyard's fruit was a rare opportunity, and the informal outdoor tasting was relaxing and fun. And there's nothing like touring a vineyard to gain new insights into how the terroir can be reflected in the wines from that fruit. Tasting so many different varieties, producers, and vintages, I thought it was tough to get a clear distinction of the vineyard character, but nearly all the wines displayed fine acidity and some showed stony or chalky mineral notes as well. Favorites included the 2012 Harrington Fiano, 2008 Broc Mourvèdre, 2011 Giornata Nebbiolo, 2009 Wind Gap Nebbiolo, 2011 Giornata Aglianico, and 2007 Ryme Aglianico, but every wine on the table was good. The number of noted producers who have sourced fruit from Luna Matta over the years attests to the quality of both the site and the farming.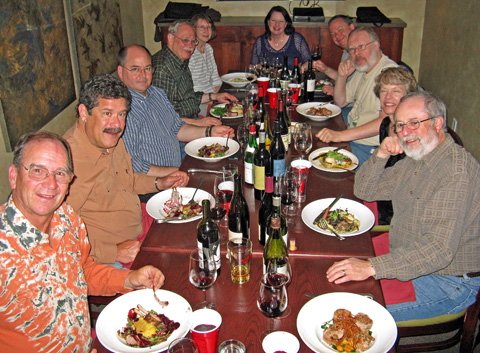 We would have been happy to stay longer at Luna Matta, but we had to make the drive back into town to get ready for our "farewell" dinner. I'd volunteered to arrange our Saturday dinner but was having trouble finding a wine-friendly restaurant that could accommodate our group. It was local winemaker Larry Roberts who suggested a new restaurant, Second Press, located right off Paso's downtown square. A few of us stopped in there on Thursday evening to have a drink before dinner and to check out the place, which looked promising. Our Saturday dinner turned out very well – I was able to work with general manager / executive chef Ryan Swarthout and manager / sommelier Eric Connelly to arrange things, and they put us in their private room (the "Press Box") that was a perfect size for our group. Larry and his wife Lisa joined us for dinner, which featured delicious food and fantastic wines that we all brought to share – I think all of us saved our best for last!
Everyone in our Rhône Reunion group went their separate ways the following morning. We all had a wonderful time getting together again in Paso Robles and enjoying a wide variety of (mostly) Rhône-style wines. We tasted Rhône-style reds ranging from the big, bold "Paso style" to more restrained and elegant renditions, with some intriguing whites and very good non-Rhônes as well. Heck, we tasted all of those things just at our visit with Mark Adams! Most of the producers whose wines we tasted have started up their labels only within the past 10-12 years (and some much less than that), so it will be worth following all of these newer producers to see how the style of their wines develops in the years to come.
It's too soon to say whether our Rhône Reunion will become an annual event or just something we do once in awhile, but either way, I hope to see the same bunch of friends again before too long – and hope that other HdR veterans can join us too. Thanks to everyone in our group who made this first Rhône Reunion such a blast. And as always, thanks to everyone that we visited for being so generous with their time and their wine!