Central Coast Tour - July 2017 - Part 4
Jane, Chris, Alan, and I had enjoyed four days on the Central Coast, but this was the day we'd need to wrap up our trip and head home.
After packing up to get ready for the drive back home on Tuesday, we headed a few miles east to Santa Ynez for our last breakfast of the wine trip at Amy Dixon's fine artisan bakery, The Baker's Table. The croissants, scones, and other pastries we had there were terrific, and Amy gave us a quick tour of the facility before we had to leave. I think we found a regular breakfast and coffee spot whenever we're in Santa Barbara wine country!
I scheduled two winery appointments in Lompoc for Tuesday morning before we all headed back home. From Santa Ynez, we drove west along Highway 246, through the northern part of the Sta. Rita Hills appellation. It was an easy drive and in about a half-hour we made our way into the Lompoc Wine Ghetto for our first winery visit of the day.
JCR Vineyard / L.A. Lepiane Wines
Tasting Notes: Current Releases & Barrel Samples

JCR 2015 Chardonnay, Estate, Santa Barbara County. Bright pear and stone fruit aromas, with notes of flowers, lemonpeel, and vanilla/oak. Medium-light bodied with a fresh mouthfeel and crisp finish, nice.

JCR 2016 Pinot Rosé, Estate, Santa Barbara County. Light pink color, this displayed subtle red fruit, herbs, and earth on the nose. Medium-light weight, with a lively texture and finish.

JCR 2014 Pinot Noir, Estate, Santa Barbara County. This featured aromatic black cherry fruit, flowers, and spice, with undertones of tea leaf and earth. Medium-bodied with great texture and structure on the palate, finishing with fine, slightly chalky tannins, nice.

Lepiane 2013 Barbera, Walker Vineyard, Santa Ynez Valley. Upfront cherry aromas along with smoke, earth, and herbs. Medium weight with juicy acidity, and a long, clean finish, nice.

Lepiane 2014 Barbera, Walker Vineyard, Santa Ynez Valley. Black cherry and plum on the nose with earth and spice. Broader mouthfeel than the previous wine, with moderate tannins.

Lepiane 2013 Grenache, Black Oak Vineyard, Santa Barbara County. Lighter color, this showed bright strawberry fruit plus notes of spice, dried herbs, and a flowers. Medium-light weight with vibrant acidity and fine tannins, nice.

Lepiane 2014 Grenache, Black Oak Vineyard, Santa Barbara County. More upfront ripe cherry and plum fruit, along with dried herbs, earth, and spice. Bigger texture than the previous wine, finishing with more tannic grip.

Lepiane 2013 Nebbiolo, Sisquoc Vineyard, Santa Barbara County (pre-release). Very floral aromas with earth, cherry, and spice components. Medium weight with fine structure and fairly grippy tannins on the finish – plenty of promise but this will need more time to show its best.

Lepiane 2016 Nebbiolo / Barbera, Santa Barbara County (barrel sample). Cherry, spice, and earth on the nose, with great acidity on the palate and moderate tannins, good potential.

Lepiane 2014 Nebbiolo, San Luis Obispo County (barrel sample). Darker fruit profile than the 2013 vintage and not as floral, with similar weight and structure, and a grippy tannic finish.

Lepiane 2015 Nebbiolo, Alisos Vineyard, Santa Barbara County (barrel sample). Lighter color, with more floral aromas along with red fruit, herbs, and earth, brighter texture than the previous wine, with big but surprisingly fine tannins, lots of potential.



We started bright and early on Tuesday morning since we were all making the long drive back to Northern California after our morning wine appointments. Our first stop of the day was with winemaker Alison Thomson at the winery and tasting room of JCR Vineyard, located in the Lompoc Wine Ghetto on the east edge of town. Alison makes the JCR Vineyard wines there as well as those for her own label, L.A. Lepiane Wines. I first heard of Alison and her Italian-variety Lepiane wines earlier in the year after reading an article on the Santa Barbara Independent website. Partly as a result of that, we'd gotten in touch and Alison participated in this year's NEB (Nebbiolo Enthusiasts and Believers) gathering in June. We were able to arrange the visit in Lompoc, where we had the opportunity to taste her own wines as well as those of JCR Vineyard.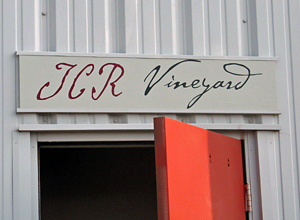 Alison is originally from El Sobrante in the San Francisco Bay Area, and she attended college at UC Santa Barbara. Between a love of plants – she worked in restoration ecology after college – and a trip to Siena as an exchange student, she was led toward the world of viticulture and wine. Alison's first work in the wine business was at the Sunstone tasting room in Santa Ynez Valley, and then at Pine Ridge in Napa. She returned to college in 2004 to study horitculture / agronomy and viticulture at UC Davis, and in 2005 she spent time in Piemonte on a trip led by vintner Michael Larner – while there, she met and tasted with famed vintner Angelo Gaja. Alison returned to Piemonte for an internship with winemaker Sergio Germano during the 2006 harvest, working both in the vineyard and winery. After earning her degree at UC Davis the following year, she worked for Manfred Krankl at Sine Qua Non before moving to Palmina in Lompoc, where she worked with vintner Steve Clifton from 2008 to 2011. Following that, Alison worked with Chad Melville for his Samsara label. It was while she was working there that she also first starting working with the wines from JCR Vineyard, assisting Chad who was their winemaker.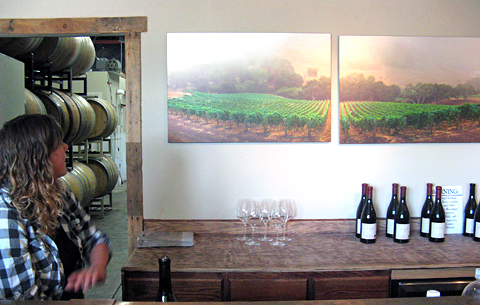 JCR is Jalama Cañon Ranch, a 5½-acre vineyard to the west of the Sta. Rita Hills AVA. The overall property is 1,000 acres, and it was purchased in 2005 by developers Wayne Siemens and David Grotenhuis – it was originally part of a much larger mid-1800s land grant. The vineyard site is on a hillside with clay and limestone soil, and was planted in 2008 with assistance from noted viticulturist Jeff Newton and from Mark Cargasacchi, who farms the nearby Jalama Vineyard. It's planted mostly to four clones of Pinot Noir (Pommard 5, 115, 667, and 777) plus a little clone 17 Chardonnay. The first vintage for the JCR label was in 2010, and Alison took over the winemaking from Chad in 2015 – she also manages the vineyard. All of the JCR wines are made from estate fruit. They're all fermented with native yeast, and Alison described the winemaking style as "hands-off." Current production is a total of around 700 cases per year.

Alison's own L.A. Lepiane label is named for her great-grandfather, Luigi Antonio Lepiane, who had come to California from Calabria in Italy and later opened a winery in Hollister in 1935. Alison has noted that both Steve Clifton and Chad Melville encouraged her to start her own label, and the first vintage of Lepiane wines was from 2013. The focus so far has been on Barbera and Nebbiolo – both varieties from Piemonte that Alison has come to love – as well as Grenache. Alison also limits winemaking intervention for her Lepiane label, as well as limiting extraction when fermenting her wines. She has just released her 2014 Barbera and Grenache, and her total annual production is only about 250-300 cases. In addition to her work with JCR and Lepiane, Alison also manages vineyards and makes wine for a couple of other producers.
When we pulled up to the winery and parked outside, we realized that we'd actually arrived at the JCR facility's back door, but Alison had gotten there just ahead of us so we spotted each other in the parking area. After greeting our group, she led us in through the winery and into the tasting room. Alison started us out with three of the current JCR wines. First was the 2015 Chardonnay, made by whole-cluster press and aged for 10 months in 20% new French oak. Malolactic fermentation was blocked in order to preserve the fresh acidity of the wine. Next was the 2016 Pinot Rosé – the fruit for this was entirely destemmed and spent about 24 hours on the skins prior to pressing, then was aged for six months in neutral oak. Our final JCR wine was the 2014 Estate Pinot Noir. This was made from all four Pinot clones at the vineyard and fermented with around 40% whole clusters, then aged for nearly two years in about 20% new French oak. In addition to these three wines, JCR also makes a "Pommard 5" clonal Pinot bottling as well as a "Reserve" Pinot, made from the two favorite barrels of Pinot.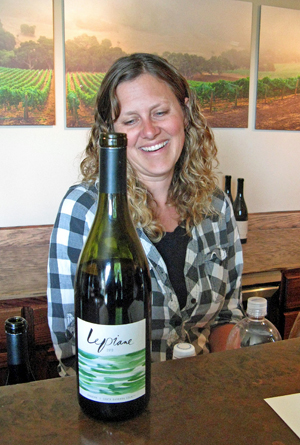 Alison next began opening her Lepiane wines for us to try, from both her inaugural 2013 vintage and from the following vintage. We began with the 2013 Barbera from Walker Vineyard, which is located a little south of Los Olivos in Santa Ynez Valley. The site is planted with 2½ acres each of Barbera and Dolcetto, and Steve Clifton has farmed it since 2009. An impressive debut wine, this was aged for 22 months in neutral oak. We followed this with the 2014 Barbera, also from Walker Vineyard – Alison noted that this was a warmer vintage. She included about 15% whole clusters in the fermentation for this wine, which spent nearly four weeks on the skins before pressing into neutral oak for aging.
We moved on to Grenache next, starting with the 2013. Alison's Grenache fruit is sourced from Black Oak Vineyard, located on west side of Alisos Canyon near Thompson Vineyard and planted to Grenache Noir clone. The bright and spicy 2013 was fermented with 85% whole clusters and spent about one month on the skins. Alison went with about 50% whole-cluster fermentation on the 2014 Grenache – this wine was bigger and more herbal than the previous vintage.
Alison had one more bottled wine for us to taste, a pre-release 2013 Nebbiolo sourced from Sisquoc Vineyard – Palmina has made notable Nebbiolos from that site. The Nebbiolo vines at Sisquoc were planted about 15 years ago on clay soil. They're Michet clone, which Alison said tends to provide more structure to the wine. The fruit spent about one month on the skins, then was basket pressed to barrel and racked once prior to getting ready for bottling – it was bottled August 2016. The wine displayed beautiful floral aromatics along with the firm tannins typical of the variety. Alison has changed her vineyard source for the Lepiane Nebbiolo since that first vintage, and she's currently working with Alisos Vineyard.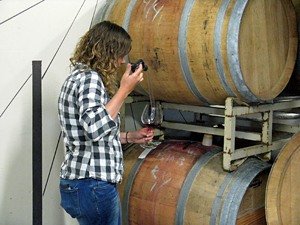 Alison asked us if we had time to taste a few barrel samples – sure, always time for that! She led us back into the winery, where she pulled a sample of a 2016 co-ferment of 1/3 Barbera from Walker Vineyard and 2/3 Nebbiolo from Alisos Vineyard, fermented with a 14-day maceration time. Showing very bright acidity, Alison said she'll rack this wine and may blend in a little Syrah or Mourvèdre. She plans to bottle it sometime this year.
We finished up with two Nebbiolo barrel samples. The Lepiane Nebbiolo (as well as the Grenache) is aged in neutral 600-liter demi-muids. Alison told us that she planned to bottle the 2014 Nebbiolo fairly soon. The fruit was sourced from Bee Sweet Vineyard in Edna Valley near San Luis Obispo, and the wine showed a deeper, earthier character than the bottled 2013 Nebbiolo. The 2015 Nebbiolo barrel sample was from Alisos Vineyard fruit – this site in the Los Alamos area has shaly loam soil. This wine had a lighter color and more floral and herbal aromatics – still very young but quite promising.
This was a fun tasting with Alison. I'd only tasted a couple of her Lepiane wines before and I'd never tried any of the JCR wines prior to our visit. All of the wines showed the level of care that Alison has put into them. I thought the JCR 2015 Chardonnay and 2014 Pinot Noir were both standouts, and they showcase their western Santa Barbara vineyard source nicely. Of the Lepiane wines, my favorites included all of the 2013 wines – Barbera, Grenache, and Nebbiolo. The new 2014 Lepiane releases have potential but they're still quite young and could use more time to develop. Among the barrel samples, I thought the 2016 Nebbiolo/Barbera blend and the 2015 Nebbiolo showed particular promise. Alison looks to be a winemaker to watch in the coming years, and it should be worth keeping an eye on both the JCR label and Alison's own Lepiane label.
Tasting Notes: Current Releases & Barrel and Tank Samples

Core 2007 "Core White," Santa Barbara County. 70% Grenache Blanc, 29% Roussanne, 1% Marsanne. Medium yellow color, this had petrol, honey, and spice aromas along with stone fruit. Moderately rich texture with a slightly chalky quality on the finish. Very distinctive older Rhône blend.

Core 2013 Carignane, "Old Vine," Contra Costa County (barrel sample). Bright plummy fruit, earth, smoke, and spice on the nose, with a touch of black pepper. Medium-bodied with good structure and a lively finish with moderate tannins, nice.

Kuyam NV "Cuvée Nolan," Santa Barbara Highlands Vineyard, Santa Barbara County (tank sample). 40% Cabernet Sauvignon, 40% Cabernet Franc, 20% Malbec. Lots of upfront fresh plum, currant, and darker berry fruit, plus spice, dried herbs, and earth. Fairly rich texture but with good acidity and a firm tannic finish, nice.

Core 2013 "Hard Core," Central Coast (tank sample). Blend of Cabernet Sauvignon, Syrah, Grenache, Mourvèdre, Zinfandel, Primitivo, Cinsault, Tempranillo, Carignane, Roussanne and Grenache Blanc. Ripe and higher-toned cherry and plum, with spice and earth components in support. Big and structured, with chalky tannins on the finish.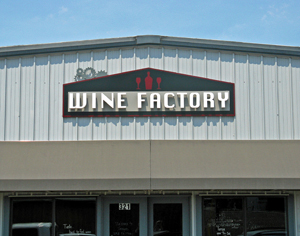 Our final wine visit of the Central Coast trip was with Dave Corey of Core Wine Company. I've known Dave and followed his wines for over ten years but it had been a few years since my most recent visit with him. Since then, Dave has moved the Core winemaking to a custom crush facility in Lompoc called Lompoc Wine Factory, located west of the Lompoc Wine Ghetto among another small cluster of wineries – they're right next to Longoria. Dave has made his wine there for about two years, and has poured his wine at their small tasting area for the past six months or so. Core still has their main tasting room in Orcutt, just south of Santa Maria. We were hoping that Dave's wife Becky would be able to join us – we've tasted with her in Orcutt a few times – but one of their three sons was sick that day so she couldn't make it.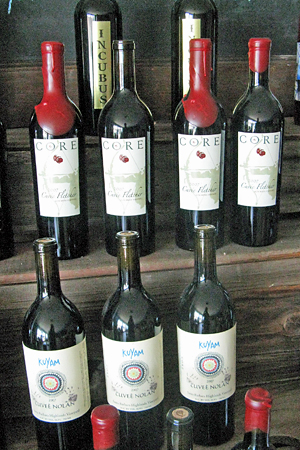 Dave and Becky established the Core label in 2001, after both being in the wine business for a number of years. Dave has degrees in biology and in entomology and plant physiology, while Becky earned a degree in agricultural business with a focus on marketing. Dave worked for Cambria and Kendall-Jackson before forming his own viticultural business in 1999, helping to promote sustainable farming. Becky worked at Byron and Laetitia, and formed a consulting business specializing in winery hospitality and visitor programs. Once Dave and Becky launched Core, they transitioned into making it a full-time commitment. They've also started some additional labels, all with the participation of family members. Core focuses mainly on Rhône varieties, Kuyam features Bordeaux-style blends plus other varieties, and Turchi makes mostly single-varietal wines.
Dave originally worked with just Rhône varieties for his early wines, but he's branched out into many others since that time. Varieties that he's worked with include Viognier, Grenache Blanc, Marsanne, Roussanne, Syrah, Grenache, Mourvèdre, Cinsault, Carignane, Primitivo, Sangiovese, Tempranillo, Cabernet Sauvignon, Cabernet Franc, Merlot, and Malbec – quite a list! He's worked with a number of noted Central Coast vineyards, mainly in Santa Barbara County, and he may still be best-known for his work with fruit from the high-elevation sites of Alta Mesa and Santa Barbara Highlands in far eastern Santa Barbara County. Dave himself farmed Alta Mesa Vineyard through the 2008 vintage. He's expanded his range of vineyard sources in recent years – the Carignane we would taste with him provided one example of that.
Dave's winemaking has featured some wines with long barrel-aging, four years or more for some of them. Most cooperage is French and Hungarian oak, though Dave has used some American oak on a few varieties. A number of the wines have been aged in larger-format cooperage – 350-liter, 500-liter, 600-liter barrels and larger wood tanks, as well as stainless steel and fiberglass tanks. Dave said that he's aiming to hold wines for release (often three years or more) until they are ready for consumers to drink – at that point they're ready to go, although they can be cellared for longer as well. Core is one of the few producers around where you can taste older vintages that are readily available, and some current releases go back as far as 8-10 years. Three of the wines are in honor of Dave and Becky's three sons – "Cuvée Nolan", "Cuvée Fletcher", and "Cuvée Kellen." Dave is now also bottling some private-label wines, and he told us that he may do an "adopt a barrel" program for custom label clients.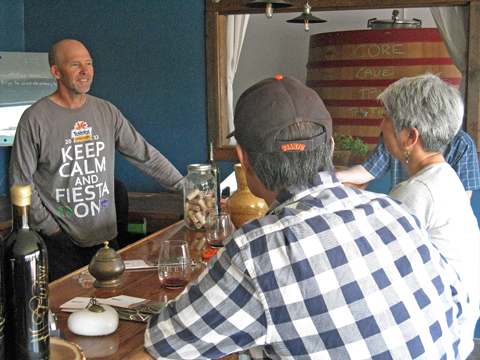 As we had limited time available to spend with Dave, we didn't taste too many wines on this visit. Dave started by opening a bottle of 2007 "Core White", blend of Grenache Blanc, Roussanne, and Marsanne, made in about 70% neutral oak and 30% stainless steel. This displayed the distinctive mild petrol aromas that older Grenache Blancs can develop. We tasted a sample from an older 400-liter puncheon next – an earthy and smoky 2013 "Old Vine" Carignane from old own-rooted vines in the Oakley area of Contra Costa County. Dave also uses some Carignane to blend with Grenache, Syrah, and Mourvèdre for his "Elevation Sensation" bottling and with Sangiovese for the "Cuvée Kellen."
Our last two wines were tank samples. First was a non-vintage blend of Kuyam "Cuvée Nolan" that's aging in a large wood tank. This is a blend of Cabernet Sauvignon, Cabernet Franc, and Malbec, all sourced from Santa Barbara Highlands Vineyard – despite extended aging, the aromatics were surprisingly fresh. We finished up with a sample of 2013 "Hard Core" from a fiberglass tank – this blend of over ten varieties had a bigger, grippier character. Dave makes a wide variety of other wines, most of them based on Rhône or Bordeaux grape varieties, as well as one – "Ground Around" – that's a Tempranillo-based blend.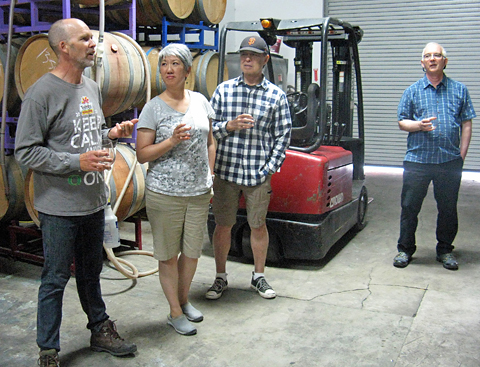 Dave told us that he sees the "Elevation Sensation" and "Hard Core" wines as the main focus going forward, though there will continue to be other bottlings as well. He's been happy working in the Lompoc Wine Factory facility – in addition to being able to make his wine there, they also have their own bottling line, case storage, and the tasting room, and they host special events featuring wines made at the facility. They also work with SipMusic Club, a wine & music club – club members receive an album from up-and-coming musicians/bands along with a bottle of wine specially labeled with the album artwork. Dave told us that he wants to provide a different type of wine experience for consumers, and this program seems to fit right into that direction.

Even though we were a bit pressed for time, we enjoyed our visit with Dave. His new winemaking location at the Lompoc Wine Factory looks like it offers him a lot of new possibilities, and this part of town has started to gain a critical mass of wineries and tasting rooms apart from the well-known Wine Ghetto. The 2007 "Core White" was very distinctive, and demonstrates the advantage of having older vintages such as this available for tasting and purchase. Among the barrel and tank samples of red wines, both the 2013 Carignane and NV Kuyam "Cuvée Nolan" were favorites. With Dave focusing on fewer different bottlings than he's done in past years, I think his newer wines are more consistent overall, and it sounds like he's planning to continue with this direction. Lompoc has increasingly become a wine-tasting destination, and visiting Dave at the Lompoc Wine Factory and tasting his Core, Kuyam, and Turchi wines there adds another fine option when visiting the area.
We weren't quite sure where would be a good spot for a fairly quick lunch in Lompoc before driving back to Northern California, and Dave Corey recommended Central Coast Specialty Foods. None of us had been there before, and it's tucked away in a small strip mall just off Lompoc's main drag – you'd probably never know it was there and in fact we passed right by before we zeroed in on the location. But it's got a deli with lots of meats, cheeses, and other specialty foods for sale, plus a broader menu of sandwiches, wraps, salads, and hot dog / sausages than you'd expect for such a small place. Although it took a little while for our food once we'd ordered at the counter, that allowed us a chance to snag a couple of the small tables once other take-out customers left with their food. My chicken caesar wrap was delicious and worth the wait, and this is a good choice for a casual lunch or for food to go.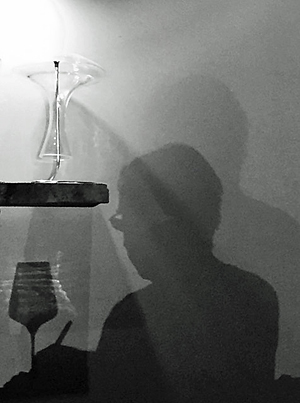 photo credit: Jane Naito
After lunch, Alan and I said goodbye to Jane and Chris, who were headed to Monterey that day. For the most part, we had a smooth drive north, but there were some incidents along the way. As we drove north along highway 101 in the Atascadero / Paso Robles area, we came across a number of small fires right alongside the road – I counted ten in all, including a scary one with flames on both sides of the freeway. I learned the next day that they were caused by a truck that was dragging a chain behind in, creating sparks that touched off the fires. Farther north, we spotted another fire in the hills east of San Jose – 2017 is turning out to be a bad wildfire year for California. Fortunately for the Santa Barbara County wine region, the smoke from the large wildfires we saw there – while it was heavy for a day or two – didn't hang in the air for very long, and none of the vintners we spoke with expressed much concern about potential smoke taint in wines from the area.
This was a busy but enjoyable trip to the Central Coast. Arranging things around the wedding of my friends' son turned out well, and it still left plenty of time for Jane, Chris, Alan, and me to visit quite a few wineries and tasting rooms. I especially enjoy checking out wineries that are new to me, and on this trip we tasted wine from nine producers whose wines I had either tried only once or twice in the past or that I'd never tasted at all – these included Deovlet, Cutruzzola, Levo, Transmission, Baehner Fournier, Coquelicot, Barbieri, JCR, and Lepiane. In addition, we stopped to taste at several places I hadn't been to for a number of years, such as Claiborne & Churchill, Riverbench, and Kaena, as well as a few I visit on at least a semi-regular basis – Giornata, Buttonwood, Foxen, and Core.

It was nice to travel with such fun and easy-going companions as Jane, Chris, and Alan, and our dining experiences on this trip were just about as good as our wine-tasting ones. And it's always good to reconnect with Central Coast friends whom I haven't seen in awhile as well as to make a few new friends along the way.
I was impressed by the high quality of wines I tasted on this trip across the board. Visiting so many producers with whom I have had little or no previous experience usually means that there are at least one or two that don't really live up to expectations, but that wasn't the case this time. And nearly all of the wineries that were relatively new to me are ones that have started up within the past ten years, so it will be interesting to follow their development in the years to come. The Central Coast remains one of my favorite California wine regions to visit – I enjoy returning to the wines, food, and people there time and again, and hopefully it won't be another 18 months before I go back for another visit to the area. As always, thanks to everyone that we visited for being so generous with their time and their wine!