Northern California Wine Tour – May 2018 – Part 2
The first day of my Northern California wine tour had covered two Sierra Foothills counties and five wineries, all drop-in visits rather than scheduled appointments. The second day would be completely different. I had arranged to visit the proprietors of three Yuba County wineries and everyone coordinated for a full day of vineyard tours and wine tasting. Part of the day would be spent with individual vintners while we would be getting together as a group for other portions of the day. I've occasionally been able to arrange a "two-fer" visit in the past, but I think this may have been my first "three-fer"!
I started off on Sunday morning from the small town of Brownsville, where I'd stayed the previous night, and headed down the road through the forest. As with many other Sierra Foothills roads on this trip, there were lots of wildflowers in bloom alongside the roadway, especially lupines. A 20-minute drive through the scenic landscape brought me to my destination.
Clos Saron / Frenchtown Farms / La Onda
After driving south from Brownsville and through the small town of Oregon House, I turned off onto a side road, passed over a narrow bridge crossing a creek, and then spotted the address sign for Clos Saron just as the road began climbing up a hill a short distance farther along. I found a spot to park across from the gate into the property, which is unmarked except for the address. After fishing a few things out of the back of my car and starting to walk across the road to the gate, I was greeted by Saron Rice, who runs Clos Saron along with her husband, winemaker Gideon Beinstock. She opened the gate for me, and moments later, Gideon appeared from the modest home that he and Saron share, and he also welcomed me.
I'd tasted the Clos Saron wines on a number of occasions in recent years, and they'd always intrigued me. The wines weren't all my favorites – though the best were outstanding – yet there was something different about them that I was not able to put my finger on, something that made me want to learn more about them. I'd thought for a few years that I'd like to visit Clos Saron, and when I more recently came across a couple of other promising young vintners who also make their wines there, this seemed like the time to finally make the trek to their place. Gideon was able to coordinate with Aaron and Cara Mockrish of Frenchtown Farms and with Dani Rozman of La Onda for a day of visiting several vineyard sites and tasting wines at the Clos Saron winery.
Gideon Beinstock and Saron Rice – Clos Saron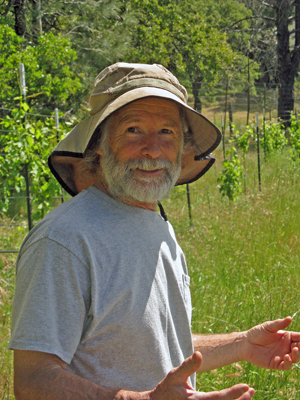 Gideon grew up in Israel, and he discovered fine wine while living as an artist in Paris in the 1970s. He told me that he splurged on a five-franc bottle of Bergerac instead of the two-franc plonk he was used to drinking, and that bottle sparked his interest in wine. Gideon became friends with Steven Spurrier (who organized the famed "Judgment of Paris" tasting in 1976), who introduced Gideon to many great vintners and wines – Gideon said he became a true "wine geek" at this time. He told me that part of what drew him into wine was the passion that vintners had for their vineyards and their expression of place. Gideon also lived in the San Francisco Bay Area for a number of years in the 1980s, working in the computer industry. It's always fascinating to talk with a vintner who has a background in both scientific and artistic fields! Gideon mentioned that he'd love to have more time to paint again as well as to do more photography, another love of his. He said that he particularly likes to photograph subjects that look at first glance like one thing but are actually something else.
Gideon has been living in the northern Sierra Foothills for 27 years, but he first came to the area in 1979, when he spent time helping to plant and develop Renaissance Vineyard, not far from his current vineyard. Renaissance is owned by a philosophical / spiritual group called Fellowship of Friends, which some people – including a number of former members – would describe as a cult. Without going into detail about the group, Gideon told me that its philosophy includes exposure to art and culture and to doing physical work – planting and tending a vineyard and making wine would fit right in with that. Gideon later returned to Renaissance in the early 1990s and was their winemaker for 16 years, until he formally left there in 2010.
Gideon and Saron met when both were working at the Renaissance Vineyard in the 1990s. Saron is originally from Virginia and moved to California when she was 11 years old. Gideon and Saron established their Clos Saron wine label in 1999. Both of them have done a lot of the work in their vineyard, though not surprisingly, Saron spent less time working with the vines as their children were growing up. Gideon told me that she's been more involved in the vineyard again this year. Their Home Vineyard Pinot Noir has been the key wine of their small production, but they make a number of other wines as well, including a white blend, rosé, old-vine Carignan, Syrah, and various red blends. Some fruit in recent years has been sourced from Markus Bokisch's organically-farmed vineyards in the Lodi area. Total production is currently about 1,000 cases per year.
Clos Saron Home Vineyard
Gideon and Saron's home overlooks their Home Vineyard, and their small winery building is adjacent. The site is just outside the North Yuba AVA – Renaissance Vineyard is within that AVA. Gideon led me on a walk through his vineyard, starting with the Old Block of Pinot Noir that is right below the house. Yuba County is not the sort of area where you expect to find Pinot Noir growing, and the story of these vines goes back to 1995. That year, Gideon and Saron were asked by a friend if they were interested in farming his half-acre vineyard of Cabernet and Merlot and making wine from it. The site is at about 1,500-foot elevation, on a gentle northeast-facing slope, and was originally planted in 1979. Seeing that the particular microclimate where the vines were planted was cooler than the area in general (and perhaps too cool for Bordeaux varieties), Gideon suggested grafting them to Pinot Noir to see how it would do. After their friend agreed, Gideon and Saron grafted the vines, interplanting own-rooted Pinot vines between the original ones to double the vine density.
Gideon and Saron bought the property in 1998, and they've added more own-rooted Pinot Noir vines in the years since – the Home Vineyard is now about 2.5 acres. Besides the original Old Block planting, there is now the Lower Block, South Block and North Block, all planted in 1999. Plantings added from that year and more recently (one tiny section was added about 2006) have 3x6 vine spacing – the Old Block was originally 8x12 and is now 4x12 with the vines that Gideon and Saron interplanted there. Each vineyard block has somewhat different topsoil, with varying clay loam composition along with volcanic ash and decomposed granite, and fractured rock below.
The vines have to struggle in this soil, and they look surprisingly spindly for 20+ year-old vines. Although not all of the vines can survive without some drip irrigation, the vines planted since 1999 only needed to be watered twice in 2017, and the Old Block has been dry-farmed for the past six years. The vineyard has mixed, interplanted Pinot clones, some of which are unknown. Gideon's interest is not in clonal differences but in the expression of the soil and site, and this drives his decisions in farming the vines and making the wine – no surprise then that there is minimal intervention in either the vineyard or winery.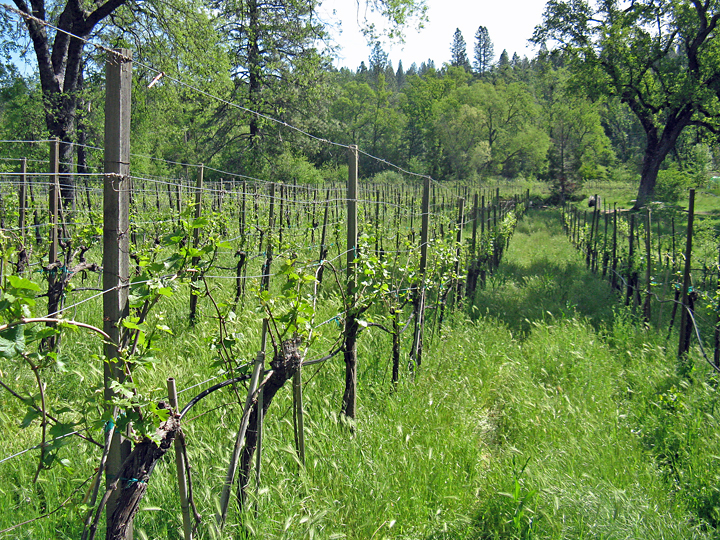 I asked Gideon about how his farming differs from those who follow the practices of Japanese farmer Masanobu Fukuoka – I've seen a couple of California vineyards where the farming is inspired by Fukuoka's writings, and the Clos Saron Home Vineyard reminded me of those sites. Gideon told me that he admires Fukuoka and his approach to farming, and that many of his minimal intervention practices are essentially the same – no tilling, no fertilizer, no weeding, no pesticides or herbicides. He also noted some differences from the strict Fukuoka approach since some of those farming principles apply better to viticulture than others. Dani of La Onda told me much the same about his own vineyard practices – he mentioned combining elements of Fukuoka's approach with that of biodynamic and "common sense / observational" farming rather than strictly following any single set of guidelines, and that Aaron and Cara of Frenchtown Farms take a very similar approach.
Harvest decisions are made by touch, walking through each row to feel clusters from every vine, deciding which ones are picked and which remain until later. With this picking method, there are always multiple cluster-by-cluster picks at each vineyard block rather than picking the entire block at one time. Gideon said that the Old Block is always first, then the South and North blocks, with the Lower Block last, though there is frequently some overlap. In some vintages, Gideon may make a separate Lower Block Pinot bottling, as he often does with the Old Block. There will also be a separate Suzy's Block Pinot Noir for the 2017 vintage – this is from a small nearby vineyard (a higher and steeper site that's separate from the Home Vineyard) that was planted about 12 years ago and named for Saron's mother.
As we continued to walk through the vineyard, Gideon told me of four particularly significant issues that he and Saron face with their vineyard – access to sufficient water, spring frosts, Eutypa (a fungal vine infection), and difficulty in getting skilled labor. Add to this the remoteness of the site – Gideon noted that there is no place anywhere nearby to get replacement parts for equipment, specialty hardware, etc. – and there are clearly many challenges to farming there. Water has been a recurring issue, as wells on the property have decent but sometimes marginal flow rates. As at many vineyards, spring frost can be a problem, and Gideon and Saron will often leave long spurs at pruning to help delay budbreak until after the peak frost period. Eutypa, which can lead to "dead arm" and will ultimately kill the vine, has gotten worse with the drought – this has been the case at many California vineyards. Gideon told me of one block that went from producing 2+ tons per acre to 1/4 ton per acre due to Eutypa. As they generally have little to no help available to them, Gideon and Saron do nearly all of the vineyard work themselves, and with other vineyard blocks at neighbors' properties, it adds up to a total of 8 acres.
The White Field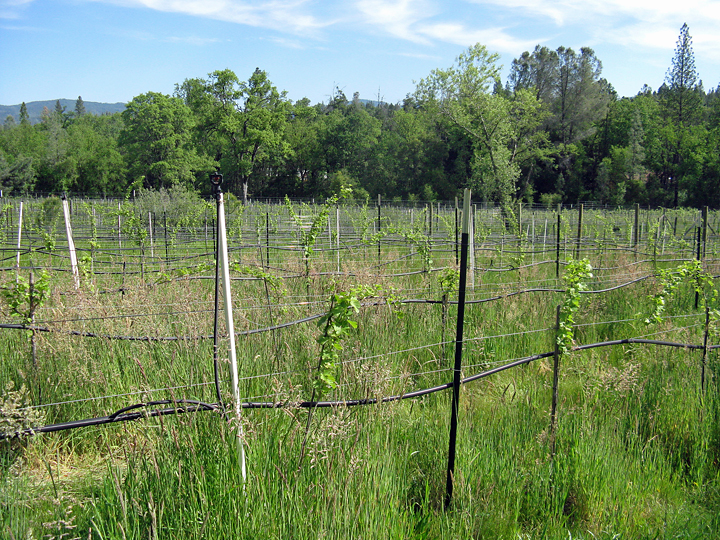 Gideon led me through a gate and into an adjacent neighbor's property, where he has planted a new block that he's calling the White Field, as he had initially intended to plant it mainly to white grape varieties and to make a white wine and a rosé from the fruit. He started working on this block after he left Renaissance and lost access to the fruit there. Beginning in 2012, three acres have been planted. As we walked north through the White Field, Gideon described the mix of varieties in each section – Sauvignon Blanc and Roussanne, then Riesling, Syrah, and Pinot Noir, followed by Viognier, Trousseau, and Counoise, with Mondeuse and Cinsault next, Petit Manseng and Cinsault, and finally more Pinot, Counoise, and Roussanne. The varieties were chosen to convey the varying soil and microclimate character within each section of the block – Gideon feels the soil expression is key here, and the varieties are not as important. He now anticipates harvesting the entire White Field as a field blend each year, going through the block for multiple picks as he does with his other fruit. He said that the first and last picks could be as much as two months apart there, from Viognier to Petit Manseng. Gideon sees this block as a "vision of what it can become" more than what it is now, and looks forward to it producing field blends that are distinctive from vintage to vintage.
Stone Soup Vineyard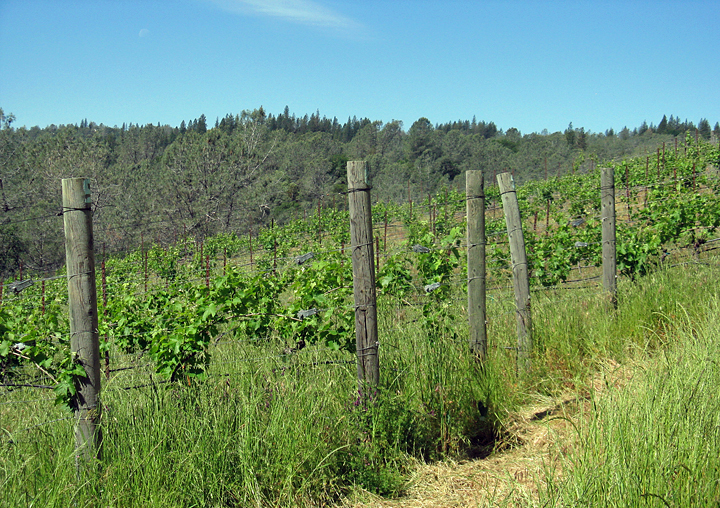 We walked back toward the house, and then hopped into Gideon's van – our next destination was the source for the Syrah fruit that goes in to Clos Saron's "Stone Soup" bottling, informally called Stone Soup Vineyard. It's not much more than a mile from Clos Saron's Home Vineyard as the crow flies, but as is often the case in mountainous terrain, it's close to a three-mile drive. A south-facing hillside site with very rocky red clay and granitic soil, it's a warmer and higher-elevation location than the Home Vineyard. Planted about 2003, the vines are all own-rooted and feature three interplanted Syrah clones with around 10% Viognier vines at the top of the slope and along one side. This is another site where the vines struggle – the vineyard is two acres in size but only yielded about three tons of fruit in 2017, which Gideon said is actually about double the usual yield! It's a tough, steep site to work, too – all manual work, no tractors. Although the Stone Soup Vineyard does not have the frost issues of the Home Vineyard, it does also have Eutypa problems and Gideon said some portions will need to be replanted. He feels that it will probably never be possible to dry-farm the Stone Soup vines on a regular basis, but he's hoping to get down to one watering per year. Gideon noted that the fruit from this site tends to retain acidity very well. The first Clos Saron "Stone Soup" Syrah bottling was from 2009.
Aaron and Cara Mockrish – Frenchtown Farms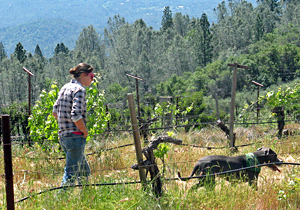 Cara, with Kenji
Gideon drove back down from Stone Soup Vineyard and across the main road through the area, proceeding to the Fellowship of Friends property where Renaissance Vineyard is located. There's a gatehouse at the entrance to the property, and there we met Aaron and Cara Mockrish of Frenchtown Farms. Frenchtown Farms is a new wine label, with their first releases coming from the 2015 vintage, and they've been making their wines at Clos Saron. I had tasted their wines at the Brumaire tasting of natural wines in Oakland in March 2018, and liked them quite a bit – there were a couple of interesting and unconventional blends that I thought worked nicely. The winery name comes from the small settlement of Frenchtown, a few miles north of Oregon House.
Aaron and Cara are originally from the East Coast, and both got into farming early on. They've lived in Yuba County for about eight years, the last three within walking distance of a block of Renaissance Vineyard that they now farm. They told me how a bottle of Clos Saron 2008 "Black Pearl" (Syrah co-fermented with Bordeaux varieties) helped change their path toward viticulture and winemaking, and they sought out Gideon for advice on both. After first meeting him in 2014 and continuing to work with him the following year, they wasted no time in taking a big step. Aaron heard from a friend that Renaissance was no longer making wine, and Aaron contacted them about farming some of the vines there and was able to negotiate a lease – he and Cara started working with Renaissance Vineyard in 2015.
Besides the fruit that Aaron and Cara farm at Renaissance, they purchase some Rhône varieties from David Girard Vineyard in El Dorado County, some Pinot Noir from Oregon, and other fruit from the Penn Valley area near the town of Grass Valley. In addition to all that, they also herd sheep.
Renaissance Vineyard Slope 19
After heading through the gate of the Renaissance property, we met up with Dani Rozman of La Onda Wines. Dani also farms some of the vines at Renaissance – more about him and his label later. From a vantage point near the center of a large bowl-shaped valley with slopes all around, we could see lots of abandoned vineyard terraces along with some still in use. Gideon explained that after the property was purchased in 1971, the idea formed of planting a vineyard. In 1976 the first vines went in, and the vineyard eventually grew to 365 acres in size. The initial plantings were mostly Cabernet Sauvignon, Sauvignon Blanc, and Riesling, with other varieties added or grafted later. Ultimately, it became clear that it was not feasible to maintain such a large vineyard and most of the vines were pulled out.
Gideon parked his van off to the side of the road, and he and I joined Dani in his car while Aaron, Cara, and their dog Kenji took their car and we started up the hillside. With three of us inside, Dani's car struggled a bit as we headed up the steep dirt track toward the top of the hill, but we did make it. We stopped briefly to take in the impressive view. Looking down a terraced vineyard slope and across the valley, we could see another hillside vineyard on the other side – where we would soon be heading – and beyond the hills to the west were the volcanic Sutter Buttes and the coastal mountains far in the distance.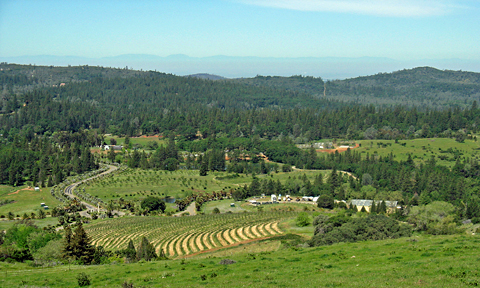 One more short climb in Dani's car and we joined Aaron, Cara, and Kenji at the top of vineyard Slope 19 – each Renaissance vineyard block is designated as "Slope" plus a number according to the order in which it was planted. At about 2,300-foot elevation, this is the highest part of the vineyard. From here we could look out to the east and the deep canyon of the Yuba River. The soil at Slope 19 is very red clay, with fractured granite and gabbro rock below. The part of this site that Aaron and Cara farm – they call it Slope 19A – is about 3.5 acres, and the overall Slope 19 block is 7-8 acres. Their portion had originally been planted to Riesling in 1981, and the vines were grafted to other varieties in 1994. Aaron mentioned there are still a few Riesling vines remaining here and there where the grafts never took. The vines are now mostly Syrah along with Merlot and a little Viognier. Dani is getting some of this Syrah fruit as well as Aaron and Cara. Aaron told me that he and Cara will plant more vines at Renaissance by next spring, hopefully to include Gamay, Counoise, Sauvignon Blanc, Roussanne, Syrah, Cabernet Sauvignon, Merlot, with some Pinot Noir and Riesling in cooler spots lower down.
Dani Rozman – La Onda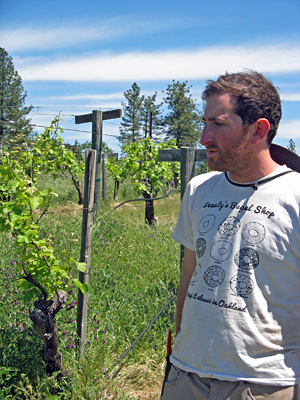 After we drove back to the base of the hill, Gideon headed back home to help prepare lunch, while I continued with Dani as we headed to the other side of the valley and toward Slope 23, another vineyard block at Renaissance. Dani farms a portion of this block, while Aaron and Cara farm an adjacent portion. Dani is another East Coast native, originally from New Jersey, and he lives now in Berkeley. After studying political science and history at the University of Wisconsin, he traveled to South America and became interested in viticulture. He lived in Argentina for a time, working in the well-known Mendoza wine region. In 2013, Dani began working in the vineyards of Chile's Itata Valley – he continues to spend part of the year in Chile, working mainly with old-vine Pais (Mission) and Cinsault. He's made some La Onda wines from Chilean fruit, but he said that future releases of these wines will be under a different label and the La Onda label will strictly be for Dani's wines from California fruit.
Dani also began working with Gideon in 2013 and his first La Onda wines came from that vintage – the winery name means "the vibe" or "the wave". Along with everything else he's been doing the past five years, he also worked briefly with Abe Schoener at The Scholium Project. I've tasted some of Dani's wines over the past few years, and it was a Chilean Pais-Cinsault blend that first really caught my attention, though he's made very good wines from California fruit as well. He's made several wines from Mendocino and Sonoma counties, but he's now focusing on Yuba County fruit for his La Onda wines. Dani started working with fruit from Renaissance vineyard in 2016 and started farming part of it in 2017. He's now making four wines from Renaissance Vineyard fruit, and he's also buying some Grenache and Mourvèdre from David Girard Vineyard in El Dorado County.
Renaissance Vineyard Slope 23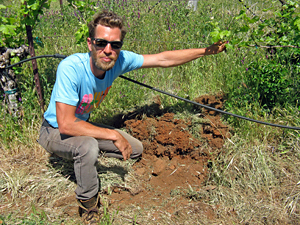 Aaron at Slope 23
Leaving the cars near the foot of the Renaissance Slope 23 block, we ventured out across a field toward the vines on the hillside ahead. Along the way, we passed through the gates of a couple of electric fences – there have been various animals that have been a serious problem at the vineyard (deer, birds, bears) so this is an attempt to help keep at least some of them out. A lower-elevation, cooler, and dryer site than Slope 19 where we'd been earlier, Slope 23 was originally all Sauvignon Blanc, planted in 1982, and other varieties have been grafted onto the vines in succeeding years. There is still a good deal of Sauvignon Blanc there – a portion that Aaron and Cara farm also includes Roussanne, while the part that Dani farms, just a bit farther up the hill, includes Sémillon as well as Sauvignon Blanc. Aaron and Cara have co-fermented Syrah from Slope 19 with Roussanne from Slope 23.

Aaron, Cara, and Dani do nearly all the vineyard work themselves at their portions of Slope 23. The site had been neglected for a time and the three of them have been working to bring the vines back to health – it has not been an easy process. We looked at a lower section of Slope 23 that they are still in the process of restoring. Aaron mentioned that while he has really disliked doing that part of the work in the vineyard, he's greatly enjoyed working the Slope 23 vines afterwards. The vines have been dry-farmed and are doing well, so the intent is to continue dry-farming. There are currently 3.6 acres in production and they are working to reclaim another 3.6 acres.
As we headed back to the cars, we looked up at the dramatically terraced hillside on the other side of the valley, where Aaron, Cara, and Dani are also farming about 3.5 acres of Cabernet Sauvignon at Slope 1 of Renaissance Vineyard, from vines planted in 1976.
Lunch at Clos Saron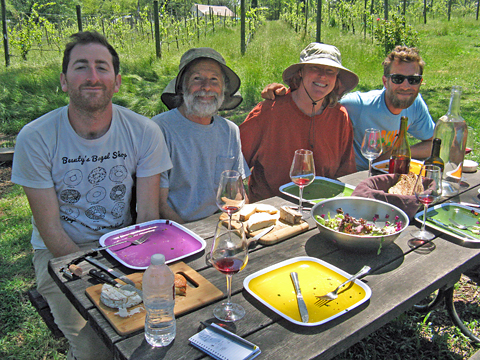 (l to r) Dani, Gideon, Saron, Aaron
Cara wasn't feeling well on the day of my visit, and although she accompanied us as we toured Renaissance Vineyard, Aaron dropped her off at their house before he joined the rest of us at Clos Saron for lunch. Gideon and Saron had set out a spread on a picnic table beneath a large oak tree next to their vineyard – the very tree that is depicted on the Clos Saron wine labels. We enjoyed a delicious lunch of a frittata, a variety of cheeses, locally-baked bread, and salad – we dressed the salad with North Yuba Olive Oil, a collaborative effort between La Onda and Frenchtown Farms, from olive trees they farm next to the Renaissance Slope 19 vineyard. Gideon pointed out some of the olive trees on the Clos Saron property, not far from the picnic table. He and Saron also grow vegetables and raise rabbits, sheep, ducks, and sometimes pigs there.
Of course we had wine with lunch! The Clos Saron 2015 "Tickled Pink" Rosé – from Syrah, Graciano, and Viognier grown by Markus Bokisch in Lodi – displayed savory aromas, with red fruit and floral undertones, and a lively texture. And the surprisingly light-colored La Onda 2017 "El Colo" – co-fermented Grenache and Mourvèdre from El Dorado County, with Syrah from Renaissance Vineyard added to the blend – was another wine with distinct savory character, along with raspberry, earth, and spice notes with a bright mouthfeel. Both wines were fine choices to accompany our lunch. On a day that was mostly focused on giving me a sense of the hard – but rewarding – work it takes to grow grapes and make wine in this area, it was great to take a break and have a good time with everyone during lunch.
Clos Saron winery
After lunch, it was time to taste some wines! The Frenchtown Farms and La Onda wines are made at the Clos Saron facility, so it was easy to taste wines from all three producers that afternoon. I walked over to the winery building with Aaron to taste the Frenchtown Farms wines, after which Dani would come by to show me some of his La Onda wines, and Gideon would finish things up with wines from Clos Saron. The winery is a small concrete block building that backs up against the hillside and is shaded by trees – good protection from the summer and early autumn heat. As is the case with many small wineries, there's not a lot of fancy equipment. Beyond a forklift, wine press, and some basic bottling equipment, there's not a lot to see besides the stacks of barrels (all older ones) and cases of wine that take up much of the small space. There's not even a destemmer, as all red grapes are foot-stomped and fermented whole-cluster – Gideon said that 2011 was first year that all the Clos Saron reds were made this way, and Frenchtown Farms and La Onda have followed suit.
Tasting Frenchtown Farms wines
First up for tasting was Aaron with the Frenchtown Farms wines. Aaron and Cara use a similar method of progressive picks for their fruit that Gideon had told me about earlier. The winemaking is very simple, with minimal intervention. Whites get a moderate amount of skin contact, while reds are fermented with whole clusters. The reds are pressed well before they go dry, as Aaron said that they would otherwise pick up too much tannin from the skins and seeds during the later stages of fermentation – he said that this is a typical issue with fruit from this area, and something that was echoed by both Dani and Gideon. In terms of their future, Aaron told me that the Frenchtown Farms winemaking will soon move to a space by their house that they've been preparing. Eventually they would like to add a wine cave through a cut and cover process.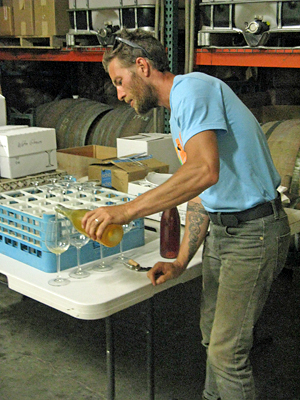 Aaron started me off with two recently-bottled wines. He was concerned that they might show some bottle shock, and though they may have been somewhat affected, I felt I was able to get a good sense of the two. First was the 2017 "The Pearl Thief" – 75% Sauvignon Blanc and 25% Roussanne, the fruit was not co-fermented but both varieties were foot-stomped and soaked on the stems and skins for about four days before being pressed to older puncheons. The herbal aromas spoke of Sauvignon Blanc, while the broad mouthfeel and somewhat waxy character certainly came from the Roussanne, and the chalky mineral finish added another element of complexity. The 2017 "Catelia" (the name of the wine comes from Cara's middle name) is an unusual rosé blend of 60% Syrah and 40% Sauvignon Blanc, with the latter spending about 1½ hours on the skins. Tart cranberry, cherry, and spice scents with floral and herbal undertones, a lively texture and moderate tannins, this should be a nice summer wine.
We followed up with four Frenchtown Farms barrel samples. Like the two bottled wines, everything was made entirely from Renaissance Vineyard fruit, with the exception of the first barrel sample. A 2017 Mourvèdre / Grenache / Syrah blend with about 70% Mourvèdre and 20% Grenache from David Girard Vineyard and 10% Syrah from Renaissance, this was earthy and savory, with plum and mushroom notes and good structure – still very young but with good potential. The 2017 "19 Harts" Syrah, picked a bit earlier than in 2016 and co-fermented with a bit of Roussanne, displayed Syrah's gamey, meaty side, with raspberry and plum fruit, plenty of structure and a grippy tannic finish – certainly needs time but this should be very good. The 2017 "Indigeaux" is a blend of 60% Cabernet Sauvignon, 30% Merlot, plus a little Sémillon and Cabernet Franc. Plum and darker fruit, with herb and earth notes, bigger texture and grippy tannins. The 2016 "Indigeaux" has a similar blend to the 2017 but with more Merlot – this had more of a black cherry and spice profile compared with the previous wine, and somewhat more refined tannins on the finish.
Tasting La Onda wines
Dani traded places with Aaron to show me his latest La Onda wines. His picking and winemaking regimen is similar to both Frenchtown Farms and Clos Saron but with some differences. Dani also uses the progressive picking method that Gideon favors, and like both Gideon and Aaron and Cara, he presses his red wines while they're still sweet to avoid too much tannin. A notable difference is that he prefers no skin contact prior to pressing his white wines. Like all the vintners making their wine at Clos Saron, Dani makes no acid or water additions, ferments with native yeast, uses older barrels and minimal SO2, and bottles unfined and unfiltered. Besides the wines we tasted, Dani said that he's also making a Cabernet Sauvignon / Merlot / Syrah blend.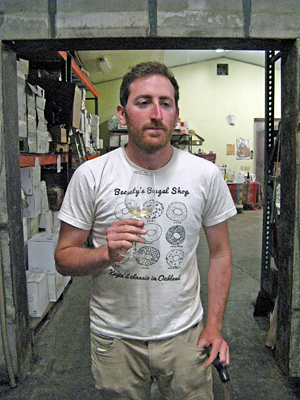 We started off with some barrel samples before finishing with one bottled wine. First up was a sample of La Onda 2017 "Blanco de Tinto" – whole-cluster pressed Cabernet Sauvignon from Renaissance Slope 1. An intriguing combination of a lighter-colored wine with savory dark berry fruit aromas, along with spice and earth notes. This is still finishing fermentation so it was a little sweet, but it won't be bottled until it's dry. The 2017 "Amor Amarillo" is a blend of about 67% Sémillon and 33% Sauvignon Blanc from Renaissance Slope 23. The fruit was whole-cluster pressed, and Dani told me that the 2016 vintage of this wine was aged in barrel for about 18 months and he expects to do the same with the 2017. Earthy, savory, and herbal, with medium body and a lively mouthfeel and finish.
Dani moved along to red barrel samples, and we compared two vintages of Syrah from Renaissance Slope 19. The 2017 Syrah will age for about two years to tame the acidity, something that Dani has found can be too much without sufficient time in barrel. He said that this wine can seem more like a "raw product" for its first year in barrel and only becomes a true wine in its second year. This sample was a bit reductive (not unusual for Syrah), with dark fruit, herbs, and a stony mineral component on the finish, but it clearly does need more time. The 2016 Syrah was indeed better-integrated – more aromatic, with herbal and slightly stemmy notes along with blackberry, earth, and a hint of flowers, with plenty of structure and a grippy tannic finish, still very much a youngster but with promise. We finished up with a bottle of 2015 Carignan that had been opened a day earlier. The fruit was sourced from Poor Ranch near Hopland, from vines planted in the 1940s. This showed bright raspberry fruit along with earth and touches of pepper and spice, with medium-full body and chewy tannins.

Tasting Clos Saron wines
My final group of wines for the day was from Clos Saron, as Gideon joined me in the winery building. We tasted only bottled wines, and most of the wine was extracted using a Coravin – a method that makes a lot of sense for smaller producers that don't pour their wines daily. We started out with the "Carte Blanche" white wine that he's made for a number of years, and I asked him whether he's ever considered making a sparkling wine. Gideon said that he's never been interested in making either a sparkling wine or an orange wine as he feels they do not display a true expression of the vineyard. We proceeded through a couple of Carignan-based wines to several Pinot Noirs from the Clos Saron Home Vineyard and then to the "Stone Soup" Syrah and finally to two wines made from Renaissance Vineyard fruit. The Clos Saron "Once Upon A Time" wines are older Renaissance wines that Gideon purchases only if he can acquire the entire production of a particular wine/vintage so there is no competition if Renaissance should decide to sell any of those wines. I should note that Gideon has again been able to source fruit from Renaissance Vineyard in the past few years through Aaron, Cara, and Dani.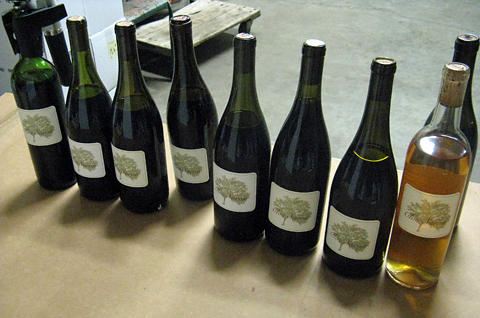 As mentioned above, the first wine I tasted with Gideon was the 2016 "Carte Blanche." The 2016 features a different blend of grape varieties than the previous few vintages. This one is about 67% Sauvignon Blanc, Roussanne, and Sémillon from Renaissance Vineyard along with 33% Viognier from Markus Bokisch in Lodi, and the fruit was foot-stomped, with fermentation beginning on the skins for 4-5 days prior to pressing. Light-colored and savory, with herbal and lightly floral notes, a fairly rich but lively mouthfeel and a slightly chalky texture on the finish. We moved next to reds, beginning with the 2015 "A Pleasant Peasant" – this is Carignan from Jessie's Grove Vineyard in Lodi, planted in 1900. Earthy, spicy, and smoky, with plummy fruit, this had medium body and moderate tannins. The 2015 "Kind of Blue" is a co-fermentation of 50% Lodi Carignan plus 40% Syrah, 7% Cabernet Sauvignon, and 3% Sémillon from Renaissance Vineyard. Compared with the previous wine, this one featured a bigger herbal component along with earth, spice, a bit more upfront blueberry fruit, and floral undertones, plus more structure and firmer tannic finish.
Gideon next poured me three different bottlings of his 2013 Pinot Noir, starting with the 2013 Home Vineyard Pinot Noir. Black cherry, earth, with savory and spicy notes on the nose, this was a structured Pinot with a stony mineral component on the finish. Next was the 2013 Home Vineyard Old Block Pinot Noir, from the oldest block of Pinot vines on the property. Very distinctive, featuring earthy and gamey aromas along with black cherry and darker fruit, plus hints of flowers and spice, with fine acidity and firm tannins – intriguing now but this should really benefit from more bottle aging. Gideon had one more Pinot for me, the 2013 Home Vineyard Lower Block Pinot Noir – this showed more upfront (and darker) fruit than the other two bottlings, with spice, earth, and herbal undertones, a bigger structure and more tannic finish.
A particular highlight of the tasting, the 2014 "Stone Soup" Syrah – co-fermented with about 10% Viognier – was savory, floral, with dark berry fruit and a touch of black pepper, a lively medium-weight texture and stony mineral note along with firm tannins on the finish. Gideon told me that the 2010 "Spring Frost" included most of the fruit from Renaissance Vineyard that escaped a devastating frost in that vintage – 40% Merlot, 27% Petit Verdot, 21% Cabernet Sauvignon, 6% Syrah, and 6% Sauvignon Blanc. This showed somewhat higher-toned plum and darker fruit, dried herbs, and earth aromas, medium-bodied with moderate tannins. The final Clos Saron wine was the 1995 "Once Upon A Time" Cabernet Sauvignon, from Renaissance Vineyard Slope 1. This displayed subtle savory, earthy, and herbal aromas plus spice and both red and black fruit in the background, with medium-rich texture and still-firm tannic finish. A fine old-school style aged California Cabernet.
A Memorable Day!
This was a special day – Gideon had told me beforehand that it would be a full day and he wasn't kidding! It was terrific that Dani as well as Aaron and Cara were all able to coordinate with Gideon and Saron for this visit. It gave me a much better sense of the North Yuba and nearby wine regions and the many differences in the soils and microclimates of the area.
I couldn't help but be impressed with the focus and passion of all of the vintners on this day, especially with respect to the vines and the land that they care for. That passion was equally the case with younger people such as Dani, Aaron, and Cara as well as with Gideon and Saron, who have been working with vineyards in the area for many years.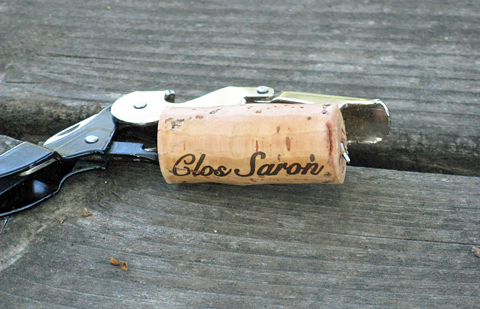 It was great to see people like Dani, Aaron, and Cara who are taking their cue from Gideon and moving ahead with their own takes on his ideas and practices. Like Gideon, it's important to them to maintain control over both farming and winemaking and I wouldn't be surprised to see them plant their own vineyards for La Onda and for Frenchtown Farms one of these days. And I should mention something that Gideon told me – he offers the opportunity of vineyard and harvest internships for those looking to learn from working in the vineyard and winery in exchange for room & board. Perhaps we'll see another new group of vintners inspired by Gideon and Saron's work in Yuba County!
I really enjoyed all of the wines on this day, with some that I thought were particular highlights. From Frenchtown Farms, the 2017 "The Pearl Thief", 2017 "Catelia", and 2017 "19 Harts" barrel sample were my favorites, and I thought the standout La Onda wines were the 2017 "El Colo", 2017 "Blanco di Tinto" barrel sample, and 2016 Syrah barrel sample. My favorites of the Clos Saron wines were the 2015 "Tickled Pink", 2015 "Kind of Blue", 2013 Home Vineyard Old Block Pinot Noir, 2014 "Stone Soup" Syrah, and 1995 "Once Upon A Time" Cabernet Sauvignon. All three of the Clos Saron 2013 Pinots were quite distinctive – wines for those willing to think outside the usual California Pinot Noir box. I should note that the Clos Saron "Once Upon A Time" bottlings can be very special wines, released after considerable years of cellaring – it's worth keeping an eye out for them. I tasted the Clos Saron 1995 "Once Upon A Time" Riesling with Gideon at an event in late 2016 and it was one of the most memorable California wines I've tried in recent years.
I want to relate a story from one of the first times (it might have been the very first time) that I met Gideon and tasted the Clos Saron wines at an event. It was getting near the end of the tasting, and as I had limited time I asked Gideon if he could pick a few of the many wines he had on the table that he thought I should try – something I've asked other vintners at larger tastings. But unlike nearly everyone else I've asked this of, Gideon insisted that I needed to choose which wines I would try. Although I was slightly annoyed at first, the more I thought about it, the more I realized that he was right – having someone else make the decision for me would have been the easy way out, and I needed to take responsibility to make my own choice, just as in other aspects of life. Gideon's approach to this impressed me then and it has stuck with me ever since.
Gideon and Saron, Aaron and Cara, and Dani were all exceptionally gracious and generous hosts during my visit, and the wines from Clos Saron, Frenchtown Farms, and La Onda are distinctive and well worth seeking out. Their work shows that very fine wines are being made in Yuba County and they reveal the potential for even better ones in the future.
By late afternoon, it was time to say goodbye to everyone and take off from Clos Saron, as I had a drive of around 90 minutes to get to where I would be staying that evening. A series of scenic country roads led me lower down the Sierra Foothills to the city of Oroville, and from there I made my way to Highway 99 and eventually to Corning, about 20 miles south of Red Bluff. I chose Corning as the location for my Sunday night stay mainly for convenience, but the town has the distinction of being the olive capital of the US (home to the largest olive processing plant in the country), as well as being a center for processing prunes, walnuts, and almonds.
I stayed at the Super 8 Motel in Corning – a quiet, good-sized room with more amenities than I would have expected for the very reasonable rate, including a (fairly standard) motel breakfast bar adjacent to the lobby. Not a luxury place by any means but everything I need in a motel. And since I was in the mood for something quick and simple for dinner, the location was conveniently right across the street from the Olive Pit, a combination olive-themed gift shop and café. I got their muffuletta ciabatta burger – that seemed like a good choice for an establishment (and town) known for olives. The burger was quite tasty, especially with the muffuletta mix on it. Not bad at all for a quick meal that's a little different from standard fast-food fare.
My visit to Clos Saron with the vintners making their wines there was a memorable day on my Northern California wine tour. But I was greatly looking forward to the winery and vineyard visits I had arranged for the next day, all of them in much different landscapes than those I'd seen so far.