2007 HOSPICE DU RHÔNE - PASO ROBLES, CA -
In Review - 2006 HdR :
Some statistics on the Rhône wine auction lots held at the 14th annual Hospice du Rhône on Friday & Saturday, May 4 & 5, 2007, in Paso Robles, CA. The HdR is a two-day event featuring wine seminars, all-Rhône tastings, and a barrel auction, each with perhaps the most perfect opportunity to meet and talk with the producers who are at the forefront of the increasingly visible Rhône movement. Presenters and attendees come from all over the US - as well as France, Australia, and South Africa. Many wineries will donate a 1/4 barrel, a 1/2 barrel or even a full barrel (20 cases) of wine from their caves and cellars for this event; still others will donate rare case lots or large format bottles. This year included a several other items - the-first-and-the-last Syrah from Brian Loring (he's a Pinot guy, what more can be said), a Seine river cruise, several special dinners, a stand-alone wine cellar - plus a startup case of wine, a 3-day tasting at CIA's Greystone facility in Napa Valley, several unusual collections of bottles, and many one-of-a-kind wines.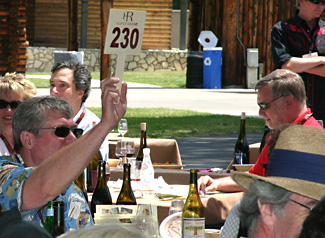 Auctioneer Ursula Hermacinski was very effective in getting the crowd warmed up and well into the bidding, while bidders lunched on some fabulous food from Maegen Loring's Park Restaurant in San Luis Obispo.
I've been to a few auctions and done a little on-line surfing of popular auction websites, but these lots weren't something you'd see on e-bay or winecommune. Of course, neither were the final bids for that matter. It's interesting to see how many of these lots are bought by restaurateurs. It would appear if you paid close attention to the buyers, you might indeed be able to try some of these wines on your next visit to one of these particular restaurants.
Without a doubt, the auction lot that garnered the most excitement was the one donated by Robert Parker. How about dinner for you and 19 of your closest friends? Well, that went for magnificent sum of $31,000 -- $1,550 per person! Another interesting lot was the three-for-one 2006 Condrieu -- 10 cases of delicious white for $10,000.
| | | | |
| --- | --- | --- | --- |
| Lot # | Auction Lot | Qty | Winning Bid |
| 1 | Water Grill Restaurant - Dinner for 2 & ocean of California White Rhones | -- | $ 2,600 |
| 2 | Hug Cellars - 2006 Rhone Blend | 5 cases | $ 1,800 |
| 3 | 4 Vintage Vertical - 2001,2002,2003,2004 Ciel du Cheval-Mag,750,375 | -- | $ 1,200 |
| 4 | Justin & L'Ecole #41 Rhone Blend | 10cases | $ 4,400 |
| 5 | 1865 Restaurant Dinner for 4 - 12 wines | -- | $ 1,600 |
| 6 | Miner Family - Rhone Blend | 5 cases | $ 3,200 |
| 6A | Dinner w/ R. Parker for 20 + wines | -- | $ 31,000 |
| 6B | Spencer-Roloson "Vim & Vigor" 05 Syrah | 5 cases | $ 2,200 |
| 7 | Miner Family - F. Villard - La Diligence | 5 cases | $ 3,000 |
| 8 | 7-night Viking River Cruise | 20 cases | $ 900 |
| 9 | Gangloff/Kunin Syrah Cuvee | 5 cases | $ 2,675 |
| 10 | Boulevard Restaurant - Dinner 4 + 3 wines | -- | $ 4,200 |
| 10A | Priorat Primer Package-by Eric Solomon | 2 cases | $ 3,600 |
| 11 | Robert Hall - Pape du Robles | 10 cases | $ 2,600 |
| 12 | Joseph Phelps- 6 yr Vertical Mag 99-04 | 1 cases | $ 1,200 |
| 13 | L'Aventure-Cote a Cote | 5 cases | $ 3,700 |
| 14 | 2005 Pax Richards Family Vnyd Syrah | 5 cases | $ 4,500 |
| 15 | Alban - 05 Seymour | 1.5 cases | $ 9,200 |
| 16 | Linne Calodo-05 Hammer/Nails | 7 cases | $ 4,000 |
| 17 | the girl/fig - Dinner for 12 | -- | $ 2,000 |
| 17 | the girl/fig - Dinner for 12 | -- | $2,000 |
| 18 | Garretson-03 Reliquary | 5 cases | $ 2,800 |
| 19 | 05 Qupe Syrah | 5 cases | $ 3,600 |
| 20 | Saxum 10 Mags 05 BoneRock & 6 Mags 05 Rocket Block | 2.67 cases | $ 7,500 |
| 21 | 3 for 1 06 Condrieu -Villard, Gangloff, Cuilleron | 10 cases | $ 10,000 |
| 22 | Villa Creek 05 James Berry Syrah | 5 cases | $ 9,500 |
| 23 | Tablas Creek Nursery Block 06 HdR Cuvee | 20 cases | $ 8,000 |
| 23A | Cline-5 mags | .83 cases | $ 700 |
| 24 | Fetish/Veritas 06 | 20 cases | $ 7,000 |
2007 HdR : Syrah Shootout | the Seminars | the Auction Lots | Photo Journal