2011 HOSPICE DU RHÔNE - PASO ROBLES, CA -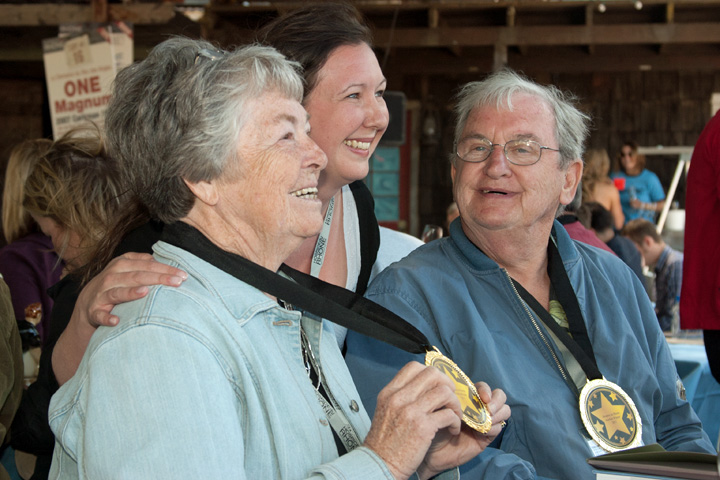 The 'winnah! - again!'
Some statistics on the Rhône wine auction lots held at the 18th annual Hospice du Rhône on Saturday, April 30, 2011, in Paso Robles, CA. The HdR is a two-day event featuring wine seminars, all-Rhône tastings, and a barrel auction, each with perhaps the most perfect opportunity to meet and talk with the producers who are at the forefront of the increasingly visible Rhône movement. Presenters and attendees come from all over the US - as well as France, Australia, and South Africa. Many wineries will donate a 1/4 barrel, a 1/2 barrel or even a full barrel (20 cases) of wine from their caves and cellars for this event; still others will donate rare case lots or large format bottles.
Auctioneer Todd Ventura was very effective in getting the crowd warmed up and well into the bidding, while bidders lunched on some fabulous food from chef Budi Kazali's Ballard Inn, Ballard, CA.
I've been to a few auctions and done a little on-line surfing of popular auction websites, but these lots weren't something you'd see on e-bay or winecommune. Of course, neither were the final bids for that matter. It's interesting to see how many of these lots are bought by restaurateurs. It would appear if you paid close attention to the buyers, you might indeed be able to try some of these wines on your next visit to one of these particular restaurants.
Lot

Donor

Item

1

L'Aventure Winery


4 magnums +
VIP tour and tasting for 6


$ 1,100

2

Chateauneuf du Pape

11 magnums +
CdP Book wine book


$ 6,500

3

Boulevard Restaurant


Dinner for 4 + Cellar Wines

$ 3,750

4

Domaine Yves Cuilleron


12 magnums

$ 2,600

5

the girl & fig restaurant - a Fig Weekend for 10


dinner and wines paired

$ 4,250

6

Domaine Thunevine-Calvet


1 double magnum

$ 1,100

7

Paul Lato Wines

3 - 3L bottles

$ 5,000

8

Tavel Rose Collection & Private Tour


20 - 750s

$ 2,500

9

Miner Family Vineyards

12 magnums +
24 750's

$ 2,700

10

Torbreck Vintners

3 - 3L bottles

$ 4,700

11

Wines from Denner, Epoch, Saxum, Torrin, Villa Creek

19 magnums +
2 double magnums +
dinner for 10

$ 8,600

12

Domaines Pierre Gaillard

6 magnums

$ 3,100

13

Callaghan Vnyds, Dos Cabezas, FnB Restaurant

chef's table dinner for 4 + private tours and tastings + two rooms

$ 4,000

14

Domaine du Clos des Fees

1 - 3L

$ 900

15

Hospice du Rhone at Blackberry Farm

event admission x2 +
3 nights accomodations +
gourmet meals

$ 5,500

16

Domaine du Roc des Anges

1 magnum +
private vnyd and winery tour

$ 1,200

17

Les Vin de Vienne - Yves Cuilleron, François Villard

9 magnums

$ 1,800

18

Alban-Carroll Dinner for 4 with Wines

dinner for 4 +
cellar wines

$ 6,000

19

Saxum Vineyards

1-3L

$ 4,300

20

Domaine François Villard

12 mags

$ 4,000

21

Noon Winery - Eclipse

1 magnum +
1-750ml

$ 1,300

22

Melville Winery

1 double magnums +
3 - 750ml +
VIP tasting, tour, lunch

$ 2,400
2011 HdR : Tastings | Seminars | Auction Lots | Photo Journal