Vol. 11 No.5 - November '03

Central Coast

Vineyards & Wineries Visited -
Journal and tasting notes from visits to several California wineries and vineyards.
Part 2 of 3
Tuesday, November 11, 2003 - Santa Rita Hills
Established in 2001, the Santa Rita Hills AVA is actually a sub-appellation of the Santa Ynez Valley AVA. At about 48 square miles, it occupies slightly over 25% of the western-most portion of the larger Santa Ynez AVA. The geography of the Santa Ynez Valley is quite unique. The entire region is the only area on the Pacific Coast of North America with transverse, or east to west, mountain ranges. Adding further to the distinction of the Santa Rita Hills AVA, an ocean fog penetrates up to, and often past, the eastern end of the appellation, just outside of Buellton. Although the Santa Rita Hills AVA is naturally cool and windy with more of a maritime climate than the Santa Ynez Valley, the fog adds an additional cooling element to the local vineyards. This permits lower temperatures for a longer duration of time, which in turn allows a longer hang time for the fruit - both of which are advantageous for the Burgundian varietals of Pinot Noir and Chardonnay.

Bordered by the Purisima Hills to the north, and the Santa Rosa Hills to the south, there are in a sense, two valleys here, separated by the namesake Santa Rita Hills, which run like an east-west spine between them. While the soils of the two areas differ somewhat, the climate remain nearly identical in both. Two major east-west roads pass through the AVA, Santa Rosa Road on the south and Hwy 246 on the north. Both lead to Lompoc, which has quickly become the 'de facto' wine capitol of the AVA. The effect of all this attention has meant that rather than becoming synonymous with "Santa Barbara Wine Country," the Santa Rita Hills AVA has instead become an entity in its own right. Well, that is up to a point. Although the Santa Rita Hills name would appear to have been embraced by all the wine-loving population, as well as all of the necessary AFT authorities, there has been a one long-standing issue with the name. The source of contention comes from an unusual place, the Santa Rita winery of Chile. Ironically, they feel that the similar name will mislead wine buyers. An interim solution to litigation was to change the spelling of the AVA to "Sta. Rita Hills."
There are over twenty vineyards here, most of them specializing in Pinot Noir and/or Chardonnay, with a few acres planted to Syrah, Pinot Blanc, some Pinot Gris, and even some Dornfelder. Currently, the majority of vineyards are planted on the southern edge of the appellation, south of the Santa Rita Hills, on both sides of Santa Rosa Road. Just to the north of Santa Rosa Road lies the Santa Ynez River, and its benchlands. This particular area off Santa Rosa Road is rightly considered the birthplace of the appellation. It was here in 1971 that Richard Sanford and Michael Benedict planted their seminal namesake vineyard with Pinot Noir and Chardonnay. More than thirty years later, it is the hotbed of California Pinot Noir.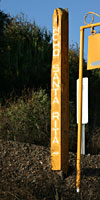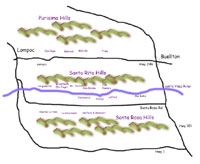 Up early for our look at the Santa Rita Hills, and the morning fog. It's the ocean fog that gives the Pinot grown in this AVA a much longer hang time - and hence a fuller ripeness to the grapes. Peter called to say that the fog was behaving, and that we were a "go." We met Peter about 7:30 off Santa Rosa road at the entrance to Sanford's La Rinconada Vineyard. From this vantage point, Peter pointed out Sea Smoke and Blind Faith (Fe Ciega) vineyards just across the Santa Ynez river to the north in front of us, and Sanford's Sanford & Benedict, Rinconada, and La Vina vineyards directly behind us. He pointed out the opposing cliffs and started relating a story about the local program that re-introduced Peregrine Falcons into the area. Peter told us how these birds of prey help prevent starlings from otherwise descimating the Pinot Noir crops. Netting doesn't work, we asked. Well, it works a little, he said, but the starlings still manage to get to the fruit. Pointing again to the cliffs, he described how the falcons were extremely gifted, explaining that their mitochondrial DNA had evolved over eons, giving them the equivalent of a built-in gyroscope, with the ability to keep both yaw and trim in perspective while they were hunting. We were half listening, squinting at the cliffs, looking for falcons. Is that right...really...how about that, we all muttered. Peter smiled. He was testing us city folk, just to see how much of the hook and line we'd swallow. Obviously, we needed to watch Peter, very carefully.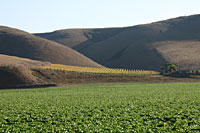 Back on the road, we followed Peter over to his own Cargasacchi Vineyard, further to the west - probably the western-most vineyard in the AVA. We headed toward Lompoc, then looped right, crossing the dry riverbed and a cabbage patch or two. Stopping to open the gate to his property, you could get a better sense of the SRH topography from a different angle. After a brief stop at Peter's house, we took a look at the Cargasacchi Vineyard from a ground level view. Planted in 1998, Peter has 16 acres of Pinot in two blocks here, and another 6 acres of vine at his nearby Jalama Vineyard. Each block is on different rootstalk, but all of it is clone 115.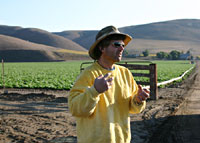 Peter Cargasacchi
Peter asked if we'd like to get a bird's-eye view of both his vineyard and the western portion of the AVA. Well, yeah. So, we piled into my car and headed further up the road, going through one access gate after another and along the lengthy easement to his property above the lower vineyard. Driving through some tall grass, we passed through Rick Longoria's Blind Faith Vineyard, then went up through another gate, 4-wheeling up next to a hill overlooking this portion of the AVA. We got out of the car, climbed through some barbed wire, and hiked up another 50 yards or so the top of the hill. Looking south from our 500' vantage point we could see the Cargasacchi Vineyard just below us, and the three Sanford vineyards over on the other side of the Santa Rosa sub-valley. What a great view! Looking down at the Cargasacchi Vineyard, Peter called our attention to the color differential on one of the blocks. He pointed out how part of it was more green than the rest. Uh-huh, we could see this. Well, he explained, this part is greener because this particular block was an old Chumash Indian burial ground. Seriously? How'd you ever get the permits to do that, we asked. Peter had a wry smile on his face. This was just more of the Cargasacchi BS (aka, CBS). I'm telling you, you have to watch this guy every minute.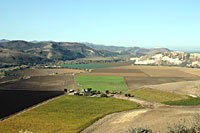 Hiking back to the car, we climbed again through the barbed wire fence. We drove back down to Peter's house, discussing what we should do next - taste the Cargasacchi and Loring wines at their winery in Lompoc, or go to breakfast. I'd already arranged to meet with Sea Smoke's general manager, Victor Gallegos at 10:30am at the vineyard. But, we couldn't do both breakfast and taste the Cargasacchi and Loring wines in the time left to us. We decided to go get some breakfast in Lompoc, and taste the wines later - maybe tomorrow. We dropped Peter at his truck, and followed him into town. On the way to breakfast, Peter apparently called Victor to say we might be running late (what's new). It turned out Victor was at Sea Smoke's winery in Lompoc, so the easiest thing to do would be to drop by there after breakfast and taste some Sea Smoke wines, before actually going up to the vineyard.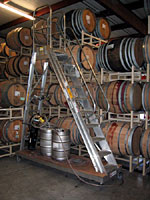 After breakfast, we headed over to the self-described "Wine Ghetto" on the east side of town. Peter left us to get back to his 'regular' life, and we would meet up with him later at Rick Longoria's winery - coincidentally, right around the corner from Sea Smoke's facility. We stepped in and introduced ourselves to Victor Gallegos, general manager for Sea Smoke. He asked us to pardon the activity, and explained that they were expanding into more space. I'd visited the winery back in May (5/03 visit), on a Cargasacchi-arranged mini-tour of the Santa Rita Hills for many of the people heading up to the Hospice du Rhone in Paso Robles. At the time, Sea Smoke hadn't even released a wine, but the word was out - this was an exciting new label, with some fabulous Pinots. We were fortunate on that visit to have winemaker Kris Curran lead us through four barrel samples, explaining her own winemaking philosophy as she went along. On that visit, we tasted a 2001 Chard that was bottled but would not be released - at least in the conventional sense. For marketing reasons, they decided to give it away - with purchases from their top Pinot program. From this, I surmised that Sea Smoke would not be doing a future Chardonnay bottlings. I was wrong, as one of our barrel samples turned out to be the 2002 version of this same wine.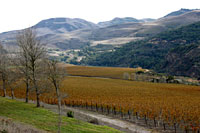 We chatted a bit about the barrel relocation, and Victor introduced us to Katie Kennison, Sea Smoke's assistant winemaker. Katie took us through some barrels, explaining Sea Smoke's style of wines and the differences in their three Pinot Noir bottlings. The Botella is named for the clay loam soil that predominates the lower slopes; the Southing is in reference to the south-facing vineyard rows; and the Ten is a blended reserve bottling using all ten clones from the property. All fruit is hand sorted and destemmed - no stem inclusion here, with 7-18 day maceration. Also, they're not at all shy with the new oak here - using about 50% for the Botella, 70% for the Southing, and 100% for the Ten. Sea Smoke will top out at 18,000 cases. We noticed the neat rig they used for topping up the barrel head space with with gas. It seemed like a pretty simple concept, but sometimes that's exactly what it takes to be on top of things.
Selected Tasting Notes:
...from barrel...
2002 Sea Smoke Pinot Noir. Clone 2A. New barrel. Gorgeous nose of black cherry and plum, along with some damp earth and floral scents. Full and chewy mouthfeel, excellent balance with somewhat gripping tannins, and very long finish.
2002 Sea Smoke Pinot Noir. Clone 667. Older barrel. Lots of succulent black cherry and spice aromas. Smooth and velvety on the palate, with a light toasty component, and very long finish.
2002 Sea Smoke Pinot Noir. Clone 667. New barrel. Nose of sweet black cherry, with lesser aromas of roasted coffee, and toasted grain. Rich and full, less smooth on the palate than the previous wine, but this seems more complex as well.
2002 Sea Smoke Chardonnay. Nose of lightly sweet lemon and citron, with the barest hint of butter. Full and chewy mouthfeel, with very concentrated flavors of lemon and apple, nice texture, and some mineral component shows up through the long finish.
With the barrel tasting done, we were off to look at Sea Smoke's vineyards. We followed Victor back east on Hwy 246 to a turnoff that leads to some of the vineyards on the south slope of the Santa Rita Hills. Entering through a gate, we followed an easement for a mile or so to the 300 acre Sea Smoke property. Victor parked his car, climbed in with us and we took off on a nice paved road through the vineyards. This was certainly a departure from the off-road hill climbing we did earlier in the morning. In fact, it was quite civilized - heck, we could have had glasses of wine on this ride!
On the 300 acre property, Sea Smoke has 100 acres of vineyards planted in 25 different blocks. There are no plans to expand further. Everything is on unilateral cane trellising. During the drive, we chatted with Victor about his own experience in the business. Viticulture is his background, and he has a great sense of place in the vineyard, as he spoke about the land's contours. This is probably due to his extensive travelling (Victor has a vineyard in Priorat).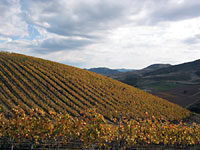 Finally, we arrived at the highest point in the vineyard, at 650'. Proprietor Bob Davids has a small modular house up here, which he stays in during harvest. Victor told us that these upper blocks had been descimated by the deer during the first few years. But, now he'd just finished putting 4-1/2 miles of deer fencing around the vineyards, so hopefully they'll pull more fruit from these blocks in future vintages. From this upper view, we had a vantage point similar to the one on the hill behind Peter's. Looking south, we were directly across the river from the Fiddlestix Vineyard, and beyond that was Sanford's Sanford & Benedict and Rinconada Vineyards. Looking down and to the east, we could see the Sea Smoke benchlands at about 350', as well as "the buckle," sort of a bulged area near the base of steep hillsides. Victor also pointed out an interesting geologic formation. Looking south, he explained that most of this area had been a box canyon or bowl. You could see how the Sanford side of the road had been one of the bowl's sides. And looking east, you could also see how at one time, the Santa Rosa Hills and the Santa Rita Hills had been joined. I swear, we could have just stood there and looked and looked at the topography of this place.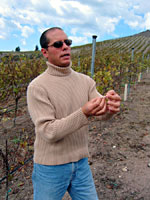 Victor Gallegos
Victor mentioned something about the 'monastery' next door that was probably slated for demolition. We remembered this as being something Peter had pointed out when we met him earlier in the morning. Monastery? Could we see it, we wanted to know? Sure - well, at least from a distance, said Victor. The neighboring property to the west is the Mt. Carmel Vineyard - named, as it turns out, for the Carmelite order that owns the vineyard. Victor continued to explain that they had built a new monastery which was nearly completed, only to have run afoul of county planning comissioners, who pointed out that the proper planning documents had not been filed with them. Therefore, it was in all probability going to have to be demolished. They take these things seriously in Santa Barbara County. Anyway, the monastery looked something on the order of a small resort, with a mission-like architecture.
Planted in 1991 to 18 acres, Mt. Carmel fruit has been used by several local sources, notably Babcock, Longoria, and Brewer-Clifton. As we descended the steep road leading to the monastery, we could see that the vineyard looked older than its 12 years, and it seemed neglected. Some of the age appears to have come at the expense of the weather - which blows through here like a gale, especially at this altitude. Victor seemed uncertain as to the vineyard's future.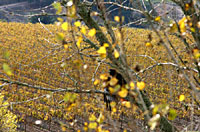 Heading back down to the Sea Smoke benchlands, at one of the hairpin turns, Victor pointed across a ravine where someone from the convent had driven over the edge awhile back. A tree saved the car - and her - from going all the way down into the ravine. As we passed the spot on the other side, we could see how the road could be a bit trecherous at that point. Passing the benchlands, I stopped to get a photo of one of the many Red-Tailed Hawks that cruise the skies hereabouts. This one had landed in one of the many Italian poplar trees that line the road at this point, so the view was photogenic as well. I'm taking aim, and at that precise moment, the hawk takes a poop! Well, this was the funniest thing we'd seen all day. Guess he told you! ...Yeah, Eric, that's because hawks don't have fingers! What a hoot!
We dropped Victor at his car and thanked him for the personally guided tour. Then we headed back to Buellton to grab some lunch, and let Sidney pick up his car. Sidney was heading back home after the final tasting at Fiddlehead. Bob fixed some sandwiches, and we thought about the rest of the day's visits. The afternoon schedule looked good - almost choreographed. Longoria at 2:00, Brewer-Clifton at 3:00, and Fiddlehead at 4:00 - all within walking distance of each other. Hey, I like this "Wine Ghetto" place - it's all about one-stop shopping!
Selected Tasting Notes:
...from barrel...
2002 Longoria Chardonnay. 60/40 blend from Sweeny/Bien Nacido Vnyds. Quite tropical in the nose. Big and chewy mouthfeel, with very nice balance, nice level of ripeness, and very long finish.
2002 Longoria Pinot Noir - Fe Ciega. Distinctive floral quality in the nose, with plenty of cherry fruit, excellent balance, texture and finish.
2002 Longoria Pinot Noir - Sanford & Benedict. Big smoky nose, with red and black fruit and lots of fine tannins.
2002 Longoria Pinot Noir - Mt. Carmel. Soft, plushy and pretty, this wine could be all 667 clone (but it's not) for the approachability.
2002 Longoria Cabernet Franc. a blend of Westerly, Vogelzang, and Alisos Cyn Vnyds. Chocolate and spice accent the black cherry fruit. Rick indicated this may be blended with about 40% Merlot.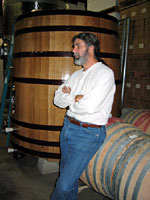 Rick Longoria
2002 Longoria Merlot. a blend of Westerly, Vogelzang, and Alisos Cyn Vnyds. There's plenty of fruit here. But, rather than soft or plush, this wine has a significant backbone, seeming right now a little rough-hewn and tannic.
2002 Longoria Syrah. a blend of White Hawk, Stolpman, and Alisos Cyn Vnyds. Tight and tannic, but loaded with black fruit, along with some dried herbs. A little Grenache will be added to the final blend.
2003 Longoria Pinot Noir - Fe Ciega. Fascinating nose of roasted herbs predominate the cherry and slight floral notes. Huge berry quality on the palate, this should be beautiful.
2002 Longoria Syrah Port. Funky, with roasted grain and coffee aromas, and notes of cigar and cocoa.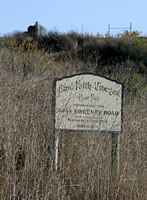 We met Peter at the appointed time back in Lompoc at Richard Longoria's winery. We chatted for awhile with Rick, recounting our earlier drive through Blind Faith Vineyard (Fe Ciega Vnyd) on the way to the hill above Peter's vineyard. Rick explained that when he'd originally bought and planted this nearly 8 acre property in 1998, he did so on "blind faith." Hence the name. Unfortunately, it was a name already in use. Rick's solution: translate "blind faith" to Spanish, and you get Fe Ciega. interestingly, it was also the impending loss of Sanford & Benedict fruit that prompted him to buy his own vineyard.
Rick Longoria has a lot of history in the Santa Ynez Valley. In fact, he's been a fixture in the Santa Barbara County wine scene for nearly 30 years. He's honed his craft while working at many of the smaller wineries, and finally at Gainey, where he became winemaker in 1985. During that time, he'd been making small lots of wine under his own label. But, he left Gainey in 1997 to put all of his efforts into Richard Longoria Wines.
Rick's a really mellow guy, who seems almost serene in his outlook and approach to winemaking. What do you think about such and such, we would say. He never gave it much thought, he'd reply. The term "non-intervention" could have easily been invented here, as Rick prefers to let the fruit do the talking. Longoria's production is about 5,000 cases right now, with plans to do no more than about another 1,000 cases. Rick destems and hand sorts all fruit. He uses about 1/3 new oak, and has several new big barrels, or Puncheons, along with some larger wooden tanks. Rick seems to love these bigger barrels - especially for Chardonnays, he says. Isn't it a hassle with more surface area to clean, I wondered aloud. Nah, we just clean them like the others, he said. Speaking of barrels, Peter asked Rick, could we try a few of your recent ones. Sure, you bet, offered Rick, grabbing a wine thief. Needless to say, the wines were all very nice - just like Rick!
Leaving Longoria, we walked the 25 yards over to Brewer-Clifton, where a visit had been arranged by Peter. I'd met Greg many times before at tastings, and at Melville, where he is also the winemaker. Greg gave us the quick facility tour, showing us the cold room, while explaining his own philosophy and methods for making wine. The B-C Pinots are made in the same manner - hand sorting, no de-stemming, whole cluster fermentation, same yeasts, same oak, etc., to allow each of the vineyard-specific wines to speak entirely of its location. Further, they use no hoses or pumping of the wine. Greg compared his processes to that of a Sushi Chef - minimal handling, minimally invasive. The wine spends 35 days in fermenters. Racking is done by gravity, or by bucketing 2-gallons at a time, and the wine gets no SO2 until the first full moon in June. As a result, they keep all the head space covered with CO2 to minimize potential problems. Plans are to stay under 3,000 cases.
Selected Tasting Notes:
...from bottle...
2002 Brewer-Clifton Chardonnay - Mt. Carmel. Light medium gold color. Big, smoky, and nutty nose. Elegantly balanced, with lots of chewy mouthfeel, honeyed apple and pear flavors, and a very long crisp finish. 250 cases.
2002 Brewer-Clifton Chardonnay - Melville. Medium gold color. Nose of lemon-lime, toasted wheat, and minerals. Not quite as blousey as the Mt. Carmel, more refined structure, with flavors of citron and lemon zest, and a long minerally finish. 140 cases.
2002 Brewer-Clifton Pinot Noir - Clos Pepe. Fascinating nose of black cherry and sweet clover. Somewhat spicy on the palate, with finely grained tannins, lots of dense dark fruit, and long lingering finish. 72 cases.
2002 Brewer-Clifton Pinot Noir - Cargasacchi. Whoa! Lovely nose of black cherry and cinnamon, with almost an anise scent in the background. Big, full mouthfeel, with an almost in-your-face quality to the fruit, very long finish and the fruit just keeps on coming. 120 cases.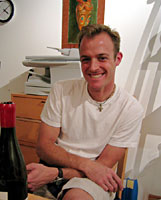 Greg Brewer
After the short tour, Greg led us upstairs to the loft that they use as an office, lab, and tasting room. And, I mean tasting room. Our wines were set out on a dining-room table that could probably seat 8 or more people. Each of us took a chair, and spread out in front of us were placemats with a wine glass at each location. Conspicuously printed on each mat was "Tasting - Peter Cargasacchi and Guests." I'm not sure if even Peter expected us to have a sit-down tasting of Brewer-Clifton wines, much less have place settings with his name on them. (And I thought Peter's getting the back room at the Hitching Post was something.) Oh, of course, I thought to myself, spying the wines to be poured. One of them was the 2002 Cargasacchi Pinot Noir. Peter's a grower - one of their growers. Ahh, this was the reason for the special treatment.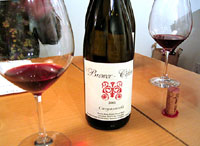 Greg sat at the head of the table, and opened the wines. He was pleased to report that B-C was now fully Santa Rita Hills 'compliant' - that is, they were now only buying fruit from growers within the SRH appellation for their Pinots and Chardonnays, and would probably be making about five vineyard-specific bottlings of each. I've always admired the look of the label, as well. I like the idea that the wine's source is prominently displayed, as the second largest type face on the label. I think it says a lot about their commitment to the growers and to the wine itself. I asked about the scroll-like logo on the label. Greg said that the design came from some scroll work he'd seen on an ornate ceiling in one of Santa Barbara's restaurants. He said the four circular patterns represented the four original 'partners' in the Brewer-Clifton venture, Greg and Steve, and their wives.
With each wine, Greg would walk around the table, pouring some into each of our glasses. I've got to tell you, I felt underdressed! Interestingly, with the first wine poured Greg also brought up the Mt. Carmel 'issue,' indicating that something weird was going on in this vineyard. He alluded to quality issues, but nothing more specific. For me, this was just further re-enforcement for what we'd seen earlier. It had looked like the farming wasn't being kept up. Characteristically, all of the Mt. Carmel Chards that I've had have all had a very smoky quality, which I liked very much. It was kind of sad to hear even more negative commentary about the vineyard.
When we'd finished, Greg asked what our next stop was. Fiddlehead we replied. Oh, you'll love Helen, the assistant winemaker - she's very cool. Peter agreed - very cool. Greg offered to walk us over. He said he wanted to bring Helen the balance of wines from our tasting. So, we walked the 50 yards or so over to Fiddlehead Cellars winery. Here, we met with Helen Keplinger. Well, there was no question about it - Helen was very cool. So, this was why Greg wanted to walk us over, I thought. He had a small ulterior motive - a hug from Helen. Well, that's understandable - did I mention that she's very cool.
Selected Tasting Notes:
...from barrel...
2003 Fiddlehead Pinot Noir - Fiddlestix. Clones 5, 113, 667. Still going through ML, this wine was loaded with black cherry, roasted coffee, and mocha in the nose and mouth.
2002 Fiddlehead Pinot Noir - Fiddlestix. Clone 5. Lovely black cherry, laced with a vanila scent. Very tasty in the mouth, this wine was fully extracted, spicy, with almost a carmelized-flan flavor on the long finish.
2002 Fiddlehead Pinot Noir - Fiddlestix. Clone 777. Somewhat darker fruits dominate the nose of this wine, with some damp earth, a touch of cigar, and a nice mineral quality. Fruit-filled, but also fairly rigid on the palate, with some gripping tannins, and a very long finish.
2002 Fiddlehead Pinot Noir - Fiddlestix. Clone 4. Pretty nose of dark fruit, with floral and dried lavender. Very tasty black cherry and spice flavors, gripping tannins take hold about mid-palate, then release during the long finish.
2002 Fiddlehead Pinot Noir - Fiddlestix. Clone 115. Wow, now here was some oak treatment. The nose was Starbucks all the way, with roasted coffee, espresso, black cherry and a lightly pumpkin-spiced scent in the background. In the mouth, the tannins seem finer that the two previous wines, but there's not doubt that this will provide backbone.
2002 Fiddlehead Pinot Noir - Fiddlestix. Clones 4, 113. Fabulous balance of aromas, with a combination of dark fruit, spice, and dried herbs. Mouthfeel is initially very nice, with lots of fruity flavors and a touch of spice. But, the wine seems to develop a hole in the latter palate, and finishes a bit soft.
2002 Fiddlehead Pinot Noir - Fiddlestix. Clone 667. Lots of succulent brandied cherry and black cherry aromas. Plush and slightly plummy on the palate, it could use some tighter structure, and I couldn't help wondering what some of the 115 would do for this.
...from bottle...
2001 Fiddlehead Lalapalooza Pinot Noir. Lovely nose of black cherry, spice and coffee. Very accessible mouthfeel, with excellent balance, and plenty of dark fruit through the long finish.
2001 Fiddlehead Gooseberry Sauvignon Blanc - SYV. Flinty and melony nose. Crisp and yet quite rich on the palate, with flavors of sweet lime and cantelope. Nice stuff!
We were running late (again), but Helen still seemed very glad to see us. In fact, in addition to being cool, Helen is obviously just a happy person. I'd seen the Fiddlehead website, which had several pictures of winemaker/owner Kathy Joseph smiling away, and looking like she was having a fun time. Kathy obviously hired someone as assistant winemaker who enjoyed making wine and greeting people as well. Helen asked if we'd been to the Fiddlestix vineyard yet, and we said it was on our schedule for tomorrow. So, she gave us a quick synopsis of Fiddlehead, and we tasted through several barrels, as well as a couple of bottles.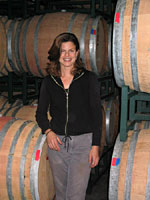 Helen Keplinger
Helen briefly described that they do some whole cluster fermentation (with stems), use about 35% new oak, and mentioned that the Fiddlestix vineyard is all organic (though not biodynamic). Fiddlehead has always done an Oregon Pinot as well. This year, for the first time, they brought the Oregon fruit down to the winery in refer trucks and did the crush right here. It looked like Kathy was off the hook - she didn't have to go up Oregon to make the wine anymore.
Okay, one more Pinot to try, the '01 Lalapalooza from bottle. When we'd finished tasting the Pinots, Helen asked if we'd tried any of Fiddlehead's Sauvignon Blancs. No we hadn't, we said, as Bob quickly became more alert. Bob likes whites, and just the mention of Sauvignon Blanc gets his attention real quick. Helen found the lone bottle of white in their refrigerator, an '01 Gooseberry. Helen looked disappointed. According to the marking on the bottle, she said, it looks like this has been open a week. Hey, we're pros here, pour the wine. She did, and it seemed just fine to us. She asked if we'd like to try the L'Orvert, a bottle-aged version of Sauvignon Blanc that spends more time in oak and is released much later. You bet we did. But, despite looking all over for one, she couldn't find any. Too bad.
Well, it was quite a day. Vineyard tours, barrel tastings, sit-down tasting... yes quite a day. Bob and I had planned to have dinner at Brother's restaurant, in Mattei's Tavern. We couldn't talk anyone else into joining us, so it was to be a quiet evening. It was Syrah night for us, and we brought along a '99 Tensley Purisima Hills, '99 Jaffurs Thompson, and '98 Ojai Roll Ranch. Not too shabby! And, they all went very well with Bob's veal chop and my rack of lamb.
Wednesday, November 12, 2003 - Santa Rita Hills
Today's itinerary was set to include visits to Casa Cassara vineyards, a tasting with Wes Hagen at the Clos Pepe winery, a return visit to Jason Drew, a tour of Sanford's vineyards and new winemaking facility in the Rinconada Vineyard, and finally a visit with Kathy Joseph at the Fiddlestix Vineyard. To this bill of fare, we also added our previously postponed tasting of the Loring and Cargasacchi wines. All told, it was going to be just another crummy day in paradise.
Peter called, just as we were preparing to head over to the Loring/Cargasacchi winery in Lompoc. There were a few emergency repair issues at the winery that needed his attention, and he asked if we could stop by later than originally planned. No problemo, we said. Bob had always wanted to drive over Drum Canyon Road, the "short-cut" (not really) over the La Purisima Hills between Los Alamos and the Santa Rita Hills AVA. So, we took a drove up to Los Alamos, then headed back south over Drum Canyon. This ate up enough time to give Peter an opportunity to track down and fix a flooding issue that apparently occured overnight.
Selected Tasting Notes:
..from barrel...
2003 Cargasacchi Sangiovese - French Camp. Nice dried cherry nose, and flavor. Seems a bit tart on the palate right now.
2003 Cargasacchi Rose of Syrah - French Camp. Nice saignee of Syrah. Deep and pure nose and flavors, meaty and substantial on the palate.
2003 Cargasacchi Syrah/Pinot Noir - Paso Robles & Sweeney. Gobs of fruit, interesting high toned quality to the nose and mouth, and a long tasty finish.
...from plastic bottle...
2003 Loring Pinot Noir - Garys'. Pisoni clone. Rich and sweet nose, with lots of black cherry and a touch of orange peel. Tasty mouthfeel, very good balance, long gripping finish.
2003 Loring Pinot Noir - Rosellas. Clone 66 . Full and plush on the nose and initial palate. Picks up a tartness at mid-palate that nicely accents the wine.
2003 Loring Pinot Noir - Clos Pepe. Clones 667, 115. Very concentrated in nose and mouth. Substantial chewy mouthfeel, tons of smoky fruit, and very long knife and fork finish.
2003 Loring Pinot Noir - Cargasacchi. Clone 115. Concentrated black cherry nose, with an interesting maple quality. Full on the palate, but very refined for its size, with a nice toasty note to the black cherry flavor.
...from bins...
2003 Cargasacchi Grenache/Syrah - Paso Robles. Okay, here we go into the realm of alchemy, this is a Grenache/Syrah from Paso with 2x the amount of skins from both Clos Pepe and Jalama vineyards. It's predictably thick, and the fruit is intense on the palate. Once you get past being clobbered by the fruit, it finishes quite nice.
2003 Cargasacchi Sangiovese/Syrah - Paso Robles. Similar to above, except that Sangiovese stands in for Grenache in the blend, making the wine less intense, less ripe, and a little more interesting. Also a little fizzy at the moment.
...from barrel...
2003 Cargasacchi Syrah - French Camp. Very nice, substantial roasted quality to the dark fruit in the nose. Rich on the palate, with very good balance, and lots of herb and asphalt qualities.
2003 Cargasacchi Pinot Noir - Jalama Vnyd. Clones 114 & 115. Nose is a bit funky, with has a nice core of red/black fruit and lots of roasted coffee and herbs.
2003 Loring Pinot Noir - Garys' & Cargasacchi. Now we're talking. This is a seamless blend of the two vineyards, that seems very approachable even now. Loaded with dark fruit, excellent balance, and long finish.
...from tank...
2003 Cargasacchi Syrah - Jalama & French Camp. Mostly Jalama Vnyd fruit, with a touch of French Camp. Lots of black and red fruit in the nose and mouth. Still undergoing ML, but obviously has the stuffing to go the distance.
We arrived at the small industrial center, where Peter and Brian make their wines. We ran into Peter out on front of the place, checking with some guy in another small auto shop about the recent flood. Most of the tenants here seemed to specialize in engine repair or welding. Wondering why these two famous wine guys weren't over on the other side of town with the rest of the 'garagistes,' I asked Peter what made them choose this place. Oh, we're here primarily for the setting and the ambiance, he replied dryly. I watched as a small grin formed on Peter's face.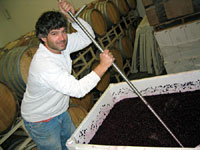 Peter the Puncher
We tasted through the several of the Cargasacchi wines, some from barrel, some from tanks, even some from bins. Peter is experimenting like crazy here - sometimes with unusual varietal pairings, sometimes with unusual methods, and sometimes with just plain old 'what ifs.' It was fascinating to see someone approach winemaking completely unintimidated. Peter didn't care about what ought to be blended with what, and questioned why he couldn't use twice as many skins than is ordinarily used. This was fun winemaking. Another of the interesting things to try here were Peter's wines from the Jalama Vineyard. Planted in 1999-00, Peter has 14 acres of Pinot Noir, along with some Pinot Gris and Syrah over in the Salsipuedes Valley, just south of Lompoc.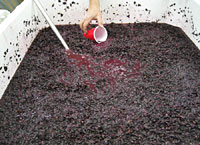 We all reminded each other about leaving time to visit Casa Cassara. But, with time waning and a sense of being "brushed-off" by the winery, we decided to forget making a visit to Casa Cassara. This might allow us to stay on schedule for once, plus, we could let Peter get back to his chores. He had a lot of hard work ahead of him: milking llamas, feeding livestock, and mating bulls and cows. Oh yes, there was wine growing as well.
I asked Peter about how he was going to market his wines - did he have a label already on the drawing board. Yep, and he dug out the artwork to show us. Very different, and very nice. Unfortunately, the non-disclosure agreement I signed prevents me from divulging any information about it. But rest assured, you've never seen anything like it.
Selected Tasting Notes:
..from barrel...
2001 Clos Pepe Chardonnay - Clos Pepe. 25 mos in 5-6 yr old barrel. Why so long in wood, we asked. Turns out the barrel had been hiding from Wes, and only reappeared recently. Sounded as though it also took its sweet time going through primary and ML. Smooth and minerally, with a touch of smoke and a trace of sulphur in the nose. Very tasty, with a toasted grain quality. No tartness at all.
2002 Clos Pepe Chardonnay - Clos Pepe. 5-6 yr old barrel. Nose of pear and tropical scents. Beautiful acids and crispness to mouthfeel, with a light mineral and hazelnut flavor.
2002 Clos Pepe Chardonnay - Clos Pepe. 5-6 yr old barrel (different cooperage). Slightly more tropical and much tastier than the previous sample, with more of a cling on the palate, and a trace of heat at the back end.
2003 Clos Pepe Pinot Noir - Clos Pepe. from SS; used for topping. Just pure concentrated dark cherry fruit in the nose and mouth. Lightly sweet across the palate, with a touch of spice - a real joy to taste.
2003 Clos Pepe Pinot Noir - Clos Pepe. Clone 115; 8-9 yr old barrel. Similar to above, with concentrated nose and flavors, though slightly tarter that the topping wine.
2003 Clos Pepe Pinot Noir - Clos Pepe. picked at 23.8 (less ripe); 1 yr old barrel. Wes is playing around with this to essentially help knock down the alcohol levels. It's got a nice fruity nose, is very concentrated and extracted, just somewhat tarter than normal.
2003 Clos Pepe Pinot Noir - Clos Pepe. new Troncais oak. Lovely nose and mouthfeel. Very concentrated, with flavors of dark cherry, cocoa, toast, and roasted coffee. Wes loves this cooper. I love this cooper. Just exquisite stuff!
2003 Clos Pepe Pinot Noir - Clos Pepe. med toast Ermitage Louis St George barrel. Wow on the coffee and espresso accents to the dark fruit nose, very succulent on the palate, long luxurious finish.
2003 Clos Pepe Pinot Noir - Clos Pepe. a blend from a neutral barrel with above new barrel. Good compromise of toast and coffee scents. massive fruit, seems more refined and in the foreground, with aromas of crushed dried flowers in the nose.
2003 Clos Pepe Pinot Noir - Clos Pepe. Clone 777; 2 yr old Francois Freres barrel. Tons of macerated fruit in the nose, with lots of mineral and smoky scents. Big and chewy, fairly dense. This will undoubtedly be the backbone for something else.
...from stainless steel...
2003 Clos Pepe Chardonnay - Clos Pepe. stainless steel. Slightly gassy in the nose, with nice apple aromas. Surprising amount of toasty qualities to the lightly sweet apple-pie flavors, as well.
2003 Clos Pepe Chardonnay - Clos Pepe. stainless steel. Similar to above, but seemingly more pineapple in nose and flavor.
2003 Clos Pepe Chardonnay - Clos Pepe. stainless steel. clean and crisp, with a very tasty light sweetness, and lovely balance.
...from barrel...
2003 Huber Dornfelder - Huber Vnyd. Well, darkness has a new name - Dornfelder. Huge, thick and chewy, we were warned not to get any on our clothes. This is sort of a young Zin meets Pinot on steroids.
We left Peter and headed back to Buellton to meet with Wes Hagen of Clos Pepe, at the Kahn wine facility. Tasted through several barrels with Wes, who gave us the low-down on his preferred methods. He presses the whole-cluster Chardonnay, and uses 5-yr old barrels to minimize the oak. The result is a lightly tropical, much more mineral-influenced Chard. Wes says he doesn't like to stir the lees on his Chards any more - it kicks up the funky level. With the Pinot, Wes puts the grapes through a crusher-destemer, uses a cold soak on native yeasts for 2-3 days, then adds a commercial yeast to the must, punching-down religiously for the next week or so. Then finally it gets pressed and pumped it into barrel. Wes prefers to let the Pinot finish fermentation in the barrel, explaining that this creates a little CO2 to fill the head space, along with being more of a non-interventionist method. Wes says he does use stems sometimes, but not usually - maybe only 7% in past, but none this year.
Clos Pepe Vineyards is on a former 40-acre horse ranch that was purchased several years ago by Cathy and Steve Pepe, Wes' mother and stepfather. Before setting up the 28-acre vineyard, the family consulted with Jeff Newton and Larry Finkle of Coastal Vineyard Care to site and plant the vineyards. Burgundian varietals are Wes' passion, and that's all that's grown here - with Pinot Noir claiming the majority ofacreage. Although Clos Pepe sells about 90% of its fruit to the likes of Siduri, Ojai, Babcock, Loring, Clifton-Brewer and Hitching Post, they keep 3.5 acres (about 250 cases) of Pinot Noir to bottle under their own label. Yields have been down lately - sometimes almost miniscule at Clos Pepe. Something like 1.5 to 2 tons/acre in 2002. According to Wes, it'll be 1-ton/acre yield in '03.
As we got into tasting through several different barrels, I told Wes I really liked what the new did for his wines. He nodded, and said that his wines do stand up very nicely to new oak, but he prefered them more subtle. He also cited something he attributed to Bryan Babcock (but it could have just as easily been Bruno D'Alfonso), 'you can't over oak a wine, but you can under wine the oak.' That pretty much said it all for me.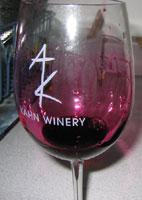 As we were set to leave, Wes asked if we'd tried Huber's Dornfelder yet. I might have thought that Wes was asking me something about Oktoberfest, had I not heard of this wine before. Dornfelder is a German red wine that is concentrated to the extreme. And, Huber is a local grower who has bottled some. So, Wes found the lone barrel and thiefed some for us. It spent 4 days on skins, yet looked to be the darkest thing imaginable. It swirled like blood in the glass, and Wes said it would actually stain the glass as well. Massively fruity, thick and chewy, it was much more than a 'steak of a wine.' It was the whole cow. Holy cow! Interesting stuff.
After we finished up with Wes, Bob and I headed back to our motel for a couple of Bob's delicious ham and Jarlsberg sandwiches. Pretty soon we'd have to go visit another winery, spit out some wine, then start the whole thing all over again. Man, this was living.
New stop, Jason Drew. The Drews have a very nice small facility in Buellton on the westside of 101. So, after relaxing a bit, we headed the whole 2 blocks over to Drew Family winery. Met with Jason Drew and his brother, Mark. In addition to being the home for the Drew operation, Mark Horvath and Kenneth Gummere's joint venture, Kenneth-Crawford wines also shares space here.
Selected Tasting Notes:
..from barrel...
2003 Drew Pinot Noir - Julia's. Pommard clone. Ripe, slightly floral nose, with black cherry and cinnamon aromas. Smooth and succulent on the palate, and through the long finish. Arguably less complex than its SRH siblings, Julia's has never been about complexity - it's been about smooth drinkable Pinot.
2003 Drew Pinot Noir - Arita Hills. Clone 667. Bright and showy in the nose, there are a lot of interesting notes of cranberry and wild strawberry here. Sleek and racy on the palate, with more cherry fruit, damp earth and spice, excellent balance and long finish.
2003 Drew Pinot Noir - Rio Vista. Clone 667. Freshy macerated berries in the nose. Rich and somewhat bright on the palate, with excellent balance, and slightly crisp finish.
2003 Drew Syrah - Larner. Clones 877 & Estrella. Very nice ripeness here, with a wild blueberry/blackberry and some floral aromas. Tannic and somewhat closed on the palate, but has a nice core of fruit, and very smooth finish.
2003 Drew Syrah - Alisos Cyn. 12 yr old vines. Nose of licorice and candied cherries. Rich, full and very mouthfilling, this is some big extracted stuff from out Thompson Vnyd way.
2003 Drew Syrah - Heartstone. Clone 5c. Nose of vanilla-laced blackberry and black plum. Jammy and smooth on the palate, with lots of dark fruit, just the right amount of ripeness,and a long smooth finish.
2003 Drew Syrah - Morehouse. Gorgeous nose of black fruit, glove leather, and clove. Rich and chewy on the palate, smooth and jammy fruit, long finish.
...from bottle...
2002 Drew Syrah - Alisos & Thompson. a 75/25 blend. Nose of black fruit, clove, chocolate, and hint of licorice. Smooth and luscious on the palate, with amazing flavors and fine-grained tannins throughout.
2002 Drew Syrah - Rodney's & Larner. Big sweet and ripe in the nose. Plush mouthfeel, but there's a backbone here, and the wine finishes up with some grip.
2002 Drew Pinot Noir - Rio Vista & Ashley's. a 70/30 blend. Nice cherry and black cherry nose, with touch of vanilla. Nice dark cherry flavors, excellent balance, and long finish.
...from tank...
2003 Drew Grenache - Heartstone. Well, it's cloudy as all get-out. Nice fruit-filled nose. Sweet ripe fruit on the palate, nice aftertaste.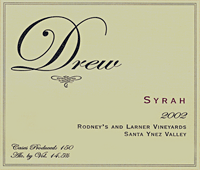 As a recap, Jason has been in the wine business since 1992, serving stints at Joseph Phelps, Carmenet, Luna, Corison, and St. Supery. He also spent 1997-98 in Australia, getting his degree in winemaking. Then, relocating to Santa Barbara County, he worked for Babcock before starting Drew Family Cellars and producing 380 cases as their first vintage in 2001. Drew Family will produce about 800 cases of the '02 vintage.
Drew purchases about 90% of its fruit by the ton, rather than by the acre, making them a bit more insulated to the lower yields from some of the recent vinatges. From the Santa Rita Hills, they are sourcing fruit from Ashley's Vineyard, off 246 (Fess Parker), and Arita Hills (next to Gainey on Santa Rosa Rd.), and Rio Vista (the eastern-most vineyard in the appellation, also on Santa Rosa Rd.). Jason had done a Grenache from Purisima Mtn in 2002, and I wondered if he would do so in '03. Nope - it sounded as though too much shatter had taken place with the Purisima Mtn fruit, and he had to look elsewhere. Also, Jason is now getting fruit from the Morehouse Vineyard in Santa Ynez Valley. This was previously an exclusive to Foxen, who now I believe are pulling fruit from their own vineyards.
Interestingly, Jason uses about 30-50% new oak on Pinot, but only about 25% on Syrah. I asked the guys if the local bark beetles had been bothersome to their oak collection (some of which appear to be SQN's used barrels). These little insects love oak - especially French oak. They seem to get to the barrels, regardless of whether the barrels are outside for drying, or inside, filled with wine. Either way, the beetles will start munching - usually right at the joint between the head and the staves. It's easy enough to tell where they've invaded a barrel filled with wine. The barrel springs a leak. That kills the beetle, but it's a small consolation. Somehow the subject of bugs led us into a funny dialog about earwigs. The Drews recounted how the insects often get scooped up with the fruit at harvest time. Next thing we knew, we all started doing an improvision routine - like something from a Bob Newhart phone call. 'Here they come, Bob, let's get out of here.' 'Just one last bite,' one earwig would say to another. 'Whoa, what's happening to me?' 'Hey, I'm feelin' a little woozy here, Bob.' We were cracking each other up. See - just one more example of how much fun wine can be!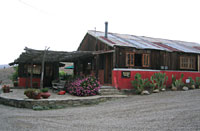 Next, we headed off to Sanford Winery for our meeting with general manager Tom Prendiville. We were due to meet at the tasting room, located a few miles east of the main vineyards in a small box canyon known as Rancho El Jabal. There are some vineyards bordering the tasting room, 7 acres planted in 1983, about half to Chardonnay and half to Pinot Noir. Meeting Tom outside his office, he asked if we'd like to taste through the current lineup first, or head out for a vineyard tour. It was threatening to rain and I wanted to get some photos, so we all agreed it might be best to hit the vineyards first, and taste afterward. Tom grabbed three glasses and a wine thief, and we all piled into his Explorer for a road trip. We drove the nearly five miles down the road to the Sanford & Benedict Vineyard, stopping once to get a photo of a double rainbow.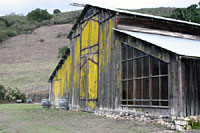 Entering the vineyard, we drove up to an old barn that served as the first Sanford winery. It was a great spot, with a slight downhill view of the Sanford & Benedict Vineyard spread out in front of us. Planted in 1971, this vineyard had an additional section planted about 6 yrs ago, and now encompasses 135 acres. The vineyard is planted to 68 acres of Mt. Eden clone Pinot Noir, 52 acres of Chardonnay, and 15 acres of other whites (Viognier, Pinot Grigio, and Gewurztraminer).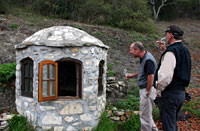 Tom Prendiville (l), Bob Summers
Along the route, we stopped numerous times just to take in the view from different vantage points. At one point we stopped to see an interesting windowed structure up against the hillside. This was an enclosure built around an artesian well that fed three cisterns in the vineyards. It's the Spring House, Tom said, let's stop here. He went over and opened the window, and a bunch of yellowjackets flew out. Water was flowing from a mask of Dionysus on the back wall. We stuck in our glasses, and half filled them with water. Tastes great! At a few points, we stopped to get a look at the soil. It looked as if it had been roto-tilled, and was all turned up. Chert, they called it, Tom explained. He said the soil was just full of these rocks. And, as we looked back behind us, we could see that an ancient landslide had probably filled up the bowl with 'chert.'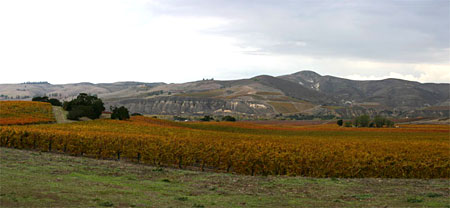 Sanford & Benedict Vineyard
We drove through Sanford & Benedict and over into the contiguous La Rinconada Vineyard. Planted in 1997, this 130 acre vineyard is planted to an even balance of Pinot Noir and Chardonnay at 60 acres each, plus 10 acres of Sauvignon Blanc. The Pinot mostly occupies the slopes, and the Chardonnay seems gets the flat lands. As we approached Sanford's new Rinconada winemaking facility, Tom looked in his rear view mirror and mentioned that Richard Sanford was following right behind us. Richard had told Tom earlier that he wanted to meet us and say "hi." We parked at the new facility, and Richard came up to introduce himself. Tom suggested that Richard continue the tour, and explain the origins and construction of the new facility. This was certainly going to be a treat. Richard told us a little about himself, his years in Viet Nam, his degree in geography/geology, and focus on Eastern Philosophy (Taoism), and how it had always been his dream to build a winery like this. He seemed very pleased that something that had been 20 yrs on the drawing board was now a reality.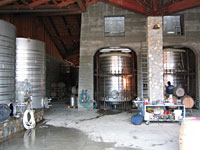 Richard explained how the winery had been built from over 100,000 hand-made adobe bricks that provide a natural insulation. The higher ceilings utilize old growth timbers that had been salvaged from a Washington sawmill, and local stone was used either for functional support or accent pieces throughout. as we approached the center of the facility, Richard pointed out the four gravity flow tanks that had been installed. Each one rises up to two stories to allow gravity to empty the wine from one tank to another during the racking process.
Tom thiefed us a sample of Sauvignon Blanc, as we wandered through the facility, taking it all in. I didn't know whether to shoot photos, talk to Richard, or taste wine. It seemed obvious I couldn't do it all - at least not at the same time. What else have you got for us, Tom, Richard would ask. And Tom would thief something different for us. Richard was greeting each of the staff he ran into. Charming and easy going, Richard has a commanding presence, yet manages to make everyone feel at very much at ease. Is Bruno around, he asked one of the cellar guys. Over there. Richard called out to Bruno D'Alfonso, Sanford's winemaker since the early-80s. Bruno was down an aisle of barrels, talking and tasting with some salespeople. After he finished up, Bruno came over. Richard said hi, and introduced him to Bob and I. All of us who tour the Santa Barbara area have seen Bruno, either at the SB Futures or elsewhere in the valley. Bruno pulled a few barrel samples of Pinot for us to try, and we razzed each other a bit.
The winemaking has been consistant over the years. Although Bruno D'Alfonso's talents have evolved over the past twenty years with Richard Sanford, one thing remains constant - Bruno loves oak. After the Pinots are fermented in open top stainless steel fermenters, they each spend anywhere from 14 to 18 months in French oak, and the Barrel Select Chardonnay gets 16 months in oak.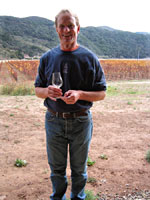 Richard Sanford
We were having a great time and didn't want it to end. Meanwhile, we were closing in on 4:15pm. Where were we going next, Richard wanted to know. We told him that we had an appointment with Kathy Joseph for 4:30 at Fiddlestix Vineyard, which I figured was just enough time to take some photographs before the sun went down. Well then, how about if we let Tom go back to the winery, and I'll take you through the La Vina vineyard, and then back to the winery to get your car, he said. Well, this was an offer we couldn't refuse. La Vina was planted in 1999, to 95 acres of Pinot Noir, and an additional 5 acres to Pinot Grigio.
As we drove through the newest Sanford vineyard, Richard was proud to say that his vineyards are all certified organic. He elaborated about his belief in the sustainability of the land, as we tooled along the vineyard road and back onto Santa Rosa Road. At one point, he pulled over for a blue pickup to pass us, then we continued on our way back to the winery. Richard continued to point out vineyards, remarking how the area had grown. Just then, we came up on the Fiddlestix property to the left, and I saw the same blue pickup driving down the approach road through the vineyard. I wondered to myself if that was Kathy Joseph.
Meanwhile, the clock was ticking, and we all came to the conclusion that Richard could drop one of us at Fiddlestix, while he took the other one of us back for the car - some 5 miles further down the road. He turned into the vineyard through the gate and down the dirt road to a small 1920s farm house in the middle of Fiddlestix Vineyard. Sure enough, there was Kathy Joseph - unmistakably effusive and bubbly, greeting Richard Sanford with a big hug. Oh, I'm sorry Richard, I didn't realize that was that you I nearly ran off the road, she kidded. As Richard motioned back to us, we introduced ourselves to Kathy. She warmly greeted us and we all chatted for a minute or so. We apologized for being a little late, and Richard explained that he was taking one of us back for the car. After talking it over, we agreed that we'd both go back to get the car and be back in a flash. Well, five miles on Santa Rosa Road isn't driven in a flash, but we got there is about 10 minutes. We thanked both Richard and Tom for their hospitality, and quickly drove back to Fiddlestix. On the way, Bob and I agreed that Richard Sanford was indeed something of a Renanisance man; and someone larger than life. He started this whole thing, we agreed.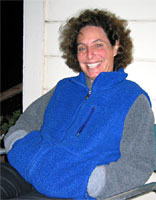 Kathy Joseph
Kathy greeted us at the door, beer bottle in hand. I'd offer you a beer now, she said, but if you want to see the vineyard, maybe we'd better drive around first. Unfortunately, even though it wasn't quite dark as yet, the light was mostly gone from the sky, making some photographs difficult, if not impossible. We piled into her blue pickup, all three of us in the front seat. Kathy still had the beer bottle, and tucked it into her lap, Texas style, as we took off bobbing and weaving our way around the vineyard, Kathy explained it's origins and her cooperative arrangement with co-owner Beringer. Though it was too dark to take pictures, it was easy to see that this was a special place, on a bluff nuzzled right up to the Santa Ynez river flood plain. The one major hill on the property gave a very nice view of the vineyard as it stretched west.

Originally from Chicago, Kathy is another of the UC Davis alumni, and worked under Zelma Long at Simi, before branching out on her own. She's always made Pinot Noir, and usually from two sources - Oregon's Willamette Valley, and the Santa Maria Valley. When Robert Mondavi bought the Santa Maria's Sierra Madre Vineyard in the mid-'90s, Kathy looked for a new source of fruit. After purchasing the land in 1996, she selected rootstalk and began preparation for planting. At this point, Kathy approached Beringer and offered them an opportunity to buy in on a 50/50 basis. They recognized the potential of the site, wanted to partner with Fiddlehead and actually bought 1/2 of the vineyard development to get 1/2 of the fruit.
The partnership seems to be the best of both worlds - she has the autonomy to manage the vineyard, and they both share the fruits of her labors. Planted in 1998 to 100 acres of Pinot Noir, the Fiddlestix Vineyard is located directly across the road from the Sanford & Benedict Vineyard, on about 122 acres. With the advent of Estate fruit, the familiar Fiddlehead label and logo was redesigned in burgundy and gold colors to use for the Fiddlestix Pinots.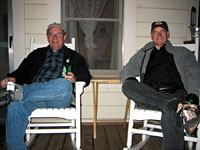 Eric and Bob - just relaxin'
By the time we got back to the house, it was quite dark. Can I offer you something to drink... beer... wine? Sure, a couple of beers sounded good, we replied. (They say it takes a lot of beer to make good wine. And I would add that it's exceptionally tasty after a day of wine tasting - even if you've been spitting wine all day.) Let's sit on the porch, she said. So, each of us with beers in hand grabbed a chair (Kathy graciously offered us the two rockers) and we sat looking at the starry sky hanging over the dark vineyard, while listening to the occasional owl.
We chatted about Fiddlehead and wine, and this would have been enough for any visit. We mentioned all of the wines that Helen had poured for us. She was agast that we'd tried a week-old Gooseberry. It was fine, we assured her. Did we try the "L'Orvert," or the "728," she asked. We mentioned that Helen had tried to find some of the L'Orvert the day before, but hadn't been able to locate any. Kathy thought she had some here at the house. Sure enough. So, she brought out some stemware and we took some healthy pours with the firm conviction that we didn't need to spit any of this out. As we started talking about specific vineyards and wines, Kathy started to pull out even more wine! We tried her Sauv Blancs, the L'Orvert, the Gooseberry, and the Honeysuckle, as well as her Pinots, the 728, the Lollapalooza, and her Willamette Valley Pinot Noir. As we sipped through the Sauvignon Blancs, Kathy explained that her '98 L'Orvert went through a unique regimen of 1 year of oak aging in very tight-grained barrels, followed by 4 years in bottle. This smoothed out the wine tremendously. In fact, Bob thought the L'Orvert resembled a white Haut Brion. One footnote to the Gooseberry and Honeysuckle - as we understood it, the ATF took exception to the use of what were viewed as "flavors" to be used as a wine designation. So, from now on, Kathy's Sauv Blancs will be called Happy Canyon, as a reference to the location of both Westerly and Vogelzang Vnyds. Speaking of labels, it suddenly dawned on me right there on her front porch, that the scripted "f" on the Fiddlehead label was a interpretation of a Fiddlehead Fern!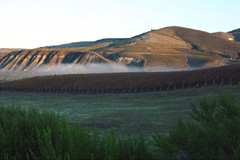 I complimented Kathy on the look of Fiddlehead's website, noting especially that it seemed to capture her enthusiasm for wine. Each and every picture of Kathy Joseph showed someone having a blast - in love with wine, and even mugging for the camera. Wine should be fun - that what's it all about, she said. She seemed pleased to meet the likes of us - travelling wine geeks who make it a point to discover what's new in wine and talk and/or write about it. This segued right into the subject of wine writing and writers. She related a story of one [unnamed] writer who arrived to taste her wines, but appeared to have already tasted more than enough before he arrived.
Selected Tasting Notes:
...from bottle...
2003 Heineken Lager. Ah yes, that familar scent of mercaptans. Slightly skunky nose, with moderate hops and barley aromas. Full of bubbles, large mousse - very refreshing, has a nice hoppy quality on the palate, though also a little of the tail of the skunk as well.
2001 Fiddlehead Honeysuckle Sauvignon Blanc - Westerly Vnyd, SYV. Nose of honeysuckle, jasmine, minerals and lime zest. Rich and smooth, with mineral and hazelnut flavors, and long finish.
1998 Fiddlehead L'Orvert Sauvignon Blanc - Westerly Vnyd, SYV. Special bottling of Sauv Blanc, spends 1 yr in special barrel , followed by 4 yrs in bottle before release. Exotic and sumptuous in the nose. Just flat out beautiful! Smooth, smooth, and smooth throughout the mouthfeel, with layers of toasty grains, creamy texture, excellent balance, and long finish.
2002 Fiddlehead Pinot Noir - Willamette Vly. Wow! Dark cherry and floral notes, with a light stemmy quality, and meat drippings. Full and complex on the palate, with a meaty texture, cherry core of fruit, acid balance to the back end and long finish.
2001 Fiddlehead 728 Pinot Noir - Fiddlestix. Nose of dark cherry, cinnamon, spices, pepper and hints of damp earth. Complex and interesting on the palate, the dark cherry flavors are mingled with vanilla and spice, along with a touch of earthy mushroom.
So, here we were swapping wine-personality stories with Kathy Joseph. Bob and I thought to ourselves more than once, it doesn't get much better than this. Helen called. She and Kathy were going to a movie. Well, we'd better move along we mentioned. Nah, it doesn't start until 9:30 - we have plenty of time. Kathy disappeared back into the kitchen, and emerged with a large cutting board covered with crackers, cheese and apple slices. What was that we were saying about how '...it doesn't get much better than this?'
Finally, at a little after eight o'clock we suggested we ought to move along. Kathy had plans, and we still needed to get some dinner for ourselves. I was thinking aloud about the lost opportunity to photograph Fiddlestix. It occured to me that I could come back in the early morning before we left for Paso Robles. Sure, she said. If the gate's not open, here's the code. Oh, and here, take some of this wine with you. Ahh, more candy from the candy store.
We thanked Kathy for all of her generousity and hospitality, and headed back to Buellton. Drive carefully, she entreated us. Not to worry, we're just fine, we assured her. Well, watch out for the wildlife; the animals tend to wander out on the road around here. Will do, we said.
The drive back into town was uneventful. We'd planned to get a beer and some appetizers at the Firestone-Walker brewery, but they apparently roll up the sidewalks around here at 8:00pm (darn small towns). So, we grabbed a pizza in town, and sat down with our several unfinished bottles to pizza and wine. Bob cracked a Vieux Telegraph, and once again, we were livin' large.
Up early the next day, I drove back over to Fiddlestix Vineyard to grab some photos. It was just past dawn, and the light was fantastic. I drove around the vineyard, trying to recreate the route we'd taken the night before. As I was driving back out, I ran into Kathy and Helen on the front porch. Get some good shots, they asked. Yep, I certainly hope so, I told them. (It's always a dicey thing, shooting photos - even with digital.)
(For additional pictures of the Santa Rita Hills, please see the photo essay, Santa Rita Hills AVA)
---
---
Copyright © 1993 - 2004, Eric Anderson -
All rights reserved
No original material may be reproduced without written consent
Mail & Comments - Eric Anderson