Vol. 11 No.5 - November '03

Central Coast

Vineyards & Wineries Visited -
Part 3 of 3 - Journal and tasting notes from visits to several Central Coast wineries and vineyards.
¿Que paso, Paso?
What's new in Paso Robles
Thursday, November 13, 2003 - Paso Robles
Since I had left Buellton early to get some photos of Fiddlestix Vineyard, Bob and I arranged to meet in Paso at 9:15, then head out to meet with Ellis Bassetti at Bassetti Vineyards near Cambria, on the coast. After a couple of faulty turns, we finally got to the right place. Ellis Bassetti came out to meet us, and we introduced ourselves. Ellis pointed around to the vineyards that nearly surrounded the house, and told us that the property had been in his family for 100 years or so.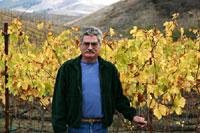 Ellis Bassetti
There were also a couple of barns on the property, one of which seemed to have some sort activity going on inside. My wife has a wreath-making business, Ellis said, as he led us toward one of the barns. The barn was filled with aromas of bay, eucalyptus, and dried flowers, smells that conjured up images of Fall and Winter. A long workbench in the center of the room stretched nearly the length of the barn. On it, were wreaths in various stages of completion. Bob and I were surprised by the assortment of wreaths - small, medium and large, in various colors and with all sorts of decorations. They all looked so good, we just couldn't leave without buying a few. I'll bet if you order a wreath from Smith & Hawken, chances are it comes from Susan Bassetti's 'Green Valley Flower and Herb,' and was assembled right here.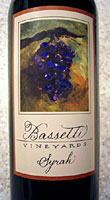 Meanwhile, the subject of wine came up - I can't imagine how. Ellis was telling us that John Alban had laid out and planted the rocky hillside with vineyards in 1998 to a total of 7 acres of Syrah. Ellis had been talked out of planting Cabernet Sauvignon - his first love - as John steered him toward Syrah. The rest, as they say, is history. Ellis had an additional 5 acre section planted in 2000, and is currently selling fruit to Steve Edmunds, Augie Hug, and Mat Garretson. So, are you getting any of your own fruit to make wine (we were baiting Ellis just a bit). Yep, John made me some wine, Ellis said. John Alban made you some wine, Bob and I said in unison. Wow, that must be nice stuff (we were still trolling). Sure, I've got some in here somewhere - want to see? We sure would. So, Ellis led us to his stash in the other barn. Nice label, we thought. Hmmm, Bassetti Vineyard Syrah made by John Alban - that could be something very drinkable we thought. Now, we just had to find a way to separate Ellis from some of his wine. Gosh, I forget the rest of the story now.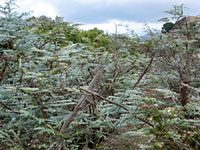 Ellis mentioned that he was meeting Augie Hug for lunch in town. But, we still had some time and could take a little drive around the vineyards, then he could be on his way for the 30 minute drive to Paso. When he spoke of 'going to town,' we just assumed he meant Paso. Nah, Cambria's 'town.' Paso's the 'big city,' he corrected us. The drive through and around the property was fascinating. The vineyards here aren't contiguous, and there are many large plots of herb and eucalyptus gardens, obviously meant to provide material for Susan's wreaths. One spot in particular was planted to silver-dollar eucalyptus, and it was other-worldly looking - like something right out of a SciFi illustration.
We needed to move along, and let Ellis make his lunch date with Augie Hug. Give Augie our best, we said, and tell him we'll see him at dinner. We'd never met Ellis before, but we left as friends. Ellis Bassetti is proof positive that all of the people in winegrowing and winemaking are some of the nicest human beings around.
Since we left Bassetti Vineyard with plenty of time before our next appointment with Justin Smith at Saxum, we decided to make a stop at York Mountain Vineyard. I'd had less than impressive visits here in the past, but was all for giving it a try again. Upon arrival, we noted that the original winery was closed, with a double-wide trailer serving as the tasting room. Stepping inside, we were warmly greeted by a lady named Kathy, who seemed very pleased to have some visitors. How long has the tasting room been out here, we asked. Oh, about two-and-a-half years, she said. Guess it's obviously been a long time since we've been here, we sheepishly replied. So, what happened to the winery, we asked. Well, it's condemned now - it needed earthquake retro-fitting. Really? Yes, and rather than spend the money needed to fix the place up, the previous owner decided to sell it. It turns out he sold to Martin & Weyrich. Anyway, the grand old building is closed - maybe to be re-opened; maybe not.
We tried a few of the wines. When Kathy started describing the wine's fruit, Bob nodded agreement, repeating the fruit components word-for-word, but adding "candle wax" to the end of the description. Kathy smiled a resigned but agreed look, adding that while the candles help cut down the "trailer smell," they obviously didn't enhance the wine. We chatted with her a bit, and browsed the nicely merchandised room. Turned out she was a transplant from Walnut Creek, so she and Bob had something in common, and got into conversation about life in Walnut Creek.
The wines? Well, we did taste them, although I didn't take any notes. The tasting fee was $1 for five wines. We tried the Viognier and Roussanne, as well as a Pinot, a Cab, and a Syrah. Bob also tried a Zin. They weren't anything fabulous, but they weren't terrible either. Interestingly, the Viognier and Roussanne were the highest priced at $25, right along with the Pinot and the Syrah. Also, I thought it interesting that most of the wines were older vintages, 1999-2000. After tasting, we had some of Bob's sandwiches out on a picnic bench over looking an what appeared to be an untended vineyard, and then we departed for Saxum.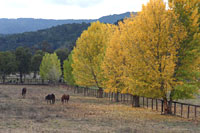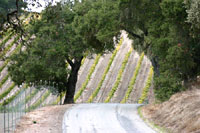 With some time on our hands, we headed toward Saxum - via a nice cruise around the neighborhood. It seems I never have the time to just cruise the roads on Paso's westside - which is really too bad, because there's some beautiful country out here. But somehow, I'm always hurrying here and there, often to get to the next appointment, or just running behind, or something or other that keeps me from just enjoying the countryside.
We arrived at where I thought we were supposed to meet Justin Smith of Saxum Vineyards - at the James Berry Vineyards. When the gate didn't miraculouly open at the appointed time, I gave him a call. Sure, just plug in the code, and come on up. Bob approached the gate. No code box; just a chain. Something didn't seem right. We drove in, and Bob re-secured the gate. Up the long winding dirt road I drove. As we approached the top, nothing looked familiar. By now, a few barking dogs were approaching the car. My cell phone rang. It was Justin. Judging by the barking dogs, he said, you're at the wrong place - that's my folks house. You've been here before, right - we're on the terraces, right next door. Sitting there embarassed, with dogs barking, I was starting to shrink in my seat. Sigh. Yes, I had been here two years ago, but apparently didn't recall which gate was the right gate. Ears down and tail between my legs, I went back down the road to the real gate, and headed up the inclined road to Justin's house and new winery. Justin, Heather and kids were there to greet us.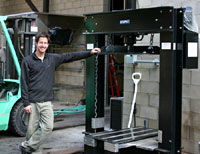 Justin Smith
Justin had been making his Saxum wines at Mat Garretson's place the last couple of vintages, but having his own winery right on the property and next to the house was a dream come true. Here he was, closer to the family, without the need to frequently drive into town to make or tend to his wines. The new facility was completed just in time for this year's crush.
Selected Tasting Notes:
...from barrel...
2002 Saxum Broken Stones. 90% Syrah; 10% Grenache. The fruit for this blend comes from the Denner, Heartstone, and JBV. Full and rich on the palate, with clove, blackberry, and vanilla flavors and aromas. Slightly more hi-toned - rather than heavy ripeness, probably owing to the vineyard sources.
2002 Saxum Bone Rock. Nose of licorice, sage, black cherry and blackberry. Lots of dark fruit on the palate, with a nice ripeness and full rich mouthfeel, and long finish.
...from bottle...
2001 Saxum Bone Rock. Light vanilla and clove infused with blackberry. Fantastic mouthfeel, excellent balance, ripe but controlled sweetness on the palate, with long smooth and tasty finish.
...from barrel...
2003 Hoague Syrah. Hints of iodine and a little funk seem to cloud the nose initially, but this seems to blow off. Thick and rich mouthfeel, ripe and pungent, with some lip-sticking tannins. It needs its rest; then watch out.
2003 GSM Blend. (just blended) About 50% Grenache. Lots of ripe raspberry in the nose and mouth, with a nice sweet crunchy texture, and long finish.
2003 Saxum Bone Rock. Big and bright, with lots of black fruit, pomegranate, and a touch of vanilla. Rich on the palate, with very chewy texture and a very, very long finish.
Justin showed us around inside, and out onto the back crush pad where he had his latest acquisition - a Hypac basket press from Australia. Justin told us this was the only one in the U.S., and was apparently used by Torbreck, before being disassembled, shipped over here, and re-assembled by an Aussie who came over for the task. The press bears a "ONE" emblazoned on one of the crosspieces, as testimony to it's original origins. As we looked around, we noticed that some trees had to be cut to make room for the pad. I imagined there must be some mitigation for cutting the trees, and asked. Justin said that they had to plant five trees for every one removed. Aside from the aesthetics, the issue is one of erosion.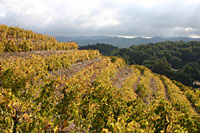 Moving back inside, Justin thiefed us some samples of both the '02 Broken Stones and Bone Rock, as well as the '01 Bone Rock from bottle. This was a treat. I had a magnum of this, and it won't get disturbed for awhile, so it was nice to taste. Lastly, from barrel we tried the '03 Hoague Syrah (formerly Winchester Vnyd), and a recently blended GSM. The Hoague Vineyard Syrah seemed lika a major effort here, literally packed with fruit, tar and licorice. Also, it looks as though Cris Cherry will be making his Villa Creek wines here as well, plus Justin will probably do a few small projects for some of the neighboring vineyards - or at least those whose vineyards he manages or consults for. Justin is also selling some fruit to Copain, Carlisle, and Garretson.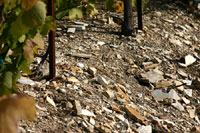 Want to go on down to the vineyard, he asked. You bet. So, we headed down to the 4-acre Bone Rock terraces so I could take some photos. Steve from the Villa Creek restaurant had come up to show a friend the place, and we all walked through a couple of rows on the rocky terrace for a closer look. Great view of the soil here. All of this broken rock just lying around presents quite a sight. It looks as though someone demolished a house, and just dumped all the drywall and tile right here. Just amazing. The terraces here are steep, and Justin can't till either the soil or the cover crop - he has to mow it. Although Justin still has a lot of Chardonnay in the JBV (24 acres), he has pulled out the Pinot Blanc, and will probably replace it with Grenache or Mourvedre.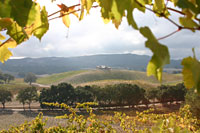 As we stood there on the terraces taking in the view of the James Berry Vineyard - as well as a great view across to road of the Denner property, where a very large house sits atop the highest point in the vineyard. Justin consults for them. That's quite a house, we said. Yes it is, he said, seemingly accepting of the fact that remaining obscured from neighbors was getting more difficult with time. Denner Vineyards was almost up to 100 acres, he said. They were also ramping up a winery of their own, as well.
It was time to let Justin get back to work or play. As we got back into the car, Justin reminded me with a grin: remember - we're closed to visitors here - no one's allowed to stop by. I took this as a polite request not to publicize things. Stop by where, I asked. We're just three people talking about farming...oh, and maybe some winemaking too.
Selected Tasting Notes:
...from bottle...
2002 Pipestone Viognier. Nice tones of peach and vanilla, with a touch of lime zest. Perfumy nose, this underwent barrel fermentation and light oak. Lovely!
2002 Pipestone Grenache Rose. Crisp and meaty, with lots of toasty qualities. Full on the palate, this is a big wine that will stop the bullies from kicking sand in its face.
2000 Pipestone Melange. 20% Grenache. Interesting nose of raspberry and cherry, with added notes of eucalyptus and sage. Very tasty, lively mouthfeel, nice long smooth finish.
2001 Pipestone Vin Rouge. Very peppery and spicy on the nose, with a surprisingly full mouthfeel, very nice balance, and long finish.
2000 Pipestone Syrah. Lots of dark fruit, slightly burnished and meaty aromas. Full and gripping on the palate, Jeff uses 40% new oak on this wine - and it shows! Very nice!
2001 Pipestone Zinfandel. Here was a surprise. Rather than being overdone, this wine has gobs of fruit, excellent balance, and long somewhat gripping finish.
...from barrel...
2003 Pipestone Syrah. Very nice, with dark fruit, pepper, and spice. Big on the palate, very good balance, lots of fruit.
2002 Pipestone Syrah. Real nice fruit, with lots of ripe flavors and a nice licorice scent. Smooth and full on the palate, with a nice long finish.
2003 Pipestone Zinfandel. Still spritzy, but obviously very good fruit and balance. Jeff seems to have Zin wired.
2002 Pipestone Zinfandel. 40 yr old vines. Whoa! Beautiful nose and mouthfeel, lots of rich seductive fruit, excellent balance, smooth mouthfeel, long finish.
2002 Pipestone Sangiovese. Nose of dried cherry and a touch of spice. Very nice balance, lots of fruit, long finish.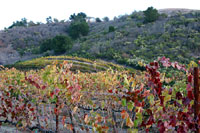 We left the James Berry Vineyard, and negotiated our way over to Pipestone Vineyards. This has become sort of an annual stop for me, but I hadn't tasted any of Jeff Pipes wines from barrel in the past. Jeff Pipes and Florence Wong arrived here from Minnesota in 1998 and decided almost immediately to plant Rhone varieties. Originally, he didn't even make a Zinfandel, much less plant it. But Jeff added that he was very much "encouraged" to do so by the local vintner association - more or less in keeping with the traditions of Paso's original mainstay grape. So, everything's Estate here, except the Zin of course. We tried the six current offerings from Pipestone, followed by five barrel samples of '02s and '03s.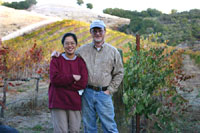 Florence Wong, Jeff Pipes
Jeff chatted with us about the vineyards, and about their use of Feng Shui around the property (literally "wind and water" - Feng Shui is the ancient Chinese study of the surrounding environment and its effects on health and wealth). Jeff says they've used the philosophy extensively at Pipestone to determine vineyard locations and placement of vines. Of course, he also said that sometimes it (Feng Shui) flew in the face of conventional winegrowing wisdom, such as when the vines are desperate for water but Feng Shui wisdom declares "not yet." So, Jeff tries to strike a balance between philosophy and reality. Jeff is now up to 10 acres planted to Rhone varieties - and he still outsources the Zinfandel.
We had dinner reservations at Bistro Laurent in Paso, and we to be joined by Augie, Raquel, and Fabrizio. Had a great time, with another table-load of wine. Wines included a '90 Alfred Gratien Champagne, the remaining Fiddlehead Sauv Blancs and a '02 Fiddlehead 728, a Hug Chardonnay, and many of the partially-filled Pinot bottles we'd accumulated, along with a '00 Rochioli, and a '95 Littorai Hirsch. Also, Fabrizio brought a very nice Burgundy and what turned out to be a fabulous '71 Barsac for dessert.
Selected Tasting Notes:
...from bottle...
2002 Dom. Alfred Pinot Gris. Nice crisp nose of light lemon and grains. Crisp and lemony, full mouthfeel, very long finish.
2001 Dom. Alfred Chardonnay. Blend of 5 clones. Lots of minerally and toasty aromas in the nose. Lovely mouthfeel, with lots of mineral/wet stone qualities, and a very toasty and fruity finish.
2000 Dom. Alfred Califa Chardonnay. Full and rich in the nose, packed with young fruit and some obvious oak, but wears it quite well.
2001 Dom. Alfred Pinot Noir - Estate. Lots of pretty cherry aromas, with a touch of cinnamon and cola. Husky mouthfeel, with a chewy body and light stemmy quality to the long finish. Surprisingly full throttle, and not the least bit cloying.
2001 Dom. Alfred Califa Pinot Noir. Lovely upfront fruit, full and smooth on the palate, long off-sweet finish.
2002 Dom. Alfred Da Red. A blend of Pinot Noir and Syrah. Obviously Syrah-influenced in the nose. Very tasty, loaded with fruit, with a long slightly off-sweet finish.
2001 Dom. Alfred Syrah. Spicy and peppery in nose and mouth, lots of spicy fruit, very good balance, long finish. Inspired by John Alban's success with Syrah, Terry planted some Syrah, and the results are very good.
...from barrel...
2002 Dom. Alfred Chardonnay. Quite toasty in nose and mouth, there's an underlying mineral quality to the fruit. Nice crisp finish.
2002 Dom. Alfred Califa Chardonnay. Just as toasty as the Estate version, but seems much bigger and chewier in the mouth. Tight long finish.
2002 Dom. Alfred Califa Pinot Noir. This one is packed with dark cherry and spice in the nose. Full on the palate, with plenty of dark cherry fruit, touch of vanilla and spice, and a smooth long finish. Very concentrated!
2002 Dom. Alfred Syrah. Whoa! They're pulling some major color out of these wines. Dark and almost brooding, this wine is loaded with fleshy blackberry fruit, with a touch of licorice and tar. Surprisingly tame on the palate, it's smooth and rich, with a long smooth finish.
2003 Dom. Alfred Pinot Noir. Clone 115. Beautiful nose of dark cherry fruit and light stems. Complex flavors of damp earth, toast and cherry fruit. Long tight finish.
2003 Dom. Alfred Pinot Noir. Clone 667. Beautiful nose of black cherry, spice, toast, and vanilla. Gorgeous mouthfeel, with perfect ripeness to the fruit, smooth and rich, this wine will be the base for the '03 Califa.
2003 Dom. Alfred Pinot Noir. Clone 2A. Interesting components of musk and mushroom in this wine. There's definitely a lot of mouthfeel and complexity here, but it needs some 667 or 777.
2003 Dom. Alfred Pinot Noir. Clone 114. Wow! Fabulous nose of cherry, floral scents and light spices. Lively on the palate, with a sense of the floral qualities coming through on the palate.
2003 Dom. Alfred Pinot Noir. Clone 777. Fleshy dark cherry, ripe and lightly sweet in the nose. Very nice through mid-palate; develops a hole toward latter palate, but finishes fine.
2003 Dom. Alfred Grenache. Just huge! Fabulous nose, loaded with jammy raspberry. The mouthfeel seems to tighten up substantially, with a sense of underripeness at on the finish. This could be a dark horse. Time will tell.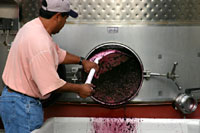 Up early and down to Edna Valley. We arrived at 9:00 at Domaine Alfred, and scouted out the crush pad around the back of the tasting room/winery. They were finishing off some Syrah - manually - since the Europress had some sort of malfunction. A guy from the company was working on it. Met winemaker Mike Sinor, who, along with his crew, was almost literally up to their elbows in skins and juice. Mike gave owner Terry Speizer a call to tell him we were here (and maybe bugging him just a bit about the Europress).
Domaine Alfred started life in 1972 as Chamisal Vineyard. Terry bought the vineyard in 1994, and began replanting 60 acres in 1996 with Pinot and Chardonnay. The rows are all north-south facing on 4x8 spacing. Terry planted another 62 acres since that time. Interestingly, the property is ringed with Cabernet Sauvignon, which were the first grapevines planted in Edna Valley in 1972. Domaine Alfred is up to 6,000 cases, and expects to get to 15,000 or so with the new winery and acreage.
Terry arrived, and showed us into the tasting room. Opening new bottles, he took through the regular lineup. After we finished, Terry offered to drive us around the property. We stopped for Terry to point out his recent favorite accomplishment, a rock dam inside the deep drainage trench that runs along the road. A particular type of plum tree borders the length of the trench. Terry pointed out that the area is considered 'riparian,' a natural harbinger for sharpshooter insects. The plum trees attract a type of parasitic wasp - a sharpshooter's worst nightmare (the wasps lay their eggs in the sharpshooter larvae).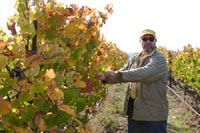 Terry Speizer
Terry said the Army Corps of Engineers had more than a few suggestions about improvements around the property. He was railing just a bit about how local regulations required him to do certain things in farming the land things that he had already been doing of his own accord. For instance, he was already doing all of the proper organic things, and was even into biodymanics. But he seemed to draw the line at some of the other regulations that took things a step further. The conversation reminded me of recent news items where farmers, growers, or just plain landowners rights are coming into conflict with the prevailing bureaucracies and their respective regulations. Well, it is your land, I recall saying, mostly in sympathy to Terry. No, it's not, he was quick to reply, indicating that this was exactly the issue - the rules and regulations seemed to consider him more of a steward of public land than a landowner.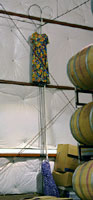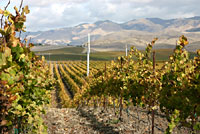 Terry has a quick wit, too. Okay, so the place used to be called Chamisal. Then it's bought by a fellow named Terry Speizer, so why Domaine Alfred, I asked. Well, he said, because this way if something goes wrong, they blame somebody else - Alfred. No, really, I said. Aw, I just liked the name, he replied. I wasn't sure which answer, if either, was the straight one. And he wasn't done with us yet. Around the back side of the vineyard, we stopped at the cellar/barrel room to try some barrel samples. We moved around, trying a little of this and that. In the back, I spied a couple of dresses hanging up high on the wall. Okay, what's with the dresses, I asked. If someone screws up, Terry said, we make them wear a dress. How long, I asked. Until they get the point, he deadpanned. Now, there's an incentive to do it the right way. Do they get their choice, (I was trying to break him up). Nope, whatever's there. I decided not to ask what he'd do if someone wanted to wear the dress.
Leaving Domaine Alfred, we thanked Terry for his generousity and for showing us around the place. He's an engaging fellow with a definite opinion about things, and a sharp sense of humor. In retrospect, it might have been a lot of fun to fence-around a bit more with Terry and his sense of humor. On second thought, he probably would have thrown us the hell out of the place.
Selected Tasting Notes:
...from bottle...
2002 Alban Viognier - Central Coast. This is a 50/50 blend of Estate and non-Estate fruit (Paso - off 46 West). The Estate portion was barrel fermented - the non-estate got tank fermentation. Classic spiced peach aroma and flavors, clingy mouthfeel, very long seamless finish. Quite nice.
2002 Alban Roussanne. Nose of honeysuckle and a light toasted grain scent. Lots of long clingy acids on the palate,and a nice almost meaty taste to the finish.
...from barrel...
2003 Alban Viognier - Estate. This will NOT be blended! ...and I can understand why. The nose is a cornucopia of floral scents, perfume, minerals, white peach, and jasmine. Fleshy mouthfeel, loaded with fruit, very long finish. Killer!
2002 Alban Reva Syrah. (will get 20 mos in barrel.) Nose of blackberry, licorice, light musky aroma. Smooth mouthfeel, lots of black fruit, licorice, and light espresso notes.
2002 Alban Lorraine Syrah. Dark, dark, black purple color (yes, I know black is already dark). The Lorraine actually ripens earlier, with the vineyard getting more sun. Nose of black fruit, espresso, sage, perfume, and licorice. Seamless, smooth and lightly sweet on the palate, this wine is pure seduction. Absolutely wonderful.
2002 Alban Seymour Syrah. Well, this wine is actually more black (can we say blacker?) than the Lorraine. There is a nice sweet ripeness to the nose of this wine - it actually smells purple! Lots of cake spice and cocoa accent the black fruit, and the mouthfeel is smooth and velvety. Just stunning!
2002 Alban Grenache. (from Seymour's Vnyd.) Fascinating nose of raspberry, corriander, sage,and lots of espresso. Smooth, ripe and rich, with nice fine grained tannins and long finish. Heavens to Besty.
..from barrel...Augie Hug's barrels...
2002 Hug Pinot Noir - Prion Vnyd. Fabulous nose! Reminiscent of a some Russian River Premier Cru Pinot, with lots of bing and black cherry, touch of vanilla and cinnamon, and a bit of orange zest. Full mouthfeel, very tasty fruit, long finish. Hey, when's this going to be ready, Augie?
2002 Hug Syrah - Bassetti Vnyd. Dark and almost brooding in the nose. Aromas of black fruit, licorice, tar, and bittersweet chocolate. Reticent and slightly tight on the palate, there's a nice core of black fruit and licorice, leading to a long smooth finish.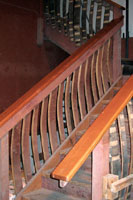 Barrel stave staircase
Arriving at Alban Vineyards, we drove up the road to the back of the winery. We wandered inside, looking for Paul Wilkins who was chatting with Andrew Adam and another fellow, as they readied some shipments. Paul led us over near the lab to try a couple of the recent whites, the '02 Viognier and '01 Roussanne. There were also three jars on the drainboard, right next to the sink. One was labelled Reva, one Lorraine, and the third Seymour's. The jars contained soil and rocks from each of the vineyard locations, as an illustration of each vineyard's makeup. Reva was mostly dirt with a few rocks. Lorraine was mostly rocks with a little dirt. And, Seymour's was only rock. Wow, you have no dirt in that vineyard, I kidded Paul. Well, practically not he assured me.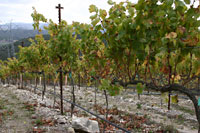 Seymour's Vnyd
After a bit, John Alban emerged from the back. We all chatted some, and when John headed out to run some errands, Paul took Bob and I over to do some barrel tasting. As Homer Simpson might say, "...mmmm, barrel tasting." First came the '03 Estate Viognier. Then, we tried the '02 Syrahs - Reva, Lorraine, and Seymour's, and finally the '02 Grenache. Tasting the Lorraine and the Seymour's reminded me to ask about their respective vineyard locations.
Many of Alban's vineyards are adjacent to the winery. However, Seymour's was on the back of the property, and I hadn't seen it before. Paul offered to give us the vineyard tour when we finished, so we started to wind things up in the barrel room. Just then, Bob remembered that Augie had asked us to try a couple of his remaining barrels at Alban (Augie's now making his wine at Garretson). We tried the '02 Hug Bassetti Syrah, and an '02 Pinot Noir from the Prion Vineyard near Cambria.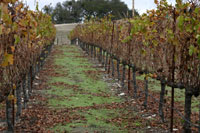 Lorraine Block
Finally, we piled into the car and headed up the back road some 1.3 miles to Seymour's. The long and narrow property is 250 acres, with 60 acres planted to Rhone varietals. We drove past Serpent's Vineyard, and climbed a hill to the right to a place overlooking nearly all of both vineyards. Seymour's is 8 acres of Syrah and Grenache, planted in 1995. This is the source of fruit for the blended Pandora bottling, as well as the eponymous Seymour's Syrah. Taking a walk, we checked the soil and could see that despite the jar's rocky contents, there was obviously dirt here. But the dirt did indeed seem to be in short supply, with big chunks of calcium carbonate completely littering the vineyard. Light as a feather, this stuff breaks up in the hand with very little pressure. Easy to see why it doesn't hold much water, adding further stress to the vines to encourage them to produce smaller and more concentrated berries.
We drove back from Seymour's and headed out to the vineyards just north of the winery. Here is where the fruit for both the Reva and Lorraine is grown, with the Lorraine vines actually closer to the road in the more rocky soil. Interestingly, the Lorraine section ripens sooner that the rest. We snapped a few more pictures, dropped Paul back up at the winery, and headed back to Paso.
Selected Tasting Notes:
...from bottle...
2002 Dunning Chardonnay - James Berry Vnyd. Lively and crisp in the nose, with a fruity and full mouthfeel, excellent balance, and long finish.
2001 Dunning Vin de Casa. Blend of Cab, Syrah, and Zin. Very fruity, with obvious Cab and Zin aromas. Ditto in mouthfeel, with lots of dark cherry flavors and nice finish. The Syrah may punch up this blend, but it didn't seem overly perceptable.
2000 Dunning Merlot. Dusty dark cherry aromas. Delicious fruit, and very tasty mouthfeel. Very nice!
2001 Dunning Cabernet Sauvignon. Dusty dark cherry and spice aromas. Fleshy, yet smooth; succulent, yet edgy. Nice balance of flavors, not at all overripe, and very well made.
2002 Dunning Syrah. Nose of stone-fruits and roasted herbs. Nearly agressive in mouthfeel, the youthful fruit is very mouth-clinging, yet tasty and flavorful.
2001 Dunning Zinfandel. Interesting. Lightly stemmy and moderate fruit in the nose, with a nice balanced Zin-berry taste. Despite the Paso origins, here was a Zin that was a food wine - balanced and tasty.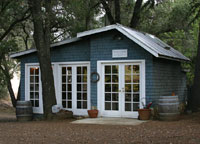 Arrived at Dunning Vineyards about 12:45 to meet with Robert Dunning. Located pretty much at the end of Niderer Road, the Dunnings have an idyllic spot amid the trees and solitude. I've been here a few times over the past several years, but wanted to see how things were progressing.
Paso has always been known for its Zinfandel. And although Rhone varietals are probably the most current focus in the AVA right now, Bob Dunning seems to have carved out a niche for himself with Cabernet and Merlot - at least in my opinion. Dunning has 16 Estate acres, plus an additional 30 acres that he farms "next door."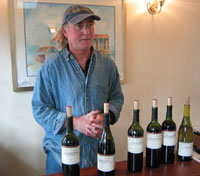 Bob Dunning
We'd called from the road to say that we were running late (sound familiar). Admittedly, it was only about 15 minutes or so, but I hate to keep people waiting. Thankfully, I had forewarned Bob a week ahead that we would be coming from Edna Valley. No problem, Bob said. Whenever you get here is okay. When we arrived, Bob was out back hosing out some barrels near the old winery building. Hey,how's it going, he said. Be with you in a minute. A brand new winery building was being constructed on the property, and we wanted to wander over for a look. But first, we tasted through the current Dunning lineup while discussing his methods and his vineyards. The Cab even impressed Mr. Summers.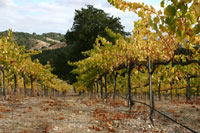 Afterward, Bob invited us to drive up the hill just to the north side of the tasting room. We could get a better view of the property, he felt. He opened the gate for us, and took off on his ATV, with us following closely behind. Near the top of the hill we could see for miles. Come on up to the top; it's even better, said Bob. His new house is perched at the highest point, and yep, the view was even better. From here we could see over to his neighbor, Pipestone, as well as out toward the Templeton Gap, the geographic point that allows teh westside of Paso to cool down sufficiently to allow longer hang tine on the grapes.
We thanked Bob Dunning for the wine, and the tour, and headed out of the canyon. With about three hours left until our next, and last, appointment, we pondered our options. We decided to get some lunch, and happened on the fact that Jan-Kris winery now had a "deli" on the premises. We pulled in to the place and happily found that their "deli" was actually a sit-down dining room, with a sandwich and salad menu. We had some soup and sandwiches, and everything was excellent.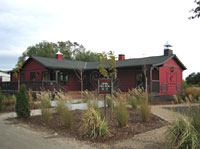 Bob suggested we next go to Clautiere, a new place over on the east-side of Hwy 101, just down the street from Penman Springs winery. Bob said he'd been there on Sunday, liked some of the wines, and thought I ought to see the place. The name "Clautiere" rang a bell. Andrew Murray had made a 25 case lot of 2000 Mourvedre from this vineyard for the 2001 SB Futures Tasting. And, I bought some this at the time, because it had a very unusual floral character. As I recall hearing, the fruit suffered from phyloxera, which kept the yields down to 2 tons/acre, instead of the usual 4-5 tons/acre for Mourvedre. So, I knew of the vineyard, but hadn't ever visited the place. Was I in for a surprise.
The property was originally planted to Syrah, Grenache, and Mourvedre in the 1980s, and sold to couple Claudine Blackwell and Terry Brady in 1999. Possibly intending to only grow grapes, Clautiere decided to embark on making wine and have opened a very...uh...unique tasting room. The clean burgundy-colored exterior gives no clue as to what's inside the place. As soon as I stepped in, I muttered something to myself like, o-mi-god. The flooring is black and white checkerboard, the walls are a dark lavender, with the nooks and crannies of the room accented in gold, black or red. Clautiere was obviously trying to set a new standard for Paso wine tasting rooms.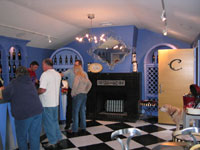 We were among several people arriving at the tasting room at the same time. As soon as I walked in, I looked around the room in drop-jaw amazement. Wandering over to this area and that, I was in a state of wonderment. What a feast for the eyes! On one side of the room, people trying on different bright-colored wigs, and posing for a digi-cam. On the other side, wines were being poured for tasting in usual fashion - if, in an unusual setting.
This was something on the order of Coco Chanel meets Versace. Suddenly, I felt underdressed, and completely out of place. Somewhere between unusual and garish, the room certainly stood out as a beacon for something different. What in the world would make someone think of creating this kind setting for a wine tasting room, I thought to myself. But in fact, that was the whole point. Forget about the "usual" style of tasting rooms - this was something completely different. Half tongue in cheek, they bill the room as "...think Edward Scissorhands meets the Mad Hatter at the Moulin Rouge." Pretty good description.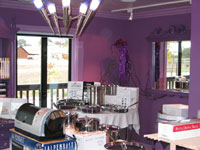 Wild art adorned the walls. A side room was loaded with premium cookware and accessories for sale. Another room was outfitted as a gourmet kitchen. And yet, despite the modern surroundings, a velvet Elvis could be curiously in vogue here. The fellow manning the tasting room called to the back for more assistance, and out came proprietress, Claudine Blackwell. It was our good fortune to step over to the other tasting bar in the room to be assisted by Claudine. Disarmingly charming, Claudine seems very down to earth and makes people feel welcome right away. She proudly showed pictures of a recent dinner or tasting "theatre." It looked as though it was a "drag" event, but I was too distracted by the surroundings to clearly comprehend what she was explaining. We have (or will have) "R-rated" and "X-rated" entertainment, she went on. I shuddered - wine and theatre? Bob just had to know, was Paso ready for all this, he asked Claudine. Well, we're here and everyone seems to love us, she replied. What flashed through my brain was the image of Mat Garretson and friends putting on pink tights for the recent HdR's luncheon show. Had this madness spread?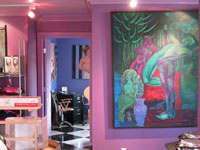 The wines were surprisingly good (hey, come on, who'd really expect good wines in this situation). Though I shouldn't have been too surprised, considering they're using the talents of John Munch and Matt Trevisan as winemakers. We couldn't taste the "sold out" '02 Viognier and Grenache Rose. But the Cabernet Mon Rouge blends and Syrah were very smooth, tasty, and enjoyable. And, prices of $24-25 were quite reasonable.
Just for the fun of it, Clautiere has a small "fun house" located adjacent to the tasting room. I was afraid to look, but on doing so found that the small room contained three distortion mirrors - just like a carnival or side show. A few brightly colored wigs lay on a table in the corner. Seemed innocent enough. Okay, after a few photos of the place, we decided to move along to our last stop of the day - and mine for the trip.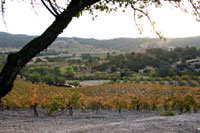 Selected Tasting Notes:
...from barrel...
2003 Brochelle Petite Sirah. Smooth texture, with lots of toast, blackberry, licorice, plum, and a touch of sweet prune. Very tasty.
2003 Brochelle Syrah. A little funky in the nose right now, but with obvious blackberry, floral aromas, iodine, and touches of licorice. Smooth, with a big core of fruit, and some toast on the finish.
2003 Brochelle Cabernet Sauvignon - Knight's Valley. Nose of cassis and dried herbs, with a touch of vanilla. Nice texture, very well balanced, nice long finish.
2003 Brochelle Cabernet Sauvignon - Atlas Peak. Nose of cassis, and a light leafy component. Very Cab Franc-like in nose and mouth, with a nice core of fruit.
2003 Brochelle Zinfandel. Beautiful nose of boysenberry, blackberry, vanilla and a touch of licorice. Smooth and rich on the palate, this is just fabulous stuff.
...from bottle...
2001 Brochelle Zinfandel. Huge fruit, nice chocolate edge, with lots of grip throughout, yet still smooth as silk.
2001 Brochelle Zinfandel Reserve. Loaded with sweet blackcherry, boysenberry, and dark chocolate, this was a stunner. Thick and rich, with a succulent sweetness that defies description. The alcohol? Don't worry, you'll never notice it.
Arriving a little early for our 4:30 scheduled appointment at Brochelle Vineyards, we decided to wait-out the barking dog before leaving the car. Michelle Waterman came down from the house to greet us. The dog's harmless, she assured us. It was windy and very cool as we ventured out of the car and chatted with Michelle, while waiting for her husband Brock to arrive home from work. Like many small winery owners, some of the local proprietors still have their day jobs.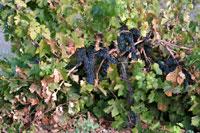 Michelle pointed out the property alignment, soils, and goals of Brochelle Vineyards. The soil here is very sandy; it looks as if you'd sink into it immediately. Cut out of an almond grove, the 20 acres of Zinfandel were planted in 1998 on older rootstalk, with some input and consultation by local legend Richard Sauret. Brock Waterman arrived to pick up where Michelle left off. We walked down the driveway a ways. Brock pointed out the vineyards on an opposing hill, across the way on another piece of property. He said that Richard Sauret had planted that vineyard many years ago, and that he owed Richard a great deal of credit for what Brochelle had accomplished. As the wind in our faces picked up, Brock suggested we step inside the small winery. Although there were still many barrels in the winery, Brock keeps most of the cellar storage in town, where they also do the bottling.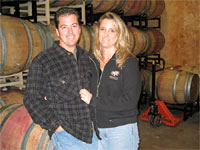 Brock and Michelle Waterman
The Watermans are currently making two Zins, as well as a Syrah and a Cabernet Sauvignon. Brock is another of the Central Coast winemakers who feel that getting fruit from Napa is their best solution to creating small, boutique-crafted Cabernets. Previously sourcing fruit from Norman Vineyards, the latest Cabs are from Spring Mountain, Knight's Valley, and Atlas Peak. The Zins are full throttle, with an amazing ripeness. Pulling 1-3/4 tons/acre from their own head-trained vineyard, Brochelle uses cold soaking, long maceration, indigenous yeasts and open top fermenters. These are surprisingly balanced wines. Though Turleyesque to a degree, these wines have plenty of ripe fruit, yet are not over-the-top in ripeness. Brochelle's production is small at 1,700 cases, and they sell most of their wines via mailing list/club members. Local restaurants also have a small supply, and we were told that one or two of the local markets carry the label.
We had a dinner reservation at Alloro for the evening. Bob and I were joined by Fabrizio (yeah, he eats in his own restaurant!) and Jeff Branco, former winemaker for Justin Vineyards for the past five years. Wines for the evening included an '02 Beckmen Grenache Blanc, an '83 Gruaud Larose, a '94 Smith Haut Lafite, the remnants of the '94 Vieux Telegraphe, a '98 Vieux Lazeret CdP, a Justin Reserve Syrah, and a Chalone Pinot. Andrew K and wife Erica were also dining at Alloro that night and passed us a bottle of Babcock Cargasacchi Pinot. Life was good!
Epilogue
This probably should have been dubbed the Fabulously Terrific wine trip - we found nothing but fabulous wine and terrific people over the entire week. Our thanks to everyone who made the trip such a success - all of the proprietors, winemakers, and winegrowers, and especially to Peter Cargasacchi, whose hospitality seemed to know no end.
Cheers!
---
---
Copyright © 1993 - 2004, Eric Anderson -
All rights reserved
No original material may be reproduced without written consent
Mail & Comments - Eric Anderson