Vol. 12 No.3 - August '04

Part 2 of 2 -
Journal and tasting notes from visits to several California wineries and vineyards. The final destination of the trip was the annual Clos Pepe BBQ, but I'd left a day early to join some others in making some winery visits along the way. Our itinerary was to start in Paso Robles, then wander down to Santa Maria to stop at the Central Coast Wine Service facility, and finally to the Santa Rita Hills for some winery and vineyard visits.
Barrel Tasting: even though barrel tasting is one of the most instructive ways to sample wine, it is also something that causes more than a little angst among winemakers. The fact is that the wines being sampled from barrel haven't finished their infancy yet - they are still going through growth and development in the barrel, and haven't reached the point of bottling. Therefore, winemakers are often reluctant to expose their barrel samples to the public - concerned the wines may be misjudged or unappreciated by tasters during this growth stage. Since the tasting notes in this report contain many barrel samples, please note that my impressions relate only to the wine at its current stage of development.
Special Thanks: to Bob Summers for all of his culinary work and the outstanding offline dinner on Friday. And to Peter Cargasacchi, thanks again for indulging those of us who appreciate the fruits of your labors.
Saturday, August 21, 2004
Up early and over to Dining with Andre for coffee and pastry. Leaving Paso, we headed south for a stop at the Central Coast Wine Services complex in Santa Maria to meet with Dave Corey, of Core Wine.
Selected Tasting Notes:
...from barrel...
2003 Core Grenache. (from a large foudre, in its 3rd yr.) Lots of raspberry and boysenberry in the nose. A bit rough and primary on the palate, but loaded with fruit.
2003 Core Grenache. (from smaller barrel.) More floral tones in the nose in this barrel, but also a little lighter in mouthfeel, and softer in finish.
2003 Core Grenache. (Tablas "A" clone) From a section of the vnyd Dave calls "the Wall." Deep and dark in nose and mouth, with nose of wild strawberry, big mouthfeel, and chewy finish.
2003 Core Mourvedre. (Clone 369) All free-run juice. Sweet and slightly gamey, the nose is effusive and lush. Big fat and chewy, yet there is a nice sleekness and excellent balance to the midpalate and finish.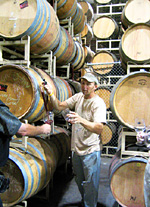 Dave Corey
2003 Core Mourvedre. (Clone 369- different barrel) Much more gamey in the nose than the previous barrel. Full mouthfeel, excellent balance, and nice finish.
2003 Core Mourvedre. (Clone 4 - UCD) Nose and flavors similar to a blend of the two previous barrels. But this clone is softer in mouthfeel that the Clone 369. Good flavors and balance, long finish.
2003 Core Syrah. (Barnwood Vnyd) Dark and brooding nose of blackberry, asphalt, minerals, and leather. Very chewy mouthfeel, lots of dark fruit and licorice, long balanced finish.
2003 Core Grenache. (90/10 blend of Grenache/Mourvedre) Picked at 37 brix! Wow! The sweetness isn't that detectable in the nose, but it sure is in the mouth. Clos Mimi's Tim Spear loves this stuff.
...from bottle...
2002 Core Mourvedre Rose. (75/25 blend of Mourvedre/Cinsault) Beautiful color and nose, with slightly floral notes. Lightly meaty and spicy in mouthfeel, this is a big bodied Rose that seems chewy to the end.
2002 Core "352". (50/30/20 blend of Grenache/Mourvedre/Syrah) Deep floral and fruit-packed notes. Rich balanced mouthfeel, and absolutely delicious.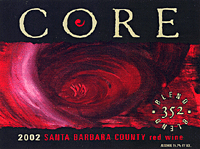 Dave had made a big splash at the '03 Hospice du Rhone, but unfortunately I never made it to his table that day. I had a chance at the 2004 Wine Cask Futures tasting, and was very pleased with what I tasted. So, I made a mental note to get back to (groan)... the Core. Another meeting came sooner than expected, as he brought his wines to 2004 Hospice du Rhone, and joined us for our unofficial annual BBQ that Friday night.
We'd been to this facility before, notably to taste with Joe Davis of Arcadian and Benjamin Silver from Silver Wines just last November. The place is huge, and is literally crawling with immediately recognizable winery names - if not winemakers. The CCWS is separated into "bonded areas," places where you stake out a claim to floor space to make wine - consistent with ATF (now TTB) regulations. Dave's particular location is on the south side of this large complex.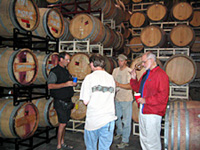 L to R: Bob Summers, Ken Zinns, Dave Corey, Paul Homchick
Founded in 2001 by Dave and Becky Corey, Core Wine's Vineyards are in the northern part of Santa Barbara County, in the Cuyama Valley off Hwys 33 and 166. The Alta Mesa Vineyard was planted in 2000 in mostly decomposed granite with 8x5 spacing, and sits at an altitude of 3,200' in the Sierra Madre Mountains. Here, the 17 plus acres of vines yield about 1.5 tons/acres. The land is owned by Barnwood Winery, but Dave farms it under a 10 yr lease that should ensure a constant fruit source for the forseable future. In addition, he'll also be getting Roussanne, Marsanne, Grenache Blanc from Fess Parker in the Santa Ynez Valley. In addition to making his own wine, Dave is a vineyard manager, and consults for Laetitia and Melville's Cat Canyon vineyard, plus, SQN buys some Mourvedre, and Clos Mimi gets some LH Grenache from his vineyards.
As to winemaking methods, Dave does a light crush on the berries, uses small bin fermentation, and prefers to neutral oak for aging. Interestingly, we ran into Dave a month later on another visit to CCWS (Sept visits coming soon). There was Dave doing that same light crush, standing in a small bin fermenter - pigeage style!
After the barrel tasting, it was sandwiches with the Core Rose and "352." Just a killer combo. Our resident chef, Bob Summers, had brought along a smorgasbord of all things deli-wise to make sandwiches. Once again, it was difficult to leave, but we had to rendezvous at Fiddlestix with Kathy Joseph.
Selected Tasting Notes:
...from barrel...
2003 Fiddlehead Pinot Noir. Clone 113 clone. 1 yr-old barrel. Nose of black cherry, with a bit of forest floor and spice. Went through lengthy ML - Kathy feels this gives the wine more interest, and she tries to "marry the barrel to the wine." Nice smoky quality, bing and black cherry flavors, very long finish. From the "knoll" section of the property.
2003 Fiddlehead Pinot Noir. Clone 4. Loaded with black cherry fruit in the nose. Sweet juicy mouthfeel, elegant textures, and long finish.
2003 Fiddlehead Pinot Noir. Clone 115. Some coffee and espresso intermingled with the dark cherry in the nose. A bit reduced (hadn't been racked). Big cherry fruit throughout, excellent balance finish. Kathy was considering a separate bottling of this wine.
2003 Fiddlehead Pinot Noir. Co-fermented blend of clones 113, 115, 667. Much more Burgundian-like, this wine seemed to have more wild strawberry and wild cherry notes, along with a bit of earthiness. Somewhat sweeter in mouthfeel, with lots of bing and black cherry flavors.
2003 Fiddlehead Pinot Noir. Clone 777. Samples pulled from two barrels to make this a 75% older barrel/25% newer barrel taste. Just gorgeous nose. Very tasty, with lots of dark cherry - seemed very "together" right now. Light sense of oak, with a pleasant coffee background note,
2003 Fiddlehead Pinot Noir - Alloro Vnyd, Willamette Valley. A touch of boysenberry at the core seemed to give this wine a lift, with almost a hint of Reisling and violets. Wow mouthfeel, rich, textured, and very tasty.
2003 Fiddlehead Pinot Noir. Clone 113, with 75% stem inclusion. Though she doesn't use stem inclusion, Kathy still likes to experiment from time to time. This was such a barrel. Quite stemmy in the nose - less so in the mouth, though a bitterness to the fruit was apparent.
...from bottle...
2001 Fiddlehead "728" Pinot Noir. Smoky and spicy nose, with a big spicy black cherry mouthfeel. This is a blend of clones from different sections of the vineyard.
2002 Fiddlehead "Lollapalooza" Pinot Noir. Fascinating nose of black cherry, clove, and pipe tobacco, and a light candied touch throughout. Really nice stuff.
2003 Fiddlehead Gooseberry Sauvignon Blanc. Stainless steel fermentation, neutral oak, and no ML. Lots of the namesake fruit - gooseberry, along with citrus and mineral notes, and a bracing finish.
2001 Fiddlehead Honeysuckle Sauvignon Blanc. 100% new Seguin Moreau oak. Beautiful honey and floral scent - another aptly named wine. Rich, slightly viscous, fabulous balance and very long finish.
1998 Fiddlehead L'Overt Sauvignon Blanc. Toasted honey buns! Fully integrated aromas and flavors, silky and smooth, leaves the palate softly, like a cat walking on marshmellows.
2004 Fiddlehead Sauvignon Blanc. Tank sample. Fruit, fruit, fruit! Lots of apple notes - green and red. Very concentrated.
Leaving CCWS, we parted company with Al Osterheld and headed down Hwy 1 to the Lompoc "wine ghetto" to meet with Kathy Joseph of Fiddlehead Cellars. Helen Keplinger had left earlier this year for a winemaking opportunity in Spain, and was replaced by Karen Steinwachs - previously at Foley and Flying Goat. Here, we also met up with Eric White, who along with wife Terri had arrived just before us. Eric and Terri were down from the Bay Area for the Clos Pepe BBQ, and wanted to make a stop at Fiddlestix. Also joining us was new assistant winemaker Karen Steinwachs and her husband, Dave. And making a special guest appearance, was Kathy's husband, who wisely seemed to want to stay out of the way.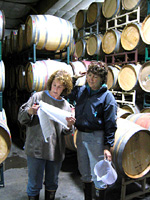 Kathy Joseph (l) and Karen Steinwachs confer on which samples to pull for us
Welcome to Fiddlechix, Kathy said, referring to the all-women winemaking team. I covered Kathy's background along with some details about the Fiddlestix Vineyard in last November's writeup. But to recap: Kathy is a Chicago native, and another of the UC Davis alumni. She worked under Zelma Long at Simi, and interned at Joseph Phelps Winery before branching out on her own.
Kathy's always made Pinot Noir, usually from two sources - Oregon's Willamette Valley, and the Santa Maria Valley. When Robert Mondavi bought the Santa Maria's Sierra Madre Vineyard in the mid-'90s, Kathy looked for a new source of fruit. She purchased the land in 1996, selected rootstalk and began preparation for planting. Kathy then approached Beringer and offered them an opportunity to buy in on a 50/50 basis. Recognizing the potential of the site, Beringer wanted to partner with Fiddlehead - buying 1/2 of the vineyard development to get 1/2 of the fruit, irrespective of clonal plantings. With her 50%, Kathy makes Fiddlehead Pinots with 20% of the fruit, and sells the remaining 30%.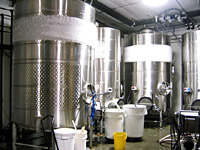 Cold-jacketed Sauvignon Blanc tanks
The partnership seems to be the best of both worlds - she has the autonomy to manage the vineyard, and they both share the fruits of her labors. Planted in 1998 to 100 acres of Pinot Noir, the Fiddlestix Vineyard is located directly across the road from the Sanford & Benedict Vineyard, on about 122 acres. We also had a discussion about stem inclusion - Kathy doesn't do it, as she doesn't like the resultant wine. And to demonstrate, she tapped into a barrel of 113 that DID have stem inclusion to give us an example of what she didn't like about it. It was an effective demo.
Interestingly, when it comes to white wines, Kathy moves from Burgundian leanings to Bordeaux white - Sauvignon Blanc. She sources Sauvignon Blanc from three vineyards: Westerly, Vogelzang, and Stolpman. She attempts to take different directions witheach of her SBs, and the results are quite striking. The Honeysuckle is sweet and rich, and the Gooseberry is ratcheted up a notch.
We all had a great time, although I think Kathy was having a better time - swaying to the sounds of Eric Clapton playing through the winery. Speaking of Eric, I hadn't met Eric White before, so I was kind of surprised to find him barefoot when we walked into the winery. All I could thing of was: boy, that guy is going to get wine splattered all over his feet. But, I don't think it ever happened. (I asked him later at the Clos Pepe BBQ about being barefoot. He said he just prefers it to wearing shoes. I can't argue with that.) It was also interesting to have three Erics in one place.
Several of us wanted to purchase some wine, and Kathy was only too happy to oblige. But, sooner or later,aAll things must end, and we were beginning to infringe on the scheduled CP BBQ time time. So, all of us needed to get a move on including Kathy - she was going too.
Clos Pepe BBQ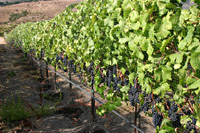 Clos Pepe fruit - all decked out in fishnet stockings
Wes hagen throws this event each year, as a chance for mailing list customers to purchase the upcoming releases through futures, as well as to pick up their current releases. The last time I was attended, the event was held at the hacienda-style stables. I was surprised to find the stables gone - and the building apparently being remodeled.
...offline wines - The Hitching Post...
1979 Caymus Special Selection Cab
1985 Spottswood Cab
1982 Diamond Creek Gravely Meadow Cab
1981 Ridge Monte Bello
1989 Rosenblum Petite Sirah
1990 Rosenblum Petite Sirah
2001 Core Blend 541
1997 St. Clement Napa Cab
1997 Rafanelli Zinfandel
1995 Longoria Blues Cuvee
2003 Clos Pepe Pinot
1999 Siduri Van der Kamp Pinot
2001 Siduri Rosella's Pinot
1997 Frazier Napa Cab
1994 Shafer Napa Cab
1994 Staglin Napa Cab
2001 Point Conception Syrah
2001 Kaesler Stonehorse Shiraz
1999 Saddleback Cab
2000 Owen Roe Abbott's Table Blend
1995 Joseph Phelps Napa Cab
1996 Clerc Milon
1994 Monbousquet
1997 Karl Lawrence Napa Cab
2001 Tikal Corazon
This year's affair was up on a knoll, in front the temporary residence (can you say doublewide). Wes and Chandra had set up overhead tents with tables of food, wine, breads and cheeses. Wonderful stuff. The place was packed, although I did run into several internet people: Jim Hanlon, Barry Rossum, Bennett Traub, and Jon Leifer.
For Saturday's dinner arrangements, everyone agreed that an offline at the Hitching Post was needed. Bob talked Frank Ostini into accommodating our party of 22 people, 3 kids and a dog. (Naw, I'm lying about the kids and the dog.) We ordered off the menu, which was just fine. I have no notes on the wines, but I've included a list here in the sidebar. Bob, Paul, Ken, Eric, Alan, and I were joined by Jim Hanlon and family, Eric White (with shoes) and wife Terri, Bernie Roth, Bennett Traub and wife, John Tomasso and wife, and Bob ran into a fellow at the BBQ who was looking to join in the fun as well.
Fabulous wines and even better time. Unfortunately, we had to sit at two tables, but considering it was the busiest time on a Saturday night - it was a very small price to pay to try the wines with Frank Ostini's marvelous cuts of beef.

Sunday, August 22, 2004
Up early - maybe a little too early, considering we'd been up until early morning. Joined by Jim Hanlon and family, we were to meet Peter Cargasacchi near the west end of 246 to check out a vineyard that he's considering consulting for. As we waited at the entrance, an SUV approached from down the road, with Peter and Jason Yardi, the vineyard owner. They'd already been up to the vineyard, but came back have us to follow them back up the road.
We drove slowly up the dirt road, with small clouds of dust hugging each car. Driving by Gypsy Canyon Vineyard, we continued on up another 1/2 mile to Jason's vineyard. (I had an appointment with Deborah Hall of Gypsy Canyon next month, so it was nice to pinpoint the location of her vineyard.)
We pulled in past an open gate to a semi-scraggly-looking vineyard. On closer inspection, it seemed that despite the 8' deer fence, animals were obviously dining on the fruit (well, the gate was wide open). Planted in 1998, this was originally part of the Gypsy Canyon Vineyard. However, Deborah Hall decided she had her hands more than full, and sold this 19-acre parcel of Pinot Noir, Pinot Gris, and Chardonnay to Jason in 1999. From here, we could see the Rozak Ranch Vineyard, immediately to the right of Jason's vineyard, and up on a sandy hillside. Of course, with the Hanlons and Paul Homchick, Peter had new unsuspecting people to play his tricks on. he started off on one of his shaggy-dog stories about the name of this canyon, and its relation to dead gypsies and such. Peter was selling, but nobody was buying...today.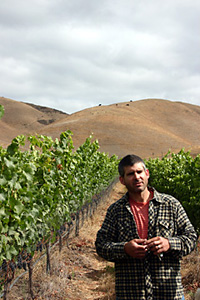 Peter Cargasacchi
Most of the soil around here is very sandy - like some sand dune. Peter had already discussed the vineyard condition with Jason earlier in the morning, but he knew we were all interested as well, so he gave us the diagnosis. Basically, the vines lacked nutrients. And, those that did produce, merely served as an invitation to breakfast, lunch and dinner for the local deer. Although the place was deer fenced, unfortunately the hired hand was constantly leaving the gate open. Peter pointed out several several things that could be done to improve things here, up to and including allowing beneficial pests to take hold. Let's go over to my place, he said, I'll show you what I mean.
Back into the cars, we headed for Cargasacchi Vineyard, via Sweeney Road. On my last visit, we'd driven to the vineyard via what would have to be called the back road - from the south, through the mostly dry Santa Ynez River. So this was the real route, I thought to myself. The caravan of cars followed Peter up to a point along his vineyard, where everybody piled out. Peter showed us what healthy fruit looked like, and how his vineyard provides a welcome inn for spiders, who in turn pays rent by keeping the non-beneficial pests to a minimum.
How much time do we have, asked Peter. Well, we've got an appointment at 11:00 at Rio Vista Vineyard, why? Well, we could go over to Tank Mesa to see a new area that'll be developed for a vineyard, Peter offered. Well, let's hit it, we all agreed.

View from Tank Mesa, looking north. Rancho La Vina is in the foreground; Mt. Carmel and Sea Smoke in background
From here, we followed Peter over to a new vineyard site, located on a mesa just to the west of Sanford's La Vina vineyard. What a fun drive! We left Peter's place, and drove south through the dry Santa Ynez Riverbed and up to Santa Rosa Road. Heading east, we drove a few miles then turned right on a dirt road which soon dropped down into a hollow, before rising up into a very twisty road. Clouds of thick fine dust engulfed the place, so it was really difficult to see the cars in front of you at times. Like some scene out of the Dukes of Hazzard, we blindly sped on. As Elwood Blues put it, 'we're on a mission.' Finally we arrived at the top of the mesa, we had a 180 degree view of the valley, as well as the cow patties.
We couldn't linger too long, since were scheduled to meet with Norm Yost of Flying Goat, over at Rio Vista Vineyard, near Buellton. Oh, you're meeting Norm, said Peter. Yep, we're going to taste some Flying Goat - right at the vineyard! Want to come along? There's going to be wine, he asked, perking up a bit. Sure, count me in.
We left the mesa the same way we arrived - in a cloud of dust. From here, we made a couple of stops at La Rinconada and Sanford & Benedict vineyards, along with Fiddlehead and Sea Smoke, just to take in the view. The Hanlons had to depart for home, but the rest of us continued the journey to our next destination.
Rio Vista Vineyard - Flying Goat Cellars
Selected Tasting Notes:
...from bottle...
2003 Flying Goat Pinot Noir - Solomon Hills, SMV. Clone 113. Lots of lightly sweet cherry aromas and flavors, with excellent balance and a nice smooth finish.
2003 Flying Goat Pinot Noir - Rancho Santa Rosa Vnyd, SRH. Clones 115, 777. More of a strawberry quality to the fruit in this bottling. Less inherent sweetness, and extremely well balanced.
2003 Flying Goat Pinot Noir - Rio Vista Vnyd, SRH. Clones 667, 777. Deep nose of dark sweet black cherry and a touch of spice. Less sweet on the palate, marvelous balance, and long finish.
2003 Flying Goat Pinot Noir - Dierberg Vnyd, SMV. Clones 115, 113. This older vineyard seems to bring a nice smoothness and earthier scents to the wine. Lots of dark fruit, excellent balance.
We hurried the 5 miles further east along Santa Rosa Road to make our appointment with Norm Yost, finally meeting up with him at the north gate to the Rio Vista Vineyard.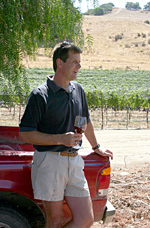 Norm Yost
Founded in 1999 by Norm and Pam Yost, Flying Goat Cellars was formed to concentrate on Pinot Noir from Santa Barbara County, and is sourcing fruit exclusively from Santa Rita Hills and Santa Maria Valley.
He's has had his own label for a few years now, first starting it while working for Foley and LinCourt wineries. (He left Foley early this year, but while there, he was part of the team that developed the new Foley facility in the Santa Rita Hills - Rancho Santa Rosa.) Flying Goat's inaugural vintage was 2000, making 250 cases of a Santa Maria Hills Pinot from 30 yr-old vines. The 2001 release was 315 cases of Pinot from Dierberg Vineyard, another vineyard in the Santa Maria Valley appellation. In 2002, Norm doubled his bottlings with releases from Dierberg and Rancho Santa Rosa, the new Foley property in Santa Rita Hills. Total production was 414. As you can see, Norm is interested is growing slowly and staying in control by selecting small blocks of vineyards to make his wines. Total production for '03 is expected to be 750 cases of 4 separate bottlings. Norm uses small lot bins for open top fermenters, with a cold soak and no stem inclusion. The wines are racked into both new and neutral French oak for ML, and about 14 months of aging.
Rio Vista anchors the eastern-side of the Santa Rita Hills appellation, off Santa Rosa Road, near Buellton. With 26 acres of Pinot Noir planted to clones 667, 777, 2A, and 115. Norm get 7 tons of fruit from his blocks, and the rest goes to such producers as Ken Brown (Byron), Drew Family, and Tantara.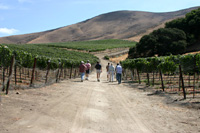 Rio Vista Vineyard
Want to take a walk, said Norm. You bet, we all nodded. The vineyards stretched out on the west-facing hillside, and we walked up a steep embankment to get a better view of things. The vines looked immaculate, and Norm credited the vineyard manager for taking care of all of this fruit, including his own. It was interesting to watch Peter looking things over - one grower, looking at another grower's work. It's not about competition - it really seems to be more about about instruction and education. Peter always seems so fascinated with what others are doing, and I'm certain he's encountered more than a few object lessons out there in other people's vineyards. He asked Norm a few questions about this and that, and nodded in satisfaction.
(l to r) Norm Yost, Jason Yardi, Paul Homchick, Alan Garretson, Bob Summers, Peter Cargasacchi, Ken Zinns, Eric Lundblad
Shall we try some wine, Norm asked. We thought he'd never ask - well, Peter thought he'd never ask. Walking back down through vineyards to the road, we took up our obligatory positions, as guys will, encircled around a piece of dirt - no man's land. Norm handed out a few glasses, and we broke out several of our own stems. Norm poured some wine into each glass, and we essentially tasted through his latest upcoming releases right there in the vineyard. This is how it ought to be.
Well, this turned out to be the departure point for everyone. Some were heading south, some north. Hey, Beckmen's blowing out their '01 Roussanne to make way for the '02, said Bob. I'm heading over there right now - anybody want to come along? Sure, why not, I thought. Might as well stretch this euphoria out another hour or so, before heading back to the real world of day jobs.
---
---
Copyright © 1993 - 2004, Eric Anderson -
All rights reserved
No original material may be reproduced without written consent
Mail & Comments - Eric Anderson