Vol. 21, No.1.2
West Sonoma Coast - June 2013 - Day 2


Recap of Day 1 -
Amid a morning drizzle, Ken, Michael and I carpooled from Sebastopol. The local weather called for light rain on our first day, with showers from a larger system coming in today. Our first destination was Hirsch - about 43 miles away, which translates to a 90 minute drive hereabouts.
I'd arranged for us to meet at 9:30am with Ross Cobb, Hirsch's winemaker, and Jasmine Hirsch, David Hirsch's daughter and the head of marketing for Hirsch Winery & Vineyards. We had a great visit with them both, and an equally good tasting of Hirsch's current releases. In addition, we brought along a few Hirsch (and a Cobb) bottles of our own to taste with them as well.
About Noon, we left Hirsch and hit the road for our next stop at Peay Vineyards. But first, we made a lunch stop at Stewarts Point, on Hwy 1 to grab some sandwiches. Great stop!
Arrived at Peay Vineyards about 2pm. We were scheduled to meet with Nick Peay, who together with brother Andy and Nick's wife Vanessa are together the brains, brawn and talent behind Peay Vineyards. We got to spend some quality time with Nick, starting with a nice vineyard walk, and followed by a seat on the front porch of their 90-year old house to partake of Nick's wine selections - as well as the wines we brought to share.
Altogether, we had a great day. That evening, we opted for a repeat visit to the French Garden Bistro. Unfortunately, the service, and to some extent the food, were not up to the previous night's level. Meanwhile, we were looking forward to Day 2.
Day 2 - Tuesday, June 25, 2013
The local weather for Day two did turn out to be light rain. Once again, Ken drove up from the Bay Area, meeting Michael and I in Sebastapol, where we left amid some scattered rain. Ken thankfully volunteered to drive, so we were able to spare the Mercedes undercarriage from more abuse - and let Michael relax. From here, Baker Lane was only about 4 miles away.
Baker Lane Vineyards - by Ken Zinns

I picked up Eric and Michael at their hotel in Sebastopol on Tuesday morning, and from there it was a short drive to our first appointment of the day at Baker Lane Vineyards. I'd tasted the wines at the West of West event in 2012 and was impressed, particularly with the very fine cool-climate Syrahs. If the previous day's weather could be described as drizzly, today's was downright rainy – very unusual for a late June day in the Bay Area. We had no trouble finding our destination, at the very end of Baker Lane, just south of Sebastopol. We parked in a large courtyard and headed to the front door of the beautiful modern house, where Baker Lane proprietor Stephen Singer welcomed us inside. We fretted about our wet shoes for a moment, but Stephen told us not to worry, the house has concrete floors – that was certainly convenient on this day!
Stephen is originally from Oklahoma, and started in the wine retail business in 1983, opening the Singer & Foy wine shop / wine bar in San Francisco. He became a well-known restaurateur, and was married to Alice Waters of Chez Panisse in Berkeley, where he was also the wine director. He went on to open a number of Bay Area restaurants, including Table 29 in Napa (now Bistro Don Giovanni), West County Grill in Sebastopol, César in Berkeley, and others. He's also been the wine consultant for many fine restaurants. Stephen is no longer in the restaurant business, but he still imports olive oil and vinegar through his Stephen Singer, Olio business. Eventually, he gained an interest in growing his own grapes and making his own wine – he wanted to find a cool-climate site to plant a vineyard, and that led him to the Baker Lane property.
We were still waiting for Alan Rath to join us, as he was running a bit late, so we stepped outside the living room, under a broad overhang, and looked out over the Baker Lane Estate Vineyard. The sloping vineyard site forms part of a large bowl, with other vineyards located on the adjacent hillsides. Stephen told us that this is a particularly cool area, and that the hills help cut off much of the heavy fog – if not for that, it would be nearly impossible to ripen grapes there.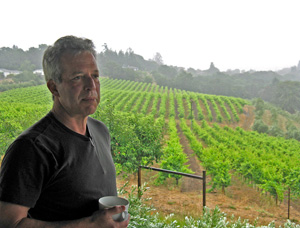 Stephen Singer
The large vineyard we could see on the slope to the west of us was Hurst Vineyard. Sited on a former apple and pear orchard, Ben Hurst first planted vines there in the late 1990s. Stephen bought Pinot Noir from the vineyard from 2004-07, and has resumed buying some fruit since highly-regarded viticulturist Arturo Robledo took over the farming there in 2011. We asked Stephen what the small vineyard was that we had spotted as we drove along Baker Lane on our way to his house, and he told us that was Ramondo Vineyard. Also planted in the late 1990s, the six-acre vineyard is only about ¼ mile from Stephen's house. Baker Lane Vineyards now leases Ramondo and farms it organically – it's planted mostly to Pinot Noir, along with a little Syrah.
The Baker Lane Estate Vineyard is about six acres in size, and is planted to about 95% Syrah and 5% Viognier. Stephen bought the property from Ben Hurst – like Hurst's own vineyard, the site had been an apple orchard. Stephen started preparing the land in 2002 – taking out most of the apple trees but retaining about 250 of them – and began planting the vines in 2004. There are nine clones of Syrah planted there, including Estrella, Durell, and 877 clones, with much of the budwood coming from Lee Hudson's famed vineyard in Carneros. The Estate Vineyard is farmed organically and biodynamically but not certified.
After spending awhile talking with Stephen and admiring the view from the house, Alan arrived, and Stephen asked us if we'd like to take a walk through the vineyard. Hmmm…it was raining pretty steadily but why not! Some of us were well-prepared for the weather, and after Stephen offered the others some spare rain jackets and umbrellas, off we went.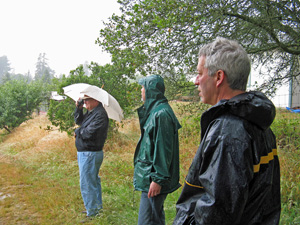 l to r: Michael Poston, Alan Rath, Stephen Singer
As we walked down the long vine row at the edge of the vineyard, I couldn't help but notice that the Syrah grape clusters were not as far along in their development as those we'd seen at Peay Vineyard the previous day, a testament to just how cool the Baker Lane site is. After reaching the far end of the vine rows, we found a relatively sheltered spot under some trees to take a break from the rain. The vineyard is managed by noted viticulturist Greg Adams, who's also worked with Flowers, Freeman, and Patz & Hall – Stephen called him "the vine whisperer." Stephen told us that the grapes are typically harvested in late October or early November. The vineyard is picked area by area, with up to four separate harvests each year. Most of the fruit from the estate vineyard goes into the Baker Lane wines but Stephen sells a little, including some to Sean Thackrey and to Arnot-Roberts. We noticed some olive trees next to the vineyard, and we found out that Stephen is now producing some of his own olive oil from them.
We headed back to the house, and hung up our wet jackets to dry off a bit. Stephen invited us to have a seat at the broad counter at the edge of the kitchen to taste some of the Baker Lane wines. The first wines from the label were from the 2004 vintage. Stephen Cantor was the winemaker until 2009, but now Stephen Singer makes them along with Greg Adams and with Matt Duffy of Vinify, the Santa Rosa custom crush facility where the wines are produced. The Baker Lane wines are available to taste and purchase at the Vinoteca tasting room adjacent to Vinify. Overall annual production is usually in the range of 1,500-2,000 cases, though it will be more for the 2012 vintage.
We started out our tasting with a 2012 Viognier, and Stephen told us that this is the label's first release of that variety. Viognier vines were planted in the vineyard from the start, in order to co-ferment with Syrah, but with the large 2012 harvest, there was enough extra fruit to make a small amount of varietal Viognier as well. It turned out well enough that Stephen is planting more, and he told us that in the future, he'll probably just use the Viognier skins to co-ferment with Syrah, to ensure that there will be enough fruit to produce a separate Viognier bottling.
Tasting Notes: Current Releases

Baker Lane 2012 Viognier, Sonoma Coast. First Viognier bottling, 13.5% alc. Light yellow color, this displayed very bright stone fruit aromas, with hints of flowers and tropical fruit. Juicy acidity combined with a moderately rich mouthfeel, and a long, clean finish, nice.
Baker Lane 2012 Rosé, Sonoma Coast. From fruit farmed for Rosé and whole-cluster pressed, fermented in neutral oak, about 90% Syrah and 10% Pinot Noir. Picked at 21 brix, 12% alc. Light pink/salmon color, with citrus and red fruits on the nose, along with fresh herbs and a slight floral note. Medium-light bodied with zippy acidity, a touch of stone fruit came out in the flavors, and the finish was crisp and refreshing, very nice.
Baker Lane 2011 Pinot Noir, "Sonoma Coast Cuvée," Sonoma Coast. Sourced from Ramondo and Hurst vineyards, aged in 30% new puncheons, 13.8 alc. Medium-light ruby color, featuring ripe strawberry and cherry, earth, and touches of tea leaf and spice. Medium-bodied with a lively texture and milder tannins.
Baker Lane 2009 Pinot Noir, Ramondo Vineyard, Sonoma Coast. Aged in 35% new puncheons, 14.3% alc. Medium color, with a somewhat darker fruit profile of black cherry and plum, plus smoke, spice, and some forest floor notes. Medium weight on the palate, this had more noticeable tannins on the finish.
Baker Lane 2009 Pinot Noir, Ramondo Vineyard, "Reserve," Sonoma Coast. Two-barrel selection. Medium ruby color, this showed brighter and slightly riper plummy fruit, plus earth, spice, and undertones of sweet oak. Richer mouthfeel with good structure and finishing with medium chalky tannins.
Baker Lane 2010 Syrah, "Sonoma Coast Cuvée," Sonoma Coast. Sourced 60% from Ramondo Vineyard and 40% from the Estate Vineyard. Aged in puncheons, about 10% new, 13.4% alc. Medium-dark purple, a slight reductive note blew off quickly to reveal meaty, savory aromas along with black fruits, herbs, and a briny olive component. Medium-bodied with a lively texture, this finished with moderate and refined tannins, nice.
Baker Lane 2009 Syrah, "Sonoma Coast Cuvée," Sonoma Coast. Sourced from estate and Ramondo vineyards, 14.1% alc. Medium-dark color, with a riper plummy fruit profile plus dried herbs, earth, and some baking spice on the nose. Rounder mouthfeel with a grippier tannic finish than the previous wine.
Baker Lane 2008 Syrah, "Sonoma Coast Cuvée," Sonoma Coast. Sourced from estate and Ramondo vineyards, aged in 20% new puncheons, 14.2% alc. Medium-dark purple, showing more intense aromatics of dark berry fruit, smoked meat, and herbs. Moderately rich mouthfeel with plenty of structure and chalky tannins on the finish.
Baker Lane 2009 Syrah, Estate, Sonoma Coast. Co-fermented with about 3% estate Viognier and aged in puncheons, about 20% new, 13.6% alc. Medium-dark color, with bright and savory aromas of grilled meat, herbs, and earth along with plum and darker fruits. Medium-bodied with a lively texture and a stony mineral component, this finished with chalky tannins, very nice
Baker Lane 2008 Syrah, Estate, Sonoma Coast. Co-fermented with about 3% estate Viognier, 14.6% alc. Medium-dark purple, this had more distinct floral scents, a gamy element, dark berry fruit, smoke, black pepper, and spice. Bigger mouthfeel than the previous wine, with a firmer tannic finish, nice.
Baker Lane 2007 Syrah, Estate, Sonoma Coast. Tasted from 375ml bottle. Co-fermented with about 3% estate Viognier, 14.4% alc. Medium-dark color, displaying bright plummy notes plus a savory herbal component and hints of flowers and earth. Bold and structured, this had substantial but fine tannins on the finish.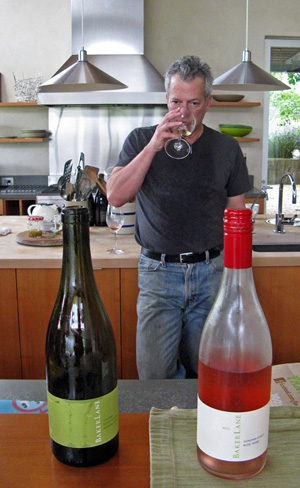 The Rosé is also a relatively new addition to the Baker Lane line-up, with the first one coming in 2009 – Stephen said that due to the heavy mid-October rains that year, he took off some fruit early and it was made into a Rosé. He told us that the goal is a Rosé in the style of those from Provence. Parts of the vineyard are now specifically farmed for the Rosé, which is whole-cluster pressed and does not go through malolactic fermentation.
The 2011 vintage was not an easy one for many cool-climate growers, and that year the entire Pinot crop from Ramondo Vineyard went into the Baker Lane "Sonoma Coast Cuvée," which also includes a good deal of fruit from Hurst Vineyard. We tasted a 2009 "Reserve" bottling of Ramondo Vineyard Pinot, which included a label note "For Sue" – this is to commemorate Sue Ramondo, who passed away that year. We asked Stephen whether he uses any whole clusters in the Pinot Noir fermentations, and he told us that he does not, as he is leery of introducing a stemmy quality into the Pinots, or anything else that might detract from the fruit. Pinots are typically aged for 11-12 months in puncheons, about 35% of them new.
As we moved on to Syrahs, Stephen said that he does use some whole-cluster fermentation with that variety. The Estate Syrah has been co-fermented with about 3-4% Viognier. There is no extended maceration on any of the wines, and the Syrahs are also aged in puncheons, typically no more than 20% new. The "Sonoma Coast Cuvée" Syrah is meant to express the best of both Estate and Ramondo vineyards, with typically about 60% Ramondo and 40% Estate fruit.
We finished our tasting, and as we were getting ready to head out to our next appointment, Eric asked Stephen about the winery name. He told us that it is intended to signify a sense of place, since virtually all of the fruit for the wines comes from three small vineyards within a few hundred yards of each other near the end of Baker Lane.
Despite the rainy weather, I enjoyed our visit to Baker Lane with Stephen. It was surprising to me just how cool-climate his vineyard site is, considering it is not that close to the coast. Even though Stephen had only met me once prior to our visit (and I don't think he'd met anyone else in our group), he was a most gracious host, opening up his home to us as well as opening a lot of wines that really highlighted his own vineyard and neighboring Ramondo Vineyard. I liked the Rosé quite a bit, and the Viognier was very nice as well, showing the kind of cool-climate character that's not seen often in California Viognier. And although the Pinots were certainly good, our tasting reinforced my view that Baker Lane is producing some of the best Sonoma Coast Syrahs that I've tried. I think Stephen's restaurant background shows in the style of the wines, which I expect would show even better with food than they did on their own. Baker Lane's wines seem to fly under the radar, and they deserve wider recognition – they should only improve as the vineyards mature.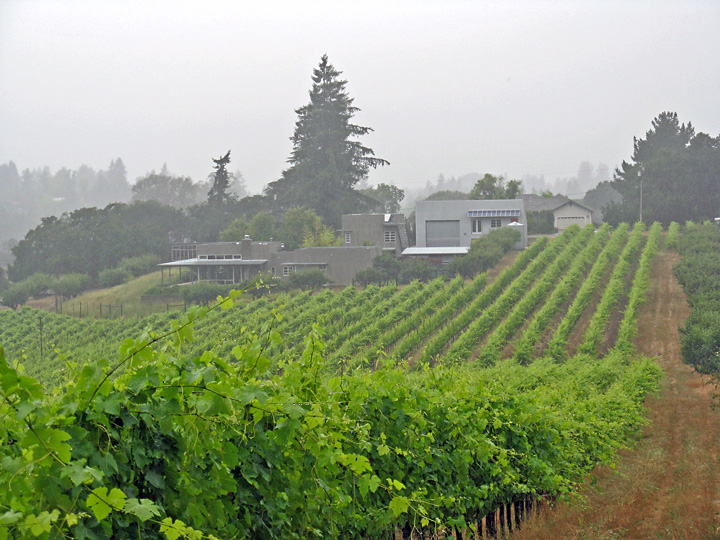 Baker Lane Vineyards
Bohème Wines - by Eric Anderson
Leaving Baker Lane, we headed west to the small town of Occidental. We had made an appointment to visit with Kurt Beitler, owner, grower, and winemaker for Bohème Wines. I hadn't seen Kurt for 6-7 years, so I was looking forward to catching up.
Tasting Notes: Current Releases

Bohème 2009 Chardonnay - Taylor Ridge, Sonoma Coast. No new oak. Full ML to give it some size. Interesting golden color, very fleshy mouthfeel, with a light oxidative quality, and nice juicy yet sweet acids - especially on the back end. Wente clone. Fermented 2/3 neutral oak, balance in stainless steel. Planted originally by Scott Zeller (Suma) about 1999.

Bohème 2010 Chardonnay - English Hill Vnyd, Sonoma Coast. From an 8.5 acre vnyd that Kurt planted in 2005 over on Bloomfield Rd, south of Sebastapol. He only put in a half-acre of Chard - something he now regrets. 2nd vintage from thsi vnyd. Made 1 barrel, or 25 cases. Wente clone, used French oak.

Bohème 2009 Chardonnay - English Hill Vnyd, Sonoma Coast. Aged in a Nomblot concrete egg. Nice color - maybe darker than the '10 version. Could be just the knowledge, but there was a definite impression of stone or minerality in aroma and flavor. A very nice wine, but I prefer the 2010.

Bohème 2009 Pinot Noir - Stuller Vnyd, Sonoma Coast. Dijon clones. Vague scent of whole cluster, but apparently all destemmed fruit. Spicy bing and black cherry, with an earthy tea component. Yield of .89 tons/acre. 25% new oak. Harvested in multiple stages between September 18th and October 8th.

Bohème 2009 Pinot Noir - Taylor Ridge, Sonoma Coast. 100% Swan clone (propagated from Dehlinger's Octagon Vnyd). This wine had more black cherry nuances, and sweeter fruit, with Xmas spice and a nice earthy touch on the back end. Yield of 1.7 tons/acre.
Bohème 2009 Pinot Noir - English Hill Vnyd, Sonoma Coast. Great nose, again with that hint of whole cluster fermentation that really wasn't there. Kurt thinks it's the site itself. Nice flavors as well, with slightly edgy acids. But that nose - OMG! Made 4 barrels. Huge mix of clones, including 115, Calera, and some "suitcase" stuff.

Bohème 2004 Syrah - Que Syrah Vnyd, Sonoma Coast. Somewhat ripe in aroma, spicy and fleshy mouthfeel. Bit of bacon and fennel. Nice acids on the back end - suprisingly well balanced wine considering the vintage and initial riper aroma. Definitely shows the vintage, but the Kurt thinks the acids are all due to the vineyard.

Bohème 2006 Syrah - Que Syrah Vnyd, Sonoma Coast. Lovely, if restrained nose of dark berry and earth. Lots of acids meld with the fruit, and the wine has a more pronounced bacon note than the '04.

Bodega Rancho 2009 Syrah - *Thieriot Vnyd, Sonoma Coast. Very nice aromas and fruit, very good balance and really nice finish. *This is not the Thieroit (Teer-ee-itt) from from Taylor Lane, but a separate 1-acre venture by Cameron Thieriot in the Petaluma Gap. Nice stuff!

Bodega Rancho 2007 Syrah - Vivio Vnyd, Bennett Valley. (Bennett Valley is a relatively cool area, due to the Petaluma Gap. But, it is still generally warmer than the Sonoma Coast.) This vnyd is planted to over 90% Syrah, with the balance Marsanne, expressly for co-fermenting. Fabulous nose of blackberry, anise, and bacon. Round in mouthfeel, very complex and very tasty. Excellent!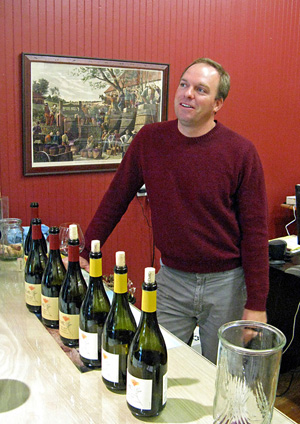 Kurt Beitler
It was purely happenstance - our meeting Kurt during the Spring 2004 trip to this area. Al Rago (Que Syrah Vnyd) was among those we were coming to visit, and Al asked if he could come along on the rest of the tour. Then he asked if he could also bring his son, plus a couple of local buddies (also growers) along on some of the stops that first day. Enter Vincent Rago, Kurt Beitler and Jerry McIntyre. Of course it was fine with us - the more, the merrier. I just hoped it wouldn't cause any problems for the winemakers we were going to visit.
I'd been able to give Wells Guthrie (Copain) and Pax Mahle (Pax) a few days notice that our party had suddenly increased in numbers. I was fearful they might each say 'nope, you've gotta cut that number back.' But, it seemed like they were up for it. And, I have to admit, we were definitely a formidable looking group, the 10 of us (6 wine geeks and 4 wine growers). I'm fairly certain I saw some jaws drop when we arrived for those appointments that day. I'm also sure if I were faced with a knowledgeable crew of this size, I'd have been petrified about everything I was about to say.
Then, after the great visit and lunch wil Al Rago, we were able to stop by a vineyard that Kurt was managing. It turned out that his uncle is Chuck Wagner of Caymus, and this was one of their sources for Pinot. It was planted with some unusual trellising called Trentino, which hails originally from Alto Adige, in northern Italy.
Anyway, that was our first introduction to Kurt. Born and raised in Oregon, he moved to California in 1995 where he enrolled in Santa Clara University. He also became drawn toward his family's multi-generation winegrowing tradition in California. So naturally, after graduating he moved to Occidental to oversee his uncle's Pinot Noir vineyard on Taylor Lane. Just a few years later, Kurt decided to "branch out," so to speak. He liked doing 'the vineyard thing' - he was outside, and certainly getting exercise. But, he wanted something more. He wanted to know what happened after the grapes were picked. So, he started making a few wines at the Caymus facility in the early 2000s.
Once bitten, as they say, and Kurt embarked on making his own wine, naming it Bohème Wines, after Bohemian Hwy, the main road that runs through Occidental. He made the first Bohème wines in 2004 - Chardonnay, Pinot and Syrah - the latter from fruit he was farming at Que Syrah Vineyard for Al Rago.
We'd arranged to meet Kurt at his tasting room in "downtown" Occidental. We'd also allowed sufficient time to take a vineyard tour up on Taylor Lane, but weather being what it was, we all decided to forego the tour and just taste some wines. Making decisions like this is why Ken and I are being paid the big bucks. ;-)
We all gathered around the tasting bar, catching up, while Kurt poured us his '09 Taylor Ridge Chardonnay. This vineyard belongs to Vincent Rago (Al's son), and is nearby, up on Taylor Lane. We noticed the color was a deeper golden color versus yellow. There was even a slight impression of oxidation initially, along with a honeyed aspect to the finish as well. Kurt told us that the color is always a conversation starter, and that he believes each of these characteristics are due to the Wente clone and its relatively tiny berries, and thus transferring more pigment to the wine.
He now grows/farms all of his own grapes on leased vineyards. In 2005, Kurt planted a vineyard called English Hill, located on Bloomfield Road, south of Sebastapol. It's planted to mostly Pinot, with a half-acre of Chardonnay, and a tiny amount of Syrah. The quality of the Wente clone Chardonnay is excellent, and Kurt now wishes he'd planted more than just the lonely half-acre. Just from this tasting, I think this is one of the most exciting and promising vineyards in the area.
Another vineyard source, Stuller Vineyard is on a ridge top with views to the Pacific Ocean, 6.4 miles west, and is adjacent to Littorai's Haven Vineyard. Kurt prunes the Pinot Noir here according to the varying soil vigor and exposure in the two vineyard blocks: one south-facing hillside (Clone 115) and a rocky hilltop (Clone 667). Vertical trellises oriented in a north-south direction balance the sunlight evenly between morning and afternoon sides of the canopy.
Syrah geeks love the cool climate vineyard locations. And, Que Syrah Vineyard is one of the coolest. Located at the edge of Sonoma Coast AVA, it is likely the coolest Syrah planting in California. Perched on the coastal range 4.3 miles from the Pacific Ocean, the vineyard is framed by Bay Laurels and a view to offshore waves. Summer days start cool and foggy and then yield to blue skies and warm afternoons.
We worked through each of the wines that Kurt had selected to pour, arriving at the 2004 Syrah that we brought along. Kurt remembered my saying that we like to bring some of the previous wines the winemaker made, just to hear their comments, and he had some salient memories. Evidently, his uncle Chuck suggested he try for 40-50% new oak, so he told Kurt to pick out whatever new oak barrels he wanted. It turned out that Kurt used about 66% new French oak (5 out of 9 barrels), and in retrospect Kurt thought he way over-oaked it. All I can say, is it didn't taste over-oaked now. In fact, for a guy's first commercial vintage, it definitely did NOT suck!
The Que Syrah Vnyd fruit found its way into the Bodega Rancho label that Kurt's brother, Derek, is making over in Napa, but tasting them here in Occidental. These wines were fabulous bargains from a price point, and I'd suggest seeking them out.
We had a great time talking with Kurt. We were able to reminisce about that 2004 trip, as well as all of the changes that have taken place to the Sonoma Coast since then. We'd also always wondered what happened to the original 1.39-acre Marsh Vineyard after Pete Marsh sold it. It was apparently sold to Bryon and Andrea Sheets, who added it to an additional 8.26 acres they had on Fitzpatrick Lane. The former Marsh vineyard on Doc's Ranch Road became the "Home Block" for the now renamed "Doc's Ranch Vineyard." Originally, the Marsh vineyard fruit went to Radio Coteau, as a vineyard designate. After the sale, the fruit from Doc's Ranch went to Evening Land, but as of 2010 it has been going to Red Car for a vineyard designated Pinot.
We could've easily made this a full-day stop - there was that much to taste and talk about. But, we were all getting hungry for lunch. So after a quick consultation with Kurt, we walked practically next door to the Union Hotel Cafe. The meatball sandwiches here are impossible to resist.
After lunch, we drove east from Occidental to Santa Rosa, where our destination was Punchdown Cellars (formerly Copain Custom Crush) on the northern edge of town. John Raytek of Ceritas Wines makes his wines there, and we'd made an appointment to visit and taste with him at the facility. It had been a few years since I'd been there, and I wasn't sure where in the large building the Ceritas area was located. Alan told us not to worry, he knew just where it was…but even he got a bit lost in the maze of tank and barrel rooms before we finally found John, at the very back of the facility.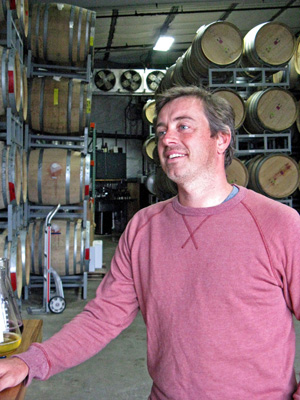 John Raytek
I'd tasted the Ceritas wines on a number of occasions, and I'd met John briefly at a few tasting events over the past year or two and thought that his wines were standouts each time. John also became the winemaker for Lioco in 2011, but Ceritas is his own label, which he owns with his wife Phoebe Bass. We'd originally hoped to tour Porter-Bass Vineyard (Phoebe's family's vineyard) with John, but unfortunately the timing didn't work out to do that. In any case, it was still raining so it didn't seem like such a bad option to stay inside the winery space and sample some wines that afternoon.
John grew up in Pennsylvania, and he told us that his parents were into food, as well as Napa Cabernets and Bordeaux. His mother was a professor at Penn State and his father was the general manager of a hotel – John said that he used to enjoy hanging out in hotel restaurant, learning about cooking and food. He eventually did work in some restaurants, and after finishing college, an opportunity to work in Virginia with chef Patrick O'Connell at the James Beard Award-winning Inn at Little Washington was a turning point for him. The wine director there took the time to teach him more about wine. John moved on to work at The Little Nell restaurant in Aspen, and from there he went to Sydney, where he took charge of the wine programs for several restaurants.
While John was in Australia, he worked with winemaker Martin Williams, and through him he met Hugh Chappelle, who was then the winemaker at Flowers Vineyard & Winery on the Sonoma Coast. John's first winery work in California was at Flowers, and he went on from there to help launch Rhys Vineyard in the Santa Cruz Mountains. In 2004, he returned to Sonoma to work with Wells Guthrie at Copain Wines, where he stayed for six years and became assistant winemaker. It was while John was working at Flowers that he met Phoebe, when the winery bought fruit from her family's Porter-Bass Vineyard. They started the Ceritas label in 2005 with a Porter-Bass Chardonnay.
Since that initial 2005 Chardonnay, Ceritas has made wines from a number of single-vineyard sources – recent and upcoming Chardonnays include wines from Porter-Bass, Charles Heintz, Peter Martin Ray, and Pinnacle vineyards, while Pinots include Hellenthal, Elliott, Hacienda Secoya, Porter-Bass, and Escarpa vineyards. All of the Ceritas wines are single-vineyard designates with the exception of the "Costalina" Pinot Noir, which is sourced from multiple Sonoma Coast vineyards. Up until recently, all of the fruit for the Ceritas wines has come from Sonoma Coast sources, but now Anderson Valley (Hacienda Secoya) and the Santa Cruz Mountains (Peter Martin Ray and Pinnacle) have become additional vineyard regions for the label. And there are even more changes in the works. Since their first wine, Ceritas has focused exclusively on Chardonnay and Pinot Noir, but some new varieties are on the way – an Aligoté from Barbed Oak Vineyard in Bennett Valley and a Cabernet Sauvignon from Peter Martin Ray Vineyard. On top of all that, Phoebe may be making Eau de Vie from pear, apricot, and peach sometime in the future. Current production is around 2,000 cases per year, and John said he plans to cap production at around 3,000 cases.
Tasting Notes: Current Releases, Tank & Barrel Samples
Ceritas 2011 Chardonnay, Porter-Bass Vineyard, Sonoma Coast.From 30-year old vines, made entirely in older oak. Light straw color, with lemon and slightly floral scents, plus notes of fresh herbs. Medium-light bodied with a very bright mouthfeel and zippy acidity on the finish, very nice.
Ceritas 2011 Chardonnay, Peter Martin Ray Vineyard, Santa Cruz Mountains. First vintage of this wine for Ceritas, from Old Wente clone vines planted in 1980 in rocky shale soil, picked around 19 brix, 12.9 alc. Slightly deeper yellow/straw color, this displayed citrus and stone fruit, lees, and herb aromas along with a stony mineral component. Richer on the palate but with well-focused acidity and a slightly chalky note on the lingering finish.
Ceritas 2012 Chardonnay, Peter Martin Ray Vineyard, Santa Cruz Mountains (tank sample). About 12.4 alc. Medium-light yellow, the aromatics were subdued but showed lemon, herbs, and wet stone notes. Vibrant on the palate with a long, minerally finish – this needs time but should be very good.
Ceritas 2012 Chardonnay, Pinnacle Vineyard, Santa Cruz Mountains (tank sample). About 2/3 mile down Mount Eden Road, planted 1971, owned by Peter Martin Ray, all head-trained Old Wente clone vines. Medium-light yellow color, this was similar aromatically to the previous wine. Bolder mouthfeel but retaining bright acidity, with a richer texture on the finish.
Ceritas 2011 Pinot Noir, "Costalina," Sonoma Coast.Sourced from Escarpa Vineyard and two vineyards on Occidental Road. Intense light ruby color, featuring forward strawberry and cranberry fruit along with tea leaf and earth in the background. Medium-light bodied with lively acidity and milder tannins, quite pleasant now and should age nicely too.
Ceritas 2012 Pinot Noir, "Costalina," Sonoma Coast (tank sample).Sourced from two vineyards. A bit darker color, with slightly tart red fruits, forest floor, and a hint of oak on the nose. Bigger texture with a rounder mouthfeel than the previous wine, with somewhat chalky tannins on the finish.
Ceritas 2012 Pinot Noir, Porter-Bass Vineyard, Sonoma Coast (tank sample).First Ceritas Pinot from Porter-Bass, fermented with 50% whole clusters, 12.5% alc. Medium-light garnet color, lots of upfront dried herbs and spice aromas, followed by plum and darker fruit and earth. Medium-light weight on the palate with a grippier tannic finish.
Ceritas 2012 Pinot Noir, Hellenthal Vineyard, Sonoma Coast (tank sample). From own-rooted Calera vines in a separate block planted in 1980 by David Hirsch, fermented with 50% whole clusters. Medium-light ruby color, this had a more savory profile, with herbs, hints of grilled meat, and earth, plus black cherry and raspberry fruit. Medium-bodied and more structured, with a stony mineral element that came out in the mouth and fine but chalky tannins on the long finish, very nice.
Ceritas 2012 Pinot Noir, Escarpa Vineyard, Sonoma Coast (tank sample). 75% whole-cluster fermentation. Medium-light ruby color, showing a more stemmy character on the nose, along with darker fruits and lots of spice. Richer mouthfeel, with saline and mineral notes on the palate, and big but refined tannins – obviously needs time but should be terrific.
Ceritas 2012 Cabernet Sauvignon, Peter Martin Ray Vineyard, Santa Cruz Mountains (barrel sample). Planted in the late 1960s with Rixford clone Cabernet, fermented with 40% whole clusters, aged in five-year old barrels. Dark purple, the dried herb/tobacco component was upfront with currant and darker fruit in support, along with spice and a hint of black pepper. Bold but lively on the palate with loads of structure and a big, chewy tannic finish. Another wine that will need plenty of time in the cellar but has lots of promise.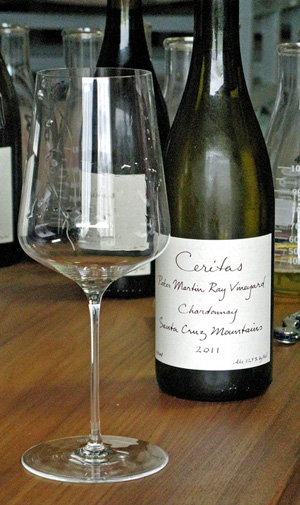 We sat on stools around a long table in the winery and started tasting through wines with John – he opened some current 2011 vintage releases as well as samples of 2012 wines, most of which had already been racked to tank and were to be bottled in August. As we went through the wines, John talked with us about both the vineyard sources and winemaking. All of the Ceritas vineyards are farmed organically at minimum – Porter-Bass has been biodynamic since 1999. John described Peter Martin Ray and Pinnacle (owned by Peter Martin Ray) as being almost hands-off farming. John takes only Old Wente clone for his Chardonnays and only "heritage clones" (Swan, Calera, Mount Eden, etc.) for his Pinots. The only exception to this is some 828 clone from Porter-Bass Vineyard – John told us that this is the real 828 clone as opposed to most of what is called 828 in California.
Porter-Bass and Escarpa are the two Sonoma Coast vineyards that have formed the foundations of Ceritas' Chardonnay and Pinot Noir programs, respectively. In 1980, Phoebe's parents bought the property between Forestville and Guerneville that was to become Porter-Bass Vineyard. There was an old neglected vineyard there, most of which was torn out and replanted in 1980. About 20 acres are planted with Chardonnay and Pinot Noir, and there are still some original century-old Zinfandel vines there as well. Littorai has sourced fruit from the vineyard for a number of years, using the Mays Canyon Vineyard designation for its wines from there. Planted in 1978, four-acre Escarpa Vineyard is located on an east-facing slope off of Joy Road, west of Occidental. A particularly cold site, Ceritas has been farming it since 2008. The vineyard is currently undergoing replanting.
Two other vineyards that deserve a brief mention are Charles Heintz and Peter Martin Ray. The Heintz family has owned their 100-acre ranch northeast of Occidental since 1912. With 50 acres planted, they sell fruit to over a dozen wineries, including Littorai, Flowers, Freeman, and Williams Selyem. Ceritas gets Chardonnay from vines planted by Charlie Heintz in 1980 – Ceritas and Littorai are the only wineries getting fruit from the organically-farmed section of the vineyard. In 2011, Ceritas changed the designation on their Chards from this vineyard from "Heintz" to "Charles Heintz." Peter Martin Ray is the adopted stepson of legendary California vintner Martin Ray. Peter only retains a small portion of the original vineyard site (Martin Ray's property was split up in the early 1970s and most of it is now Mount Eden Vineyards), about 1,800 feet above Silicon Valley. The original plantings there dated to 1943, but the vineyard was replanted in 1980.
John told us that he has always made the type of wine that he wants to drink. With their emphasis on distinct single-vineyard sites, the Ceritas wines are made to showcase terroir. John explained that he does not like to work with any set formulas, which means there are numerous adjustments to be made in each vineyard from one vintage to the next. He brought up an example of this, mentioning that 2012 produced a large crop, but with uneven ripening in many of his cool-climate sites. To deal with that, there were more fruit thinning passes than usual, resulting in a harvest that was not much bigger from his vineyards than in a "normal" year, unlike many wineries that took in much more fruit in 2012. John spends considerable time in the vineyards during the growing season, and does a lot of planning to try and avoid surprises during crush. He said that starting in 2009, all final grape sorting has been done in the field, which makes processing fruit in the winery go extremely fast. Since he has picks begin at night, this means that fruit is brought into the winery very early in the morning and everything is done in a few hours while the grapes are still cold. Other than the early start, that sounds like a pretty relaxed time for the crush crew compared with most wineries! John did mention that he ultimately would like to have his own winemaking facility, but he didn't make it sound as if that was likely to happen soon.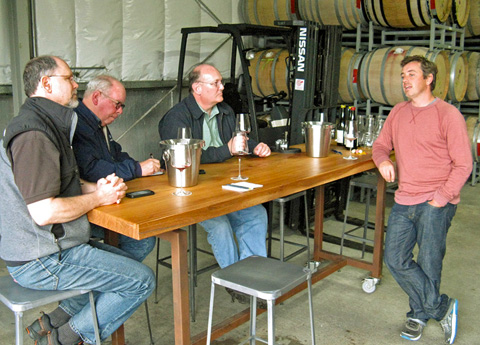 l to r: Alan Rath, Eric Anderson, Michael Poston, John Raytek
Most of the tough work is done at Ceritas before the grapes reach the winery, and the winemaking regimen for both Chardonnay and Pinot Noir is very simple. After pressing, John lets the Chardonnay juice settle for 3 to 7 days, leaving it open to the air to oxidize early – a technique sometimes used to help prevent later oxidation of the wine among other reasons. The juice is racked to barrel, and then some of the solids that have settled to the bottom of the tank are added as well, according to chemistry and vintage. Once it's in barrel, John basically leaves it alone – he never stirs the lees, and there are no additions other than SO2 and bentonite if needed for fining. John has not used any new oak for the Ceritas Chardonnays since 2008, and he said that all the barrels are now 5-8 years old.
For Pinots, John likes to use some whole clusters to keep fermentations cooler and longer, and to add spice and earth elements to the wines. Most Pinots use between 35%-75% whole clusters, and both pumpovers and punchdowns are done during fermentation. After pressing, the wine goes entirely into Remond and Ermitage barrels from the Tronçais forest, typically using about 25-30% new oak. The 2012 Pinots were racked to tank in May for bottling in August, and they all finished between 12-13% alcohol. With Cabernet now a part of the Ceritas wine program, John told us that he is considering getting concrete tanks for additional aging of the Cab.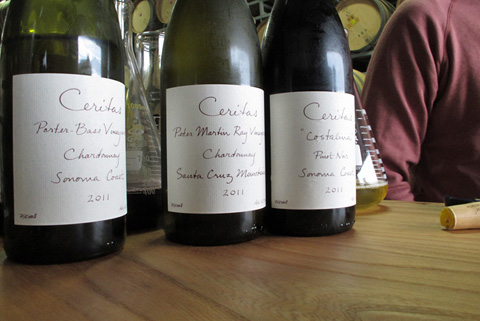 We talked a little about the difficult 2010 and 2011 growing seasons for cool-climate vineyard sites such as those from which Ceritas sources fruit. John noted that there was no single-vineyard Escarpa Vineyard Pinot in 2011, with all the Escarpa fruit going into the "Costalina" Pinot – the only Ceritas Pinot released from that vintage. Interestingly, John thinks that 2012 was actually a tougher year for growers, while 2011 was tougher for winemakers. I should mention another 2012 Ceritas tank sample that I tasted at the recent West of West event, a Pinot Noir from Elliott Vineyard that showed some fine red fruit, flower, and tea leaf aromatics. I had tried this alongside the 2012 Hellenthal Vineyard Pinot at the tasting and both were terrific – it was tough for me to pick a favorite between the two.
We finished up our tasting, and as we got ready to leave, I asked John what was behind the name of the winery. He started out by telling us that Ceritas rhymes with "veritas" – it's not Cer-ee-tas as he said some people pronounce it. He said that he and Phoebe were looking for a name that would say something about site expression for their wines. Wells Guthrie brought the name Ceritas to them. He told them that "ceritas" was the "c" that represented the speed of light (as in E=mc2) – the constant by which everything else is measured. John and Phoebe liked that idea, but they found that Wells had gotten the name wrong (it's actually "celeritas"). But it turned out to be a fortunate error, as they discovered that "ceritas" in Spanish can be translated to "the plant world's expression of the land" – exactly what they were looking for!
I thought our visit with John at Ceritas was one of the highlights of our West Sonoma Coast tour. Although it would have been nice to see one of his vineyards, sitting with him and tasting through quite a few current and upcoming wines really gave us a good idea of his winemaking style. I found the wines similar in many ways to those of Arnot-Roberts, although of course the Ceritas wines are distinct in their own ways as well. The Chardonnays all featured bright – even intense – acidity. Mineral elements – stony, saline, chalky – were present in many of the wines, and probably relate to the fine acidity. Whole-cluster and oak components were surprisingly well-integrated for such young Pinot Noirs. The Cab was certainly intriguing too, although it will take years to develop its potential. John's methods help to express the separate vineyard sources of his wines – it's become a cliché to say that one's wine is made in the vineyard, but it sure seems to be the case with the Ceritas wines.

Alan had a long drive home and decided to head back after our visit with John at Ceritas. Eric, Michael, and I discussed our dinner options again – they quickly decided against going to French Garden Bistro three nights in a row – and we settled on Peter Lowell's Restaurant in Sebastopol. A small, informal spot, we found that nearly all the tables were set up for just two people, so we opted for seats at the bar. It has a small but well-considered menu, featuring mostly salads and pizzas. Dinner was good, and I enjoyed a pizza from the daily special menu. We also spotted one of Eric Lundblad's Ladd Cellars Pinots on the by-the-glass wine list. This was another fun day, despite the rain, but we were certainly hoping for a break from the wet weather the following day.

Additional Photos from Tuesday
Baker Lane Vineyards