With the new rack installed, things were looking pretty good. However, since I now had a surplus of 4 cases of wine that wouldn't fit in the cellar, it was time to explore some options for utilizing the upper reaches of the cabinet.
Just stacking bottles on the top of the rack worried me. Aside from the weight factor, there would be the major inconvenience of having to dig through a bunch of bottles to locate a specific wine. Something rack-like on the top shelf would work best; I just wondered what to make them from.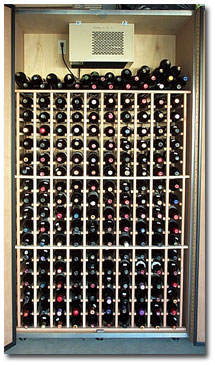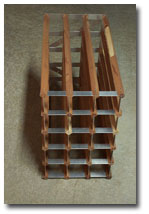 Vinotemp said they didn't want the old rack back, so I decided to hang onto to it in case the parts could be of value. (Okay, maybe I'm a packrat.) I figured if I could cut some sections out of the rack, I would fit them into the right and left corners up by the cooler unit. It turned out that a section 5-high by 3-wide fit into the area perfectly. This would give me slots for another 30 bottles on each side, for a total of 400 in the unit, plus whatever loose bottles I could still add to the middle.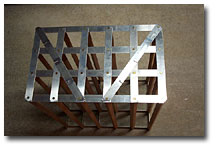 By nature, the original rack design was very flexible - obviously too flexible, as witnessed by the collapse of the rack in the first place. So, even though this was just a small section from that rack, I felt it might still have a tendency to bend or slump - especially since I couldn't expect to brace it on both sides. To counteract this, I reinforced the back of the section with aluminum strapping pirated from the old unit as well.
The resulting additional storage was much needed. Sure, I still had some of those nasty label-ripping bottle slots. But, having more room for wine was worth the trouble.
One thing obvious in the picture at far right, is the different spacing of the two racks. The old rack could fit nearly three bottles wide in the same space that now holds two bottles. Vinotemp certainly did maximize the capacity of the cabinet in the aluminum/wood design. On the other hand, many of today's bottles didn't fit into the slots, so I suppose it's a toss-up.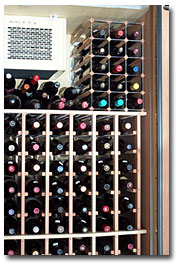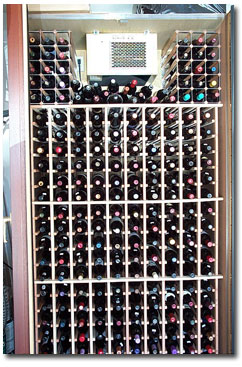 The completed top shelf modification. I use the center section (just below the cooler) to store mags or other oversize bottles. Having their collective mass up against the two smaller racks helps brace the racks even more.