September 25, 2006
---
BOOK REVIEW - The Grape Escapes - The Best of Paso Robles Wineries & Tasting Rooms
I received an advance look at some chapters of a new book by Bob and Cindy Rhodes, The Grape Escapes - The Best of Paso Robles Wineries & Tasting Rooms. First, a bit about the authors. Originally from Southern California, Bob and Cindy gave it up their lengthy commute about 18 months ago and moved to Sequim, WA. Having been fans of the Paso area for many years, the idea of a book on the area just seemed natural. They visited 90 wineries that are open to the public and sampled just under 500 wines. The book, published by Dog Ear Publishing, was due out at about the time of this review.
The book is attractive, well-organized, and judging from the table of contents - loaded with things like the "Best Winery for Roussanne," or "Best Tasting Rooms for a Group." It is also intended to ride along with you - both as a reference tool, and as a potentially valuable coupon.
With most guidebooks, I like to peruse the TOC first - to see if the book has something that intrigues me. Okay, now here's a section aimed at those of us who do that very thing: "Why Buy This Book?" I quickly flip to the proper page to find the answers... "The Grape Escapes is thoroughly researched! The Grape Escapes will save you time! The Grape Escapes will save you money!" Well, I have to assume they've done the research and that in itself will save me some time, but the what's all this about the saving me some money?
Considering the book is $15, and tasting fees are from $3-10, the authors have cleverly "partnered" with most of the wineries covered in the guide, by arranging for many of the recommended wineries to waive the tasting fees for up to six members of their party by presenting a copy of the guidebook at the tasting room. About 1/2 of the recommended wineries have also agreed to provide discounts on wine purchases.
Okay, so what about the rest of the book - descriptions of the wineries, and so on? Well, there is a brief description each recommended winery or tasting room, along with its location and contact information. In addition, there is a price notation (i.e. "$$"), the hours they're open, and whether your discount applies. There are also a few tips here and there, ala "don't miss this," or "don't do this."
Bottom line: for what I saw, I liked the book. There is also an appendix with notes on proper tasting room etiquette, pronounciation of varietals, and tips on how to taste wine like a pro.
Headed north to Santa Ynez Valley to attend the 1st annual Ballard Canyon Connection, a little over a half-day tour of what will probably become (or, actually HAS become) an amazing location for growing Rhone and Bordeaux varietals. Our tour was to cover 4 vineyards from north to south: Tierra Alta, Stolpman, Purisima Mountain, and finishing up with lunch at Larner Vineyard.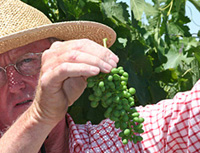 A bit about the location: Ballard Canyon is bisected by a 12.5 mile-long two-lane road that runs north-south, just to the east and roughly parallel toHwy 101. Connecting Buellton (at Hwy 246) and Los Olivos (at Hwy 154), this area is home to some of the finest vineyards on the Central Coast. Although wide at the south end, the canyon narrows substantially at its north end, and one has to climb over 1,000 ft. to arrive in Los Olivos. Part of the fascinating landscape here is that there are several of these small canyons running north-south - in contrast to the mountain ranges that form the transverse east-west Santa Ynez Valley.
We arrived about 9:00am for our 10:00am start from Los Olivos. Organizer Tim Grubb (Departure Wines) had reserved a pair of 15-passenger vans to drive us around, thus cutting down on lost cars, vineyard dust, etc. From Los Olivos, we headed south over the hill to Ballard Cyn, and our first stop at Tierra Alta, where we were met by vineyard manager John Belfy.
From here it was on to Stolpman Vineyards for a fascinating visit with vineyard manager Jeff Newton. Jeff had a backhoe dig a pit so we could see a cross-section of the vineyards soils. Very instructive!
Next, on to meet with Steve Beckmen at his beautiful Purisima Mountain Vineyard. Steve has been converting his vineyard to byodynamic farming methods, and we were interested in hearing why. Arguably the most well-known of the vineyards on this corridor, Purisima Mountain has come to mean big Syrah and Grenache.
Finally, we stopped at Larner Vineyard for a tour, as well as lunch and a tasting of wines made from the very vineyards we'd visited. A small vineyard, the Larner name has been showing up on more and more small producers labels - something Mike Larner is obviously prou of.
It was a terrific day, and I highly suggest that people keep an eye out for the next Ballard Canyon Connection.
The GrapeRadio crew hit the road for the 2nd annual Pinot Days, a two-day festival held in San Francisco. (Speaking of hitting the road, the Pinot Days organizers are taking their show on the road as well, with dates next year in New York and Seattle). This was to be a turn-around trip for us - leaving for SF early on Saturday and leaving SF late Sunday for home.
We left Orange County at O'dark thirty (actually 5:00) in the morning, and headed north. We wanted to get to the bay area by Noon-ish, and we did pretty good. First stop, a Chinese restaurant in Millbrae for lunch, and then on to our motel in SF to check in. From here, it was over to Ft. Mason to setup for the Saturday seminar/tastings.
We arrived at a perfect time in the early afternoon - Steve Rigisich was just uncorking the wines for the evening's seminars and we were right there to help - well, open, not drink. Amazingly, we found only two corked wines among forty-eight bottles.
The evening proceeded exactly as planned, and each tasting covered wines from different appellations, each being poured blind. The highlight of the evening was a tasting of wines from the Pisoni Vineyard, followed by Gary Pisoni's own take on the producers - he loves them all!
The next day: the grand tasting! Organizers Steve and Lisa Rigisich and Eric and Terri White had given us a primo location for our "broadcasts" - dead center in the auditorium, with plenty of space to set up our recording gear, and sufficient space for a small audience to watch. Perfecto! At ladt - somebody get us! Interviewed guests included Gary Pisoni, Steve Heimoff, David Dain Smith, Alder Yarrow, Sasha Vehage, Kevin Harvey, Byron Kosuge, and several others.
Terrific time, we thought, as we blazed our way back home, finally arriving at something after 11:00pm. Sign me up for the next Pinot Days - what a great event!