Central Coast - January 2013
Part 2 of 3 - Journal and tasting notes from visits to several California Central Coast wineries and vineyards.
I'd had a good time with my friends Jane and Warren touring Central Coast wineries on Friday and Saturday. We'd driven from the Bay Area to the Paso Robles / Templeton area and spent most of Friday there, then we continued our journey to Santa Barbara County on Saturday, meeting our friends Dorothy & Dana as well as John Tomasso there. We visited tasting rooms in Buellton, Los Olivos, and Ballard in the heart of Santa Ynez Valley on Saturday before checking into our timeshare unit in Solvang – our home base for the next couple of days in Santa Barbara wine country.

Staying at the timeshare facility made it easy for us to have a leisurely Sunday morning before we needed to make the half-hour drive to our 10:30am appointment in Lompoc. We all got into Jane's car and Warren was our driver for the day. The drive was an easy one, along Highway 246 through the northern part of the Sta. Rita Hills AVA. Passing by green hillsides and many notable vineyards along the way, we soon arrived in Lompoc, right on time for our appointment.

Sunday - January 13, 2013
Gavin Chanin of Chanin Wine Company had told me via email that he was in the process of moving his winemaking facility from Los Olivos to a new spot in Lompoc. He sent me the address, which looked like it was either on the edge of the Lompoc "Wine Ghetto" (more on that later) or right next to it so we pulled onto one of the streets leading into the Wine Ghetto to have a closer look around. We could see a lone dark-haired young man walking in the other direction…hmmm, that might be Gavin, I thought. He had asked that I call him when we got close to his place, and sure enough, the guy we saw pulled out his phone as soon as I called!
Gavin walked back to our car and introduced himself to Jane and Warren. I had met Gavin at the 2012 In Pursuit of Balance tasting in San Francisco and liked his wines quite a bit, so I'd wanted to visit with him and talk with him more about his wines. He was relieved that there were just three of us, as he'd brought four wineglasses but had broken the base of one of them along the way – he bravely risked injury by using that one himself, and I'm glad to report he came through it all without a scratch. Gavin led us across the street from the main Wine Ghetto complex to a couple of similar-looking industrial buildings, one of them with a large loading dock. He told us we could park there, though Warren discovered that the particularly steep rolled curb from the street was a bit tough to negotiate. Gavin said that the City had required that, trying to prevent anyone from driving a forklift out onto the street – though we do that all the time at the wineries I work with in San Francisco and Berkeley!
Tasting Notes: Current Releases

Chanin 2010 Chardonnay, Bien Nacido Vineyard, Santa Maria Valley. Light color, with lemon, earth, herbs, lees, and minerals on the nose. Medium-light weight on the palate, with a laser-like acidity and very clean and precise finish, very nice.

Chanin 2010 Chardonnay, Los Alamos Vineyard, Santa Barbara County. Light yellow color, more pear and stone fruit than citrus, with earth and mineral notes and a briny component. Richer mouthfeel than the Bien Nacido bottling, but with lively acidity and a crisp, refreshing finish, nice.

Chanin 2011 Pinot Noir, Los Alamos Vineyard, Santa Barbara County. Medium ruby color, displaying aromas of bright black cherry fruit, smoke, earth, spice, and a slight floral note. Medium-bodied with a vibrant mouthfeel and a bright acidity that lingered on the finish, nice.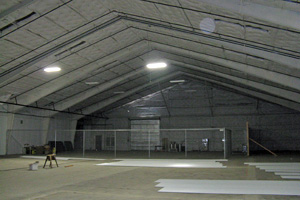 We walked up the steps to the loading dock and into the large metal building, which Gavin said had been a diatomaceous earth processing facility – diatomaceous earth is used in the filtration of many things, and there is a large mine just south of Lompoc. The buildings had been purchased by Zotovich Cellars, who will be moving into a space there too. The interior of the building was a large open area – still a lot of work to make it into a winery space. Gavin told us that we were the first group of people he'd had out to visit his new place. He said that he would be having a wall built to separate out his part of the overall space, and he took us into an adjacent space that will be the barrel room. It all seemed very large for his relatively small production – Chanin makes only Chardonnay and Pinot Noir from a few selected vineyards in Santa Barbara County. Gavin said that the large space will also house a new label that he is forming with Bill Price, tentatively called Price-Chanin Wines, though he mentioned that they may come up with a new name. The new label will also focus on Chardonnay and Pinot – expected to be about 90% Pinot – sourced from Sonoma. Bill owns well-known Durell Vineyard, and has just purchased Gap's Crown Vineyard as well (he also has an ownership interest in a number of wineries including Gary Farrell, Kistler, Kosta Browne, and Three Sticks). Each of the two labels will be making about 1,800 cases per year.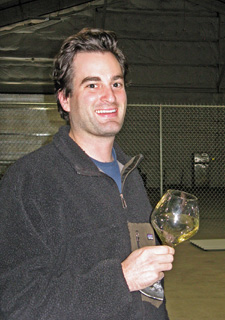 Gavin had told me before our visit that if we were lucky, we'd have a table in the empty new space for tasting – though he said that was not a guarantee! Well, there was no table, but Gavin did manage to get a sawhorse set up for his wine bottles, and that worked just fine. He told us about his background before we started tasting. He grew up in the Los Angeles area, and studied art at UCLA. But before he even started college, he worked a harvest for Jim Clendenen at Au Bon Climat (ABC) – Jim is a family friend. It didn't take long for Gavin to get hooked on winemaking, and he interrupted his art studies to continue working at ABC, as well as for Bob Lindquist at Qupé in the same facility. Not only that, but he also took off for harvest work in South Africa (at Hamilton Russell) and in New Zealand (he mentioned Felton Road is a favorite from there). Gavin started his own label in 2007, while he was still in college, with six barrels of Chardonnay and Pinot Noir. After he graduated with his art degree from UCLA in 2009, he went to work full-time at ABC and Qupé. He became the assistant winemaker at both wineries, though he left both of them in 2012 to focus on his own labels. Gavin told us that in particular, he wanted to be able to spend more time in his vineyards during the growing season than he'd been able to do before. He originally produced his wines at the ABC/Qupé facility at Bien Nacido Vineyard, and he made his 2012 wines at Curtis Winery near Los Olivos.
Gavin's experience with Jim Clendenen and Bob Lindquist left him not only with a preference for the lighter style of wines they make but also with access to some prestigious vineyards – Bien Nacido, Los Alamos, and Le Bon Climat (Jim's own vineyard). The past couple of vintages have been from only Bien Nacido and Los Alamos fruit, but Gavin told us that he has added Sanford & Benedict Vineyard in 2012. He's also recently released a 2011 Pinot from Los Alamos Vineyard, after producing just Chardonnay from there before. I asked Gavin whether he had any preference for the fruit he gets from Santa Maria Valley, Los Alamos, or Santa Rita Hills, and he said he doesn't – he enjoys working with all of it, as it all presents different character in his wines.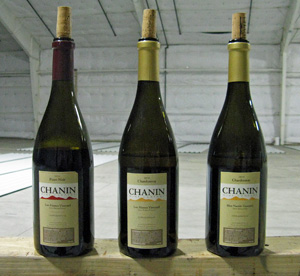 The Bien Nacido Chardonnay that Gavin gets is from an older part of the vineyard – he said the vines had been planted in 1973 and were originally Riesling, then grafted to Chardonnay in the early 1980s. They are on a particularly rocky section of the vineyard, a fairly cool-climate location on the Santa Maria Bench. Gavin gets 113 and 777 clone Pinot Noir from Bien Nacido's N and T Blocks, planted about ten years ago. Los Alamos Vineyard is in a somewhat warmer spot, more cut off from the coastal influence than Bien Nacido, though it's about seven miles west of Highway 101, in a cooler part of the Los Alamos Valley. Though not as well-known as Bien Nacido, Los Alamos Vineyard was first planted in the 1970s, one of the oldest vineyards in Santa Barbara County, and features sandy soil throughout much of the site. Gavin's Chardonnay from Los Alamos was planted in 1997 on the upper slopes of a west-facing hillside with calcareous rock below the topsoil.
Gavin had brought three of his current-release wines for us to taste. There have been a limited number of Chanin releases each year, typically just a couple of Chardonnays and Pinots. Every bottling features a different painting by Gavin on the label each year, keeping him connected with his art background. The first wine we tried was a Bien Nacido Vineyard Chardonnay, followed by a Chard from Los Alamos Vineyard. The winemaking for both is essentially the same. Fruit sorting is done in the vineyard, before the fruit arrives at the winery – this is true for the Pinot Noir as well. The Chardonnay is whole-cluster pressed to tank, but not allowed to settle before it is then racked into barrels. The wines go through full malolactic fermentation in mostly neutral oak, typically with no batonnage (lees-stirring). The Bien Nacido Chardonnay is aged for about 14 months on the lees with no racking, with a little less time in barrel for the Los Alamos Chard. Gavin told us that he feels not settling in tank before racking to barrel and aging the wine on the lees brings out a mineral component in the wines. The Chardonnays are all bottled without filtering.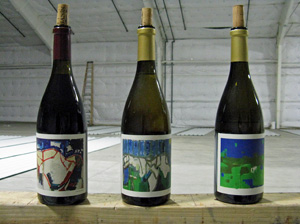 Gavin mentioned that Chardonnay has a reputation as a "winemaker's grape" but he feels the opposite is true, and that its more subtle character shows terroir very transparently. When I mentioned that I picked up a salty, briny note in the Los Alamos Chard, he said that he's found that component can come out more readily with lower-alcohol wines that are aged on the lees. We talked a bit about the trend among a number of winemakers in recent years toward lower-alcohol wines, and Gavin noted that he's never seen low alcohol as a goal for his wines, but it is instead a result of other decisions that he makes in the winemaking process. A more important goal for him is higher acidity in his wines, so picking the fruit relatively early to preserve the natural acidity results in lower alcohol as well.
The Los Alamos Pinot was entirely destemmed, although Gavin has used whole clusters in some of his other Pinot Noirs – he's gone up to about 60% in the past but said he doesn't have a hard limit for the percentage. He said that he likes the earth, pepper, and spice components that whole-cluster fermentation can bring out, but he doesn't want his wines to be mainly about the whole-cluster character (that stemmy element can dominate Pinots, particularly younger ones). Gavin mentioned that the current plans are for the Price-Chanin Pinot Noirs to be entirely destemmed. The Los Alamos Pinot was about 50% each 115 and 667 clones – Gavin noted that he feels he gets more fruit character from 115 and earth from 667. He has typically fermented with native yeast but did not do so in 2012 due to the new crush location at Curtis Winery, but he's planning to resume native yeast fermentations in his new space. Gavin has been using a Willmes press – he told us he likes the way the membrane presses inward, and he finds the results similar to using a basket press. The wine was aged for 11 months in barrel.
Gavin uses around 10-20% new French oak on his current wines – he had used about 30% on his earlier wines but has reduced the amount over the past couple of years. He feels the lower percentage of new oak allows the wines to display more purity and focus. His favorite cooper is François Frères, and he mentioned that he tends to use heavy toast barrels since he finds that the oak integrates better with the wine than lighter toast levels.

We talked briefly about Pinot Noir clones. Gavin said he prefers Dijon clones in Santa Barbara County due to the cooler climate, and "heritage" clones in Sonoma. In particular, he noted that he does not care for Swan clone Pinot from Santa Barbara but that he feels it does much better in Sonoma. In general Gavin looks for older vines for his fruit sources, seeking the added depth he feels they convey in the wines.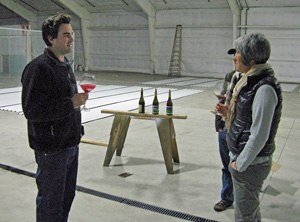 The most recent Chanin wine releases include a single Chardonnay and Pinot Noir from each Los Alamos and Bien Nacido vineyards. I had tasted the 2010 Bien Nacido Pinot at last year's In Pursuit of Balance tasting and thought it was still showing rather tight at that point but had lots of potential for developing well. Gavin has made Pinots from Jim Clendenen's Le Bon Climat Vineyard in the past but has not done that for that past few years. Most of the Chanin production is sold to restaurants, since Gavin believes his wines are best enjoyed as an accompaniment to food. He mentioned to us that he is considering doing ingredient labeling on his wines, similar what to Ridge and Bonny Doon have done in recent years, but he's still undecided on this.
I was just as impressed by the Chanin wines on this visit as I had been when I had first tasted Gavin's wines last year. All of the wines – and the Chardonnays in particular – display a vibrant acidity should help them age well. Although the wines seem like they can be a bit tight when young, I think they will really blossom after some time in the bottle. It was tough for me to pick a favorite among the three wines we tasted, as they were all very good. They show a light winemaking touch that helps highlight the distinctions between the two current Chanin vineyard sources, Los Alamos and Bien Nacido. I'll be looking forward to seeing what Gavin can do with Sonoma fruit with the upcoming Price-Chanin wines, and I'll continue to follow his Chanin Chardonnays and Pinots, some of the best new ones from Santa Barbara County in recent years.
We had decided beforehand to spend the rest of the day stopping at tasting rooms in the Lompoc "Wine Ghetto." When we'd visited Morgan Clendenen the previous day, she told us that she credits winemaker Kris Curran with coining the term "Wine Ghetto" for the cluster of wineries housed in a nondescript industrial park at the southeast corner of town. Nearly 20 wineries now call the Lompoc Wine Ghetto home (with production facilities, tasting rooms, or both), and most of them are open to the public for tasting on weekends. We cruised into the industrial park without any specific plans, and one of the first signs we spotted was that of Longoria Wines, so we parked near the door and stepped inside.
Tasting Notes: Current Releases

Longoria 2010 Pinot Noir, Rancho Santa Rosa, Sta. Rita Hills. Medium color, featuring ripe black cherry, spice, and a touch of sweet oak. Medium-rich mouthfeel with fairly mild tannins.

Longoria 2009 Pinot Noir, Fe Ciega Vineyard Sta. Rita Hills. Slightly darker ruby color, this was less fruit-forward than the previous wine, with earthy and savory plum and darker fruit, along with touches of pepper and minerals. Bigger on the palate with very good structure, it finished with moderately grippy tannins. The Fe Ciega bottlings typically need time to develop and this one is no exception, but it shows plenty of promise.

Longoria NV "Hoo Doo Red," Santa Barbara County. Syrah, Syrah and Grenache Rosé, Tempranillo. Medium-dark color, with ripe darker berry fruit, herbs, and smoke on the nose. Moderately rich in the mouth, with a smooth finish, a pleasant basic red blend with some complexity.

Longoria 2009, Syrah, Alisos Vineyard, Santa Barbara County. Dark color, displaying peppery and a bit gamey plum and black cherry fruit along with touches of earth and sweet oak. Big and rich, with a grippy tannic finish.

Longoria 2010 "Evidence," Santa Barbara County. 39% Cabernet Sauvignon, 36% Cabernet Franc, 20% Merlot, 5% Malbec. Medium-dark color, this showed a leaner profile of plum and blueberry, dried herbs, and minerals on the nose. Fairly dense mouthfeel, with chewy tannins on the finish. This needs cellar time but has the potential to be quite nice.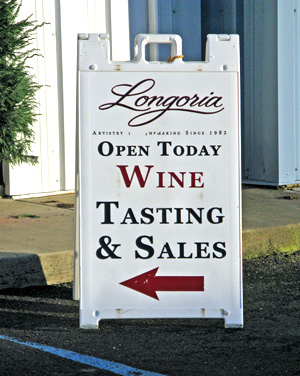 Richard "Rick" Longoria is considered one of the pioneers of Santa Barbara wine. After earning a degree in sociology from UC Berkeley, he became seriously interested in wine while traveling in South America. Deciding to look for work at a California winery, his first job was at Sonoma's Buena Vista, where he met their famed winemaker André Tchelistcheff. In 1976, Rick landed a position at Firestone Vineyards and he moved to Santa Barbara County, where he'd lived for awhile when he was a teen. Rick met his future wife Diana while at Firestone. After a short detour working at Chappellet in Napa Valley, Rick was hired in 1979 as winemaker for J. Carey Cellars in Santa Ynez Valley. Longoria Wines was founded in 1982, specifically to produce top-quality Chardonnay and Pinot Noir. Rick kept his "day job" – in 1985 he became winemaker at Gainey Vineyard – until 1997, when both he and Diana decided to focus all their energy into the Longoria label. They opened a tasting room in Los Olivos in 1998, and later that year he became the first winery to move into what's now known as the Lompoc Wine Ghetto. The winery will actually be moving out of the Wine Ghetto to a new Lompoc facility in 2013.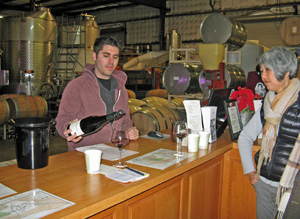 1998 also marked the establishment of Longoria's estate Fe Ciega Vineyard near the cool western end of the Sta. Rita Hills AVA. Fe Ciega (Spanish for "blind faith") is situated atop a mesa high above the Santa Ynez River, and was originally planted with about 7¾ acres of Pinot Noir. In 2008, another 1¼ acres of Pinot and ¾ acre of Chardonnay were added. Longoria also produces single-vineyard Pinots from such noted vineyards as Bien Nacido and Rancho Santa Rosa.
Almost as well-known as Rick's Pinot Noirs is his "Blues Cuvée," a Cabernet Franc-based blend that was introduced in 1993. The label artwork for this wine changes each year, with a different artist working with the "blues" motif. In addition to the wines we tasted and additional Pinot and Syrah bottlings, Longoria produces a variety of other wines, including Pinot Grigio, Chardonnay, Rosé, and a Syrah-based Port-style wine called "Vino Dulce." And I want to specially point out Longoria's very good Albariño and Tempranillo – perhaps because some of their other wines are so highly-regarded, I think Longoria is an under-rated producer of these Spanish varieties. Total production is around 3,000 cases per year.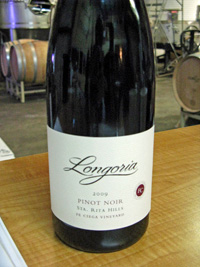 We sampled five current releases with Robert, who was behind the tasting bar – and whom we learned is Rick's nephew. The first wine was a Pinot from Bill Foley's Rancho Santa Rosa Vineyard. Rick has been buying fruit from there since 2005. The 2010 vintage we tasted was from entirely destemmed fruit, aged in about 35% new oak. We followed that with the estate Fe Ciega Pinot Noir, from 115, 667, Pommard, and Mt. Eden clones, all destemmed and aged in 30% new oak. Robert told us that Rick will be releasing a separate Mt. Eden clonal bottling from Fe Ciega as well. The "Hoo Doo Red" is a value wine, combining 2009 and 2010 vintages of Syrah, Tempranillo, Cabernet Franc, plus some Grenache / Syrah Rosé, and bottled under screwcap. Entirely destemmed and aged for 26 months in 25% new oak, the Alisos Vineyard Syrah is 100% varietal. We finished with the "Evidence" Bordeaux-style red blend, aged for 21 months in about 30% new French oak.
It seems that every time I visit Longoria, I wonder why I don't stop in there more often than I do. The wines are always solid and some can be outstanding, as I believe the 2009 Fe Ciega Pinot Noir will be when given some time in the cellar. Rick Longoria's Fe Ciega Pinot continues to be one of the benchmark wines from the Sta. Rita Hills. The "Evidence" blend was another favorite, and one of an increasing number of very good Bordeaux-style wines coming from Santa Barbara County in recent years. In the search for the "next big thing," it's all too easy to overlook more established wineries such as Longoria – they've been consistently producing fine wines for years and I expect they'll keep doing that for years to come.
We were getting hungry by the time we finished up our tasting at Longoria, so we drove a little ways along Lompoc's Ocean Avenue until we came to the Jalama Beach Café, under the old "Hi! Let's Eat" sign. I've had some nice breakfasts there, and although we enjoyed our burgers and sandwiches, they were not all that noteworthy. There are probably better lunch options in town but the one we'd first considered was not open on Sundays. In a pinch, this is still a reasonable choice in Lompoc, a town that's not known for great dining.

We had spotted the Ampelos Cellars sign earlier, so when we returned to the Wine Ghetto after lunch we headed straight there. I've been to the Ampelos winery, located on the north side of Lompoc, as well as to their estate Sta. Rita Hills vineyard, but this was my first visit to their Wine Ghetto tasting room. Ampelos (Greek for "vine") proprietors Peter and Rebecca Work live in the midst of their biodynamically-farmed hillside vineyard. Each of the Ampelos bottlings is designated by a Greek letter – the connection being that Peter and Rebecca were married in Greece and they also own Ampelos Resort, a small bed-and-breakfast on the Greek island of Folegandros.
Tasting Notes: Current Releases

Ampelos 2009 Pinot Noir, "Lambda," Ampelos Vineyard, Sta. Rita Hills. Medium ruby color, with ripe black cherry, spice, and vanilla/oak on the nose. Medium-bodied with a lively mouthfeel and finish.

Ampelos 2007 Pinot Noir, "Rho," Ampelos Vineyard, Sta. Rita Hills. Slightly darker color, this displayed a darker fruit profile as well as a bigger oak component, along with plenty of baking spice and some herbal notes. Bigger on the palate than the "Lambda" with more tannins on the finish.

Ampelos 2009 "Syrache - Sigma," Santa Barbara County. 73% Syrah, 27% Grenache, sourced from Ampelos and Alisos vineyards. Medium-dark purple color, with earthy and somewhat funky aromas that blew off with some air and revealed ripe red fruits and herbs. Medium-full bodied, with good acidity and moderate tannins.

Ampelos 2008 Syrah, "Gamma," Ampelos Vineyard, Sta. Rita Hills. Dark color, featuring blackberry, spice, minerals, and a savory note, with well-integrated oak. Big but lively on the palate, the grippy tannins suggest that some further cellar aging may be beneficial but it's very tasty now.

Ampelos 2008 Grenache, "Delta," Ampelos Vineyard, Sta. Rita Hills. 100% Grenache. Medium color, strawberry and raspberry fruit with pretty floral notes, spice, a touch of black pepper, and undertones of sweet oak. Big and structured, this finished with chalky tannins and will need further bottle age to show its best.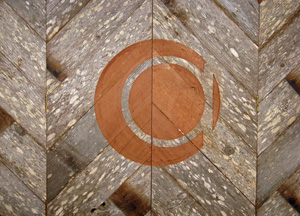 Peter and Rebecca had owned a human resources business before deciding to change course and follow their dream of establishing a vineyard. They purchased their 82-acre property in 1999 and began planting it in 2001. Additional planting and grafting has taken place in the years since, and the 25-acre vineyard now includes Viognier, Pinot Noir (much of it interplanted with 2-4% Pinot Gris), Grenache, and Syrah. Pommard, 2A, 115, 667, 777, and 828 clones of Pinot are planted, along with Alban clone Grenache, and Estrella, 99, 383, and 470 clones of Syrah. In recent years, the vineyard has been certified as both organic and biodynamic, and is also part of the Central Coast's Sustainability in Practice (SIP) program. Solar power provides all the energy needed to run the vineyard, and in 2011, the Works introduced 40 chickens into the vineyard to help with both insect control and fertilizing. Ampelos Vineyard is a cool and windy site, particularly marginal for growing Grenache, which often does not ripen there until mid- to late November.
Ampelos typically produces Viognier, Syrah Rosé, Pinot Noir, Grenache, Syrah, and a Grenache-Syrah blend called "Syrache." They have added Chardonnay and Grüner Veltliner bottlings in the past few years as well. As the estate vineyard has matured, more of the winery's fruit has come from there, and the estate bottlings now form the core of their production. Peter and Rebecca's son Don Schroeder originally consulted with the winemaking, but since his promotion to winemaker for Sea Smoke a few years ago, his time has been more limited, so their friend and noted local winemaker Bruno D'Alfonso has taken over the consulting duties. Total production is around 3,500 cases per year.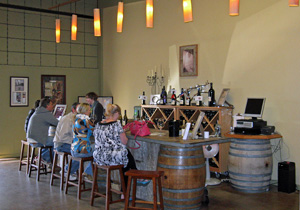 We were welcomed into the tasting room by Emily, and since the bar was busy, she had us sit down at a very comfy leather sofa to try five of the winery's current releases. I was a little disappointed that they didn't have any whites or their Rosé available, as these have been favorites of mine for a number of years. I was told that the new 2012 vintage of these wines would be bottled very soon. The first wine we tried was the 2009 estate "Lambda" Pinot, aged for 29 months in 33% new oak. This wine was paired with some tasty BellaVitano cheese. Next was the 2007 "Rho" Pinot, the reserve bottling from the estate vineyard. This spent 24 months in 56% new oak. Emily explained that the "Rho" Pinot is a barrel selection, blended and racked into more new barrels than the "Lambda" – she also noted that the "Rho" Pinots have been getting longer barrel-aging the past few years, with the latest ones spending 32 months in barrel. The "Syrache" blend is called "Sigma," signifying the sum of two grape varieties (Syrah and Grenache) and two vineyards (Ampelos estate and Alisos). The 2008 Grenache is from the third harvest of that variety from the estate vineyard. I noticed the new composite corks – or "technical corks" as they're known in the wine industry – and Emily said that the winery switched to these recently in order to reduce potential TCA issues (TCA is the chemical that causes "corked" wines).
I enjoyed my first visit to the Ampelos tasting room in the Lompoc Wine Ghetto. It's a good-sized space so it didn't feel as cramped as some of the smaller tasting rooms, and it's relaxing and comfortable. Although we didn't get to taste them on this visit, I've been a fan of the Ampelos Viognier and Syrah Rosé for some time – in particular the latter wine is often one of California's best Syrah-based Rosés. And while I tend to find that their Pinots to show a bit more new oak than I'd prefer, I do like their Rhône reds. The "Gamma" Syrah and "Delta" Grenache, both sourced from the Ampelos estate vineyard, were the standouts of this tasting for me. Peter and Rebecca continue to do a good job with both their vineyard and their wine.

Piedrasassi New Vineland Winery
I've always had some difficulty finding my way around the Lompoc Wine Ghetto – all the blue-gray industrial buildings look basically the same, and there are spots where you can't get there from here. But after a wrong turn or two, we made it over toward the western end of the complex and parked across from two tasting rooms I'd wanted to visit, Arcadian and Piedrasassi. We decided to stop in at Piedrasassi first, and we soon realized we'd come in through the back door to the facility (though there was a sign there). Emily was in the small tasting room at the far side of the building, and she welcomed us in and directed us to the right spot. I'd been part of an Eric Anderson-led Grape-Nutz group that visited with Piedrasassi winemaker Sashi Moorman in late 2010. I'd really liked the Syrahs – Piedrasassi's specialty – particularly a barrel sample from the Rim Rock Vineyard, located in the cool-climate Nipomo area.
Tasting Notes: Current Releases

Piedrasassi 2010 White Wine, Central Coast. Light straw color, with minerally stone fruit aromas along with a slightly nutty note. Rich on the palate with a round mouthfeel and lively finish, interesting and distinctive.

Piedrasassi 2010 Syrah, "P.S.," Central Coast. Medium-dark color, showing lots of upfront dark fruit plus touches of smoked meat and herbs. Medium-bodied with moderate tannins and a lingering finish, nice value wine.

Piedrasassi 2009 Syrah, Central Coast. Medium-dark color, this was less fruit-forward, displaying some characteristic whole-cluster stemmy aromas along with blackberry, black pepper, and spice. More structured in the mouth, with minerally notes on the tannic finish. A young but intriguing Syrah that should reward some time in the cellar.

Piedrasassi 2007 Sangiovese Dessert Wine, Santa Ynez Valley. Medium color, with ripe fresh plum and berry fruit, an oxidative note, and spice. Bright mouthfeel and not overly sweet, finishing with fairly grippy tannins.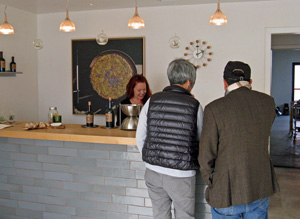 Piedrasassi and New Vineland are small-production labels owned by Sashi, his wife Melissa Sorongon, and partners Peter and Amy Pastan. Sashi is also the winemaker for Stolpman Vineyard and he makes wine for the Evening Land and Sandhi labels as well. Sashi's background is in cooking, and he's worked as both a line cook and sous-chef. His love of wine eventually brought him to Ojai in 1996, where he worked for five years with Adam Tolmach at The Ojai Vineyard. Following that, he moved on to become winemaker at Stolpman and established Piedrasassi in 2003. The tasting room opened in 2010, the same year that the New Vineland label was launched, featuring small-production bottlings sold only at the winery.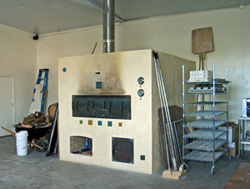 An addition to New Vineland in early 2012 was a large wood-fired bread oven – which we couldn't help but notice as we walked through the facility to the tasting room – for artisan breads made by local baker Kate Heller and available on a limited basis at the tasting room and at various farmers' markets in the area. They're also making Syrah jam, and we were able to sample both the bread and jam in the tasting room – both very tasty. Interestingly, New Vineland was not able to sell its bread at farmers' markets in Santa Barbara County unless they grew their own wheat – so they planted some! Since last spring, they've been growing about 20 acres in Ballard Canyon and the Santa Rita Hills, with different types of wheat at each site.
Emily got us started on tasting some of the Piedrasassi wines, with the first one being a white that was fermented on its skins in puncheons and left on its skins for a number of months. The fruit for this was sourced from Stolpman Vineyard in Ballard Canyon and the wine was quite interesting, with a slightly oxidative character. Next up was the "P.S." – a value-priced Syrah sourced from Harrison Clarke Vineyard in Ballard Canyon and Spanish Springs Vineyard in Edna Valley (Evening Land makes a Pinot from this vineyard). The fruit for the Central Coast Syrah came from Harrison Clarke, White Hawk, and Rim Rock vineyards, all excellent sources. Emily told us that most of the fruit that went into this wine was destemmed but the Rim Rock component was fermented with whole clusters. Unfortunately we weren't able to taste the single-vineyard Rim Rock Syrah on this occasion as it was already sold out.
Our final wine was a passito-styled Sangiovese dessert wine. Traditionally made in Italy from grapes that have been dried on straw mats, the Piedrasassi fruit was dried on trays for three months and then the concentrated juice of the raisins was pressed. Aged for five years in barrel and then blended with a little dry Syrah wine, the resulting dessert wine ended up at 9% alcohol and moderate sweetness.
Piedrasassi also produces several other Syrah bottlings, and they've made an Albariño, Viognier, Sauvignon Blanc, Rosé, and Sangiovese as well. Their sister label New Vineland currently features a Santa Barbara County Chardonnay and Syrah – the Syrah is made from declassified Piedrasassi wine. New Vineland has also released Viognier, Sauvignon Blanc, Rosé, and Pinot Noir in the past. I should mention the Piedrasassi bottles – they're very distinctive, with a short, squat shape, which Emily assured us still works fine with standard wine bottle racks.
Piedrasassi's production is quite small – there was a printed list of wines at the tasting bar but many of them were crossed out since the wines were already sold out. But even with only four wines to taste, they displayed a lot of character. I liked both the White Wine and the Central Coast Syrah, and although the "P.S." Syrah was a notch below the Central Coast bottling, it's a great bargain at less than $20. The upcoming 2010 vintage of the Rim Rock Vineyard Syrah should be released this spring, and it will be worth keeping an eye out for that wine. Overall, the Piedrasassi wines are very distinctive, even a bit quirky (in a good way), and I'll certainly stop in at their tasting room again when visiting the Lompoc Wine Ghetto.

Arcadian Winery / Bratcher Winery
We walked over to the opposite end of the building from Piedrasassi and into the tasting room for Arcadian and Bratcher wineries. It had been a few years since I'd tasted through a selection of Arcadian wines, and this was my first visit to their tasting room in the Wine Ghetto. Lisa was behind the tasting bar when we walked in, and I asked her about Bratcher, since it was a label with which I was unfamiliar. Hang on, she said, and you can ask Chris Bratcher himself. Chris was just finishing up a conversation with someone else in the room, but he soon came over and introduced himself. I had never met him before, but it turned out that he knows Bryan Harrington (I work part-time at Harrington Wines in San Francisco) as well as Tom Leaf, formerly of Grapeleaf Cellars in Berkeley, where I started learning about winemaking (Tom's also worked at CrushPad, where he met Chris, and at VIE and Sol Rouge).
Tasting Notes: Current Releases

Bratcher 2009 Chardonnay, "Mary Ellis," Sierra Madre Vineyard, Santa Maria Valley.Light color, with bright citrus and apple fruit along with touches of earth and minerals. Medium-bodied with a lively mouthfeel and finish, nice.

Arcadian 2007 Chardonnay, Sleepy Hollow Vineyard, Santa Lucia Highlands.Medium yellow-gold color, less fruit-forward with earthy, nutty, notes along with citrus and herbs. Fuller-bodied but with brisk acidity, this should continue to age well for years.

Bratcher 2008 Pinot Noir, Santa Maria Valley.Medium-light color, very aromatic red fruits, earth, and hints of smoked meat. Medium-light weight on the palate, this had a touch of bitterness on the finish.

Arcadian 2008 Pinot Noir, Fiddlestix Vineyard, Sta. Rita Hills.Medium-light color, with earth, herbs, and spice upfront and plum and blueberry in the background. Medium-bodied with bright acidity and moderate tannins.

Bratcher 2009 Pinot Noir, La Encantada Vineyard, Sta. Rita Hills.Medium-light color, featuring intense dark berry fruit, flowers, earth, and a minerally note. Medium-bodied with good structure and moderately grippy tannins. Beautiful aromatics now and should age well.

Arcadian 2006 Pinot Noir, Dierberg Vineyard, Santa Maria Valley.Medium ruby color, this displayed riper red fruits, earth, herbs, and undertones of sweet oak. Richer on the palate but retaining a lively acidity on the finish, with medium tannins – a more "California-style" Pinot than most from Arcadian.

Arcadian 2007 Pinot Noir, Pisoni Vineyard, Santa Lucia Highlands.Medium color, showing red fruits, spice, fresh herbs, and a touch of black pepper on the nose. Big and structured, with great acidity and tannins that need time to mellow out. A very different take on SLH Pinot than most producers.

Bratcher 2008 Syrah, Santa Barbara County.Medium-dark purple, with peppery and slightly gamey dark fruits along with a hint of oak. Medium-full bodied, this had chalky tannins on the finish.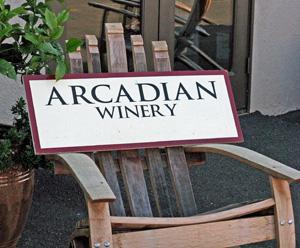 Before I return to Chris' story, I should provide some background information on Joe Davis and Arcadian Winery. I'll repeat the oft-told story of Joe's "epiphany wine." In the early 1980s when Joe was working at a wine shop while attending college, a customer brought him a gift – a bottle of Domaine Dujac 1978 Clos de la Roche. From that day on, he knew he wanted to become a winemaker and produce wine such as that one. Joe transferred to UC Davis to study viticulture and enology, and went on to work with Dan Lee at Morgan Winery in Monterey County in the mid-1980s. After a number of years at Morgan and then at Bernardus in Carmel Valley, Joe founded Arcadian in 1996. The winery's focus is on single vineyard Chardonnay, Pinot Noir, and Syrah from the Central Coast's cooler-climate sites. Total annual production can vary widely by vintage, from around 6,000 to 10,000 cases, and the wines are distributed in over 20 states and six countries.
Joe never lost sight of making great Pinot Noir in the style of that Domaine Dujac wine that changed the course of his life. He routinely picks the fruit for his wine earlier than most others at the vineyards he works with, aiming for lower sugars and higher natural acidity in the grapes. He and his crew typically spend more time sorting fruit from the vineyard than most vintners do, before allowing it to cold soak for about two days prior to fermentation. Joe has long been a proponent of using whole-cluster fermentation for Pinot Noir – in the 1980s there were very few others in California who took that approach. His wines vary by vintage and vineyard as to how much whole-cluster fruit is included, but it's usually a substantial portion and often 100%. Fermentation takes place in large open-top bins, and undergoes pigeage foot treading, which helps to gently break up the individual berries. The wine is pressed when it reaches 1-2 brix, and goes into 40-100% new French oak. Joe ages his wines for longer than most vintners, so his current vintages are usually at least one or two behind those of other wineries. Chris told us that Joe has been barrel-aging Pinots even longer than he used to, with typical time in barrel increasing over the years from 24 months to 36 and now to 45 months, plus another 6-8 months in bottle prior to release.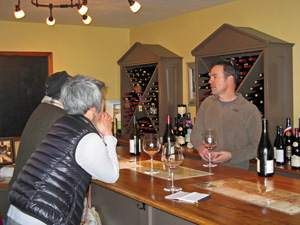 Arcadian Chardonnays are whole-cluster pressed, settled in tank for about three days and then racked to barrels. The 2007 vintage that we tasted went into about 20% new Sirugue French oak barrels, with batonnage every two weeks until the malolactic fermentation was completed. The wine was aged on its lees for 27 months.
And just where does Chris fit in with this story? He's the owner of Riverside Wine & Spirits in Chattanooga, and has sold a lot of Arcadian wines there – he'd met Bryan Harrington at his shop during one of Bryan's sales trips to the area. In fact, he sold so much Arcadian that he had members of his staff come to California to help out at the winery and learn more about Joe and his winemaking techniques. Chris was learning a lot from Joe, and finally Joe prompted Chris to make his own wine.

The first Bratcher wines were from 2008, and like Arcadian, Chris is producing Chardonnay, Pinot Noir, and Syrah. He's up to about 600 cases per year now, and commutes back and forth regularly between Chattanooga and Santa Barbara County. Not surprisingly, his production methods are similar to those that Joe uses at Arcadian, but not identical. Chris tends to use about 20-30% whole-cluster fermentation for his Pinots, with a 5- to 10-day cold soak, inoculation with Assmannhausen and RC212 yeasts, pressing a bit sweet, no racking, and not much new oak. Chris continues to work with Joe at Arcadian too, at the production facility off of Santa Rosa Road near Lompoc that he shares with several other vintners, including Kris Curran and Bruno D'Alfonso.
Two of the Bratcher wines are named for Chris' two teenaged daughters – Mary Ellis and Jane Madison. He told me that he hopes they will one day join him in the wine business! Chris said that each year he selects his favorite Chardonnay and favorite Pinot Noir to name for his daughters – they are always single vineyard-designate wines although the vineyard sources may change from year to year. Chris told me that the annual production of his wines will remain small, less than 1,000 cases. He wants the winery to be a hands-on operation that he can manage along with his wine shop and travel schedule, and he prefers to sell most of the wines through the tasting room and winery mailing list.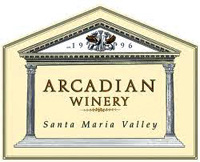 Chris poured us a selection of both Arcadian and Bratcher wines, starting with a Chardonnay from each label. Sourced from the Robert Young clone at Sierra Madre Vineyard, the Bratcher 2009 "Mary Ellis" Chard spent 11 months in barrel. Arcadian typically produces just one or two Chardonnay bottlings per year, and Chris told us that starting with the (not-yet-released) 2009 vintage, the main fruit source is Clos Pepe Vineyard. The Bratcher 2008 Santa Maria Valley Pinot came from Bien Nacido Vineyard's G Block, on the western side of the large vineyard. Chris told us that he is currently working with six Sta. Rita Hills vineyards plus one in Santa Maria Valley. Chris noted that Joe picks his Pisoni Pinot fruit earlier than anyone in most years, resulting in quite a different character than most Pisoni Vineyard Pinots. Arcadian typically produces between five and seven single-vineyard Pinots each year, from sites in Santa Lucia Highlands, Santa Maria Valley, and Sta. Rita Hills. We finished with a Bratcher Syrah, sourced from Watch Hill Vineyard near Los Alamos.
I'd been looking forward to tasting the Arcadian wines, and it was an added bonus to meet Chris Bratcher and be introduced to his wines. All of the wines I tasted from both labels were good, and I particularly enjoyed the Chardonnays from both producers, as well as the Bratcher La Encantada Pinot and the Arcadian Pisoni Pinot. Of the two labels, I thought the Arcadian wines were the more distinctive of the two, definitely not in the mainstream style of California wines. The Bratcher wines struck me as being somewhere between the Arcadian style and what you'd be likely to find from some other Santa Barbara County wineries sourcing from cooler-climate vineyards. The whole-cluster component in the red wines helps to set both of these labels apart, as it's handled exceptionally well, never dominating any of the wines we tasted on our visit. Joe Davis is continuing to make some fine wines, and it should be rewarding to follow Chris and his Bratcher label in the coming years.

Jane had some wine to pick up from Loring Wine Company, so we made that our last stop of the afternoon in the Lompoc Wine Ghetto. Brian Loring was working in a wine shop while he attended college in Southern California, and it was while he was there that he developed a taste for Burgundy. He also got into California Pinots, with wines from Calera, Chalone, Williams Selyem, and Sanford being among his favorites. Tasting a 1990 Cottonwood Canyon Pinot from Santa Maria Valley really gave Brian the wine bug, and he worked at the winery during the 1997 crush to learn the winemaking process. Just two years later, he was making the first Loring Pinot Noir at their facility. Brian and his sister Kimberly now run the winery, located across town from the tasting room. Completed a few years ago, it's a basic but very functional facility that works much better for them than their previous cramped quarters nearby.
Tasting Notes: Current Releases

Loring 2011 Chardonnay, Durell Vineyard, Sonoma Coast.Medium-light yellow color, with intense aromas of crème brûlée, stone fruits, and butter. Creamy texture in the mouth, with a long smooth finish, a big "California-style" Chardonnay that works well.

Loring 2011 Chardonnay, Rosella's Vineyard, Santa Lucia Highlands.Medium-light color, this was earthier than the previous wine, showing more pear fruit along with butter and vanilla notes. Bigger and richer, with plenty of oak apparent on the palate and finish.

Loring 2011 Pinot Noir, Russian River Valley.Medium color, showing ripe cherry, toasty oak, vanilla, and cola notes on the nose. Medium-bodied and fairly lush, with milder tannins.

Loring 2011 Pinot Noir, Garys' Vineyard, Santa Lucia Highlands. Medium color, ripe black cherry, lots of spice, and a dash of sweet oak. A bit bigger on the palate than the Russian River Valley bottling, with more structure and moderate tannins.

Loring 2011 Pinot Noir, Rosella's Vineyard, Santa Lucia Highlands. Medium ruby color, this featured brighter red fruits along with vanilla/oak, earth, and baking spice. Lively mouthfeel and finish with moderate tannins, my favorite of the three Pinots.

Loring 2011 Grenache, Russell Family Vineyard, Paso Robles. Medium-light color, ripe cherry and raspberry fruit, spice, and a dill note (American oak?) on the nose. Big and structured, with a grippy tannic finish. Didn't seem like a good match between the fruit and oak on this one.

Loring 2011 Mourvèdre, Russell Family Vineyard, Paso Robles. Medium-dark color, displaying aromas of ripe plum, earth, chocolate, and sweet oak. Another big, tannic wine, this had an oaky aftertaste.

Loring 2009 "Divergence," Paso Robles. 67% Cabernet Sauvignon (200% new American oak), 33% Mourvèdre (100% new French oak), sourced from Russell Family Vineyard. Dark color, with intense dark berry fruit, lots of vanilla/oak, chocolate, and spice. Rich and mouthcoating texture, with a chewy tannic finish.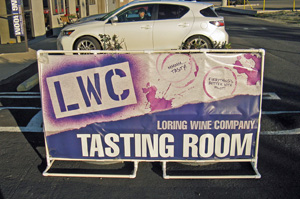 I first met Brian in early 2001, when he had his second vintage of Pinot Noirs in barrel at the Cottonwood Canyon wine caves. He was one of the early proponents of the bigger, riper style of Pinot that gained great popularity over the past decade. With popularity, his production has grown greatly, and he now produces single-vineyard Pinots with fruit sourced from Santa Barbara County to Sonoma (he used to make a Shea Vineyard Pinot from Willamette Valley in Oregon but no longer does). He's added appellation-designated Pinots, a few Chardonnays, and a handful of other bottlings over the years, including Syrah, sparkling wine, and a couple of other wines we were able to taste on this visit. Pinot Noir remains the mainstay of the Loring label though, and this is not likely to change.
Ashley welcomed us to the tasting room, and she poured us two Chardonnays, three Pinots, and three of Brian's newer "break the mold" wines. All of the Loring wines are bottled under screwcap, as they have been since 2004. We started out with Chardonnays from Durell and Rosella's vineyards. These spend 8 to 10 months in barrel, aged in ⅓ each new, 1-year old, and 2-year old French and American oak. We moved on to one of Brian's appellation Pinots, from Russian River Valley. Ashley told us that this is mainly Keefer Ranch fruit. The Garys' and Rosella's vineyard Pinots both showed typical Santa Lucia Highlands character, but displayed a distinctiveness between the two vineyards. As I've related before, all of the Loring Pinots are entirely destemmed. Brian has said that he hated eating vegetables when he was a child – and he still doesn't like them – so he's not interested in having anything green in his wines!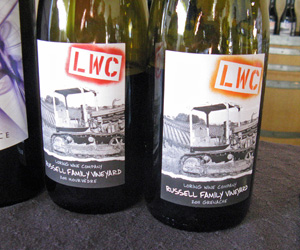 We finished our tasting with a few new and different wines in the Loring line-up. There was a Grenache and a Mourvèdre, both from Russell Family Vineyard on the Westside of Paso Robles. I wasn't particularly fond of either, though I liked the Mourvèdre a bit better of the two.
Lastly was a wine that Brian introduced in 2008 called "Divergence," a Cabernet / Mourvèdre blend inspired by the wines from Bodegas El Nido of Jumilla in southeastern Spain. The "Divergence" gets extra fruit sorting, and after fermentation it's aged in "200%" new oak – 11 months in entirely new barrels, then racked into more entirely new barrels where the wine is aged for another 11 months. We saw a similar-looking bottle at the tasting room but we didn't have a chance to try it – the new 2010 "Convergence," which is 75% Grenache and 25% Mourvèdre from Russell Family Vineyard.
As mentioned, the core of the Loring production is still Pinot Noir, and in addition to wines we tasted, current releases include appellation wines from Santa Lucia Highlands and Sta. Rita Hills plus single-vineyard bottlings from Keefer Ranch and Durell vineyards in Sonoma County. An upcoming release will feature Central Coast Pinots from Russell, Aubaine, Clos Pepe, and Cargasacchi vineyards.
It's always fun to see what new trick Brian Loring has up his sleeve. This time it was Grenache and Mourvèdre from Paso Robles, as well as another vintage of the "Divergence" blend. Although I wasn't a fan of the Grenache or Mourvèdre, the "Divergence" was pretty interesting – not my usual style of wine but it was easy to see its appeal. The Loring Chardonnays are big, bold, and buttery – not a style that works all the time for me, but I liked the Durell Vineyard bottling quite a bit. But Pinot Noir continues to be the core of the Loring production, and I thought the three 2011 wines we tasted on this visit – particularly the excellent Rosella's Vineyard bottling – were some of Brian's best in recent years. They remain on the bigger end of the Pinot spectrum, but these showed a freshness and elegance that some big Pinots can lack. This was a nice group of wines from Loring.

After driving back to Solvang to rest up for awhile, we finished the day with dinner at my favorite restaurant in Santa Barbara wine country, the Restaurant at the Ballard Inn. We met John Tomasso there, and we also ran into Barry Rossum again as he was closing up the tasting room at the Ballard Inn for the day. As usual, the food from Chef Budi Kazali was outstanding – I had the pan-seared duck breast with sweet potato purée and balsamic reduction. The service and atmosphere in the small establishment are great too. This is really the top-of-the-line for dining in Santa Ynez Valley and I highly recommend it.