Central Coast - January 2013
Part 3 of 3 - Journal and tasting notes from visits to several California Central Coast wineries and vineyards.
My friends and I had enjoyed our weekend in Santa Barbara wine country. Arriving from the Paso Robles area after our Friday visit there, we'd spent Saturday in Santa Ynez Valley, mainly visiting tasting rooms in Los Olivos, and we followed that up by exploring the many tasting rooms in the Lompoc Wine Ghetto on Sunday.
After a relaxing Monday morning at our Solvang timeshare, Jane and Warren started packing, since they were going to be driving back to the Bay Area after dinner that evening. We'd taken Jane's car on our wine tour the previous day, so I was the driver for this day's journey. Our first destination was Martian Ranch, about 15 miles away near the town of Los Alamos. Driving north along Highway 101, we passed a few of the distinctive mission bells that mark the route of the original El Camino Real, the Royal Road or King's Road that connected the Franciscan missions of Spanish Alta California. The bells, mounted on 11-foot tall metal posts, were originally installed in 1906 to commemorate the historic route – after their numbers dwindled over the years, a major replacement program was completed in 2005.


Monday - January 14, 2013
We turned off of Highway 101 onto bucolic Alisos Canyon Road, where we missed the winery driveway twice and nearly did it a third time, as the address sign is rather unobtrusive. But we finally spotted the telltale outline of a space alien holding a wine bottle and glass below the address, and headed up the driveway to the winery building. Shortly after we arrived, winemaker Mike Roth came out to greet us. I'd first met Mike when he was the winemaker at Demetria Estate five or six years ago. I had heard about Martian Ranch from Chris Brockway of Broc Cellars in Berkeley (I work part-time for Eno Wines in the same facility), when he'd brought in some fruit from their vineyard in 2011 and then got some Grenache Blanc and Mourvèdre from them last year. When I heard that Mike was making the wines at Martian Ranch, I made sure to try some of them at the 2012 Rhone Rangers event in San Francisco, and thought that this would be a good opportunity to learn more about the new directions they're heading in these days.
Tasting Notes: Tank & Barrel Samples & Current Releases

Martian Ranch 2012 Viognier, Santa Barbara County (cask sample). Light straw color, with bright lemon and nectarine aromas with herb and floral undertones. Vibrant mouthfeel with a crisp finish, nice.

Martian Ranch 2012 Albariño, Santa Barbara County (cask sample). Light straw color, this had more shy aromatics, showing apple and lees notes. More body and texture in the mouth than the Viognier, with a clean finish.

Martian Ranch 2012 Grenache Blanc, Santa Barbara County (cask sample). Light color, displaying herbs, lemon, and a touch of spice on the nose. Zippy acidity and a bright finish.

Martian Ranch 2012 Chenin Blanc, Jurassic Vineyard, Santa Ynez Valley (cask sample). Light color and slightly cloudy, with spicy pear and stone fruit aromas. This had noticeably richer texture and finish than the other three whites, nice.

Martian Ranch 2012 Mourvèdre, Santa Barbara County (tank sample). Medium color, with a bit of funk on the nose along with black cherry and plum fruit and herbal undertones. Medium-bodied with moderate tannins. The whole-cluster element is remarkably well-integrated already, this should be a very interesting wine.

Martian Ranch 2012 Syrah, Santa Barbara County (tank sample). From 6 and Alban clones. Dark color, with intense and pure blackberry fruit with herbal overtones. Lively mouthfeel and finish with medium-big tannins.

Martian Ranch 2012 Syrah, Santa Barbara County (tank sample). From 99 clone, 100% whole-cluster fermented. Dark color, very bright aromatics of dark berry fruit and fresh herbs, plus notes of meat and spices. Bigger and more structured on the palate than the previous wine, with a grippy tannic finish. This has great potential.

Martian Ranch 2012 Co-ferment, Santa Barbara County (barrel sample). Co-fermented Grenache, Mourvèdre, Syrah, and Grenache Blanc, about 25% each, all whole-cluster fermented. Lighter purple color, this featured pretty floral aromatics along with plum and raspberry fruit, herbs, and a leesy note. Medium-bodied with moderate tannins, showing very well at this stage.

Martian Ranch 2012 Cabernet Franc, Cocoliquot Vineyard, Santa Ynez Valley (barrel sample). Medium color, this displayed the strongly herbal character of Cab Franc along with plummy fruit and a touch of baking spice. Bright mouthfeel and finish with moderate tannins, this should develop nicely.

Mike's 2012 Cabernet Franc, Cocoliquot Vineyard, Santa Ynez Valley (barrel sample). Made by carbonic maceration. Medium color, very different from the previous wine with the almost candy-like carbonic fruit character out front. Quite lively in the mouth, with bright acidity and medium tannins.

Martian Ranch 2011 Syrah, Santa Barbara County (barrel sample). From 99 clone, 100% whole-cluster fermented. Very dark color, with both some funky and floral aromas upfront along with dark berry fruit, earth, herbs, and a touch of oak. Fairly full-bodied and rich but lively on the palate, finishing with big, chewy tannins. This has lots of potential once the tannins soften a bit.

Martian Ranch 2011 Syrah, Santa Barbara County (tank sample). From 6, 99, and Alban clones. Dark color, and more fruit-forward than the previous wine, with earth, spice, and vanilla/oak in support. Richer mouthfeel with big but more refined tannins.

Martian Ranch 2011 Grenache Noir, "Ground Control," Santa Barbara County. Medium color, with some initial funky/earthy aromas giving way to bright berry fruit and herbs. Medium weight on the palate with a stemmy component on the finish and moderate tannins.

Martian Ranch 2011 Grenache Noir, "Local Group," Santa Barbara County. 84% Grenache, 9% Mourvèdre, 4% Syrah, 2% Grenache Blanc. Medium-dark color, displaying floral notes plus red fruits, spice, black pepper, and touches of herbs and sweet oak. Medium-bodied, with big but refined tannins on the finish, nice.

Martian Ranch 2011 Syrah, "Red Shift," Santa Barbara County. 95.4% Syrah, 4.6% Viognier. Dark color, with slightly floral aromas along with herbs, blackberry fruit, baking spice, and undertones of oak. Fairly rich mouthfeel with a lively finish and moderately grippy tannins.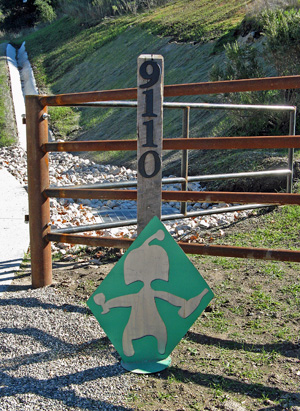 Martian Ranch is owned by Nan Helgeland, wife of noted screenwriter, producer, and director Brian Helgeland. And no, Martian Ranch is not named for any little green men hiding amongst the vines – Nan named it as a combination of her sons' names – Martin and Ian. The first wines were a few whites, Rosé, and Syrah from 2008 and 2009. The 2011 vintage marked the first year that Martian Ranch harvested fruit from their new biodynamically-farmed estate vineyard as well as the first year that Mike made the wines there. This combination has resulted in harvesting fruit at lower sugar levels than what they had used in their previous vintages, producing wines with lower alcohol and higher acidity.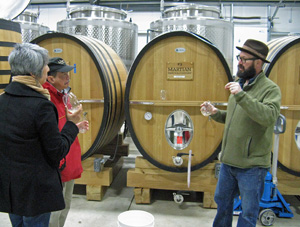 Originally from New Jersey, Mike was drawn to cooking and had considered becoming a chef until working at a wine shop turned his interest more toward wine. He moved to Napa Valley and worked in the cellars of several noted producers including Grgich Hills and Saddleback, where Mike worked with Nils Venge. He went on to earn a degree in enology from California State University in Fresno and then returned to Napa Valley, working again with Grgich Hills, as well as Corison, Peju, Rutz, and others. After moving to Santa Barbara County, he became the winemaker at Koehler Winery, then moved to Demetria Estate in 2005 before coming to Martian Ranch.
Mike took us first to look at ongoing work on the Martian Ranch tasting room adjacent to the new winery. The tasting bar features both recycled wood and local eucalyptus wood. There will be a commercial kitchen as well and the winery will host a few events each year. Hopefully there will be better signage out by the road once the tasting room opens!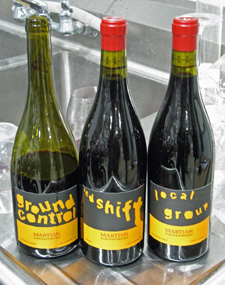 Martian Ranch Vineyard has been farmed biodynamically since its second year, and plans are for it to be certified by the Demeter organization this year. Larry Finkle of Coastal Vineyard Care manages the vineyard, and the biodynamic consultant is Philippe Armenier, formerly the proprietor of Domaine Marcoux in Châteauneuf-du-Pape. He now consults for numerous vineyards in California and elsewhere. Mike told us that 20 acres are currently planted, with Viognier, Grenache Blanc, Albariño, Syrah, Grenache, Mourvèdre, Tempranillo, and Gamay Noir – the last variety just grafted in 2012. Another eight acres will be going in, with Chenin Blanc, Cabernet Franc, and maybe additional varieties as well.
Nearly all of the current wines are made from estate fruit, the only exceptions being Chenin Blanc and Cabernet Franc. All the wines are fermented with native yeast, there are no additions of water, acid, or nutrients, and no sulfur additions until just prior to bottling. Mike said that he tries to keep the wines in a reductive state to help avoid the need for sulfur additions. Mike started off our tasting with several 2012 white wines from large wood ovals where they are fermented and aged, beginning with Viognier, then moving to Albariño and Grenache Blanc. He noted the brix of the grapes when they were picked for these three varieties, ranging from 20 to 22, lower than you'll find for most California wines. These three whites will all be bottled soon. Mike told us that he likes the current Grenache Blanc, but feels the profile of the wine may be more similar to a Sauvignon Blanc than the riper offerings that most people expect of California Grenache Blanc. Next up was Chenin Blanc, with fruit sourced from Jurassic Vineyard, older vines originally planted by Firestone not far from their winery. Mike said he's looking to make this wine in a slightly oxidative style, and will bottle it in the summer. Several other producers source Chenin Blanc from this vineyard, including Margerum and Field Recordings, but eventually Martian Ranch will have fruit from its own vineyard.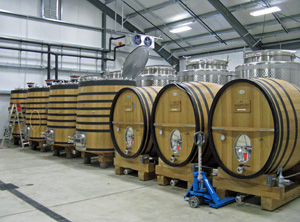 We continued with 2012 Mourvèdre and two 2012 Syrahs from large wood tanks. The Mourvèdre was picked at just over 20 brix and whole-cluster fermented – Mike noted that they hung more crop in the vineyard to help keep the sugar level down. He feels this wine is Pinot-like and he made it as he would have made a Pinot Noir. The first Syrah we tasted was a blend of two clones – 6 and Alban – and will probably go into the "Red Shift" blend. The second Syrah was entirely from 99 clone and fermented entirely with whole clusters – this one will be bottled separately.

We moved from the tank room to the barrel room, located in an adjacent building, to sample some 2012 wines from barrel. As I'm seeing in many wineries these days, Martian Ranch is using a fair number of puncheons in addition to barriques for aging their wines. We first tried an interesting co-fermented Grenache / Mourvèdre / Syrah / Grenache Blanc blend – Mike doesn't know yet whether this might be bottled on its own (as with the 2011 "Local Group" bottling) or go into the Grenache bottling. Red wines typically get just one punchdown or pumpover per day, trying not to get too much extraction or tannin, especially with whole-cluster fermentations. Mike uses varying amounts of whole clusters in the fermentations, varying from none to 100%.
Mike is one of a few California winemakers working with carbonic maceration fermentations on some wines. We tasted a Grenache made in this way – Mike said this should end up with about 11.5-12% alcohol. He told us that he is able to pump CO2 into the closed carbonic fermentation tank from another tank of fermenting wine. The resulting wine made by carbonic maceration is light and fruity (à la Beaujolais Nouveau), and the lower alcohol works well with it. Mike mentioned that most of the Martian Ranch wines he's made could be considered to be in the "natural wine" camp, and although carbonic maceration is by definition interventionist winemaking, he's not trying to fit within a rigid set of rules. He told us that in some ways he is as interested in the winemaking process as much as in the final product. Mike noted how Nan has been great to work with – he feels he has a lot of freedom to do what he wants at Martian Ranch. He said that she is not as ego-driven as some winery owners and is striving to produce good value wines rather than trophy wines.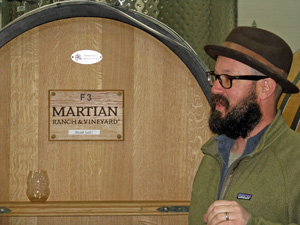 We continued with Cabernet Franc sourced from Cocoliquot Vineyard. Located in the Solvang area, this vineyard has been farmed organically since 2005. The fruit was entirely destemmed, and Mike added some lees from a previous fermentation to get the Cab Franc started, producing a very fast five-day fermentation. We then tried a side-project Cabernet Franc that Mike made for himself, fermented by carbonic maceration. Following this was a Tempranillo, picked at about 22 brix and fermented with an extended maceration in a closed tank – Mike said he does not do extended maceration on most fermentations. We finished up the barrel-tasting with three 2011 Syrahs, which were crushed and fermented in Santa Maria and blended in August 2012. The clone 99 Syrah was 100% whole-cluster fermented, and has been in barrel for 14 months with no SO2. Another barrel with a blend of 99, 6, and Alban clones was entirely destemmed and was mainly fermented in puncheons. These two 2011 wines will be bottled in late February.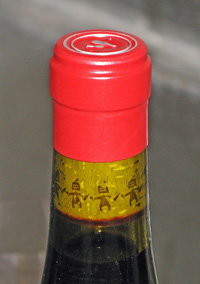 Mike asked if we had time to taste a few 2011 bottled wines before we needed to leave – sure, always time for a few more! We walked back to the tank room and Mike brought in three bottles for us to try. The "Ground Control" Grenache was partially made by carbonic maceration. Following fermentation, it was aged entirely in barrels that were at least nine years old. "Local Group" is co-fermented Grenache, Mourvèdre, Syrah, and Grenache Blanc, while the "Red Shift" is mostly Syrah plus a small amount of Viognier that was blended into the wine after fermentation. The "Red Shift" spent 10 months in one of the large wood ovals. This wine seemed more "conventional" in some ways than most of the Martian Ranch wines, which tend to be on the edgy side for California – less upfront fruit and higher acidity than most. Other 2011 wines that we didn't taste included "Uforic" Albariño, "Mother Ship" Grenache Blanc, "Down to Earth" Grenache Rosé, and "Parallax" Mourvèdre. I had tasted both the "Mother Ship" and "Down to Earth" at the Rhone Rangers tasting last year and particularly liked the latter wine. Total annual production is currently around 3,000 cases.
We had a fun time visiting with Mike at Martian Ranch, and it wasn't until later that I realized how many wines we'd sampled with him there – he was really moving! And befitting the Martian name, these wines were the most "out there" of any that we tried during our five-day wine tour. They're generally lean and wiry, less fruit-forward and with lots of refreshing acidity. Given the number of wines we tasted, it was no surprise that I had a fair number of favorites, including tank samples of 2012 Viognier, Chenin Blanc, Mourvèdre, and 99 clone Syrah, barrel samples of 2012 Co-ferment and 2011 99 clone Syrah, and the bottled 2011 "Local Group." As you might guess from my having that many favorites, I liked most of these wines quite a bit, but I think the style will be polarizing – Jane told me that she didn't care for them nearly as much. Not everyone is going to like wines from every producer, and these wines in particular will be ones that people may want to try before they buy, though the prices are reasonable enough that it won't cost a lot to take a chance on them either. As the Martian Ranch vineyard matures and Mike has more vintages to work with the fruit, it will be fascinating to see how the winemaking and the wines evolve in upcoming vintages, and I'll certainly be keeping an eye on this new producer.

After leaving Martian Ranch, we continued north along Highway 101 to the small town of Orcutt, just south of Santa Maria. Since we were due to meet Dave Corey of Core Wines at their tasting room in town in the early afternoon, we decided to have lunch at the recently re-opened Far Western Tavern just a block away. The Far Western Tavern was a landmark for many years in the town of Guadalupe, not far from the coast to the west of Santa Maria. Along with Jocko's in Nipomo and the Hitching Post (there's both the Buellton location plus the original one in tiny Casmalia), the Far Western Tavern has long been considered one of the finest and most authentic purveyors of Santa Maria-style barbecue, one of California's best-known regional culinary traditions. Still owned by the founding Minetti family, the restaurant originally opened in 1958 and moved to its new Orcutt location in 2012. It's a beautiful place, and our lunches were very good – I'm sure I'll be back again.
Core Wine Company / Kuyam / C³ / Turchi
After lunch, we headed over to the Core tasting room, which like the Far Western Tavern, is in the "Old Town" part of Orcutt. The tasting room was not open for visitors that day, but Dave Corey had told us he could meet us there to taste a few wines, so we called him from the road to let him know when we would be there. He was a little late in arriving, so Warren and I hung out and enjoyed the warm sun while Jane took a nap in the car. Both Jane and I have known Dave for nearly ten years, so we wanted to make a quick stop to see him while we were in the area. Dave and his wife Becky were both wine industry veterans when they established the Core label in 2001. They now produce wines under four labels – Core, Kuyam, C³, and Turchi – all involving different family members. Core focuses on Rhône varieties, Kuyam features Bordeaux-style blends, C³ produces Tempranillo-based wines, and Turchi makes mostly single-varietal wines from Bordeaux grapes. The total production averages around 7-8,000 cases per year.
Tasting Notes: Current Releases

Core 2010 Viognier, Santa Ynez Valley. Sourced from Camp 4 Vineyard. Light color, displaying ripe tropical fruit, spice, and a touch of oak on the nose. Medium rich texture, with a long, smooth finish.

Core 2008 Grenache, "Reserve," Santa Barbara Highlands Vineyard, Santa Barbara County. 100% Grenache. Medium-light garnet color, with bright red fruits, lots of spice, earth, and a touch of sweet oak. Medium weight in the mouth with the structure for aging, and a moderately tannic finish, nice.

Core 2008 "Elevation Sensation," Alta Mesa Vineyard, Santa Barbara County. 82% Grenache, 18% Mourvèdre. Medium color, this featured ripe black cherry and strawberry, earth, dried herbs, and touches of minerals and oak. Medium-bodied, this was lively on the palate with some chalky tannins on the finish. Intriguing now, this should improve with bottle age.

Core 2008 Mourvèdre, Alta Mesa Vineyard, Santa Barbara County. Medium-dark purple, showing higher-toned ripe dark fruit, earth, and vanilla/oak. Richer texture with moderate tannins.

Kuyam 2008 "Thirteen Moons," Santa Barbara County. About 30% each Cabernet Sauvignon, Cabernet Franc, and Merlot with about 5% each Petit Verdot and Malbec. Sourced from Santa Barbara Highlands Vineyard. Medium color, ripe plum, blueberry, and tobacco aromas with a framework of sweet oak. Medium-full bodied, with a fairly grippy finish.

Kuyam 2007 "Cuvée Nolan," Santa Barbara Highlands Vineyard, Santa Barbara County. 71% Cabernet Sauvignon, 20% Cabernet Franc, 5% Petite Verdot, 4% Merlot, aged about 50 months in barrel and six more in bottle. Medium-dark color, this displayed more dried herb/tobacco character than the "Thirteen Moons," with a darker fruit profile as well as spice and earth notes. Big and structured, with chewy tannins and a minerally element on the finish. This still needs time but has potential to develop nicely.

Turchi 2008 Cabernet Sauvignon, "Block D," Santa Barbara Highlands Vineyard, Santa Barbara County. 100% clone 337 Cabernet. Slightly darker color, with ripe currant and blueberry fruit, baking spice, dried herbs, and vanilla/oak on the nose. Moderately rich texture on the palate with big but refined tannins on the finish.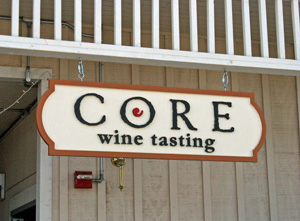 After we'd been waiting for awhile, Dave called me to say that he would be there shortly, and sure enough he arrived soon afterwards. The tasting room is a small space with a very attractive wood bar and a nice display on one wall that shows the Corey family history in the area – his family has been there since the 1870s. Vineyard sources for the various wines include high-elevation sites Alta Mesa and Santa Barbara Highlands in far eastern Santa Barbara County, Camp 4 and Rodney's vineyards in Santa Ynez Valley, Laetitia Vineyard in Arroyo Grande, and French Camp in the Paso Robles area. Dave farmed Alta Mesa Vineyard himself through the 2008 vintage. I had visited there some years ago – it's an unusual vineyard site for California, high desert in many respects. Dave has been doing extended barrel-aging on a number of his wines, going to four years and more on some of them. And many wines are aged in larger-format cooperage – 350-liter, 500-liter, 600-liter barrels and larger wood tanks.
We sat at the tasting bar and did a speed tasting through seven of Dave's wines, trying to finish up in time for us to make it to our next winery appointment on schedule. The 2008 Core "Reserve" Grenache is 100% Grenache with 15% whole-cluster fermentation, aged for 35 months in 800-liter cooperage. The 2008 Core "Elevation Sensation" spent 46 months in barrel, and the 2008 Core Mourvèdre is 100% Mourvèdre – a different wine than the Core "Mister Moreved" bottling. Although the 2007 Kuyam "Cuvée Nolan" is mostly Cabernet Sauvignon, Dave told us that the 2008 vintage will be about 45% each Cabernet Sauvignon and Cabernet Franc. He also mentioned that the Turchi Cabernet Sauvignon we tasted was sourced from Block D of Santa Barbara Highlands Vineyard, entirely from the 337 clone.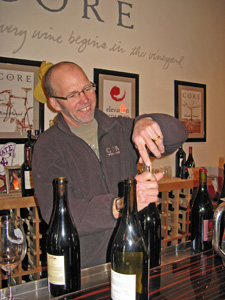 Dave said that the number of different bottlings among the four labels will likely be reduced in future vintages – Turchi will be only Cabernet Sauvignon and Malbec, and the C³ and Kuyam labels will have just three wines each. This seems like a good move that will simplify the offerings from each label.
Though I'd visited with Dave a year earlier, it was good to sample some his wines with him again, even though we had to rush through this tasting due to our time constraints. The "Reserve" Grenache and "Elevation Sensation" were my favorites of the Core wines, and the Kuyam "Cuvée Nolan" was very nice as well. I continue to notice a minerally component on many of Dave's wines sourced from Santa Barbara Highlands and Alta Mesa vineyards, despite some of them being on the riper side. I think the terroir of that unusual winegrape-growing region does come through in the wines. Thus far, I'd say the extended barrel-aging that Dave has been using on a number of his wines often works to their advantage, allowing them greater depth and complexity on release. Though I'm not sure it works in all cases, it's an interesting direction, and one I've seen other producers experimenting with in recent years as well. I sense that Dave's winemaking and his various labels are going through some changes, and it should be interesting to see how everything develops over the next few years.

We left Orcutt and traveled down Highway 1, past Vandenberg Air Force Base toward Lompoc. We avoided going through the main part of town and instead skirted along its eastern edge, soon arriving at the same buildings we'd been to the day before when we visited with Gavin Chanin. This time I didn't attempt to drive the car up the tricky curb leading to the loading dock and just parked out by the street. We'd seen a small sign the day before that marked the entrance to the Tyler Winery space, so we knew where we were going and headed inside. I had met Tyler's Justin Willett (Tyler is his middle name) at the In Pursuit of Balance tasting in San Francisco in 2012 – his winery focuses on Santa Barbara County Chardonnay and Pinot Noir.
Tasting Notes: Current Releases

Tyler 2010 Chardonnay, Santa Barbara County. Sourced from Clos Pepe, Zotovich, Dierberg, and Bien Nacido Vineyards. Light color, with bright citrus aromas, earth, and a light touch of vanilla/oak. Mildly creamy texture with a lively mouthfeel and clean, crisp finish.

Tyler 2010 Chardonnay, Bien Nacido Vineyard, Santa Maria Valley. Light yellow color, displaying more intense citrus and pear fruit, plus lemon zest, spice, and a creamy note. Richer mouthfeel but retaining good acidity and with a tasty finish.

Tyler 2010 Chardonnay, Clos Pepe Vineyard, Sta. Rita Hills. Light yellow color, this showed apple and stone fruit, minerals, and spice on the nose. Moderately rich and creamy mouthfeel with a bright and minerally note, and clean fresh finish, nice.

Tyler 2010 Pinot Noir, Santa Barbara County. Medium ruby color, explosive aromatics of black cherry, flowers, spice, and a touch of smoke. Medium-light bodied, with very good acidity and a clean, bright finish.

Tyler 2010 Pinot Noir, La Encantada Vineyard, Sta. Rita Hills. Slightly darker color, with intense aromas of slightly tart black cherry, flowers, earth, and herbs. Medium-bodied, with a minerally note on the palate, a silky mouthfeel, and a long finish, very nice.

Tyler 2010 Pinot Noir, Bien Nacido Vineyard – N Block, Santa Maria Valley. Medium color, this featured more of a red fruit profile plus tea leaf and earth. This had a more round mouthfeel but also good structure, with moderate tannins on the finish. Very distinctly Santa Maria Valley Pinot character.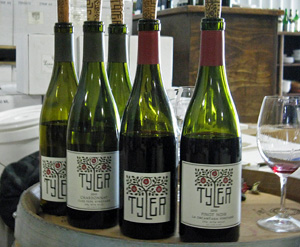 The Tyler Winery space was not unlike the space we'd seen next door the previous day, with the major difference being that this one was already full of barrels, tanks, and various pieces of winery equipment. We walked back through the winery where Justin welcomed us. His large space also seemed outsized for his own winery's production, and Justin explained that he makes the wine for several other labels that are also housed there. He's a partner in one of these labels – Lieu Dit – along with Eric Railsback, wine director at RN74 in San Francisco. Lieu Dit focuses on wine from grape varieties associated with the Loire Valley – Sauvignon Blanc, Chenin Blanc, and Cabernet Franc. Meanwhile, the Tyler production itself is growing – from around 1,800 cases for the 2010 vintage, it will go up to about 2,200 for 2011, and more for 2012. Tyler releases about 12 different bottlings per vintage, roughly half each Chardonnay and Pinot Noir.
Justin is a Santa Barbara County native, and he told us he knew famed Santa Barbara vintner Richard Sanford before becoming interested in wine when he was in college. He studied art history and architecture at UC Santa Barbara. Wines he was able to try while working in the restaurant business after college led him to pursue wine as a career, and he landed a job with Joe Davis at Arcadian Winery. While working there in 2005 – when Justin was only 24 – he launched the Tyler label with less than 200 cases of Sleepy Hollow Vineyard Chardonnay and Dierberg Vineyard Pinot. He's been working with six cool-climate Santa Barbara County vineyards for the Tyler wines – Bien Nacido and Dierberg in Santa Maria Valley, Clos Pepe, La Encantada, and Zotovich in the Sta. Rita Hills appellation, and Presidio, just west of Sta. Rita Hills – and he's adding some new vineyards to his line-up as well.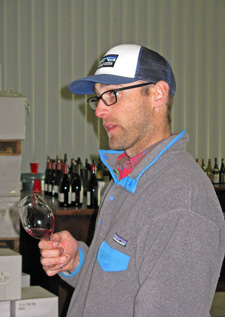 Justin spoke with us about how much of his work is spent in the vineyards during the growing season and how crucial he feels that is for making the wines he wants. He will only work with growers who allow him a hands-on role in the vineyard. Justin spends a lot of time in the vineyards doing what he called "hand work" – managing vines with very detailed and tedious work with the aim of getting fruit to ripen at lower brix, preserving the freshness and acidity in the grapes, while also giving Justin the flavors that he wants. He does a lot of canopy management, including cluster positioning and careful leafing, and he has substituted a modified vertical shoot-positioning (VSP) trellising system for the more standard one – his goal there being to create a more open canopy by not letting it become as "trapped" within the tighter wires of the usual VSP trellising. I mentioned that I'd spoken with growers who use devices to fasten shoots into place (Peter Work does this at Ampelos), and Justin told us that he will do this as well, using clips or ties to keep shoots vertical and properly spaced for even ripening, especially in windy sites. It's another laborious part of vineyard work, but it all results in Justin being able to pick fruit earlier at the ripeness he wants, and he feels that pays off in his resulting wines.
Shortly after we arrived at the winery, we were joined by two other visitors – we all talked with Justin and tasted a selection of his current releases. Justin opened three Tyler Chardonnays and three Pinot Noirs for us, all from the 2010 vintage. He mentioned that 2010 was a tricky year for many making wine in Santa Barbara County – an unusually cool growing season punctuated by a late-September heat spike that pushed up sugar levels for producers who picked their fruit on the later side. This was the same heat spike that Morgan Clendenen had discussed with us when we visited her. Fortunately for Justin, he was able to complete his harvest just before the heat spike hit.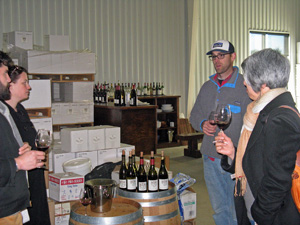 Justin went on to tell us about his winemaking. We didn't discuss his influences, but he's noted elsewhere that Roulot, Bonneau du Martray, Dujac, Bachelet and Rousseau are among his Burgundian benchmarks, while Jim Clendenen of Au Bon Climat, Adam Tolmach of Ojai, and Bill Wathen of Foxen are more local ones. The Tyler Chardonnay is whole-cluster pressed to tank, where it settles and begins fermentation. Once this happens, the juice is racked to barrels, using around 20% new French oak. Justin said he likes Sirugue and Damy barrels in particular for his Chardonnays. He does not do any batonnage (lees-stirring), and he mentioned that he prefers to do cold-stabilization for his Chardonnays early. Justin feels that Chardonnay can become too oxidative if it stays in barrel for too long, so after about 12-14 months in oak, he racks it back to stainless tanks where it stays for another 2-4 months before bottling. He doesn't fine his Chardonnays but he does filter them prior to bottling, since they don't all complete malolactic fermentation. Justin mentioned that he feels new oak has its place in both Chardonnay and Pinot Noir, though as with everything in wine, it needs to be in balance.
For Pinot Noir, the fruit is brought into the winery in pick bins, and Justin uses a vibrating sorting table to sort the fruit there. Although he has used whole clusters for Pinot fermentation, he told us that in 2010 all of the Pinot fruit was destemmed because of the variability in the clusters. The Pinot spends about two weeks in total on the skins until it completes fermentation, and the wine is then pressed first to settle in tank, and then to barrels using about 20-30% new French oak. The Santa Barbara County appellation Pinot (sourced mainly from Bien Nacido plus fruit from Clos Pepe and La Encantada) gets less new oak than the other Pinots. Favored coopers for Pinot Noir include Sirugue and François Frères. Pinots spend about 14 months in barrel, when they are racked off the lees and blended, then returned to barrel for another 2-3 months. The Pinots are neither fined nor filtered before bottling. Justin is getting ready to bottle his first 2011 Pinot, from Bent Rock Vineyard in western Sta. Rita Hills, a new vineyard source for him. He'll also be bottling old-vine Chardonnay and Pinot Noir (Pinot planted in 1971) from Sanford & Benedict Vineyard – a fine addition to his list of impressive fruit sources.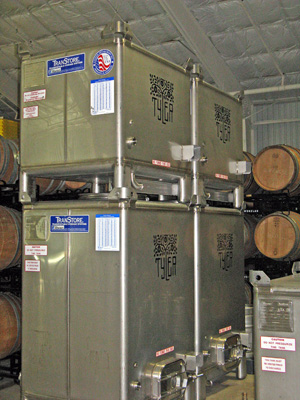 Justin told us that he likes fruit from older vines as he feels it provides a broader texture on the palate. His Bien Nacido Vineyard Chardonnay sourced from that vineyard's W Block comes from vines planted in 1973, some of the oldest Chardonnay in the area. Justin noted that there is more shale in the soil in that part of the vineyard than in some other areas. Beginning in 2009, there have been separate Tyler bottlings for N Block and Q Block Pinot Noir from Bien Nacido. These blocks were also planted in 1973, and Justin has noted that although the soil in the two blocks is similar, they were planted with different vine material. La Encantada is a newer vineyard, planted in 2000 and farmed organically – it's situated on a mainly west-facing slope, exposed to the winds that sweep through the Santa Rita Hills in the afternoons. Justin has worked with La Encantada since 2007, and he says he typically can only harvest about 1¼ tons per acre of Pinot fruit from there.
In addition to the 2010 wines we tasted with Justin at his winery, I had also tasted the 2010 Dierberg Vineyard Chardonnay and the Bien Nacido Vineyard Q Block Pinot Noir at last year's In Pursuit of Balance tasting, and really enjoyed both of them, particularly the Dierberg Chard. Additional 2010 releases include a Chardonnay from Zotovich Vineyard, and Pinots from Clos Pepe, Bien Nacido, and Dierberg Block 5. The wines have been sold mostly through a mailing list and through restaurants, but Justin told us that he's planning to open a tasting room before too long to increase direct sales to consumers.
Justin is clearly a busy guy with all the projects he's involved in, and it was great that we were able to visit with him at the winery. His Chardonnays and Pinot Noirs are all good, and the Santa Barbara appellation bottlings are very nice introductory wines to the Tyler line-up. Of the more complex single-vineyard wines, my favorites were the Clos Pepe Chardonnay and La Encantada Pinot Noir, with the Bien Nacido N Block Pinot not far behind. The wines are elegant, clean, and bright, with good distinction of terroir between the various vineyard sites. Justin is producing some very good wines at Tyler, and I'm looking forward to tasting the wines he's making for Lieu Dit and other labels before too long. The Tyler wines are making their mark on Santa Barbara Chardonnay and Pinot, and this is certainly a label to follow in the coming years.

After our visit to Tyler, we made our way back to Solvang from Lompoc along scenic Santa Rosa Road, which follows the Santa Ynez River through the southern part of the Sta. Rita Hills growing area. The late-afternoon light was beautiful, and I tried to point out to Jane and Warren the many well-known vineyards along the way, but they were both dozing as I attempted to play tour guide while I drove. Since Jane and Warren needed to drive back to the Bay Area that evening, they packed up Jane's car and we both drove the short distance to Buellton for an early dinner at the Hitching Post. We met John Tomasso there, and we took advantage of their Monday burger night in the bar area. We spotted Ballard Inn chef Budi Kazali at the restaurant, as he was enjoying his night off by having dinner there with his wife and young children. We started off our meal with sautéed chanterelle mushrooms and grilled artichoke appetizers before digging into our juicy burgers and fries. Jane and Warren took off right after dinner, and I said goodbye to John and headed back for one more night in Solvang before starting north myself the next morning.
Tuesday - January 15, 2013
It was a beautiful but cold Tuesday morning (27 degrees when I left the timeshare facility in Solvang) but I had a smooth drive north to Templeton. There I returned to Vineyard Drive, where my wine tour had started, and drove through the green rolling hills of Westside Paso Robles. Turning onto Peachy Canyon Road, it was just a few more minutes before I arrived at Villa Creek Cellars. The front gate was closed when I got there, but just a moment later Villa Creek's Cris Cherry drove up and we both headed up the short drive to the winery and parked next to the crushpad. Cris got out of his pickup truck and welcomed me to the "Maha Estate," named for the original owners of the 60-acre property where Cris and his family now live. In addition to the winery – and new estate vineyard – there are goats, chickens, pigs, and various vegetables and fruit trees on the property.
I've known Cris for many years. I was an immediate fan of his Villa Creek restaurant just off of downtown Paso Robles' city park when he opened it in 1998. There were not many good dining options in Paso Robles before Villa Creek opened, and it is still among the very best there. Cris and his wife JoAnn launched Villa Creek Cellars in 2001. I remember visiting former Paso Robles vintner Mat Garretson that year and seeing some new barrels outside his winery with the Villa Creek logo on them. I asked Mat what was going on with those barrels and he told me that Cris was indeed starting a winery, making his wines in Mat's facility (Barrel 27 is located there now, next to Hug Cellars). And I remember tasting the very first Villa Creek wine there with Cris, the 2001 "Avenger," which impressed me right away. But it had been a number of years since I'd visited, so this seemed like a perfect opportunity to stop by and find out what's new at the winery.
Tasting Notes: Current Releases & Tank Sample

Villa Creek 2010 "Willow Creek Cuvée," Paso Robles. 60% Grenache, 20% Syrah, 20% Mourvèdre. Medium color, with ripe red fruits, pepper, minerals, and touches of herbs and oak. Medium-bodied with a fairly lively mouthfeel and milder tannins on the finish.

Villa Creek 2010 "Mas de Maha," Paso Robles. 50% Tempranillo, 25% Grenache, 25% Carignan. Medium-dark color, this was more earthy and herbal, with a darker fruit profile plus a savory note. More structured on the palate than the previous wine, with bright acidity and a grippy tannic finish. Very young now but some cellar time should be rewarding.

Villa Creek 2010 "High Road," James Berry Vineyard, Paso Robles. 40% Grenache, 40% Syrah, 20% Mourvèdre. Dark color, black cherry and plum fruit combined with smoky and spicy notes plus undertones of vanilla/oak. Quite structured and mouthfilling in texture, with a very grippy tannic finish.

Villa Creek 2007 "High Road – The End of the Road," James Berry Vineyard, Paso Robles. 50% Syrah, 30% Grenache, 20% Mourvèdre. Dark color, displaying a more savory profile than the 2010 bottling, with meaty and herbal components along with dark fruits, earth, spice, and a touch of oak. Big and lively on the palate, with still-grippy tannins that could use more time to soften. Very nice now, and should continue to age well.

Villa Creek 2010 "Trovador," California. 50% Syrah, 50% Carignan. Dark color, this featured very earthy and herbal aromas along with blackberries, spice, black pepper, and well-integrated vanilla/oak. Full-bodied but with a bright mouthfeel and finish, nice.

Villa Creek 2012 Aglianico, Luna Matta Vineyard, Paso Robles (tank sample). Very dark color, with dark fruits, earth, a slightly stemmy herbal component, and a salty, briny note. Big, structured, and super-tannic on the finish, this can use plenty of time in the barrel.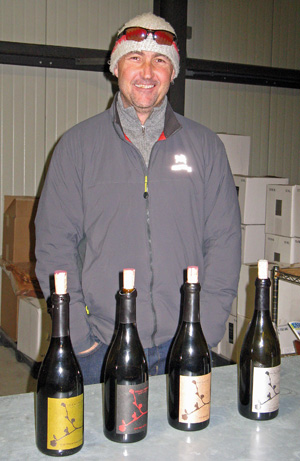 Cris told me that he was expecting another couple of visitors to arrive shortly, but while we waited he told me about his new vineyard. The first phase of planting was in the spring of 2012, with a little over three acres of Grenache – Cris said this was 814 clone, from Spain. After the second phase of planting is complete, there will be six acres of Grenache, three acres of Mourvèdre, two of Carignan, and one of Petite Sirah. We looked out from the winery crushpad at the new vines on the steep hillside just to the north. Cris told me that the vineyard has calcareous soil with clay near the surface, not unlike other Westside Paso vineyard sites. The head-pruned vines have a south to southwest exposure at an elevation of around 1,600 to 1,700 feet. Deer fencing was just installed around the vineyard site a couple of months before my visit, but Cris said that ground squirrels have been biggest problem so far, as they get right into the vine grow tubes. He intends to dry-farm the vines once they get established. The vineyard is being farmed biodynamically but Cris is not sure whether he will have it certified – he stressed that he is doing the biodynamic farming since he feels that is best for the vineyard, not for any marketing benefits he may get from Demeter certification. Philippe Coderey of GROW Biodynamic Consulting is working with Cris on this aspect of the farming. Philippe is originally from Provence and has worked with Tablas Creek, Bonny Doon, and M. Chapoutier among others.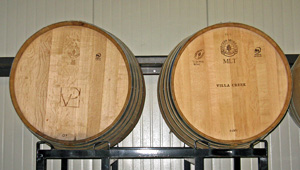 After discussing the vineyard for awhile, it became apparent that Cris' other expected visitors were probably not going to make it so we walked into the winery building. The building itself is about 3,300 square feet in size, with a 4,000 square-foot crushpad. Cris said that he no longer has any custom crush clients at the facility as his own production has increased to the point where he can use all the space himself. He has a small tasting area inside the winery (generally open for tasting from Friday-Sunday) but he's planning to open a more formal tasting room. On a morning such as this one, a separate tasting room space would have been welcome, as it was really cold inside the winery!
Cris told me that he ferments almost all the Villa Creek wines in stainless steel tanks, though there are also a few small bin-fermented lots. Fruit is first sorted, some is destemmed, and then it's cold-soaked in either a glycol-chilled tank or with dry ice for about one week. Cris likes the savory component that whole-cluster fermentation can add to his wines, but there is no set formula for most of his winemaking – some lots get whole-cluster fermentations and some are destemmed, some lots are pressed sweet and others get extended maceration. He decides on whether or not to include stems based largely on smell and taste rather than how brown or green they are in appearance. Almost all the fruit goes through fermentation with native yeast, and Cris told me that he likes the fermentation temperature for his reds to be in the high 80s. As far as any adjustments, he prefers to blend different wines if needed to adjust acidity and balance rather than adding tartaric acid. He uses a lot of puncheons in aging the wines, and he's generally using less new oak than in previous years. Villa Creek switched from using screwcaps to corks after the 2008 vintage. Cris said that he feels corks work better with the more reductive style of winemaking he has been doing, and he also said there remains better acceptance of corks with wine sold to restaurant buyers.
Cris brought a few bottles out to the simple tasting counter in the winery and he poured me samples of some of his current releases. Most of the Villa Creek wines are blends of grape varieties from the Rhône Valley, plus some with Spanish grape varieties as well. I asked whether he has any particular models for the blends, and Cris told me that he doesn't really follow any set models, that he's looking more for particular flavor profiles – though he mentioned that he does particularly like wines from Roussillon and Priorat.
The first wine I tasted was "Willow Creek Cuvée, " named for the road on the Westside of Paso Robles where the main vineyard sources – James Berry and Denner – are located. The 2010 vintage included about 30% whole-cluster fermentation. Next was "Mas de Maha," a Tempranillo-based blend that also includes Grenache and Carignan. About 50% whole-cluster fermented in 2010, the Tempranillo and Carignan were aged in barriques while the Grenache was aged in puncheons. The 2010 vintage will be the last "Mas de Maha" bottling – Cris told me that he's no longer working with Tempranillo, as he's has had more difficulty with that variety than others. As noted above, "Avenger" was the very first Villa Creek wine back in 2001, and the 2010 vintage includes Syrah from Luna Matta Vineyard (not much more than a mile from Villa Creek), Mourvèdre from Luna Matta and Denner vineyards, and Grenache from Denner. Cris feels the Luna Matta fruit lends a distinctive "tree bark" component to the wine. This wine was fermented with about 40% whole clusters, and the Grenache portion was kept in stainless steel to help preserve the purity of the fruit – a technique that Cris is using more these days.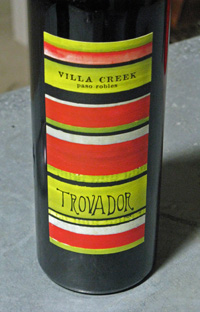 The "High Road" blend always showcases fruit from James Berry Vineyard. The 2010 bottling (already sold out) features some co-fermented Syrah and Grenache, more Syrah that was barrel-fermented, about 50% overall whole-cluster inclusion, and aging in about 70% new puncheons. Cris opened a brand-new release for me – an extended barrel-age 2007 "High Road." He's released three separate bottlings of this wine, the first aged for 18 months, the second for 34 months, and this final one – named "The End of the Road" – for 48 months in barrel, plus another 18 months in bottle. This bottling came from two 500-liter puncheons, and it was clear in tasting the wine that the extra barrel age brought out more complexity than in the 2010 vintage release. The last bottle tasted was the 2010 "Trovador," which includes 50% Syrah from Bassetti Vineyard, only a few miles from the coast near Cambria, and 50% Carignan from Columbini Vineyard in Redwood Valley, northeast of Ukiah in Mendocino County. This wine had 50% whole-cluster fermentation and was aged in 40% new oak.
Cris wanted me to taste one more thing – he disappeared for a moment to retrieve a tank sample, then brought back a glass of inky black wine. It's Aglianico, he told me. I had no idea that he made an Aglianico, and he said that's because he gives it lots of barrel age – he'll be bottling his first vintage, from 2008, in March. Sourced from Luna Matta Vineyard, the 2012 fruit was 100% whole-cluster fermented and will be racked into around 40-50% new oak. Wow, that was a tannic young wine! I'm sure a few years in barrel will mellow it out a bit, but this was a big one.
Other current releases that I didn't taste include a 100% varietal Garnacha from Denner Vineyard, a Grenache / Syrah blend from James Berry Vineyard called "Gathers No Moss," and "La Boda," which is 50% each Syrah and Mourvèdre. Other recent wines – some available only through the wine club – have included a Grenache Blanc / Roussanne blend, a James Berry Vineyard Roussanne, a Grenache-based Rosé, Bassetti Vineyard Syrah, "Damas Noir" (Mourvèdre from three vineyards), and "Granadina" (a Cabernet Sauvignon / Mourvèdre blend). Total annual production is around 3,000 cases.
Villa Creek has always produced some interesting blends. They tend to be in the fruit-forward "Paso style" of bold red wines but they've usually not been as big or ripe as wines from some other producers in the region. I suspect that the higher percentage of whole-cluster fermentation that Cris favors for his wines helps set them apart, and I think it works well for most of his wines. I thought the standouts of the wines I tasted were the "Mas de Maha," "End of the Road," and "Trovador" blends. Make no mistake, these are big wines, but they do display more elegance and nuance than many others in similar styles. Although it had been some years since my previous visit to Villa Creek, I'll have to be sure to visit again before too long.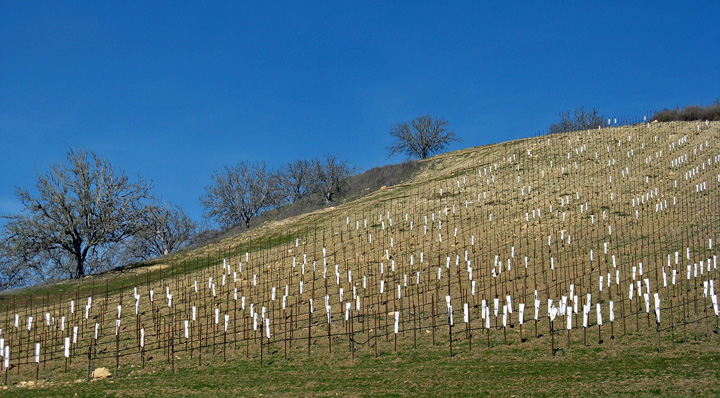 I had time for one more winery stop before grabbing lunch in Paso Robles and driving home. I hadn't visited Calcareous Vineyard in about five years, and it was right on my way to town along Peachy Canyon Road. I drove up the steep drive from the road to the winery and tasting room, which commands a spectacular view of this part of Paso Robles' Westside. The separate tasting room building opened in 2008 – during my previous visit there was just a small tasting room inside the winery itself. Not surprisingly, the winery is named for the chalky, rocky soil that is present in much of their hillside vineyard and notably extends throughout a fair part of this part of the Paso Robles growing region.
Tasting Notes: Current Releases

Calcareous 2011 Chardonnay, Paso Robles. Light color, with aromas of tropical fruit and pear, spice, and undertones of vanilla/oak. Medium-bodied with a fairly smooth texture and finish.

Calcareous 2009 "Tres Violet," Paso Robles. 36% Mourvèdre, 34% Syrah, 30% Grenache. Medium purple color, this showed ripe black cherry upfront, along with earth, smoke and oak. Lively mouthfeel and milder tannins on the finish.

Calcareous 2009 Syrah, Paso Robles. Medium-dark color, with herbal and floral notes along with lots of blackberry fruit and a touch of sweet oak. Medium-full bodied with moderate tannins, this had a minerally element on the long finish, nice.

Calcareous 2009 Cabernet Sauvignon, Paso Robles. Dark color, featuring herbal black cherry and plum aromas, plus chocolate and vanilla/oak. Lively acidity on the palate, with fairly grippy tannins.

Calcareous 2008 Meritage, Paso Robles. 35% Cabernet Sauvignon, 29% Petit Verdot, 18% Cabernet Franc, 12% Merlot, 6% Malbec. Dark color, this displayed a stronger dried herb/tobacco element on the nose than the Cabernet, with a darker fruit profile and a touch of mocha. Fuller-bodied, finishing with chewy tannins.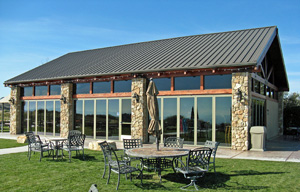 The winery was established in 2000 by Lloyd Messer and his daughter Dana Brown. They had previously been wine distributors in Iowa, but their dream of making their own wine brought them to the Central Coast. The family purchased a 442-acre property about 12 miles from the ocean, and planted a vineyard in 2002. Calcareous Vineyard was originally planted to Chardonnay, Grenache, Mourvèdre, Syrah, Cabernet Sauvignon, Cabernet Franc, and Merlot, and Malbec was added in 2004. At an elevation of around 1,500 to 1,600 feet, the vineyard soil is dotted with small whitish rocks. Calcareous also sources fruit from two other vineyards that they manage – Zinfandel comes from Kate's Vineyard, in the Kiler Canyon area not far to the southeast of the winery, and they get Chardonnay, Pinot Noir, and Cabernet from Carver Vineyard in the small York Mountain AVA to the southwest and much closer to the coast. Lloyd passed away in 2006 but Dana and her sister Erika Messer continue to run the winery. The tasting room is named "Lloyd's Lookout" in his honor, and Calcareous offers weekend-only food and wine pairings with food from Thomas Hill Organics in Paso Robles.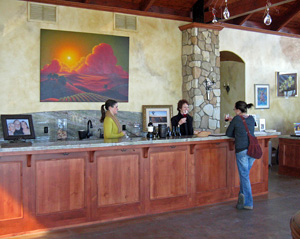 Megan was behind the bar at the large, airy tasting room that features tall windows to take advantage of the sweeping views. She poured me tastes of five current Calcareous releases, starting with a Chardonnay, which was made in puncheons. The "Tres Violet" is their southern-Rhône style blend, with the 2009 vintage including a roughly equal proportion of Mourvèdre, Syrah, and Grenache. The Syrah is 100% varietal, and the Cabernet I tasted came entirely from their estate vineyard. Nearly all of the fruit for their 2008 Meritage was also estate-grown. Megan told me that Calcareous tends to bottle-age their wines longer than some wineries do, and their 2009 vintage reds have just been released recently.
Calcareous produces quite a few different bottlings, and Jason Joyce is the winemaker. Other current releases include York Mountain Pinot Noir, Grenache, Grenache-Mourvèdre, Reserve Syrah, a Syrah / Petit Verdot blend called "Moose," York Mountain Cabernet Sauvignon, and the flagship estate "Lloyd" Cabernet Sauvignon. Currently sold-out wines included Viognier, Viognier-Marsanne, Vin Gris, and Zinfandel, as well as other small-production bottlings. They also have a (literally) sister label called Twisted Sisters, which produces a line of more value-priced bottlings made mostly with purchased fruit. Total annual production is about 9,000-10,000 cases, and many bottlings are only 300-400 case lots along with a few larger ones.
The Calcareous wines are solidly-made, though I didn't find the wines I tasted to be especially distinctive or compelling, and I thought the oak component stood out more than I'd like. The Syrah was my favorite of the wines I tasted. While I'm not sure that the wines alone would bring me back to Calcareous, the combination of the wines and the exceptional site and view are worth a stop there.
Epilogue -
I had a great time on this Central Coast wine tour. The five days went by too quickly, and I could easily have found plenty of worthwhile destinations with twice as much time. Early in the year can be a pleasant time to visit, when most places are not overly crowded. I've been able to take advantage of my friend Jane's timeshare arrangement on a few wine trips in recent years, and it's worked out very well, providing more of a true "home base" than staying at a motel. The food along the way was one of the highlights of our journey, with a combination of both old favorites and a few new places.
Considering we visited so many wineries during our trip, the wines could have been a mixed bag but overall they were very good, with some truly outstanding wines along the way. Among the wineries where we had extended visits, newer producers such as ONX and Martian Ranch are making wines in quite different styles, but they are each intriguing enough in their own way to merit interest in watching how these young wineries develop. When I had tried the Chanin and Tyler wines at the larger tasting event last year, they seemed fairly similar in style, but the distinctions – I'd say the Chanin wines are a bit more edgy while the Tyler wines show a rounder character – were more clear when tasting their wines over a longer period of time in a more relaxed setting during our visits there. And tasting through the wines of more established labels like Cold Heaven and Villa Creek showed that they continue to produce high-quality wines, perhaps even raising the bar over their previous efforts. Several of the tasting rooms that we stopped by without any previous plans poured some fine wines as well, with wines from Andrew Murray, Longoria, Piedrasassi, Arcadian, Bratcher, and Loring being especially notable.
One of the surprises I found along the way was the increasing number of very good wines made from Bordeaux grape varieties, both white and red, grown in Santa Barbara County. This is an region that has traditionally struggled with these varieties, but it seems like growers have discovered better spots to plant the vines and perhaps the area's winemakers have become more skilled at making the wines. The area does so well with Burgundian and Rhône grape varieties, and has shown promise for Italian and Iberian varieties as well, so why not add Bordeaux to the list? As always, thanks to everyone that we visited for being so generous with their time and their wine!