English Countryside & London – September, 1993
by Eric Anderson
Prologue -


ITINERARY -

Oxford
Chester
York
London
The following journal notes cover a September 1993 trip to merry olde England with one of my brothers, Arne, and our dad. Our mom had passed away the year before, and we thought, hey, let's take the old man on a road trip - abroad. As you'll see from many of the photos below, our dad's a quirky guy. We'd decided to spend 3 nights in the English countryside as part of a fly/drive package offered by British Air, and then spend 4 or 5 nights in London on our own before returning home.
Note on "Country Wanderer" fly/drive package: British Air books the 1st night in advance, with the following two bookings handled through the previous/current hotel/lodge desk. Hertz supplies the car as British Air's agent in this offer, and the full packet of tour materials are picked up upon arrival at the Hertz counter at Heathrow. The whole package was $135/person for three days. Any hitch? Well, yes. A supplement is frequently charged by the hotel/lodge of approximately £4/person; plus, our reservation for three caused us to pay a single room supplement - all for a total of about £20 more. Additionally, since you don't receive the tour booklet until you arrive at the Hertz counter, you have no idea what hotels are on the list, which prevents you from checking any cross-references for places ahead of time.
For reasons of space, I won't into the assortment of nonsense I had to go through with our travel agent. But, suffice to say, this was the most difficult travel arrangements I've ever made - in fact, I really should've worn spurs for this ride. Our airfare was arranged through a ticket consolidator at $636/person (though, I paid slightly more, since I needed to attend the baptism of my grandson, and so return home a day earlier than my brother and father). The London hotel reservations had been arranged by my brother through a friend in the airline business, and were expected to be quite nice.
Friday, Sept 10, 1993 - Departure
We all arranged to meet at my dad's house in Long Beach, and take a Super Shuttle up to LAX. Arne and I left Irvine about 5pm for Long Beach, arriving about 5:25pm and the shuttle was there waiting for us.
Arriving quite early at LAX Bradley Terminal, we had more than a little time to kill. Seat assignments turned out to be less than ideal - athough we did have a row to ourselves, one of us was going to be a middle seat occupant). We camped out at British Air gate 102, which turned out to be the most distant gate in the British Air portion of terminal. Not an issue in and of itself, but there wasn't much going on around the this end of the terminal - in fact, it looked terminal, as there seemed to be a very limited number of concessions and vendors around the place.
Cabin fever was beginning to set in among our group - and we hadn't even boarded the plane yet! What we're looking at here is a 10-hr nonstop flight, in addition to an 8-hr time change. In other words, arrival at 3pm Saturday London time will actually be 7am body time zone. Our itinerary calls for Saturday night somewhere in Oxford. We finally departed LAX about 20 minutes late.

Saturday, Sept 11 - Arrival - London to Oxford
Arrived Heathrow on time at 3pm after a tough flight. The plane appeared fully booked, and the seats seemed really tight. Very little sleep for all. Food was just so-so. Picked up documents at car the Hertz off-site counter. And, finally, after a couple of wrong turns here and there, we found our 1st night's accommodation at the Tilbury Lodge in Botley, Oxford. Arrived about 6pm, and were welcomed by our hosts, Eileen and Eddie Trafford.
The Tilbury appeared to be a slightly remolded house which served as our B&B for the night. Unfortunately, we encountered a slight snag in the reservation! Apparently, we were supposed to have been be issued a series of vouchers to cover the basic accommodations for our three-night Country Wanderer tour. There was to have been three vouchers per person for three nights, for a total of nine vouchers. Unfortunately, we only had a total of six. (Too bad I didn't notice this sooner.) I tried calling the Hertz agency at the airport, but it appeared we needed to wait until Monday to make some calls to try and straighten this out with British Air or Hertz.
Had dinner at at the "Carpenter's Arms," a pub in Oxford. Tried the steak and kidney pie and various ales. Back to lodge at 10pm. Smallish rooms, but comfortable. Arne and I took one room, and dad had a separate room.

Sunday, Sept 12 - Oxford to Chester
Up at 7:45. Breakfast, covered as part of the package, was served from 8:30 - 9:15 in a small room off the kitchen where a table was set for each accommodation. Breakfast of juice, cereal, eggs, bacon, sausage, toast, and jams. Despite what seems like a good quantity of food, each of the selections were pretty weak, and I'd have the rate the quality a "C".
Set off for Blenheim Palace about 10am. Located in Woodstock, just north of Oxford, Blenheim Palace was built to reward John Churchill, 1st Duke of Marlborough and ancestor of Sir Winston, for his defeat of the French at Blenheim in 1704. Sir Winston Churchill was also born there. There are two separate tickets for touring Blenheim - one for the Palace, and one for the Park & Gardens. We only toured the palace, though we were able to view the grounds from a large patio. We also ate lunch at Blenheim, which has a cafeteria and vending area. Gorgeous place...er...palace.
We left Blenheim amid light rain showers about 12:45. Medium to heavy rain all the way to Chester. We had the Traffords call ahead to Chester for our accommodations, and finally settled on the Dene Hotel, after Eddie Trafford wasn't getting a good feeling about the Mollington Banastre, our first choice. (According to Eddie, the Mollington wanted to raise the supplement fee, plus charge additional fees for the rooms.) The Dene ("Sand Hill" in Old English) is a Victorian remodel, with the bath facilities added later. It was a bit on the old side, but seemed quite comfortable. After check-in, we drove into Chester for dinner. Unfortunately, we couldn't find an open pub serving food on a Sunday night. We finally ended up at the Moat House, a downtown hotel where we grabbed a bite at the bar/lounge.
History & Sights: Blenheim Palace was originally built by the Duke of Marlborough (the original Marlboro Man) after he was deeded the land by Queen Anne in 1705. It is named after a small German village where Marlborough defeated the French in 1704 during the war of the Spanish Succession. The structure took 20+ years to complete. The gardens and huge grounds are absolutely beautiful.
Monday, Sept 13 - Chester to York
Up for breakfast at 8:15. Tough night for Arne's allergies, with all the dust, mold, etc. The bath/shower was a little strange. No curtain, and the pullout shower nozzle was situated about 3 feet high on the wall. This meant that you had to sit in the tub to use the shower. Interesting task. Breakfast was served in the hotel dinning room. The usual bacon, eggs, sausage, etc, but very good food; rating: B. Called the British Air office to try to rectify the voucher situation. They checked into it, and called me back with the good news/bad news. Apparently, we were supposed to have picked up two separate envelopes at the Hertz counter - one that covered two of us (a double occupancy) and contained six vouchers, and one for the single occupancy with three vouchers. I expalined our dilemma and asked them what they could do for us. They had no suggestions, other than to have us come back for them - not really possible. I told them I'd call back when we got to York - although by then it would probably be too late to do anything about getting the additional vouchers.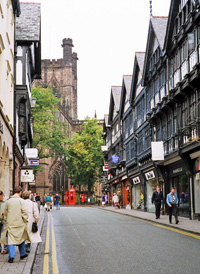 The rain stopped long enough in the morning for us to take a 1-1/2 hr walkabout downtown before heading leaving about Noon for York. Walked a few of the walls, checked out St. Peter's Church and the "Chester Rows,"which consist of multi-level buildings with slightly below street level shops and covered walkways on the first floor shops. The Rows are unique to Chester and Cheshire. Also walked around
Leaving town, a couple of missed turns cost us about 15 minutes or so. But, this was nothing compared to trying to get out of Witney after leaving Blenheim Palace. Now, there was a toughie. Signage is the major problem; my navigation the other. Stopped at a "Welcome Break" road stop (these seem to be staggered about every 20 miles or so along the "M" roads) for a light snack.
Arrived in York about 3:15. We hadn't bothered to call ahead to any of the hotels on the list, since we were out of vouchers. So, resolved that we would need to cover the lodging cost ourselves, we stopped first at the highest rated "Country Wanderer" hotel (the Kilima Hotel) to check on availability of rooms. While waiting for the reservation clerk, I called the London ticket agent from the lobby. (Interesting phones here. The desk phone takes 10 or 20P coins, and then start a digital countdown on the remaining time. Unfortunately, there's no prompt to add additional coins, so you've got to keep your eyes on the amount of the time left, or you just get disconnected.)
No luck at the Kilima Hotel for rooms, and no luck with British Air, either. They were apologetic, but suggested it was either Hertz's mistake and/or our problem. However, if we wished to return to London, our vouchers were still waiting for us at the Hertz counter, we were assured. We made a few more calls to try and secure a place for the night, and finally followed the desk clerk's suggestion and called the Hotel Swallow, located just out of town by the horse racing park. Dandy place! Without the vouchers, the tab was on us! Arne and I shared a room and dad ended up with something approaching a major suite - it was huge! Had a delicious dinner in the hotel dining room.
History & Sights: An old medieval walled city, Chester still has a substantial number of Roman walls standing. The city was a major port in Roman times, until the River Dee silted up, allowing Liverpool to supplant it. Chester has a beautiful 13th Century cathedral, and a famous area known as the "rows," where several blocks of markets and shops made of half-timber construction (a Medieval style of architecture) still stand throughout much of downtown. Everything hereabouts gets quite green with mold and lichen growing on it. Walking on the old walls affords the best view of just about everything in the city.
Tuesday, Sept 14 - York to London
Went downstairs at 8:20 for the breakfast that was included with our room - usual stuff. Packed up and headed for York's city centre. Blustery weather today; Arne and Dad bought umbrellas. The Minster cathedral looks fantastic from the outside. What a stunning sight - the thing is huge! Unfortunately, we were stopped at the door and told that the Minster was closed until 1:00 pm for a university ceremony. Gee whiz! You travel 5,700 miles and arrive on the only morning the place is closed.
Some of the Tudor buildings are subsiding in several places, creating an uneven roofline and midline. Known as the Shambles, these fascinating looking structures add to the very Medieval appearance of the town. Lots of old walls and buildings. Finally headed out of town about Noon for London.
Stopped at another Welcome Break roadside on the way, then pulled off M1 at an exit for Hardwick Hall. What luck, it was closed to visitors. Took some photos of the roofless Hardwick Old Hall, which appeared to have been damaged in a fire. Interesting frescoes still cling to the walls, despite exposure to the elements.
Trying to make up for lost time, we picked up the pace to about 85 MPH. We got into outer London and past the Orbital about 4:45 - still quite a ways out of town. Since the car was due at the Hertz agency in London by 4pm, and since the agency was closing at 5:30, there seemed little chance of getting the car turned in on time, or even getting there before they closed. We decided not to rush, and just return the car the next morning.
Arriving in London after several days in the countryside proved to be quite a change in venue. I'd never been here before, so it was all (literally) new to me. If you take Chester, York, and Witney, add twice the traffic, and three times the traffic lights, you've got London. Navigating is also a bit more problematic. The street names seem to change several times in a matter of blocks. It would have been difficult to find anything even if we drove on the right side of the road. We finally found our way after a couple of miscues. Arrived 6:00 at the Harrington Hall in South Kensington area (SW7) on Harrington Gardens, near Glouster Road. Arne had arranged our stay here through a friend of his. It turns out we stumbled on the deal of the century. The Harrington Hall was a recently completed remodel of several town homes into a hotel. Magnificent inside, with huge spacious rooms - a rarity in London. Also, luckily for us the parking in front of the hotel opened up at 6:00pm, so we were able to park curbside overnight. This was a great location; we were just a stone's throw from the Glouster Rd underground station, making our in-town transportation quite easy. Dinner that night was right down the street at...hold for it... the Lone Star Saloon.
History & Sights: Another of England's ancient and historic cities, York was founded by the Romans in 71 AD. It has the most complete circuit of medieval city walls anywhere in the country, still sporting its four main gates to the inner city. The York Minster, a huge Gothic cathedral (one of the largest in Northern Europe) dominates the center of town. You can walk along the ramparts for almost two miles and gain spectacular views of the beautiful city architecture. There are Roman remains here and there, ancient churches with some of the finest medieval glass anywhere, Tudor timber-framing, Restoration & Georgian elegance.
Located in Derbyshire, Hardwick Hall is an imposing statement of the wealth and power of Bess of Hardwick, who was the richest woman in England after Queen Elizabeth I herself. Built in the 1590s, the extensive grounds also contain Hardwick Old Hall, a slightly earlier house which was used as guest and service accommodation after the new hall was built. The Old Hall is now a ruin.
Wednesday, Sept 15 - London
Arne and I had to remove the car from in front of the Harrington by 8:30. So, we drove the car back to a Hertz place on Fulham Palace Rd, near Hammersmith (about 2-3 miles west). We took the underground back to the hotel, where we sat around a bit talking about what we ought to do with the rest of the day. We all agreed, the Tower of London was was a 'must do,' so off we headed for the "tube" at Glouster Rd.
Leaving the hotel about 10:45am, we arrived at the Tower at 11:15. We had a fabulous tour guide ('Beefeater') take us through the all of the basics, then we were off on our own to explore. First stop, the White Tower - 5 or 6 floors of weapons and armor. Unfortunately, all this climbing quickly burned out dad's knees. Arne and I took lots of video and photos.
We grabbed a late lunch at a nearby coffee shop, and headed back to the hotel amid heavy rush hour traffic and a crowded Underground. What with dad's knees and Arne coming down with a cold, we decided to just get room service and hunker down for the night.
History & Sights: Aside from Big Ben, the Tower of London might be the most well-known English landmark. Founded towards the end of 1066 as part of the Norman Conquest of England. The White Tower, which is also the castle's keep, was built by William the Conqueror in 1078.
The Beefeaters ("Yeomen Warders of Her Majesty's Royal Palace and Fortress of the Tower of London") were originally established in 1485 as King Henry VIII's bodyguards. Though their "official" duties are to look after prisoners in the Tower and to guard the Crown Jewels, in reality the Beefeaters act as tour guides. The term "beefeater" also applies to the hats worn by the Wardens. Their famous scarlet and gold dress uniforms date from 1552 but are only worn on State occasions. While on duty at the Tower, they wear blue "undress" uniform, granted to them by Queen Victoria in 1858. The Warders and their families get a grace-and-favour residence at the Tower (the little houses facing Tower Green) but must own another home to retire to.
Thursday, Sept 16 - London
Because we had to take the car back early on Wednesday, we'd missed trying the hotel dining room for breakfast the. It turns out we almost missed it again this time as well. We arrived at 9:45 and they close out breakfast at 10:00. Continental Buffet was £6, full English breakfast was £9. I don't think they expected anyone else to show up, so both the service and food could have been better, though admittedly we were a bit tardy.
We headed off to the British Museum about 11:00 via the tube, arriving about 11:30. Free admittance, and what a place! Unfortunately, the Renaissance portion (something I'd really wanted to see) had been under construction for the last few months. There had to have been several hundred yards of displays in just the Egyptian collection, and a huge collection of Bronze Age artifacts. Man, these Brits must've cleaned out half the world to fill this place. Well, hell, the 3rd world guys would have just thrown it away anyway! ;-)
Dad wanted to just hang arouns the museum (no excess walking), so Arne and I went across the street to the Museum Tavern to grab some lunch and a beer. Nice place, with some authentic cellar ales and bitters, as well as pork chops and potatoes. Now, that's pub food!
Back to the museum and more wandering around. Gee, it looks like 1/2 the Parthenon is here too! Finally got pushed out at closing (5:00pm), and killed some time at Duke's Head Tavern, until the underground (tube) opened up a bit from rush hour. Back to the hotel about 6:45, we freshened up and walked over to Hereford's Tavern for dinner at 7:15. This pub-crawling is something else - potato & mushroom pie, and dad's sausages were fabulous!
History & Sights: The British Museum is one of the world's largest collections of cultural and historic antiquities gathered from around the world over the past 250 years. Filled with Egyptian, Greek, and Roman artifacts, it could easily take several days to a week to fully explore. Empire and Imperialism throughout the 19th Century played a major role in Britain's ability to compile such an incredibly diverse collection.
Down to breakfast at 8:45am, and got much better attention from staff. It obviously pays off to arrive sufficiently before their 10:00 closing. Back up to room whilst all vacillated as to our destinations for the day. We lost 1/2 the the day on this. Ended up taking Picadilly line in to Picadilly Circus, where we killed more time looking for blank video tape. Then we were off to take a London tour bus from Picadilly around to the Tower and back, passing Trafalgar Sq, Buckingham Palace, Westminster, Parliament, etc. It was cold as all get out on the top - like riding a ski lift.
Headed back to the hotel, arriving about 3:30pm. Stopped at the bar in the lobby and had a beer (just bottles - no tap). From here, Arne and I headed to Southwark to visit the "The Clink," now a museum of sorts, and supposedly the origin of the phrase "throw him in the clink." Not bad for £2, but kind of a let down. From here, we walked over to the Anchor Bar, a neat place on the south bank of the Thames, near the foot of Southwark Bridge.
After hoisting a couple, we tripped over to St. Paul's (closed at this hour) to check out Sir Christopher Wren's handiwork. By gad, this old stuff is right keen. Back to the hotel, and ordered room service dinner again. The whole trip back to the hotel seemed to do Arne in, and he was slowing down since the stop at St. Paul's.
History & Sights: A bus tour of London seemed like a no-brainer to us. How else could we expect to see so many sights either on foot or (gasp) by car. One bit of advice - pay attention to the weather. We sat topside on the double-decker bus, which was certainly the best vantage point. On the other hand, it was also the most exposed, and it was quite cold out that day.
Saturday, Sept 18 - Return
Up at 7:30am, and down to breakfast with dad at 9:00. Arne stayed in bed. I did the usual Continental stuff, and dad did the usual dad stuff too. To wit: two glasses of milk (where's the glasses), figs, toast, and coffee doused with massive amounts of cream and sugar. Ugh! Arne too pooped to get up (nagging cold - probably from that frigid ride atop the tour bus). Dad and I set off on the Picadilly line to Fortnum & Mason on Picadilly. Bought some tins of biscuits, chocolates, and 1/2 bottle of Claret. Back to the hotel a little after Noon.
It was time for me to leave jolly old England - one day ahead of Arne and dad (grandson Eric was going to be baptized on Sunday). Did my packing, and Arne walked with me to the Glouster Road underground about 1pm to say goodbye. Tubed to Heathrow, arriving about 1:35pm. Checked in for my flight, and was asked if I would like to participate in a very select 5% of passengers to go upstairs and run my baggage through x-ray. Hell, I thought they do this with all baggage!? Grabbed a pint of Wadsworth 6X at the airport bar and chilled for a bit. Then boarded and buckled in at 3:30pm for my 10+ hour flight to LAX. Ahh, the Gods have placed me next to some non-deodorant types. I hope Arne's flight with dad goes well.
Flying during daylight was nice: we passed over Greenland and saw some icebergs. Excellent meals and service on this flight, which seemed to be filled with Brits (or ex-pats) going on vacation in the U.S. The captain evern came back to say hello to everyone (was this really British Air...the same one I flew over on?).
Arrived back at LAX about 5:30pm local time. Picked up by Deb, Ed, and Marge after I cleared Customs. We all headed for dinner, and then home for me to crash - I'd been up for 20+ hrs by now.
Epilogue -
What a trip! Although I enjoyed it all, I was glad to be going home. Cultural tradition and all the historic venues were fabulous. Central London is really nice in some areas, while other areas are decaying - some of them quite prematurely. One gov't building was only constructed 30-yrs previously, and it is literally falling apart and will have to be demolished. Lots of stone curbs, walks, etc., and cement doesn't seem to take a major role in pedestrian construction. Roads seem to be asphalt with large gravel pieces. The Underground seems to vary from nice-looking to something approaching shabby - however, all very reliable. Food was always hot, and mostly very tasty! Lots of Pubs and I got to try so many different ales and beers, I lost track. British Museum and Tower were incredible. Each deserves an entire day for visiting.
Never really did hit the shopping districts, but from the look of Fortnum & Mason, it would be an experience. South Kensington is a perfect geographically central location to stay - about 15-20 minutes from everything. Had dad's legs and Arne's health held up, we'd have covered a lot more ground. But obviously, London could easily take a week or two by itself.
Countryside visits really ended up too rushed. We spent too much time in the car to do any exploring between destinations. We never really got to check out Oxford, for instance, and never pulled off the road except for a "Welcome Break" visit to use the facilities and get a quick bite. Althought the rain didn't help any opportunity to chack out the vistas, etc. too much, we really can't complain about its timing, since we were usually driving at the time. Each morning that we reserved for walking around Chester and York came off as planned. Driving around the country, with the exception of the motorways, can be scenic, but quite slow. Nevertheless, England should be a must-do for all Anglo-Saxon types and a gotta-do for most people in general.
Arne conceived the idea for this trip, figuring the old man might like to bond with his 1st and 2nd born sons, and recapture the past while visiting jolly old England. Seems like we succeeded at both. The Pound (£) is currently worth more than the Dollar ($), making this a pricey place to visit, much less live. Beers, ales and the like ranged from £1.75-2.50. "Real ales" are pulled by the barkeep from the cellar with a priming action. Bitters and other ales are served at cellar temperatures (almost room temperature), whilst lager is usually served cold.
Also, tele in the U.K. is interesting. The BBC has 4 channels, plus there are a few satellite stations at the hotels.