Great Britain by Bus – August & September, 1998
by Eric Anderson
Prologue -

Itinerary -
Edinburgh
Stirling
The Trossachs
Lake District
York
Stratford-Upon-Avon
The Cotswolds
Uxbridge
Hendon
Cambridge
London


Having had a terrific time on my first visit to England about 5 years previously, I was eager to make a return visit if the chance ever came up again. This year the opportunity came. My father-in-law, Ed Gill, had heard of a series of aviation-related tours that alternated annually between England and France. Organized and led by Jerren Auble of Jerren Travel in Irvine, California, the tours had generally concentrated on visits to museums and sites with aviation themes, and often included attendance at the Paris or Farnborough Air Show as either the centerpiece or grand finale of the tour.
This year, the tour was bound for Great Britain, with a 2-week itinerary that included parts of Scotland, the Lake District and the Cotswolds of England, and London. So, I just couldn't pass it up. For me, the aviation angle was merely icing on the cake. Ed, however, is a water colorist and aviation artist, so there would be ample opportunity to photograph dozens and dozens of planes, in addition to all of the sightseeing. Although he had been to England several times before, this tour offered him the chance to see Scotland and even more of England, along with a couple of air shows.
About 50 people had signed up for the year's tour, mostly folks from California. But there were also several people from Ohio and a couple from Pennsylvania along for the trip. The itinerary had us flying into Heathrow, connecting to Edinburgh, then busing our way south through Scotland and England, and finally to London. Although we'd be spending about two nights in each of the scheduled overnight cities, we wouldn't be constantly traveling, and would therefore have time to explore on our own. Neither of our wives had a burning desire to go to Europe, so Ed and I decided to go it alone. Of course, Deb and Marge (aka "the wives") generously provided transportation to and from LAX. Funny thing, they seemed quite eager to do so. Hmmm.
Wednesday, August 26, 1998 - Los Angeles Departure
Arriving at LAX a full 3 hrs before our flight, we checked-in early and just hung around and relaxed. Our tour guide Jerren arrived curbside about the same time we did, and we were amazed to see the quantity of luggage she was bringing along on the tour. She had at least one suitcase, 2 large trunks, and a wheelchair, which were all checked onto the plane. The wheelchair really had us stumped. We hadn't seen her use one, and the other members of our group seemed ambulatory, so we weren't sure why she brought it along. We soon learned why. Let's just say she's able to use it to assist people on her tour, and leave it at that.
Our itinerary called for us to leave on Virgin Atlantic from LAX at 5:30pm, with arrival at Heathrow at Noon, and then taking a 2:45 flight on British Midlands to Edinburgh. We departed nearly an hour late from LAX, yet still arrived at Heathrow at the scheduled arrival time.
This was my first flight on Virgin Atlantic, and I have to say that I was was quite impressed. Forgiving the incredibly narrow seats that abound on nearly all airlines, the stewardesses seemed very attentive, and the food and drink never seemed to stop coming. Jerren had suggested that Ed and I request "exit row" seats, which gave us all kinds of leg room - in fact, it really seemed more like a front porch. With the on-board movies, games, and a GPS view of our flight path, Virgin's activity screen helps reduce the boredom of the 10-1/2 hour 5,500 mile flight. On top of this, the food was by most standards - magnificent.
Riding along in the window seat next to me was a chap returning to England from business in So. Cal. After we became more acquainted, I decided to ask one of my many "burning questions" (I have a lot of these). "So, tell me," I said, "why do the English refer to red wine as 'clar-ET'? rather than 'clare-AY'?" "Well," he replied, "that would be the French pronunciation, wouldn't it." "But, we're not French, are we." ...Well, Duh, I must've said to myself! (Note to self: re-examine the need to ask burning questions.)
It was a marvelous flight, though I envy people who can sleep on a plane. As usual for me, I didn't get any real sleep on the LAX to London leg, although I probably dozed a bit during the middle of the flight. Ed seemed to have grabbed 40 winks or so.

Thursday, August 27 - Edinburgh Arrival
Our flight arrived about Noon at Heathrow, and Jerren shepherded us to the British Midlands terminal for our 2:45pm flight to Edinburgh, Scotland. The Ohio contingent was supposed to have arrived in Edinburgh earlier in the day, so the only other people from the tour that we met up with at Heathrow were Harvey and Ann Katz, from Pennsylvania. (Harvey and Ann had already been in Britain for a week or more, plying the inland waterways of England while living on a canal boat.)
We arrived shortly after 4:00pm at Edinburgh airport, and were met by local guide John Abbott and his driver Hedley with our bus supplied by John Smith & Sons. After a short ride from the airport to town, we checked into our hotel for a 3-night stay, a Forte Posthouse on Corstorphine Road just on the outskirts of the city.
As it turns out, they were remodeling the hotel. In fact, it appears that Forte Posthouse is remodeling most, if not all, the interiors of their hotels in the UK, adopting what I'd call a Danish Modern look (an acknowledgement to their Viking past?). The place was large and comfortable, and had a friendly staff. Plus, they had some reasonably-priced ale (£2.25/pint, or about $3.75) in the hotel bar. The 7:30pm pre-arranged dinner at the hotel was very nice, and we were able to meet many of our fellow travelers. (Several of the meals were included in the tour fee.) After dinner, we took a brief after-dark bus tour of the city narrated by the now kilt-clad John Abbott. Edinburg Castle was very impressive lit up at night. Finally back at the hotel, and after being awake for 30+ hours - much of it traveling - we all looked forward to a nice night's sleep before our first full day tomorrow.
Well, tomorrow came sooner than we expected - in fact, it arrived as a fire alarm, shortly after Midnight. It turned out to be a false alarm - which was just as well - because, awaking quite disoriented, we didn't break any speed records getting out of our room. At first, Ed thought it was the smoke detector, and when I awoke, he was standing on his bed trying to either pull out a battery or somehow shut the darned thing off. Meanwhile, I was trying to figure exactly who and where I was. After an hour standing around outside, we headed back to bed. Were this not enough of a disturbance, our morning wake-up call was something of a surprise as well. As it turns out, our hotel was conveniently located right next to the Edinburgh Zoo. Question: did you know sea lions stay up all night, and get especially active around 5:30am? No? Well, neither did I.

Friday, August 28 - Edinburgh
Up for 8am breakfast, we boarded our bus for a 2-hour guided tour of the city narrated by Bob Dunlop, a professional guide and one of the McDonald clan. (In Scotland, you're apparently either a McDonald or a Campbell clan affiliate.) Dressed in highland garb complete with skean-dhu (dagger), our guide welcomed us to Scotland, and joked that there must not be any Campbells on the bus, or he'd "…have smelled them out immediately." (Aye, folklore served here.) Oh by the way, have you ever listened intently to a Scottish accent? Once you tune yourself into it, it's absolutely beautiful. In fact, I'm speaking it right now!
The city tour took up most of the morning. We were able to see much of the city and hear a great deal about Edinburgh, often referred to as "the Athens of the North." From a lofty hilltop, we could see most of the city, from Edinburgh Castle to the Firth of Forth. We also stopped at Holyrood Palace, the official residence of the monarch when in Scotland. At one point during the city tour, our bus even stopped at the Royal Bank of Scotland so that we could see its interesting ceiling skylights, as well as exchange some money if necessary (interestingly, Monday was a scheduled Bank Holiday in Britain, so this presented a final chance to fill up the wallet before the three-day weekend). Well, the arrival of 50 unexpected visitors at the Royal Bank of Scotland seemed to test the patience of the otherwise friendly staff, as the queue monitor (that's right, the person in charge of lines) was observed apologizing to the local bank regulars about the delay. Muddying up the water a bit was the fact that we'd all been told on the bus (I forget who said this) to request English bank notes, rather than the equally common hereabouts Scottish notes. We had been told that on occasion, the Scottish notes aren't cheerfully accepted south of Hadrian's Wall. So, since we were headed south, it seemed logical to request the most flexible currency. Unfortunately, a bus-load of Yankees turning down the local currency doesn't exactly endear you to the local Scottish bank staff.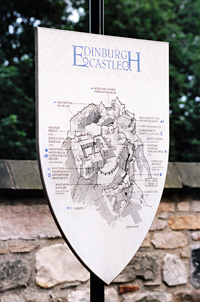 Shortly after Noon, our bus dropped us off just below the Edinburgh Castle at Waverley Bridge, and scheduled our pickup at 4:00pm for a return to the hotel. Accompanied by one of our fellow travellers, Bob Phillips, we decided to look for a pub to get some lunch, and hopefully head up to the castle for a look-see. After finding Deacon Brodie's pub filled with the lunch crowd, Ed found another little pub down one of the many closes (alleys) called the Jolly Judge. Getting into the swing of things Scottish, we tried Haggis Tatties (haggis on potato skins), and Toasties (basically, a grilled cheese-and-something sandwich), plus a few ales of course. (Oh, in case you're not aware, Haggis is considered the national dish in Scotland. Consisting of ground sheep innards, oatmeal, and spices all cooked up in a sheep's stomach, it tastes surprising more appealing than its description.)
Working off lunch, we headed up the street to the 12th century castle. This was going to be the site for tonight's Edinburgh Military Tattoo (a famous pipe and drum military band festival) which we were scheduled to attend as part of our tour. Since we were coming back at night for the show, we thought we might as well see what the castle looked like in the daylight.
We took lots of photos during the castle tour and had a funny guide. To wit: several hundred years ago, the Scots had an interesting way of ferreting out witches. Selecting ladies from among the local population, they would place them in a wooden barrel. They would then stick knives through the outside of the barrel and roll it down the castle esplanade. If the lady survived, it was assumed she must be a witch, so she was of course then drowned. Sort of a coin-toss proposition of "heads, we win -- tails, you lose." Also saw "Scotland's Honours," the crown jewels, including the famous "Stone of Scone" (pronounced "scoo-n"), which had been carried off by Edward I in 1296, and just recently returned to Scotland by the English in 1996 (see link below).
Bused back to the hotel in the late afternoon, we decided to try an early dinner at the hotel pub across the street. Nice meal of steak pie and ale. About 7pm we boarded our bus for the ride back to the castle to attend the Military Tattoo (pronounced quickly as, "tuh-TOO"). What incredible seats! We were in the very front row at one end of the stadium. When they marched in our direction, the bands were practically in our faces. (Jerren had apparently been working hard since late last year to secure these seats - and it obviously paid off! The Edinburgh Tattoo is presented annually during the last two weeks of August, and this was the next-to-last performance of the year.) The show lasted from 9-11pm, and after a impromptu night bus-tour of the city and attempted visit to what was supposed to be a beautifully lighted Forth Rail Bridge, we arrived back at our hotel after Midnight. Too bad we missed out, because this bridge is an absolute stunner. Never did hear why it hadn't been lit that particular night.
Saturday, August 29 - Stirling and The Trossachs
Up for a 7am breakfast, and a 8:15 departure for Stirling Castle and Braveheart country. This area is steeped in the history of Robert the Bruce and William Wallace, and the fight for Scottish independence from England. We toured the 15th century castle and took lots of photos. Interestingly, it looked as though they hold Rock concerts at night at the castle. Now there's conflict of images! (I don't know if this is a seasonal thing, or what. But, I had to carefully frame-out the Porta-Potties in my picture taking of the Robert the Bruce statue.)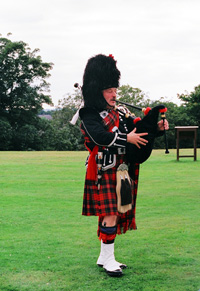 From the castle, we then drove through the scenic local countryside, which included the small towns of Callander and Kilmahog, an area roamed by Robert MacGregor, aka Rob Roy. We stopped for lunch at a small restaurant in Kilmahog, and shopped a bit in the large gift shop. Leaving Kilmahog, we drove through the Trossachs (the historically geographic meeting place for the highlands and the lowlands), with a stop in Aberfoyle for a break. Between the small towns, the fields hereabouts were filled with heather and sheep. Beautiful countryside to cruise through.
Next stop, Linlithgow Palace, birthplace of Mary, Queen of Scots. Since there was a wedding party milling about at the church, adjacent to the palace, Jerren seized the opportunity to "borrow" their piper for a quick photo shoot. Luckily, he was very obliging.
Jerren finally broke out the snacks on the way back to town. (She'd brought along two huge trunks of candy bars, cookies, licorice, etc, to keep the troops happy during lull periods on the bus rides. And yet, even with all this sugar flowing, I still witnessed lots of closed eyes and intermittent dozing among the group. Heck, I even feigned a little of it myself.)
Arriving back at hotel about 5pm, we freshened up and went down to the hotel lounge for a wee dram of Scotch. I've not had Scotch in a long, long while, and never tried a single malt. So, where else better to try it? I mean, can you imagine having actually been to Scotland without trying any single malt Scotch? Later on that evening we were bused into Edinburgh to grab dinner wherever we wished. Accompanied by Bob Phillips and Tony Turner, we selected a brewery pub on Rose Street, which is sort of Edinburgh's pub row. Picked up later that evening by the bus at 8:30pm, we returned to the hotel where we promptly took up residence in the lounge to discuss the day's events with a bunch of other fellow travelers, including Bill Foulkes, Bob, Jerren, and Mary.
Sunday, August 30 - Lake District to York
Up for a 7am breakfast and checked out of the hotel for our 8am departure for England. Our route was to take us through the south of Scotland and the beautiful Lake District of England. On the way, we drove near the town of Lockerbie, the unfortunate site of the infamous plane crash. It seemed appropriate for us to observe a moment of silence for all those who lost their lives in the tragedy.
We arrived mid-morning at Gretna Green for a short break. This was sort of a tourist-stop-looking place, and the small town just north of the English border has an odd claim to fame - they'll marry people 15 years of age or older, so it draws more than its share of runaways.
Driving through the Lake District, we stopped at Ullswater for an impromptu picnic lunch next to the lake, courtesy of Jerren (unknown to us, she'd purchased 50 sandwiches back at Gretna Green from a church bake sale. That must've made their day.) As it so happens, the idyllic picnic wasn't without incident.
Jerren spotted a perfect spot by the lake, and had the bus driver hurriedly drop us before parking the bus along side the road. Jerrenl rushed down the slope to throw her blankets. But, as with two people vying for the same parking place, Jerren managed to cross swords with a crabby Brit who felt he had first dibs on the picnic location, despite Jerren's apparent arrival at the spot first. Like some squatter, the Brit stayed on site resolutely, even while being descended upon by 50 Yanks who spread out, mostly unaware that there had been any spat. Anyway, it was still a beautiful spot.
Packing up after lunch, we headed off to the Lake at Windemere, driving into the small hamlet of Bowness-on-Windemere. Once there, Jerren treated us to a boat cruise on the lake, complete with tea or coffee. What a beautiful small town. After the cruise, Ed and I walked around town taking advantage of the many photo opportunities. It turns out that Windemere is a popular water-sports lake, and, considering the Bank Holiday weekend, there was naturally more activity than usual. We piled back into the bus about 2:30 or so, and spent the final 2-1/2 hours headed to York.
For reasons unclear to me (and apparently others, for that matter), the bus driver(s), John and Hedley, took some roundabout route to York, which meant we didn't arrive in town until nearly 8pm, at least 1-hour late for our scheduled dinner at the Hotel Stakis on Tower Street. (There was some speculation that the John Smith bus drivers wanted to show-off a bit by driving through their home town.)
Very nice looking hotel, close to city center and right across the street from Clifford's Tower. After dinner, Ed and I took a quick walk over to the Minster Cathedral to get an idea how long it would take to walk across town. After arriving back at the hotel, we stayed up late, just hanging out in the lobby talking with Bill and Jerren. This turned out to be a defining moment. We decided we were all funny people, and could've been comedians.
Bank Holiday! Up for 7am breakfast and we were on our own for the day. Having been here before, I somehow felt very comfortable and completely oriented in this city. We walked the ancient city ramparts around the east side of the city and finally over to the Minster, stopping for numerous photo opps along the way.
The Minster is a 13th century cathedral, the largest Gothic church north of the Alps. I hadn't been able to tour the inside when I was here 5 years before (it had been closed for a university ceremony), so I was looking forward to getting a peek at the inside. We took the guided 1-hour tour, and all I can say is…Wow! Holy Wow! This place was huge from the outside, but it seems even bigger on the inside. The stunningly large stained glass windows were just beautiful. We ended up taking a secondary self-guided tour of the building foundation, which had been found to be subsiding, and had been recently excavated and fortified.
Reluctantly leaving the Minster, we walked over to the York Brewery for a quick bite and a very interesting brewery tour at 2:30. I finally found out some of the differences between cask-conditioned (traditional ale) and the other stuff. Afterward, we walked some more of the city walls on the north and west side of town, finally heading finally back to our hotel and arriving about 4:00. This gave us enough time to visit the Regimental Museum of the Royal Dragoon Guards before closing time. Excellent displays and memorabilia.
Later, we walked over to the Shambles section of town (filled with Medieval buildings that have taken on a disheveled appearance due to ground subsidence) for more photos. Crossing town again, we walked over to the Maltings Pub for an ale (and lots of secondhand smoke) with the locals. Then finally, we headed over to the Lendal Street Fish Restaurant for dinner of…what else, fish & chips. We'd spent the entire day walking around the York city center, and still hadn't been able to get to everything worth seeing. I'd say that two or three days in York are probably a must. Especially if the Minster has an event in progress, and you have to delay a tour of the inside.
Tuesday, September 1 - York to Stratford-Upon-Avon
Up for a 7am breakfast and 8am departure from York amid light rain. Headed for Stratford-upon Avon, with a stop at Warwick (pronounced War-ick) Castle along the way. Arrived at Warwick about 12:45 and had lunch in one of their several cafeterias. Warwick Castle, is reputed to be the finest remaining Mediaeval Castle in England. It does look perfectly preserved, sitting alongside the River Avon just North of Stratford on a site originally fortified by William the Conqueror in 1068. We walked around most of the grounds and through most of the buildings, including the dungeon, a small museum, and many interesting displays featuring life-like wax figures. (The place is owned by Madame Tussauds - so no small wonder.)
Climbing the 200+ steps to the top of Guy's Tower was the equivalent of an hour on the Stairmaster. Whew! Each of the passageways are fairly tight quarters. And, those signs "Mind Your Head" are very much to the point, instructing you to duck under overheads and door jambs. Nice view from the top of the turrets, and you get a full sense of how the grounds were originally laid out, and how they evolved over the years.
After the tour and a short bus ride, we arrived at our hotel late in the afternoon for a 2-night stay in Stratford-Upon-Avon. What a perfect location, just across the River and close to the Royal Shakespeare Theatre. We walked around town taking photo opportunities and dropping into the Rose & Crown for an ale. We settled on the Pen and Parchment for a pub-style dinner.
Wednesday, September 2 - The Cotswolds
Up for 7:30 breakfast and 8:30 departure for the Cotswolds. Just south of Stratford and about 2 hours northwest of London, the Cotswolds represents possibly the best in English countryside. Once the center for the wool trade in bygone days, the Cotswolds' most readily identifiably feature, aside from beautiful rolling hills, are its buildings which have been constructed with the area's natural golden-hued limestone.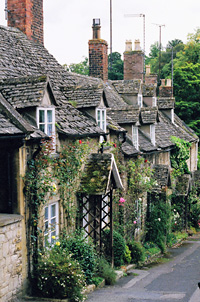 This idyllic area also has many villages and towns with equally idyllic names. It turned out that thus far we'd just been playing around. That is to say, Stratford-Upon-Avon was merely the tip of the iceberg. for instance, today's visits were scheduled to include such interesting sounding towns as Moreton-in-Marsh, Stow-on-the-Wold, and Bourton-on-the-Water. (Hey, while we're at it, maybe we should try to visit Soap-on-a Rope or Ugly-on-an-Ape, too. Just kidding. Actually, these names are themselves idyllic and pastoral, and seem more than appropriate while you're visiting these beautiful hamlets.)
Arriving in Bourton about Noon, we had heard talk that some of the group were interested in trying to hitch a ride to Upper Slaughter and Lower Slaughter (the bus can't fit up the roads to several of the more picturesque villages). But, when travel arrangements didn't appear to be coming together, Ed and I took off on a walkabout to see Bourton-on-the-Water. We took lunch at the Duke of Wellington freehouse in Bourton-on-the-Water. (Hey, did I say "took" lunch? Wow, I'm getting even more affected as time passes.) Although I'd hoped to see some thatched-roof cottages during this part of the tour, the abundant limestone structures were quite stunning, and at least a beautiful alternative.
We departed Bourton and while heading back to Stratford, passed through a small town named Winchcombe. Jerren spotted a thatched-roof home and had the bus pull over so we could take a photo opp. As luck would have it, we ended up pulling into "The Bugatti" pub parking lot to get off the road. So, after the photo opps, Jerren graciously decided to buy everyone a drink. Hey, I'll drink to that!
Arriving back in Stratford about 4:30, Jerren had the bus head over to Anne Hathaway's Cottage, a fabulous example of thatched-roof houses of the period. They were due to close shortly, so we didn't take the guided tour. But, we did photograph the devil out of the house. After the bus ran us back to the hotel, Ed and I set back out to explore some other parts of town we hadn't seen. Dinner that night was at McDonald's-upon-Avon. (Com'n, every once in a while, you just have to have it.)
Thursday, September 3 - Stratford-Upon-Avon to London
Up for 7am breakfast and 8:30 departure for London. Stopped for a break at the new "Welcome Break" stop outside of Oxford, off the M-something-or-other. These roadside places are great - everything under one roof - sort of a drug store-cafeteria-newsstand. We proceeded into London amid very heavy traffic. Arriving in the city about Noon, our bus took us on a brief tour around the city with Jerren narrating.
About 2pm, arrived at our Forte Posthouse hotel on Wright's Lane (near Kensington High St) in Kensington. We'd been cautioned ahead of time that hotel rooms in London are significantly smaller than those out in the countryside, and that was certainly true - (though, from later conversations with our fellow travellers, it appeared that we'd gotten one of the larger rooms in our group.) We were going to stay here in Kensington for 2-nights, then over to Cambridge for 2-nights, then back here again for 2-nights. Complex arrangements, huh?


After check in, Ed and I had tentatively planned to take the tube (subway) over to the Tower of London if we had sufficient time left in the afternoon. But, the Tower wasn't scheduled to be open too much later, so we'd be cutting it a bit short. So, we decided instead to visit the Temple Church to check out the final resting place of one of Ed's old relatives, Robert de Roos. Bummer, despite being listed as open until 4pm., they apparently closed at 2:30 that day. Maybe we'd try again on Tuesday when we were scheduled to be back in town.
Headed next over to the Clink prison museum in Southwark (prononuced Sow-thark). The museum is supposed to convey how bad it was in the good old days at the place that spawned the phrase, "...throw 'em into the Clink." I'd visited this "museum" 5 years earlier, and was less than impressed. Unfortunately, that didn't seem to stop me from going again - and dragging Ed along to boot. I felt that the £4 admission for a 20 minute self-guided tour was kind of a ripoff.
Stopped at the Anchor pub on the way back, for an ale. This old Inn is right on the Thames, with a patio that sports an fabulous view. Catching the tube back to Kensington, we had dinner at the Hereford, a pub over on Glouster (pronounced Glos-ter ...getting tired of this yet?) nearby.
Then, we headed for the hotel to meet up with a bunch of our crowd at 8pm to take the subway back to the Tower for the "Ceremony of the Keys." We'd been encouraged by Jerren earlier in the year to write to the Tower of London to get [free] tickets to this 700 year-old, 9-minute ceremony with a Warder (Beefeater) locking the inner and outer doors of the castle for the night. No photographs are allowed, but the cadre of Coldstream Guards and pomp of the ceremony definitely makes it worth attending.
Got back to hotel about 11pm. Nice day. We had a few miscues on the subway during the day (we took the Circle Line the wrong direction a couple of times), but hey, so did our guide, Jerren!

Friday, September 4 - Uxbridge and Hendon
Up for 7am breakfast and 8:30 departure to Uxbridge and Hendon. Arrived a bit early at the Uxbridge base for our scheduled 10:30 appointment, even after a miscue by our driver James, who first delivered us to the Northolt RAF Base by mistake. After arrival at the correct place, we all had some coffee at the Uxbridge base cafeteria, and then met up with our guide, Chris Wren, for a tour of the former Operations Headquarters during the Battle of Britain. Heading down two stories into an underground bunker, we were able to see where people worked to coordinate the battle operations nearly 60 years ago.
A fascinating, almost spellbinding 30-minute monolog was given by Wren about the famous 3-month air battle over England that held off Germany's attempt to bomb Britain out of the war in 1940. "The Battle of Britain ...in 30-minutes," is how he described it. Afterward, Wren fielded several questions from our astute travel companions, and gave thoroughly knowledgable answers. We then went to the upstairs observation area, where they had turned the rooms into a small museum of sorts. Terrific array of documents, memorabilia, and displays. They even had the actual chair where Winston Churchill sat when he visited the center. Of course Ed had to take a seat in it as well. What a fabulous visit!
On next to the RAF museum at Hendon, northwest of London. Arrived shortly after 2pm, and got some lunch at the adjacent Wings Restaurant. Very large and very nice museum, with a special Battle of Britain exhibit in a separate building. Lots of planes from all eras.
Back to hotel about 6:45pm amid light rain, and we headed over to Scarsdale pub on Pembrooke Villas for dinner. Excellent place, and obviously a local haunt.
Saturday, September 5 - London to Cambridge

Up for 7am breakfast and 8:30 departure toward Cambridge. Light rain throught most of the night, and temperatures still around 68-70F. As with the Edinburgh location, this Forte Posthouse was undergoing a remodeling and was a bit torn up. Checkout from the hotel seemed to take forever, and the breakfast service left something to be desired. It just seemed as though they couldn't get their collective act together. Still, the Kensington location was very good, and despite the small rooms (normal for London), I'd use the hotel again.
Arrived at our first stop of the day at the Shuttleworth Collection. About a hour north of London near Biggleswade, this fascinating collection of 40 or so planes dates from pre-WWI to 1939. This living museum is housed in several hangars and maintained by the Shuttlesworth family as a charity, many of the aircraft are the last surviving examples of their type. Nearly all the planes are in flying condition and are often involved in flying events, both here at their grass field and also at nearby shows, such as the Duxford Air Show on Sunday. The rural setting and the grass field add to the atmosphere of seeing these old machines. During the time we were there, only one flight took place. But, as the plane taxied out onto the field and took off, I couldn't help but feel that I'd been transported back in a time machine. They also have a number of vintage automobiles as well.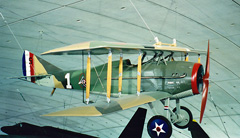 After a couple of hours at Shuttleworth, we departed for the Imperial War Museum and American Museum at Duxford. Arrived shortly after Noon amid light rain, and met up with my sister and brother-in-law (Ed's daughter Gail and her husband Steve). They had added the last portion of Jerren's tour to the front end of a previously planned trip to France.
We went to get some lunch in the cafeteria, and then set out to see the museums. Although we were going to be here at Duxford again tomorrow for the air show, the stop today would allow us more time to see the museums with smaller crowds. With our bus departing at 3:00, we decided to look at the Amerian Museum today, and save the Imperial War Museum for the next day.
The American Air Museum was completed recently and is just stunning. The building itself is a cross between an aircraft fuselage, a gun turet, and a bunker. You enter on the upper level and are immediately face-to-face with the nose of a giant B-52. Other aircraft are parked around the main floor, and still more are hanging from the curved ceiling. Also included are war vehicles and armament.
Back on the bus, we made a brief stop at the Maddingley American Cemetary, on our way to Cambridge. Very sobering and an impressive sight.
Our hotel was another Forte Posthouse, just north of town in Impington. Dinner at the hotel was going to be difficult (lots of guests, and not many other restaurants this far from city center). So, we took a short cab-ride into Cambridge for dinner at Brown's Restaurant. Very nice place. Back at the hotel afterward, we just relaxed for the rest of the evening.

Sunday, September 6 - Duxford Air Show
Up for 7:30 breakfast and 8:30 departure for Duxford Air Show. Jerren had taken a cab out to the field earlier in the morning to set out our tarp and some chairs in order to "reserve" a location next to the flight line. (Where I come from this would have been an invitation to make-off with my chairs and tarp. But, the British are apparently very respectful of the property of others. Either that, or Jerren threatened eveyone in sight, or maybe deputized one of the locals to watch our stuff.) After we arrived at the field, everyone in the group scattered in all directions, leaving Bob Phillips to stand guard over the site. Ed and I wandered around the many, many display booths. They were selling everything from old uniforms to posters, and it would've been really tempting to make a few buys if it weren't for the already full suitcase that I'd brought along. Ed and I then toured the Imperial War Museum.
The IWM has several "branches," if you will. The main museum is in London, but Duxford is one of the satellite locations. This particular museum has aircraft encompassing the 80 years of the RAF, and is very comprehensive.
Excellent restoration work going on. And an excellent gift shop as well. Went over to the "armor" building at the near end of the field, and toured the chronologically arranged displays of armored vehicles, tanks, and artillery.
Showtime! There were flyovers of several Spitfires, Hurricanes, and other WWII vintage aircraft, including a British Lancaster bomber. Also, flyovers from Shuttleworth of several of their WWI aircraft.
There were many additional flights performed by 50s and 60s aircraft. On the field, rides were being offer in two '38 Dehavilland Rapide biplanes for £25, or £20 to us, as negotiated by Jerren (we got a lot of group rates for things, along with more than a few gate and venue entries by being a busload of "Old Age Pensioners" ...hey, I'm not complaining). Steve and Gail decided to forgo the air show, and went into London for the day via the train. They sure missed a great show.
Back at the hotel in Cambridge, the four of us just ordered appetizers from the hotel bar, rather than go into town or eat dinner in the hotel restaurant.
Monday, September 7 - Farnborough Air Show
Up for 7am breakfast and 8:30 departure for Farnborough Air Show, southwest London. (The Farnborough Airshow is a seven-day international trade fair for the aerospace business which is held in even-numbered years at Farnborough Airfield in Hampshire, England. The airshow's purpose is to demonstrate civilian and military aircraft to potential customers and/or investors. Along with the Paris Air Show, which is held in odd-numbered years, Farnborough is an major event for the aerospace industry, known particularly for the announcement of new developments and orders.)
Traffic was a mess and it seemed to take forever on the motorway. Arrived at Farnborough about 11am, and browsed the planes on display. At first, the tarmac and field looked largely disappointing, with just a bunch of Boeing 777s and cargo planes in sight. But, as it turned out there were plenty of "hot" fighters and 'copters along the flight line. This was the first day of the air show, the first several days of which is for the trade - or people in the biz - so, there were mostly "suits" bustling about the place, plus the occasional guy in a flight suit. Kind of cool. Got some lunch at the show, and walked through the jets on display.
With the flying portion of the show starting at 2pm, we took up a position right on the flight line (another nice touch. Of course, that's also how crowds of people get injured, as well). The show started with a McLaren Formula-1 screaming up and down the runway a few times. Saw several of the hottest fighters, the Eurofighter (recently re-named the "Typhoon"), a MiG-29, the French Rafale, Swedish Gripen, and even a Romanian fighter.
However, what was really surprising was the flying done in the commercial stuff. One of the most stunning displays of flying was by a C-17. This is the show where the pilots pull out all the stops and the flying is quite exceptional. The show was interrupted once to allow Prince Phillip's plane (with him apparently at the controls) to depart. A bit of rain started to fall later on, but it didn't stop the show. Ending with a performance of The Red Arrows, the show turned out to be much, much better than I had expected.
Leaving Farnborough just after 6pm, we made our way back to London through the usual heavy traffic. We were staying at the same Forte Posthouse hotel as two days prior. Unfortunately, however, we didn't get the same large room we'd had last time. Steve and Gail were staying at the Comfort Inn over on Cromwell near Earls Court. We met up with them later and had a late dinner at a small Italian place named Bistro Benito in their neighborhood.
Tuesday, September 8 - London
Up for breakfast at 8am (late for us). We're finished with the scheduled touring, so we had the last day in London to ourselves. Along with Gail and Steve, we'd decided to visit the Imperial War Museum and the British Museum.
The IWM was just great, with many displays and exhibits. They have a "Battle of Britain" simulation that's supposed to give you the feel of what it was like to have been there during the Blitz. Interesting, but, it felt a lot less realistic than the walk-through WWI trench exhibit. In addition to the displays of planes and armor, I enjoy seeing lots of memorabilia, uniforms, and the like. This place has it in spades. We'd given ourselves 1-1/2 hours to look around, then meet up to see if our visit warranted more time. It did, and we gave ourselves an additional hour, which still really wasn't enough - at least not for this museum hound. Had lunch a a pub across the street from the IWM at Brendan O'Grady's.
Onto the British Museum. This place is huge. There is a large Egyptology section, and many other ancient artifacts, including a room dedicated to remaining pieces of the Acropolis. Plan on the whole day if you're going for the first time.
For me, the BrM proved to be a bit of a disappointment this 2nd time around. Five years ago, the Medieval section was undergoing renovation and was closed to the public. So, I was looking forward to visiting it this time. Unfortunately, the exhibit proved to be largely artifacts rather than the displays as I'd hoped. Also, on a side note, I noticed that the usual security activity of police checking bags was not taking place. I don't know why - maybe the threats to these historical sights have diminished. That would be nice.
Took the tube back to the Kensington area, and had dinner at the Scarsdale Pub. We parted company with Gail and Steve; tomorrow they were going on to France through the Chunnel, and we were heading home.

Wednesday, September 9 - Departure - London
Up for 7am breakfast and our 8:15am departure from London. The final journey home. We boarded our bus for the last time and headed for Heathrow. With several of our group staying on in the UK, the usually packed bus looked somehow empty. Was it empty enough to not notice someone's absence? Why, yes it was. Despite the many announcements that we would leave "...promptly at 8:15" that morning, a couple in our group hadn't boarded in time, something we unfortunately hadn't realized until we were half-way to Heathrow. It all turned out okay though. They took a taxi to the airport, arriving just as the rest of us were entering the terminal.
Arriving at the airport about 9:30, we had some time to kill before our flight. The shopping at Heathrow resembles a small mall, so we perused several of the gift and book stores, before clearing security and entering the flight terminal. The 10-1/2 hour flight back was fairly uneventful. We'd requested and received our familiar "exit row" seats, and thus had plenty of leg room. This time I spent more time watching movies on the activity screen, and got in 3-3/4 movies - with the last one being interrupted for landing (I'd have thought that they'd have these timed to finish before the end of the flight).
Landing about 3pm LA time, we were wisked home by our "personal" transportation (the wives, remember?), and were home before 5pm. Of course, this was really 1:00am the following day to Ed and I. Well, that's the whole story. I'd do it again in a heart-beat, and who knows, the opportunity may just come up again.
Epilogue -
Well, it's going to take a great deal of effort to supercede this trip. We had an incredible time throughout the trip - Scotland was fabulous, and this was a lot more of England than I'd seen in 1993. If the opportunity comes up, I can highly recommend the Tattoo at Edinburgh Castle. It will send shivers down your spine.
The stop at Stratford gave us a quick glimpse of England's river canal system, and it looks absolutely gorgeous. The Cotswolds were like something out of a fairy tale. London, beautiful as always. I can't imagine staying anywhere other than Kensington, as it is just perfect for hopping the tube to anywhere in the city.