England & France – September, 2005
by Eric Anderson



ITINERARY -
England
Cambridge
Duxford
London

France
Giverny
Caen
D-Day Sites
Honfleur
Paris



Prologue -
It had been seven years since Ed and I took our fabulous 1998 trip through Scotland and England. We both longed to return to Europe, and since neither of us were getting any younger, it was all the motivation we needed to start making some plans.
First off, we checked with Jerren Auble once again to see if she was still taking her air-show related trips, and if so, what she had available. We knew she usually organized an every-other-year trip that included the D-Day Beaches in France, and we hoped that 2005 was the year once again, since neither of us had been.
Well, it turned out that Jerren did have a small tour coming up in the Fall that included England and France, and we were welcome to join in. Besides Ed and I, along for the ride was Jerren of course, plus some folks named Bud, Frank, Mike and Janice, and Ed and Betty Jo. It was to be the nine of us - certainly a much smaller group than the 45-50 people we'd had our last trip with Jerren. Sometimes, smaller is better, so it was going to be interesting to see if this was the case here.

Wednesday, 7 September - In Flight, Los Angeles to Chicago to London
Ed met me at the house, and our airport shuttle showed up a little after 10:30am to take us to LAX. We got into the moderately long line, and checked in with United. We tried to get some "exit row" seats like our last trip, but to no avail. We got a little lunch, and settled into United's Terminal 7 to wait out our 767's departure time of 2:05pm.
The 5-hour connection flight to Chicago was uneventful. I managed to watch a couple of movies, and the meal was decent. Arrived Chicago about 5pm, and wandered out into the terminal to see where we were in relation to our departing gate to Heathrow. Little did we know it was literally right in front of us (of course, we would pay dearly on return for this bit of luck), and we went up to the desk to see about seating. Hey, how's chances of an exit row seat, I asked. Nope, there aren't any, the United employee replied without looking up. But, we did get bulkhead seating on the right side aisle of the center in the 2-5-2 seating configuration. Well, at least we were going to get some legroom.
We stayed in our seating area in the terminal (largely filled already) until called, then boarded our Airbus 300. It was shaping up to be a long day, we thought, as we settled in for 8 hour flight to London Heathrow. Other passengers were still bording, as a family with two small kids approached our aisle. Apparently, the mother and her two kids were assigned to our row, just to our left and off the opposite row, while the father was seated elsewhere. After partially settling in, the mother then leaned over to the lady sitting between she and Ed and asked if she would mind changing with her husband so they could all sit together. Sure, she said, quickly surveying her alternative of sitting next to two young children. (I thought it seemed a little pushy for the mother to do this, but in fairness to her, the airline staff encouraged her to do this on her own, relinquishing their usual control over these things.)
Interestingly, we had noticed a rather frail elderly gentleman in the ticket line ahead of us. As we sat there in the plane, we were told there would be a slight flight delay due to a "special assistance passenger." Shortly thereafter, we saw the same elderly gentleman being escorted to his seat. The poor guy really didn't look very well, or fit to travel.

Thursday, 8 September - London to Cambridge
Arrived at Heathrow about 11:30am, de-planed and headed over to clear immigration and customs. Jerren had arrived earlier, and waved us over. Go on over to the sitting area, she said, I have a few more people coming. But, little did we know one of them was Frank, the very same 'special assistance' traveler, who was also one of the people on our tour. The world was getting smaller. Introductions were made all around, as we met the rest of our crew for the duration. Jerren had rented a 15 passenger van to transport us around England. We only had a 9 passenger van reserved for France, which could pose some logistical issues to be solved later, we were told.
We picked up our not-so-subtle-looking van at Heathrow (it looked like a motorized billboard), loaded all the luggage and piled in for the trip to Cambridge. Made one stop at a roadside place along the way to get a bite to eat and freshen up, finally arriving at our motel, the Cambridge Moat House in Bar Hill. Checked in, then made a brief trip into town to exchange Dollars for Euros, then back to the motel. Had dinner (£7.95) and a few beers at the motel, in a very nice outdoor setting. Finally to bed about 9pm. Ed and I were both fairly tired, having only cat-napped on the plane(s).

Friday, 9 September - Duxford & Cambridge
Woke up to the alarm about 7:00am and scrambled off to our scrumptuous English breakfast. Plans for today include a trip to Duxford, a village in Cambridgeshire and the site of one of five IWM (Imperial War Museum) museums. They were expected to be very busy during the Air Show on Saturday, so this was a chance to wander about with a much smaller crowd. Afterward, we were scheduled for a visit to the town of Cambridge for some walkabout time.
We'd intended to leave the motel at 8am, but Jerren popped down to the lobby to let us know that the Air Base didn't open until 10am, so no hurry. Cleared the gate, where Jerren dropped us to go park the van. We were told to meet her back at the drop-off point at 12:30pm, giving us a couple of hours to check out the hangars and several planes already stationed on the flight line. After that, it was off to the American Museum and Land Warfare Museum. In between the museums, we saw a Spitfire practicing some maneuvers on the tarmac. It was like stepping back in time.
We all met Jerren back at the appointed time, and took the van into Cambridge. After dropping the van off at a park & ride, we all took the city bus to St. Andrews & Emmanuel to visit the Eagle Pub for lunch. The Eagle is quite famous, with its 16th Century ceiling having been signed by World War II armed forces, using cigarette lighters, candle smoke, and lipstick. After lunch we were on our own, with everyone agreeing to meet back at the bus stop at 5:30pm for the trip back to the van. And with that, we all took off in various directions.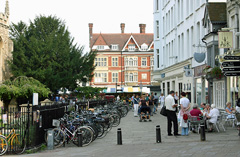 Ed and I headed over to Gonville and Caius College to see the location of the Reverend George Phillips' graduation place (Ed's distant relative and the first church minister of Watertown, Massachusetts). Gonville and Caius is the fourth-oldest college at the University of Cambridge, established in 1348. Then we were off to check out King's College (est. 1441) and Trinity College (est. 1546). What a gorgeous setting. The day was nice and sunny - a little balmy with some humidity in the air. From the banks and bridges on the River Cam (hence the name Cam-bridge) we could lots of people punting, or pole boating in a flat-bottom boat known as a punt.
About mid-afternoon the weather changed. The balmy temperature gave rise to some dark and ominous clouds, which in turn led to a light, then steady rain. As the lightning, thunder and rain came, both Ed and I scurried for cover under a big tree. Wait a minute, aren't trees basically lightning rods, we wondered? We were on the outskirts of town, so we tried ducking under eaves, porches and awnings wherever we could as we made our way back into the center of Cambridge. We finally found a small cafeteria to duck into, and it looked as if many others found the same place as well. Standing there dripping, we remembered how clever we were to have brought umbrellas and waterproof shoes along on the trip - only to have left them back at our motel (well, it was sunny when we started out!). We finally made it back to our meeting place at the bus stop, however we got drenched - I mean completely soaked, in the process.
The rain had cut short our exploration of town, so we caught the bus back to the park and ride and finally got back to the Moat House about 7pm. We had dinner in the bar/lounge and back to the room about 9pm.
Photos from Cambridge -

Saturday, 10 September - Duxford, Battle of Britain Air Show
Up early for breakfast at 7:30, then off for Duxford about 8:00, arriving about 9am. After parking, we milled around, checking out some of the many vendor booths set up for the event. Flight line opened at 9:30 for £4 each, Ed and I were able to get in close with tons of photo opps. Then the public address system blurted out that Messrs. Anderson and Gill should report to the media tent, where Jerren gave us both tickets to get into the fly past facility. This put us front and center, and right at the chain link fence for viewing. Very nice!
It rained a little off and on during the day, just after the program started at 2pm. Thankfully, we had our umbrellas this time around. Great program, especially the Spitfires and a B-17. We had seen a banner yesterday that avaition artist Robert Taylor was going to be participating in a book signging. It turns out, Robert Taylor is Ed's all time favorite artist. So Ed, a watercolorist himself, found a chance to say "hi" to one of his heroes.
We grabbed some lunch during the show, and finally left about 5:45 for the motel. Jerren had arranged dinner at 7:00pm at a little place she knew in Dry Drayton, called the Black Horse Pub. Then it was back to the motel and to bed about 9pm. I'd been plagued by an itchy throat all day, and was hoping nothing would come of it. But, this in addition to a runny and stuffy nose didn't seem like a good harbinger of things to come.
Photos from Duxford & Battle of Britain Air Show -

Sunday, 11 September - Cambridge to London
Up early at 7:00 for breakfast, then packed and we set off for London. Well, it's now official - I was starting to feel cold or flu-like, and didn't have any meds to take. I can't say for sure that walking around in wet clothes was the culprit here, but it made plenty of sense to me.
On the way to London, we had one driving miscue and ended up in Loughton trying to figure how to get back on track. (Unlike the '98 trip, Jerren was the one doing the driving this time around, with several of us - me included - alternating at navigation.) There we were, with a map sprawled out on the hood...er, bonnet of the van, trying to get the lay of the land. Thankfully, she found a good samaritan to give us some instructions on how to get into London. We had some success getting into London, but once we go to the Central part of the city, it looked as though we needed further help. So, what to do? Jerren asked a cab driver to lead us to our hotel. Absolutely brilliant!
We arrived at the Grange Rochester on Vincent Square (near Victoria Station), and dropped everyone with their luggage. We weren't going to need the van any more, so Jerren and I took it to the drop-off point, and took a taxi back to the hotel. Got settled in our hotel rooms, then, Ed and I were off to Westminster with Mike and Janice. Afterwards, we split up and Ed and I walked over to check out Victoria Station the 2nd busiest in the U.K. After dinner at Biguns Ribs (a rib joint in London - go figure!), we found a little neighborhood Tesco store with some cold meds, and then it was back to the room so I could hunker down for the night.

Monday, 12 September - London
With nothing scheduled for the day, we had a free day to sleep in a little later. Something weird was going on with the bed though. The hotel has the mattress covered with a plastic slipcover. No big deal, except that this magnified both body heat and the ambient heat of the room. I felt like a jacketed potato. We went down to breakfast (very nice!) about 9am, where Bud offered me one of his Airborne tablets. I'd never heard of them, but he swore it had immediately knocked out any colds he'd had. Little did I know.
After breakfast, Ed and I headed for the Temple Church, catching the tube at St. James's and exiting at Temple. Bummer - they're closed on Monday's & Tuesday's! This was Ed's 3rd unsuccessful attempt (#1: closed for reconstruction; #2: closed for wedding) to see the place where one of his relatives was buried. So, we wandered about some, then back to the hotel, where I actually took a nap. Somewhat refreshed, we both headed down to the lobby to get a drink. Found Jerren and we all chatted until Ed and I set off for fish and chips at the Cardinal Pub on Francis Street.
Back to the hotel about 9:00 and to bed. Tough night's sleep; still fighting the cold.
Photos from London -
Tuesday, 13 September - London to Paris to Giverny to Caen
Up at 5am (no breakfast), we loaded our bags and took a couple of taxis to Waterloo Station to catch the train to Paris via the Chunnel. Jerren had arranged with the hotel to put together some brown-bag breakfasts, which we ate in the station while waiting for our train. Plan was to rent a van after arriving at the Gare du Nord station in Paris, and head for Caen in Normandy. Owing to the limited space we were expecting in the 9-passenger van, Jerren asked that we pack two bags each - one to bring along with us to Normandy, and one to leave at our hotel for our arrival back in Paris on Friday.
Interesting trip on the Chunnel train. The majority of time passes while going through England, with only about 20 minutes under the English Channel, and pretty much a high-speed run on to Paris. Interestingly, the French rail system is largely high speed - very high speed, whereas the U.K. side of things is appreciably slower - owing to an older rail system that has not been upgraged.
Finally arrived in Paris about 11:00, and began the long haggle/wait with the rental car folks. No, not this - that. Well, when will it be here, etc, etc. Finally settled, we rented a Citroen "Jumper" van that actually held all of our belongings, so we thankfully didn't have to make a stop at the hotel to leave our extra bags. Finally left Paris at 2:00pm and headed south west for Normandy.
A visit to Giverny was on our itinerary for France. But, the weather forecast called for rain sometime over the next few days, so Jerren felt that stopping off at Giverny to visit Monet's Gardens might better be done today, rather than trying to pick up the stop on our return drive to Paris on Friday. Arrived at Monet's Garden about 3:00 and roamed the place for some pictures of the very photogenic grounds, leaving about 4:30pm.
Arrived in Caen about 6:00pm, and checked into the Hotel Moderne. Ed and I decided to check-out the area, including a look at William the Conqueror's original castle, his domicile before he decided to take that career-making trip to England. We had dinner at an Italian place just down the street from the hotel. Starting to feel much better now - it must be France!
Photos from London, Paris, Giverny, and Caen -
Row 1 - Chunnel departure & arrival
Row 2-3 - Monet's Gardens, Giverny
Row 4 - Caen, Normandy

Wednesday, 14 September - D-Day Sites & Memorials
Up early, though overslept a bit (I'd forgotten to change the alarm clock - it's an hour later in France). Off to breakfast at 7:15am on the hotel's 5th floor (we were on the 4th). The room was packed with a bus-load or two of German tourists eating breakfast as well. Waited a bit for a table, then we all met in the lobby at 8:00, where Jerren introduced us to Nigel Stewart, a guide that she'd hired to take us around to all of the sites. Nigel was a Brit, living with his French-born wife in Normandy.
We boarded our 9-passenger van, but with Nigel being the 10th person, we had a little seating arrangement business to take care of first. With the bags now gone, there was enough room for a small adult (yay!) to climb into the back of the van. Get in the back, Eric, somebody said, making it sound more like a mafia pickup than a tour. So, I climbed in and we set off to visit several D-Day sites.
We had an incredible and informative tour of roughly eight stops, including Ste. Mère Église, Utah Beach, Omaha Beach, Pointe du Hoc, both the American and the German cemetaries, as well as a few chapels/churches - including one which was used as a safe harbor for the injured and still retained its blood-stained pews. We saw lots of hedgerows, the seemingly impenetratable growth of trees and bushes that kept the Allied troops from advancing any faster.
All the places we visited have thankfully been largely preserved from commerciaization. A few towns such as Ste. Mère Église have some tourist shops scattered around, but nothing untoward. The landing beaches were likewise preserved, with some small museums and the occasional little cafe (people do have to eat). We had some lunch at a little Utah Beach cafe called Le Roosevelt Brasserie, which also had a small museum of collections by the owner of the cafe.


There were probably hundreds of registered tour guides that Jerren could have chosen for this portion of the trip, but Nigel's approach and performance was very impressive. He was un-aloof, extremely knowledgeable about the material and events and a stickler for the details of each stop we made. It was especially informative to have taken this tour in nearly chronological order - from the paratrooper landings in Ste. Mère Église, to the glider catastrophes in the countryside, to the Ranger's scaling of Pointe du Hoc, to the landing beaches, and finally to the emotional experience at the sight of the cemetaries.
Back to hotel about 6:45pm, and we each tipped Nigel €20 for his amazing tour. The day was educational and very moving. And, as it turned out, riding in back of the van proved to be a great for location for taking photos through the back windows, whilst trying to stay balanced of course.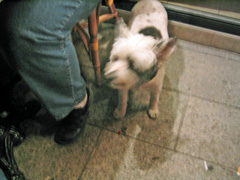 After freshening up, several of us went out for dinner at Brasserie Du Theatre, located in the nice town square, and obviously near the local theater. We sat outside enjoying the evening. As my main dish, I had selected "Andouilette." It seemed innocuous enough - I've had andouille in the states, how different could this be, I thought? Well, the andouille I'd had stateside was really ground-up - like sausage. This, on the other hand, wasn't ground-up nearly so much. In fact, I'm pretty sure I recognized the origin of most of the ingredients, and its chewiness wasn't helping. But, like divine intervention, there was a little dog running around outside, sometimes wandering over to the tables in hopes of getting fed. A lot of the Andouilette went to that little guy. And, we all had a big laugh, imagining the poor dog dropping dead on the spot. After dinner, we walked around town a bit, before heading back to the hotel.
Photos from D-Day Beaches & Memorials -
Thursday , 15 September - Caen to Honfleur
Up for breakfast at 8:00, we packed the van and headed off for Honfleur about 10:00. We took A-13, with me at the wheel and Jerren navigating for a little change of assignments. It's a picuresque, but slow drive that had us arriving about 12:30pm.
Our rooms at the Hotel De La Tour weren't ready yet, so Ed and I took a little stroll around town. Amazingly beautiful old buildings seem to abound here, along with lots of restaurants and a terrific ancient port known as the Vieux Bassin. Grabbed some lunch of baguette, salad and cheese at Cafe Au Port, and walked back to the hotel to check-in. Interesting room, with 3 beds on an upper level, and one bed below. Met Jerren in the lobby. She'd been shopping, picking up a baguette, a pound of Norman butter, and some cheese. She shared!
Back out to dinner, six of us went right around the corner to La Grenouille Brasserie. I order the prix fixe of pate, mussels, and frommage for €16. Ed, always pushing the cuisine envelope, got the winkles, periwinkles, mussels, and merengue.
We'd seen most of the Vieux Bassin on our little walk, but I was intent on going back over to take advantage of the sunset - especially since I saw rain clouds gathering. Excusing myself from the table, I rushed over the the Bassin to grab a few photos just before the rain started. It was good timing, because it started raining on my way back to the restaurant, and rained most of the night and into the morning.
Photos from Honfleur -
Friday, 16 September - Honfleur to Paris
Up early for breakfast, then off for Paris about 9:00 amid light rain. Of course, we needed to stop off at the Palace of Versailles (Château de Versailles) for a little visit, arriving about 12:30pm.
As we drove up to Palace, Jerren stunned most of us, as she by-passed the parking lots and driving right up to the gates, while explaining to the lot attendants that she needed to dropoff some handicapped people. As sneaky as it was, her goal was to spare us the rather long walk from the parking area to the palace.
Arriving at the ticket building, Jerren instructed everyone buy their tickets and take the handicap entrance (except for me - did I mention I look young?). Meanwhile, she drove the van back down to the parking lot, and hoofed it back. I bought a ticket separately, and wandered in to look for the rest of the group. They had taken the elevator to an upper level, and I was on the lower level. So, nobody was in sight, and as far as I knew, we had no plan of attack. So, I took a few photos of this and that - even went to the €.50 toilette. Then, I finally wandered over to a small cafe where I found Ed, Jerren, Frank, and Bud gathered around a small table in the back munching on a little lunch. Gee, mind if I join you?
When the château was first built, Versailles was a country village. Today, it is a suburb just southwest of Paris. The court of Versailles was the center of political power in France from 1682, when Louis XIV moved from Paris, until the royal family was forced to return to the capital in October 1789 after the beginning of the French Revolution. After the French defeat in the Franco-Prussian War, the palace was the main headquarters of the Prussian army from October 1870 until March 1871. On January 18, 1871, Prussian King Wilhelm I was proclaimed German Emperor in the Hall of Mirrors, and the German Empire was founded.
After the First World War, the palace hosted the opening of the Paris Peace Conference in 1919, not coincidentally held on January 18th. Germany was blamed for causing the First World War in the Treaty of Versailles which was signed in the same room on June 28, 1919. So, aside from being gorgeous, it is historically a fascinating place to visit, though I'm sure a guided tour would have educated me more than just wandering around on my own.
Departing Versailles about 2:00pm, we waited for Jerren to bring the van up to the ticket office (we were handicapped, remember?). (Actually, in all honesty, Frank seemed in no condition to walk long distances, so Jerren would have needed to accomodate him regardless.) All loaded in and we were off to Paris, with me navigating (shudder!). Well, we almost made it without help, but a few lost streets and we were essentially off the map. As with London (maybe all of Europe, for that matter), street names in Paris are often conferred upon streets of less than 100 yards, thus making navigation a bit tricky at times. I have no doubt we have the Romans to thank for this.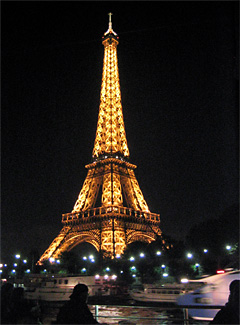 With the same cleverness she showed in London, Jerren found a cabbie who would lead us to our hotel while we followed. We dropped off everybody and the luggage, and I offered to accompany Jerren to take the van back to the Garde Du Nord train station. We parked the van on the street, and headed in to the rental agency to return the keys. We took a cab back to the hotel.
Once back, Ed and I decided to take a walk to the Gare D'Lest train station, to see how long we needed to plan for our departure trip to Champagne the following day. We finally got back about 7:00, but the others had already left for dinner. Once they arrived back, we all departed for a Seine River cruise. While we waited to board the boat, we had a chance to use the facilities, or conveniences as they say in England. Well, these were a far cry from what we'd seen in England. The portable restrooms were atop a truck trailer, looking very clean and well-maintained on the exterior. Apparently, they were not all created equal. Some were labeled men or women, some were not. You merely had to wait until the previous occupant exited the door, and the place was yours. It seems, some also had actual seats, while others were just - well, a hole in the floor is the best description of these toilettes. So much for daintiness!
It was cold and windy topside, but the cruise on the Seine was excellent. Great view of the Eiffel Tower and Notre Dame and the riverside. To ward off the cold, Jerren brought along some Calvados (apple brandy) she bought in Normandy. Since Ed and I had missed dinner, we talked Jerren into coming along to McDonald's. Ed got a McSummer burger (?) and I got a couple of cheeseburgers and a Stella Artois. Back to the hotel about 11:00pm.
Photos from Versailles and Paris -
Row 1-2 - Versailles
Row 3 - Seine River Cruise

Saturday, 17 September - Paris to Reims & Back
This was a "free day" on the tour, and most of our group had planned to visit museums and galleries. However, Ed and I had decided to take a little side trip while in France. I figured, hey, I'm here in the most famous wine area of the world - I need to visit some wineries. Unfortunately, most of the famous wine regions (Burgundy, Bordeaux, Rhone Valley) were quite far from Paris. But not all of them! The Champagne region was reasonably close - just a short train ride away. I'd told Jerren what we wanted to do, and bought the tickets through her. So, while everyone else had to take in some form of art - Ed and I got to go wine tasting!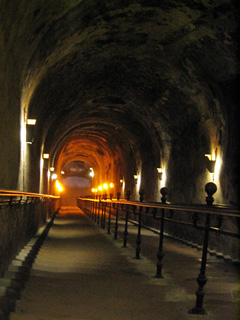 Up early for a 7:00am breakfast, then off to the train station for an 8:16 to Reims (pronounced by the French as Rawn-ss, with a slight guteral intonation). We found out yesterday that we could take the Metro to Gare D'Lest to save some time getting to the train. Once aboard and out of the city, it was nothing but the gorgeous French countryside all the way north to the Ardennes. We even saw a few chalk formations from the train window. (Champagne is known for its chalky subsoils and most of the caverns and chalk pits are where the wine is stored while aging.) A couple of train stops later, and we arrived in Reims at 10:00. We took a cab (€8.50) to Champagne Pommery.
Since we arrived early for our 11:00 appointment, we walked up the block to Campagne Ruinart to get a sense of how long the walk might take us, as we would be coming here in the afternoon. Then we headed back to Pommery, and took the "traditional" tour. Kind of a funky place, with more of an accent on art, than on wine. Very nice chalk pit tour of their cellar area, then up topside to the main room for a small taste of Champagne. Frankly, for €8 I expected more of both tour and Champagne.
We had a couple of hours until our Ruinart appointment, so we left Pommery on foot and headed for the center of town and the Notre Dame Cathedral. It took us about 30 minutes to get there, and we picked up a savory croissant at a boulangerie along the way. Gorgeous cathedral, huge vaulted ceilings and lots of stained glass, including some from Marc Chagall.
Departed the cathedral about 1:45 and wandered over to a nearby wine store to pick up some Champagne biscuits (they're pink!). Then, we headed out for our 2:30 appointment at Ruinart. Excellent tour, though I did take a tumble on that last step into the chalk cellar, embarassing myself and breaking a few biscuits in the process. Up in the tasting room, we were poured nearly a full glass of the '96 Ruinart - far better care than we got at Pommery. The tour and degustation (tasting) was €18. We asked afterwards as to the retail on that delicious '96 -- $120 was the answer!!
We had the desk at Ruinart order us a cab from the business card that we had so nicely been given by our cabbie in the morning. Arrived back at the station at 4:45 for our 5:24 return trip to Paris, which arrived at 7:00. We joined most of the others for dinner at a place on the corner, Pizza Casa Tina. Back to the hotel for a bit, then Ed, Jerren and I hopped the Metro for a trip to Monmarte.
Exiting the Metro, we took the funicular railway to the top. Located on the Right Bank, Montmartre is highest point in Paris, primarily known for the white-domed Basilica of the Sacré Cœur, but equally as well for the all the nightclubs, cafes, crêperies and bistros. Amazing place!!
Back to hotel about 11:30, and finally to bed about Midnight. Long, though very enjoyable day.
Photos from Paris and Reims -
Row 1 - Train to Reims; Champagne Pommery
Row 2 - Notre Dame Cathedral, Reims
Row 3 - Champagne Ruinart, Reims
Row 4-5 - Montmartre, Paris

Sunday, 18 September - Paris to Chicago to Los Angeles
Up about 7:30 for 8:30 breakfast. With the last day - and a short one at that, we still wanted to see a museum or two, if possible. We didn't have much time, since we needed to leave the hotel at 12:30. So, taking a look at their relative location in the city, it appeared that our best bet was taking the Metro to Musée d'Orsay to checkout the artwork and sculptures. Very nice, and especially nice that it was open reasonably early on a Sunday!
We got back to the hotel about Noon for checkout and departure, taking a cab to DeGaulle for our 3:15 United flight to LAX via Chicago. The airport sends you through security first, then they do the baggage check and finally ticket you. Of course, there's another security check before going into the boarding area. We'd grabbed a baguette sandwich and a beer for a snack, since we had no idea what or when they'd feed us on the plane. It turned out, they served dinner and snacks.
Ed graciously took the center seat on the plane, but it was a restless flight for both of us. We arrived in Chicago about 9 hours later and went through Customs, before boarding a light rail shuttle to get to Terminal 1 for our departing flight to LAX. After the 5 hour flight to LAX, we were more than a little tired. We got our bags and waited curbside for what seemed like a long time for the Super Shuttle to arrive. The upside was that we didn't have to drive ourselves or inconvenience anyone else to get home. The downside was that everybody on this Orange County shuttle trip seemed to live farther north (closer to LAX) than we did, which meant several detours off the 405 Fwy to take other people home. With only two of us remaining, I had the shuttle guy drop Ed off first, then me at about 2:00am, or more like 11:00am body time. Phew, long road home.

Epilogue -
As it turned out, the smaller group made for some very nice dynamics. Everyone was congenial and generally upbeat, making the time spent in the vans quite enjoyable.
England was nice, as always. London seemed less so, this time out. It was probably the limited amount of time we had in town - especially compared to the 1998 trip, plus my being under the weather for that part of the trip. France, OTOH, was wonderful - first time here for me, and it did not disappoint! The D-Day tour was incredible, and very moving. The Normandy region was gorgeous, especially Honfleur. The run to Champagne was great as well, and Paris was both beautiful plus a lot of fun. If you haven't been to Montmartre in Paris, you simply must go. I can't wait to go back.