Jay Selman and I attended the inaugural Sta. Rita Hills event called, "Wine & Fire - igniting the passion." Sponsored by the Sta. Rita Hills Winegrowers Alliance, the event was designed to showcase many, if not all, of the wines from this exciting new AVA in western Santa Barbara County.
Festivities began on Friday, with a welcoming evening reception at the historic La Purisima Mission near Lompoc. Many of the winemakers were there, pouring library and current bottlings of their wines. The reception was followed by a screening of "From Ground to Glass," a documentary from filmaker Rob Dafoe, about his personal journey to make wine, and what he discovered in the process.
Saturday started early with the first of three seminar/tastings. Two tents had been setup in a secluded canyon off the west end of Santa Rosa Road. It was nice and rural, lending a serenity to the entire day. How rural was it? Well, we did have a few little visitors popping their heads out now and again.
The SRHWA used a unique approach to conducting the four seminars as well, since the attendees were to stay in their "assigned" seats, while four groups of winemakers rotated through each tent. Each tent had a separate flight, so that the panelists would move right along with their respective wines to the next tent. Clever idea!
The four seminar/tastings consisted of '04-'05 Chardonnay, followed by '05 Pinot Noir, and then two flights of '04 Pinot Noir. We situated ourselves in tent #1, which was to have the initial Chardonnay tasting (hey, what's better than to start the day Chardonnay). Panelists included Bryan Babcock, Steve Clifton, Mike Roth, Alan Phillips, Kirby Anderson, and Randy Rozak. After about 45 minutes, we all took a break for the sommeliers to pour the next flight, and the winemaker/panelists to switch around.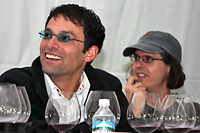 Next up, the Panel B Pinot producers, which included Wes Hagen, Bruno D'Alfonso, Ryan Carr, Andrew Vingiello, Brian Loring, and Tim Perr. Each of the panel discussions was fascinating, and at times more than a little funny - like when Bruno said (and I paraphrase) that all this business about Pinot being hard to grow was hogwash. It grows great, he maintained, and all that really remained was for the winegrower not to screw it up. The look on the faces of Andrew Vingiello and Wes Hagen was priceless - something between incredulity and apprehension.
Panel C was Peter Work, Brian Freeborn, Norm Yost, Bruce McGuire, Greg Brewer, and Kris Curran. This panel also had a few funny moments, not the least of which was due to Bruno standing at the back of the tent, probably egging Kris on. I'll just say that it had to do with Bangkok, and the comment flew completely over one panelist's head.
Panel D was Richard Sanford, Joe Davis, Kathy Joseph, Ken Brown, Frank Ostini, and Matt Ortman. Pretty interesting with two of the 'old guard' on the panel - Richard Sanford and Ken Brown (former Byron owner).
After the tasting/panel discussions, everyone walked over to a corner of the canyon shaded by old oaks - as opposed to new oak! There, New West catering had prepared a feast of roast suckling pig and spit roasted lamb, accompanied by grilled veggies and potatoes, and all available to be washed down with lots of Sta. Rita Hills Pinot Noir. What a lunch! Saturday night offered several winemaker dinners held a various wineries. These were considered separate events, and not covered by the admission to the Wine & Fire event. Jay and I were Jonesing for a hamburger, and elected to visit the Firestone Brewery instead, but we heard that everyone had a great time at their respective dinners.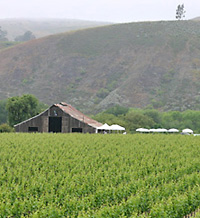 Sunday was open house day for the wineries, and Jay and I attended the celebration held by Fiddlehead at their Fiddlestix Vineyard. The Hitching Post supplied the chef honors, and many producers using Fiddlestix fruit were pouring their wares inside the old barn. In fact, the old barn, we were told, had just recently had a new cement floor poured - it previously was just dirt.
This was a great cap to the weekend, and we're proud to say that we got more than a few interviews for GrapeRadio in the process. So stay tuned to some more Sta. Rita Hills talk, with the likes of Brian Loring and Joe Davis, Wes Hagen, Steve Pepe, Peter Work, Frank Ostini, Greg Brewer and Steve Clifton, Kathy Joseph, and Kenneth Crawford's Joey Gummere.
August 28, 2006
---
DRY CREEK VALLEY - an affinity for Cabernet?
I came across an article, penned for the Winegrowers of Dry Creek Valley, that had some interesting perspectives on how well Cabernet Sauvignon grows in the DCV. Here it is, reprinted by permission:
DRY CREEK VALLEY:
CALIFORNIA'S UNDISCOVERED CABERNET COUNTRY
HEALDSBURG, CA, August 21, 2006 — The Winegrowers of Dry Creek Valley hosted the Seventh Annual Insider's Exploration of Dry Creek Valley in early August, featuring a panel discussion at Dry Creek Vineyard entitled "Dry Creek Valley: California's Undiscovered Cabernet Country." A relatively unknown fact is that there are more acres planted to Cabernet Sauvignon (2,500 acres) in Dry Creek Valley than to Zinfandel (2,200 acres) out of a total 9,300 vineyard acres in the appellation. Currently, more than 30 of the 53 bonded wineries in the valley are producing an appellation designated Cabernet Sauvignon.
Don Wallace, president of Dry Creek Vineyard and moderator of the discussion, introduced the four panelists: Fred Payne, former winemaker at Michel-Schlumberger; Jim Forchini, owner/winemaker at Forchini Winery; John Hawley, owner/winemaker at Hawley Winery; and Ed Sbragia, owner of Sbragia Family Vineyard. Clay Mauritson, president of the Winegrowers of Dry Creek Valley and owner of Mauritson Family Winery, welcomed the group of more than 170 media and trade.
Why is Dry Creek Valley a Winemaker's Appellation for Cabernet?
Winemaker Fred Payne has been making Cabernet in Dry Creek Valley for more than 25 years. "I've made wine other places and elected years ago to come here because the valley's climate and geological structure provide a tremendous spice rack that winemakers can choose from," said Payne. In Dry Creek Valley, a small appellation that is approximately 16 miles long and 2 miles wide, the temperature varies from south to north and west to east. "Like most small California valleys, there is some heat compression at the top of the valley," explained Payne. Typically, the temperature is warmer in the northern and eastern areas, and cooler in the southern and western portions of the valley. In addition to these variations, there are other climatic dimensions. "The valley floor tends to have one kind of weather," said Payne, "and then as you go up in the hills, the maritime influence of the Pacific Ocean 20 miles to the west greatly affects the mean maximum summer temperature."
Even on the hottest summer days, Dry Creek Valley gets warm for just a few hours in the afternoon, as there are cooling breezes in the morning and again in the late afternoon as the sun goes down. "As a result, we have less time at warmer temperatures and we develop ripeness in the Cabernet grapes. We get the good ripe cherry fruit flavors, and the berry flavors that Dry Creek Valley is known for," said Payne. "But we also have the spice that distinguishes these wines. One of the reasons that Bordeaux varieties have been prized, especially Cabernet, is because of the spice element and the wines' ability to age — I also find that in Dry Creek Valley wines."
"We have the geological differences from the soils — the western hillsides, elevated bench of the east and valley floor — as well as the climatic differences. It gives us this spice rack for blending. There are some wonderful single vineyard wines coming out of Dry Creek Valley, but those of us who like to meddle can work with this diversity and make wines that nobody else can make. We're blending from one geological area for structure, another for the fruit, and perhaps another for the mid-palate. All of these elements come together in wines that winemakers like to make, so I think of it as a winemaker's appellation," concluded Payne.
The Evolution of Cabernet in Dry Creek Valley
Another veteran of Dry Creek Valley Cabernet Sauvignon, Jim Forchini first planted the variety on his vineyard property in 1974, immersing himself and his family in the renaissance of the Sonoma County wine industry. "Zinfandel was planted in Dry Creek Valley in 1860, and has a long lead time on our Cabernet, which really wasn't planted here until around the early 1970s," said Forchini.
"We planted Cabernet as part of this renaissance program, where we were encouraged to improve our Dry Creek Valley vineyards. This was the vision of certain people, like Rodney Strong, and our farm advisor, Bob Sissen." Up until that time, most of the vineyards in Dry Creek Valley were head-pruned generic vines that went into jug wines. "The Dry Creek growers were eager to get into this ultra-premium market to better their lot," he explained. "Hundreds of acres of prunes were removed, along with some of the older vineyards, and Cabernet was planted along with other premium varieties."
"Even though we had a lot of experience in how to farm and grow grapes, there was a new learning curve with these super varietals," said Forchini. "In 1970, the specifications for the grapes were not what they are today. We had a minimum sugar requirement of 21 Brix, sugar-acid ratios were not important, farming for mature ripe tannins and flavors was unheard of. When we entered the ultra-premium wine business, we had to learn how to farm for quality, and we had to make many changes in our operations."
"And we learned," continued Forchini, "we learned the hard way. We discovered that Cabernet Sauvignon was a very vigorous grape. It suckered profusely from the trunk, and it suckered from the cordons. It wasn't uncommon to have two to three shoots emerge from a single bud, each of these shoots carrying clusters of grapes. A lot of the earlier plantings were on St. George rootstock, the mainstay of our industry at the time. It was a great rootstock for dry-farmed Zinfandel, but for Cabernet, it was the worst thing you could use. It produced huge vegetative canopies, which shaded the fruit. There wasn't good color in the skins. It was difficult to control mildew and fungus on the berries, and herbaceous flavors were imparted to the wines."
"AXR-1 rootstock came along to solve the St. George problem," he said, "but we found out within six to eight years that it wasn't the answer either because AXR-1 was not resistant to Phylloxera B. It also resulted in decreased vigor of the vines, stunted shoots and it proved difficult to get the grapes ripe."
Around the mid-80s, growers in Dry Creek Valley started to learn by doing what they had done in the past, as well as staying abreast of technology. "We slowly replanted Cabernet on the hillsides and bench lands, and dry cropped to newer rootstocks that were now available," explained Forchini. "Selecting new rootstocks, and planting on what I call 'thrifty soils', were the major factors in reducing the vigor of these excessive canopies." This was coupled with new trellis designs that spread the grape clusters out so they wouldn't bunch up, making them less susceptible to rot and allowing more sunlight in the fruit zone. Overall, growers did a better job of canopy management and in selecting virus free clones.
"All of these elements started to come into play," he concluded, "and we saw a tremendous improvement in the quality of the Cabernet Sauvignon wines coming out of Dry Creek Valley. We have great 'terroir' in Dry Creek Valley, but just having the 'terroir' doesn't mean it's a given that a vineyard will be a 'grand cru.' The grower's input to a vineyard is critical. A grower can fine-tune his vineyard to pull the best out of the land. Our growers' decisions are augmenting the 'terroir' of Dry Creek Valley. The end result is what I like to refer to as the 'chemistry of the vineyard' — the growers' input plus the 'terroir' develops certain chemistry, which is the starting point for making great wine. This chemistry is delivered to the winemaker, and hopefully the winemaker captures this chemistry and develops a style that reflects their own winemaking philosophy."
The Golden Age of Cabernet in Dry Creek Valley
Winemaker and owner of Hawley Winery, John Hawley has been working with Dry Creek Valley Cabernet grapes for about 25 years. "Dry Creek Valley has long been a source of excellent quality Cabernet," stated Hawley. "It's been kind of a secret to a lot of consumers, but not to the winemakers or winery owners. When I was working at Clos du Bois during the 1980s, we bought a lot of Cabernet out of Dry Creek Valley, and we blended it with our Alexander Valley fruit. I really like the purity, the intense cassis, cherry and blackberry flavors, and it adds structure. It has nice high acidity, and I found it to be an excellent blending component, but the wines were never identified as Dry Creek Valley. Again, when I was at Kendall Jackson in the 90s, we bought a lot of Dry Creek Valley fruit. In fact, every year, I would make about 85 different wines from various vineyards throughout Napa and Sonoma Counties, and I remember a specific vineyard in Dry Creek Valley that consistently, year after year, would be my top blend of the year, my very best wine. It would go under the Grand Reserve designation. It was our most expensive Cabernet, but it was never identified as Dry Creek Valley. I think that's been very typical of the way a lot of the fruit has gone to larger wineries in the past, and Dry Creek Valley hasn't been getting a lot of credit for these wines. But, that's changing."
There was a big planting boom of Cabernet in the 1990s as the varietal grew in popularity. Improved trellising and a lot of other improvements in viticulture occurred during this timeframe, as described earlier. Eventually however, around the year 2000, there was somewhat of a glut of Cabernet Sauvignon. "We found ourselves in an over-supply situation," explained Hawley. "Many of the large wineries backed off contracts, let contracts expire, and so small wineries like mine jumped in and picked up the grapes, fruit that hadn't been available to us in the past. With the prices of grapes being low during the last six or eight years, many growers decided to start their own wineries rather than sell their grapes at low prices. Now, we have more than 30 Dry Creek Valley wineries making an appellation specific Cabernet Sauvignon."
Most of the wineries in Dry Creek Valley are small and family-owned; basically it is a cottage industry. "I make wine with my two sons, and that's the size of my winery,'' said Hawley. "That's very typical here. We are just small, individual families focusing on how to make the very best wine we can. We don't have the flexibility of large wineries. If a wine doesn't come out right, if we don't pick it at the right time or if something goes wrong, we can't just blend it away. We have to make everything count. We are too small to be able to absorb mistakes so we have to really concentrate on our winemaking. There is a resurgence of Cabernet in the valley. After 30 years of improvement, we are making some great wines. The proliferation of small wineries combined with all this experimentation in viticulture and enology has led to a real golden age of Cabernet in Dry Creek Valley."
Ed Sbragia concurs with this conclusion. Raised in Dry Creek Valley and a winemaker in Napa Valley for the last 30 years, he is also the owner of Sbragia Family Vineyard. "Dry Creek Valley gives us seductive, elegant wines that go well with the foods we enjoy," said Ed. "We make great wines for today, and they also age very well. I think what separates us from other areas is that Dry Creek Valley is family owned. I just bought a winery down at the end of Dry Creek Valley, formerly Lake Sonoma Winery. My son is making the wine. My grandfather worked at Italian Swiss Colony, and my father made Dry Creek Valley Zinfandel from our home ranch vineyard, so we are four generations working in the same valley. I'm glad to be home."
The GrapeRadio crew attended this year's Auction Napa Valley, covering many of the auxiliary events, conducting interviews, and taking more than a few photos as well. This annual charity event spans an entire weekend, culminating in the auction itself at the Meadowwood Resort in Napa Valley. This is written as sort of a companion piece to the photojournal (see).
We arrived on Wednesday, just in time to participate in the annual "1/2 bottle lunch," held on the grass at Taylor's Refresher in St. Helena. The price of admission - a half-bottle of something white or red that qualifies as wine. It was kind of "pinch me" lunch, with people like James Laube and Heidi Barrett in attendance. From here, we went over to our lodging - a cottage located right in Trefethan Vineyard. Perfect surroundings.
Thursday started off nicely for us, with a visit to Colgin to meet with Mark Aubert, check out the Colgin facility and taste some wine (see). From here, it was a quick lunch at Taylor's Refresher (you can't go too many times), then off to Schramsberg for a cave tour and tasting. Thursday evening, we were invited to a hospitality event at Pride Mountain for a tour/tasting and dinner. What a day!
Friday began with a media welcome at Cakebread Cellars. The Cakebread family was presiding as Chair of this year's event, so this was a golden opportunity for us to spend some time talking with Dennis and Bruce Cakebread (yes, that's their real name), and get the flavor of what this event means to the Vintners Association and more rightly to Napa Valley.
From here, we were off to the huge Sutter Home facility, which was hosting the day's Barrel Auction & Festival, and the opportunity to taste and bid on 106 Napa Valley wines in the making. When we weren't inside seeking shelter from the heat, we were outside cruising the grounds for some of the delicious food offerings...oh, and the hidden beer supply, too. Friday finished out with a hospitality event at Paraduxx winery, Duckhorn's Zinfandel-blend project on Silverado Trail. Marvelous time!
Saturday began with "Good Morning Napa Valley," held at Copia, Napa Valley's museum (if you will) of food and wine. This gave us a unique opportunity to tour the facility at will, see some of the charities that are being supported by the Auction, and attend a tasting in the beautiful Copia Gardens. Were this not enough, a raffle was held with several rare bottles of wine.
Saturday afternoon, and we were off to the Meadowood Resort for the big auction and "The Party," the after-auction event that included dishes prepared by celebrity chefs, lots of wine, dancing, lots of wine, and lots of wine. Transportation to and from the event had been arranged, and we were handed a glass of sparkling wine as we boarded our small bus.
Arriving at Meadowood, we all walked through the spacious grounds to the massive tent that was to hold the auction. Unfortunately, the air conditioning had difficulty keeping up with the heat of the day, and the conditions were a bit sweltering. But, a little more wine would fix that.
This year's Auction host was Ryan Seacrest, with auctioneers Ursula Hermacinski and Fritz Hatton working the crowd, and a cameo by Geena Davis for a couple of the lots. The highest bid was for the Staglin lot, which consisted of 5 large format bottles and a trip to France, hosted by the Staglins, and went for a cool $1.05M. The next largest bid was for a 12 magnum vertical of Screaming Eagle, which went for $460K.
After the auction, we all filed out of the huge tent and into what seemed like another world. The grounds had been miraculously transformed into a garden party, complete with hosted bar, food, dancing, wine, and more wine. I approached the bar, stacked like a library with bottles of Cabernet - Napa Cabernet. I'll have the Seavey, I said. I can't tell you how cool it was to have a staff bartender ask me, "would you like a full glass, or just a small pour?"
We at GrapeRadio were very grateful to the Napa Valley Vintners Association for allowing us to participate in this fantastic weekend of events that is the Auction Napa Valley. Without question, we all had a fabulous time. What a 1st class event!
---
CENTRAL COAST TRIP and GRAPE RADIO INTERVIEW
Just returned from a nice three-day visit covering Paso Robles and Santa Barbara County. I'll get to work on the report, tasting notes, photos, etc as soon as I can.
There were a couple of new places you'll be hearing about, including a project that will be called Jonata, as a nod to Rancho San Carlos de Jonata - the original land grant from 1845. This is a Bordeaux varietal-based effort from the people who just purchased Screaming Eagle. Another new project is Prodigal Wines, a Pinot Noir producer from the Sta. Rita Hills. Kind of a human interest story here: a winemaker - the first enologist hired by Gallo in the early '60's leaves the business, becomes a veterinarian, only to return many years later... hence the name, Prodigal.We also visited with Greg Brewer and his Diatom Chardonnay project, as well as James Ontiveros' Native 9 Pinot Noir.
As I mentioned, I'll try to get this out as soon as I can, however, considering I still have reports or photojournals in the can for: 1) pre-HdR tour of the Sta. Rita Hills; 2) Napa Valley Wine Auction; 3) Sta. Rita Hills Fire & Wine fesitval; 4) Pinot Days more like (Pinot Daze); and 5) the Ballard Canyon Connection - well, it's going to be a few weeks.
But, something I can share with you is that this past weekend Jay Selman and I were able to interview Manfred Krankl for GrapeRadio. So, stay tuned for Mr. K himself, coming soon to GrapeRadio.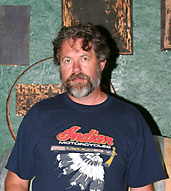 As you might imagine, Manfred's very charismatic, and we got some great content. He also had some great stories to share, too - though some of them occured before or after the taping session. Here's one that cracked me up: Manfred was at a tasting, which was also attended by Bono. The two of them were standing there talking, while a wine media photog moved briskly around the room snapping pictures of people. Suddenly, the photog darted in front of Bono and Manfred. Flash, went the camera, and before the guy could leave, Bono pointed his finger at him, chewing him out about being rude, and how he should have asked permission first. The photog walked away meekly, and someone took him aside and talked to him. He came back shortly, apologizing profusely, explaining how sorry he was. He said he recognized Manfred, but didn't realize who the other guy was.
August 5, 2006
---
GRAPE RADIO INTERVIEWS
Jay Selman and I hit the road for some remote interviews for GrapeRadio, visiting San Francisco and spending a few days in Napa Valley. Not only was it productive, but we had a blast.
On Sunday morning we met with Andrew Vignello (A.P. Vin), Michael Brill (Crushpad), Sasha Verhage (Eno), and Tracey Brandt (A Donkey and Goat) at the Crushpad facility for a show we'll call, Urban Winemakers. It was a good session, and we think listeners will be pleased to hear how these city-dwellers may have the best of both worlds - making wine, while still staying close to home.
That afternoon, we headed up to Napa Valley for a visit with Garen and Shari Staglin. The Staglins have been on the Napa scene for over 20 years, establishing themselves with their many philanthropic activities, as well as making an excellent Staglin Vineyards Cabernet. We were also fortunate to have their winemaker, Luc Morlet, there as well. The recent notoriety from film, Mondovino, had made us curious, and we were interested in talking to them to learn... the rest of the story.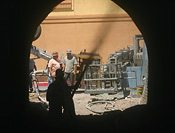 Monday, we had an appointment to visit some cave dwellers - well, really cave builders. We talked with Dave and Brian from Bacchus Caves, visiting them first at a site under construction for the new Meritage Resort in Napa. There, they are fabricating a 23,000 sq.ft. cavern for the resort. Surprisingly, it's not for wine! From here, we travelled with Dave and Brian up to the Atlas Peak AVA to visit with Vito Bialla and see his completed cave. Fabulous time, and lots of funny moments as we ask these guys about their love of playing in dirt and blowing things up.
Finally, no cave visit in Napa would be complete without a visit to Dave Del Dotto, of Del Dotto Vineyards. Dave has a cave tour like no other, as he entertains and surprises visitors with barrel tastings of things like Cabernet from 7-8 different barrels. It's the same wine, each one is just in a different type of oak barrel. It's a fun tour, as will be more than evident from the interview - we were indeed having fun.
Watch for each of these GrapeRadio interviews in the near future.