British Virgin Islands – September, 1986
by Eric Anderson


BVI - I
PORTS OF CALL -
Tortola
Norman Island
Virgin Gorda
Cane Garden Bay
Peter Island
(Log notes on a trip to the British Virgin Islands for some bareboat sailing. Our crew on this trip: Ed, Marge, Eric, Debbie, and John. For those unaware, Bareboat Sailing is the term applied to sailing a chartered boat without the owner aboard. We chartered a 38'' boat, then provisioned it and sailed ourselves around the idyllic waters and islands of the BVI for a week or so..)
So, Debbie says, do you want to go sailing in the British Virgin Islands with my brother and my mom and dad? "What? No, you're kidding. Your mom will never agree to something like that. Does your mother even know about this?" was my infamous reply.
Surprising to me, not only did she know, she was really looking forward to it. And with that, we were planning to go sailing in the BVI. A few planning sessions were held, and John got this terrific bound set of notes from a sailing friend named Denny Jackson. Copious notes would be an understatement. His guide had anchorage and navigation illustrations, along with suggestions about what to bring do, where to go, what to avoid, etc.

Friday, September 12th, 1986

Departure
John, Ed and Marge stopped our house for a little champagne send-off to launch the trip. Then, we were off to LAX about 6pm. We decided to have dinner at the LAX Marriott, and leave the car in their auto park. Worked like a charm. We got checked-in at American Airlines with plenty of time to spare for our 10:00pm red-eye flight to JFK.

Saturday, September 13th - Day 1

More Departure and Arrival St. Thomas and Tortola
A 5-hr flight and 3-hr time change had us arriving in NY about 6:00am, with just a little time until another American connection at 8:30am to St. Thomas, USVI arriving just after Noon. The St. Thomas airport was interesting, with lots of derelict aircraft sitting around the tarmac - especially DC-3's. Walking out of the airport to get a taxi, the difference from the cold dry plane to the warm humid was stunning. My sunglasses fogged up immediately. Took a cab to the ferry terminal, where we would motor over to Tortola, BVI. We got a nice dose of the local flavor, as the two main ferry operators argued over our business. It was the Bomba Charger vs the Native Son ("Often imitated, never duplicated.")
We bought some tickets for the "Native Son" ferry leaving at 3:00pm, and went back into Charlotte Amalie to get some lunch. Back to the terminal for our ferry ride over to Road Town, via a customs clearance stop at West End, Tortola. They also off-loaded some cargo here, amid the frequent tropical downpour. We arrived at the Road Town terminal about 4:30pm, and we were happy to finally get to the Moorings by 4:45 or so, after dock-side pick-up by their van.
We checked-in at the Mariner Inn and just relaxed with a couple of drinks. Dinner at the Moorings, and then off to our rooms. The rooms seemed a little old, but clean, with tile floors, a good sized veranda and some big shuttered doors (no air conditioning). A few rain squalls during the night were the only thing to disturb an otherwise sound sleep.
Sunday, September 14th - Day 2

Tortola to Norman Island
Up for a 7:30 breakfast at Mariner Inn (they make great pancakes). John and Ed went to the 9:30 "Boat Show" - otherwise known as the Captain's Meeting - where the Moorings staff run a video of do's and don'ts, and give you a general run-down of the boat operation and navigation around the islands.
Meanwhile, the rest of the crew hit the local commissaries, rounding up provisions (food, water, booze, etc.) for the voyage. The Moorings has their own commissary called the Gourmet Galley, where we found most of the needed items. Alternatively, you can go to one of the local markets and shop, or hire a provisioner - someone you pay to do the whole thing for you. Not being familiar with the places or the process, we just did it ourselves right there at the Moorings.
Grabbing one of the big two-wheeled carts that was sitting around, we hauled our groceries back the 100 yards or so and down the dock to our boat slip. Our boat, a Benetau 39, was named the Greene Flash - a play on the owners name and the astronomical effect that happens when the sun just dips over the horizon at sundown. After final boat check-out and shopping, we departed about 1:30 for our first stop - Norman Island.
Arrived Norman Island about 3:45pm, and anchored in the Bight. Put out two anchors, and reset the plough after John snorkeled down to check it. Took the dinghy over to the caves, and rowed into both of them (dark and kind of stinky inside, with all that bat guano). A few crabs around, and we suspected this was probably a really nice snorkeling spot.
Back at the boat, we fired up the BBQ, and had an old fashioned hot dog and patato chip dinner. Afterward, the captain and crew had a surprise for Deb and I, Captain John performed a ceremonial marriage, and we were presented with an official certificate. We blushingly wished we'd been thinking ahead and had done this for real!
Monday, September 15th - Day 3

Norman Island to Virgin Gorda
Up at 7:00am and departed the Bight for more turquoise pastures. We ate breakfast (melon, granola bars and coffee) under sail and headed for Salt Island on an outside passage amid rough seas. Marge got a little sea-sick from spending too much time below deck. We slowed and circled around near the wreak of the Rhone. This is a popular diving spot where a British Mail Packet boat went down in a hurricane in the 1860s. We'd though of snorkeling here, but there was a good-sized swell and somewhat rough seas, so we didn't stop or anchor.
Sailing on to Virgin Gorda and the Baths, the seas beginning to calm once we entered Sir Francis Drake Channel. The Baths were spectacular. Huge boulders look like they've been tossed on a white sand beach, forming grottoes and caverns and literally...baths.
From there, we headed for Bitter End, at Virgin Gorda Sound on the northern end of the Island. Ed got into the dinghy to take some action picture of the boat and crew - but it was getting late. (Sailing at night is heavily discouraged, because of the inability to see reefs or other boats). Coming into Gorda Sound by the nothern entrance, we picked up a mooring bouy at Bitter End about 6:00pm. Happy hour! Trying to clean up, we were surprised to find we seemingly had no tap water aboard. We knew they'd filled the tanks, and the taps worked yesterday. We'd have to figure out what was going on. We weren't worried, since we could always call the Moorings to come out and fix something if it went out of whack (a nice little benefit to sailing around here).
Well, off to dinner ashore at the Bitter End Yacht Club. Nice place. Back aboard, it was early to bed.
Tuesday, September 16th - Day 4

Virgin Gorda
Up late - for us, about 8:30. Breakfast, then John fixed the water systems, while the rest of us were off to the local store for some more provisions. About mid-morning, we dinghied out to the reefs between VG and Saba Rock. Excellent snorkeling. Suddenly, it seemed as if the current was also bringing in a whole lot of jellyfish. Marge had stayed with the dinghy and ironically was the only one stung. Ed and Marge, and Deb and I then took the dinghy over to Drake's Anchorage at the other end of the Sound to check them out. Closed until November.
Nice dinner of hamburgers on deck. Nice evening, and darkness fell we found ourselves watching small sharks and a huge Grouper off the stern with our flashlight. Deb and I slept on deck.
Wednesday, September 17th - Day 5

Virgin Gorda to Cane Garden Bay
Up at 7am to breakfast of fried toast and coffee. A Moorings work boat stopped by to check out our water problem, and fixed the water pump by bypassing it (?). We took the boat out of North Sound and into the channel, where Ed and I got into the dinghy to photograph the boat as John made a few runs back and forth sailing by us for pictures. Kind of fun, and got some great shots.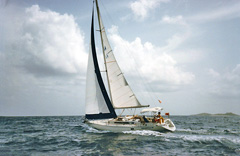 Back aboard, we sailed off wing and wing on a beam reach for Cane Garden Bay, on the north side of Tortola. Nice wind - we had a one reef in the main for awhile. Arrived Cane Garden Bay about 2:30pm, and dopped one anchor in good sandy bottom. This horseshoe-shaped bay has a pretty large reef surrounding it, with a narrow entrance and exit right down the middle. But, this also provides one of the best (maybe the best) reefs for snorkeling in the BVI. This place is just loaded with fish, urchins, eels, plus a barracuda or two. There are almost canyon-like passages of coral to swim or snorkel though. Utterly gorgeous.
To the beach bar for happy hour - $1 drinks. Dinner aboard - more hot dogs. Ed lost one of John's "twenas" overboard; search was unsuccessful with dinghy, so to bed.
Thursday, September 18th - Day 6

Cane Garden Bay to Peter Island
Up about 8am. Still have to pinch yourself at what a beautiful place this is! We're pretty sure the movie Four Seasons filmed some scenes here. After a leisurely breakfast we had a great cruise over to Peter Island. Anchored in Deadman's Bay. Yet another beautiful spot. Went ashore to the Peter Island Resort up on the point and had a drink. Back at the boat it was a rough night, very windy, but anchor held.
Friday, September 19th - Day 7

Peter Island to Tortola to St. Thomas
Set sail for Road Town to turn in our boat. Stowed our gear and walked into town for some shopping and look see. Pusser's was nice. Taxi back to Moorings for lunch and our gear, then another taxi to West End to catch the Bomba Charger ferry back to St. Thomas. Walked over to check in at "Windward Passage" hotel for the night, then off to dinner at the "Green House" restaurant.
Back to our rooms, we found the water wasn't working and toilets weren't flushing. Also, it turned out we were right next to a local baseball field - complete with in-progress game and all the usual crowd noise - at least until the power went out. Power came back on about an hour later, and the streets seemed filled with party-goers. Meanwhile, John decided to see the town - not returning until 8am or so, which did cause a little concern with some.
Saturday, September 20th - Last Day

Departure
Breakfast at the hotel, then some shopping in Charlotte Amalie where John bought himself a watch. Took a taxi to the airport for our 1pm flight to JFK. Then, JFK to LAX arriving about 10pm, and finally home about 12:30am.
Fascinating trip and the BVI was particularly interesting. A previous trip to Hawaii has introduced me to snorkeling and beautiful tropical fish. But, I'd never see coral reefs this beautiful, nor this many fish. Amazing place, and we hope to return again.