British Virgin Islands – July, 2010
by Eric Anderson
Prologue -


BVI - V
PORTS OF CALL -
Tortola
Norman Island
Cooper Island
Virgin Gorda
Jost Van Dyke
We'd been sailing in the BVI a number of times in the past ('86, '88, '92, '96). However, given the length of time since our last visit, we were a little apprehensive about getting prepared for this trip. Deb and I were accompanying her brother and sister-in-law Jay and Cindy and their kids Kennedy and Ryan, and we also had our grandkids Eric and Adam with us -- So, we were a crew of eight (well actually, Captain Jay and 7 crew members).

The planning for this trip had been going on since Jay and Cindy's last trip (2007). They had a few other boats along on that trip, which seemed to make it all the more fun. So, as part of the planning process Cindy invited several people over for a paella party in 2009 to see who was going/wanted to go on the 2010 trip. Judging by the number of attendees, it looked as though we could have a big group.

We were going to charter through the Moorings in Road Town, Tortola again, though there were a few other pricing options since the Moorings had bought out SunSail and Footloose charter companies and kept them on as less costlier tiers for people who do bareboating. Our vessel of choice for this trip was a Moorings 4300 Catamaran which sleeps 8 comfortably. We've always gone monohull before (aka, a real sailboat), but were doing the Cat this time based on its spaciousness and 4 staterooms and heads (Jay refers to it the Winnebago of the seas).
As the time drew closer, it looked as though most of the other people we'd met were opting out of the trip this time around. So, in addition to us, there would be only one other boat (Scott, Michon, Stacey and Liz). Cindy made all the charter and motel reservations for our boat, and provided us with an excellent checklist for items to consider packing, as well as food choices for our provisioning. We'd settled on a 7-day charter; we'd arrive on a Thursday, spend the night ashore, and sail out on Friday about Noon, returning the following Friday. One night ashore again, and then depart for home on Saturday. We were also going to do something we'd done in the past, contribute to a common pot of money for incidental expenses like food, mooring fees, on-shore dinners, etc. Cindy also suggested that we pack our duffels in rolling suitcases for hauling around the airport. We'd then leave the suitcases at the Moorings while we took our duffels aboard the boat. After a few dinner meeting/planning sessions we felt we were all set.
Our flights were initially booked on Continental, but they made a schedule change so we all re-booked on American Airlines – a redeye non-stop to San Juan, Puerto Rico, with a connection to Beef Island, Tortola. Deb and I had also been watching NOAA weather forecasts for the Caribbean, and a tropical storm was forming, so it looked as though we might be getting some weather.
Wednesday, July 21st - 2010

Departure
Jay, Cindy and kids arrived about 6:45pm for our trip to LAX. I have to admit I was a little skeptical about getting all eight of us and our luggage into their Suburban, but it all fit fine. Fairly quick trip up to LAX, where Jay dropped us and the luggage, and took the car to the Hilton for parking. By 8:15pm we were getting ticketed for our 11:35pm flight to San Juan – almost! Our "connection" from San Juan to the BVI was actually a separately purchased ticked (it was the cheaper option). It turned out this caused some confusion with J & C's arrival/departure tickets and they had to wait standby for the Thurs 10:50am flight out of San Juan to the BVI. With several other flights going to the BVI, this seemed like a minor inconvenience at the time. Little did we know.
We sat around the terminal killing time, then finally boarded the plane at 11:10pm. A few people had popped sleeping pills in preparation for the 6-1/2 hr flight. Shortly after boarding, the pilot announced that there were some maintenance issues with the plane, and they had to have an electrical part replaced. The good news was we could all leave our carry-on's; the bad news was we would need to de-plane. Back to the terminal for more sitting around. After the part was replaced, the pilot apparently wasn't happy with its performance. So, we had to go back on board to remove our carry-on luggage, while they pulled out a substitute plane, which still needed to be cleaned. Long story short, we weren't able to take off until 3:00am, making our scheduled American Eagle connection in San Juan impossible. Everyone was scrambling to re-book. We managed to get a 1:50pm flight, and thought we had Jay, Cindy and kids confirmed as well. Meanwhile, Scott got his people confirmed onto an 8:00pm flight. Then the wheels came off the bus.
It turned out the American Air people said they did NOT have Jay, Cindy and kids confirmed on the 1:50pm American Eagle flight. In fact, they said they had nothing for them at all for Thursday! Jay was livid. As he put it to them, he lived up to his end of the deal, and did everything he was supposed to do to get these flights - the burden should be on American Airlines to live up to its end of the contract. Jay doggedly kept after the staff until the supervisor finally got them all booked on two late afternoon Cape Air flights to the BVI.
Thursday, July 22nd

Departure...still, and Arrival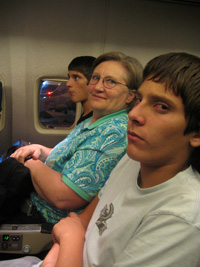 How come they call this a 'redeye' flight?
Departure…finally! About 3:15am we finally took off from LAX for San Juan. The AA captain was apologetic, but it really created a mess on the transportation side of things. After a fitful night of trying to sleep (Eric was frequently pressed up against the window with a beach towel over his head, trying to spot the recent oil slick in the Gulf - at 46,000 feet altitude), we arrived at 12:30pm in San Juan. We quickly made our way a few gates down to our 1:50pm American Eagle flight to the BVI. Got my first taste of tropical humidity in the process, as my eyeglasses fogged up going from the terminal to the plane (a redo of one of my most memorable experiences the first time in St. Thomas).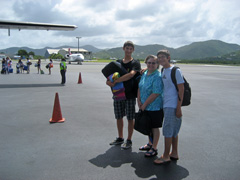 Arriving at Beef Island about 2:30pm, we picked up 3 out of 4 pieces of luggage and headed through customs. I reported one of the bags missing, and after checking was told it was coming in on the next flight. Found the Moorings bus and boarded for the 20 minute ride to Road Town ($11/person, unless you have vouchers). Arrived about 3:30pm at the Mariner Inn, checked-in and had a late lunch pool side, where I got my first Carib beer. Cindy and kids arrived about 4:30pm, and Jay finally got in about 7:15 or so. The Cape Air planes were small, and Cindy apparently sat next to the pilot. Meanwhile, I'd been checking with hotel desk every few hours for my missing bag. "We'll call you," they kept saying.
We all met for a late dinner (8:00pm) in the open-air Mariner Inn dining room, when a big rainstorm hit. We'd be hearing very loud thunder most of the evening, so this was apparently the result. Most of us (Deb especially) got soaked as the rain came in sideways to our corner table. After one last futile try to inquire about my missing bag, it was back to our air-conditioned room about 9:30pm.
Friday, July 23rd - Day 1

Tortola to Normal Island
Up bright and early - first stop was the hotel desk...again. Sure enough, there was my missing bag – though I never did get that call. Then, it was over for breakfast at 8:00am at the Mariner Inn. We were sitting next to Scott, Michon and Stacey, who said they didn't get in until 11pm last night (their 8pm flight had been delayed in that same driving rainstorm). While Jay and Scott went to the Captain's meeting, Cindy, Stacey, Kennedy and I took a cab to Bobby's in Road Town about 10:30am to buy some additional groceries and fresh foods. Cindy had already pre-ordered the majority of things from Bobby's, which were due to be delivered to the boat about Noon. Meanwhile, with an 11:00am checkout time, Deb, Jay and the boys got all the bags to the boat.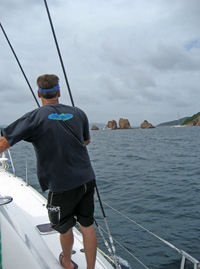 As we waited for groceries, Jay went through a boat checkout on a different 4300 Cat. Our boat's name was Outta Space – not too bad, but no JASDIP either. Provisions arrived a bit late at about 1:30pm and were missing bags of charcoal. Luckily the delivery guy hadn't left the area yet, and he brought them over to us.
Meanwhile, Deb was busy putting things away, including two glass bottles of Perrier. There was a big step up over the threshold from the salon to the cockpit. She didn't make it. Down Deb went still clutching the two bottles, potentially splashing glass all over the place. Luckily this didn't happen, though she did get a nasty knee bruise out of it. Finally motored out of the harbor, and set sail about 2pm for the Indians. Sometimes it can be a real pain to be sure that the battens clear all of the lazy jacks when hoisting the main. (Charter boats are usually set up with systems to simplify the raising of sails - lazy jacks on the main to help guide the sail up and down, and self-furling jibs to roll up the jib on the forestay. Nice, but each of these has some built-in hassle.)
Arrived at the Indians about 90 minutes later. This is a great snorkeling spot near Norman Island, where several rock pinnacles jut out of the water. We picked up one of the day moorings, and snorkeled over from the boat - me with my cool new Nike swim cap. Fairly mild swell, but a current takes you away from the boat quickly. Lots of fish.
Back on board, we sailed over to Norman Island, grabbed a mooring and relaxed a bit before cooking hamburgers on the grill. Then, it was off about 7pm for a round of drinks on the William Thornton (affectionately known as the Willy T), a restaurant and bar anchored in the Bight at Norman Island. In contrast to some of our previous visits, there was a major crowd already partying aboard. The kids quickly got bored, so I dinghied them (and Deb) back to the boat, then returned to the festivities at the Willy T, which were in full swing by then. Time passed and soon enough, guys were jumping off the stern (yes, there is a warning about this), frequently without bathing attire. More time passed, and apparently some youngster then dared Jay to jump off the stern. I found out that you don't dare Jay to do anything (wink, grin). Also, got our first taste of the Puerto Rican armada – a flotilla of big power boats that tie-up dockside that zoom over from PR, turn on lots of pastel-colored lights and crank up the Salsa and Soca music.
Finally, I brought our exhausted party-goers back to our boat for some sleep, and we hit the racks about 11:30pm. A squall here and there had us closing the hatches until they passed. No bugs though. Rising in the middle of the night, Deb missed the giant step down in our stateroom, tumbling to the floor. Apparently, we're holding true to that pirate axiom, 'the beatings will continue until morale improves.' As if to add insult to injury, her swim shorts, close-pinned to the life line for drying, blew away during the night's winds.
Saturday, July 24th - Day 2

Norman Island to Cooper Island
Up about 8:30am and we all lazed around after eating a little breakfast. Swam a bit and the kids discovered the hard Bimini top was the perfect place to jump from, despite the posted warning.
Finally set sail late morning for Cooper Island, on the inside passage. The alternative is to go around the outside, around Salt Island. It's longer, but a really nice sail. On the way, Ryan got a bite on his fishing pole - a nice-sized mackerel, which dad was able to catch and release. Finally arrived at Cooper Island's Manchioneel Bay about 2:30pm.
Jay and Kennedy dinghied over to snorkel a bit around the rocks just south of the point. We lazed around a bit, and Jay cooked burgers and hot dogs, followed by more lazing around. Eric and Adam have been reading and doing homework (go figure), when they're not playing Nintendo DS with Ryan. Finally to bed about 9:00pm. Hot and steamy below deck, though the breeze did pick up in the early morning.
Sunday, July 25th - Day 3

Cooper Island
Up early and headed over to the wreck of the Rhone, a British mail packet steamship that hit the rocks and sunk in a hurricane in the late 1860s. We were able to snorkel in a mild swell over the wreck and could see plenty of detail, much more than on our '88 trip. Back to the boat about 11:00am.
Jay accompanied Scott on a sail over to Trellis Bay to pick up Scott's fourth person, Liz, who was flying in to Beef Island after attending a wedding. Meanwhile, Kennedy led Deb, Cindy, and Eric back over to the rocks for some more snorkeling. It was tough getting back into the dinghy, so Eric & Deb swam over to shore of get picked up, then dinghied back to the boat. Eric and I took a trip to shore to check out the...uh, facilities. A larger shore party went ashore later to check out the gift boutique and the restaurant. Had some nice shirts and things in the gift shop, but not too many buys as we headed back to the boat.
Back to Cooper Island Beach Club for our first dinner ashore, arriving just in time for their 2-for-1 happy hour. We were joined by Scott and his crew, and the Painkillers were great, particularly since we got 2 for 1! Dinner was absolutely fantastic, the best of the trip. They've made some very nice changes to the CI Beach Club, nice modern bar and building, and what seems to be a terrific kitchen. Plus, this is still one of the best views in the BVI.
Back on board, Cindy, Deb and I held vigil on the bow with a bottle of wine, while the kids watched Alice in Wonderland on Jay's laptop. Jay crashed – we're setting out at 6:30am tomorrow to get to The Baths early.
Monday, July 26th - Day 4

Cooper Island to Virgin Gorda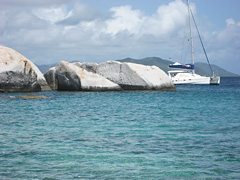 A 6am rise and we motored over to The Baths on the south end of Virgin Gorda. Arguably the most photographed spot in the BVI, this boulder strewn landscape on the south end of Virgin Gorda forms countless grottoes and tide pools. The boulders are huge and a trail leads through them from one beach to the next, requiring some ducking and climbing here and there. Getting to The Baths early in the morning is the only way of assuring yourself a day mooring, as this is a BVI National Park site frequented by hundreds of visitors daily. We were fortunate to pick up a prime mooring, and got ourselves ready to go ashore. Due to the crowds and the snorkelers in the water, your not allowed to tie your dinghy up on the beach. The process is to take the dinghy to a tie-up point just off the beach, and swim in. Of course, some skirt things a bit – and we witnessed people bringing their dinghies in very slowly to offload their passengers, then take the dinghy back to the tie-off point. We did a little of both, initially tying up the dinghy at the south entrance.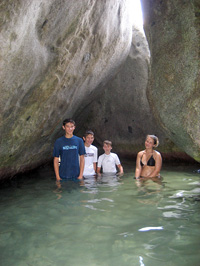 Much improvement here since our last visit, with lots of scaffolding and stairs built over many of the difficult climbs. We got some good pictures, and the kids seemed to enjoy wading in the grottoes. Jay was able to go back and retrieve the dinghy, then come after us, waiting an interminably long time for other people to dinghy in and out of the beach landing. By the end of the visit, I don't think Jay cared if he ever saw The Baths again. We let loose our mooring about 11:45am to give other people a chance to visit, and headed out.
From here, we made the lengthy sail to North Sound, Virgin Gorda (3-4 hrs). VG is a long island, and we literally were sailing from one end to the other. At one point, we were sailing on a similar course as a 50' monohull. While the monohull tacked over toward the Sound, we continued on the same course away from VG, tacking much later. Our timing was perfect; we made it in with just the one tack, whereas the other guy had to tack a few more times to make it. It's all about the sailing, and Jay nailed it.
Just after our tack toward North Sound, Ryan's fishing pole went bonkers. We could hear a high-pitched whine - something big was taking all the line from the reel. Then the tip of the pole went from 45° to 90° as the line spooled all out. Then, twing, the line was gone. There sat the pole, reel empty. We could only imagine was had been at the other end. Jay promised to check ashore for more line.
Into North Sound, we hung a left and picked up a mooring in front of the Bitter End Yacht Club. We went ashore for some groceries, a gift shop look-see, and to check out the highly anticipated air-conditioned bathrooms - they did not disappoint! Dinner was back aboard, as we grilled some chicken and burgers, and Cindy sauteed some corn & bell pepper compote. Got our second taste of the Puerto Rican armada - with lots of lights and music until the wee hours.
Tuesday, July 27th - Day 5

Virgin Gorda
Up about 7:30am, we went ashore for ice & soft drinks. Of course, this was just an excuse to see if the A/C was still working in the bathrooms. Nice - it's actually cold in there!
Back to the boat, we grabbed the kids and gear for some time ashore. We set up under one of the beach verandas with Scott and his group, and then decided to do a little snorkeling. Walking up the path about ½ mile or so to a small pier, we intended to take advantage of the current as we snorkeled back to the beach.
Meanwhile, the bugs and noseeums were taking a hefty toll on everybody - both at the waterline as well as on the beach. So, Deb decided to swim back to the boat to get some repellant and sunscreen. At the same time, Cindy, Jay and I took the kids to the Crawl Pub to get some lunch.
While we were at lunch, Deb had returned with all the bug and sun paraphernalia. She sat there, ironically getting nibbled on by this and that (the repellant obviously doesn't stay on very well when you've been in the water). Finally, after waiting in vain for us to return from our lunch, she swam back to the boat. Frankly, my Carib beer and I get tired just thinking about it. ;-)
Everybody else headed back to the boats to cool down, then Jay took several people out to the reef beyond Saba Rock to do some more snorkeling. Meanwhile, Deb decided to shower below deck – just as the 1st water tank emptied. Jay was gone, and neither Cindy nor I knew how to switch over to the 2nd tank. Deb improvised with a few cups of water, and was done with her camping shower by the time Jay got back.
Late afternoon, and it was back to shore for a little shopping followed by dinner of pizza and sandwiches at the Crawl Pub. Another good-sized squall hit us late evening, as we settled into our bunks.
Wednesday, July 28th - Day 6

Virgin Gorda to Jost Van Dyke
A little breakfast, then down to the business of the day. Adam discovered his recently purchased BVI map tile had been broken while in his backpack. We hoped to find another at either JVD or Road Town. Our intention to start the day was to motor the short distance over to Saba Rock to re-fill one of our water tanks. We were still at mooring, watching the boat at the dock take what seemed like forever at filling his tanks. Jay and I dinghied over to see what was going on. Apparently, the water pressure was way down, and this was slowing down the process. Coincidentally, Jay was talking to the boat owner getting the fillup, and it turned out that Jay works with the guy's nephew! Damn small world. Meanwhile, I bought some ice ($5/10lbs) and ran it back to our boat and came back to Saba Rock for Jay. Scott was next in line for water, so we helped him tie off and fill up. Scott had already used about ¾ of his water, sheepishly admitting that he had ½ the people and was using nearly twice the water. We didn't need to tell him this was a gender thing.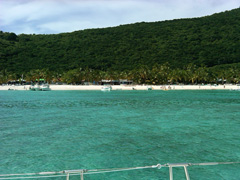 Finally about 9:30 we set sail for Jost Van Dyke. This is another long sail, nearly all down wind, which allows you to arrange the sails wing-and-wing – with the mainsail and the jib to opposite sides of the boat. It's a fast sail, but you have almost no sense of speed with the wind coming from behind.
Arrived at White Bay about 2pm, and with no moorings available, we set anchor for the first time. There are three main harbors on JVD's south side: Little Harbor, Great Harbor, and White Bay. On previous trips, we'd always moored in Little or in Great – Deb and I hadn't been to White Bay before, but Jay and Cindy loved it last time here. Fairly crowded, with lots of day use, but we're hoping to pick up a mooring later as some boats will pull out and head for other ports or home.
The preeminent beach bar here is the Soggy Dollar, named for the wet money brought ashore by swimmers who have been off-loaded by the many powerboats or water taxis. We took the dinghy into shore and beached it just down from the Soggy Dollar. First stop, some Painkillers and a long look at the very friendly gift shop. Kennedy got really proficient at one of the local beach games – trying to swing a ring on the end a piece of line onto a hook attached to a tree. Lazed around a bit, and Cindy found a place that would sell her some gallon bottles of water (it's all about ice and water in these parts).
Back to the boat, and we see that a mooring had opened up. So, we pulled up anchor and motored over to the mooring on the other side of White Bay. Eric, Adam and Ryan swam to shore and back. Spaghetti and garlic bread dinner aboard, a we watched lots of glowing fish off our stern. Another squall or two made for some muggy sleeping, though the fans helped some.
Thursday, July 29th - Day 7

Jost Van Dyke
Up about 8:30am and lazed around the boat. Did some snorkeling and swimming between the boat and the shoreline. The coral beds are still pretty much decimated, though there were some nice fish, sea urchins, and some brain coral here and there.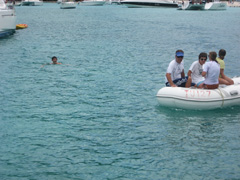 Adam and Ryan went swimming, and Eric took out the kayak to taunt them a bit. He got a little too close and Adam and Ryan were able to tip him over – twice. Jay and Cindy took the kids to Soggy Dollar for lunch, while Deb and I lunched aboard. To stay cool, Deb took out one of the floating rings, and tied it off to the stern. Dinner of beef and bean burritos aboard, then plans to go ashore for drinks. The Soggy Dollar didn't seem to do any night business, but Foxy's was a full restaurant and bar with plenty of nightlife. However, since Foxy's was in Great Harbor, we'd need to go ashore and get a taxi to take us the 5 minutes or so over the hill to Foxy's. Jay and Cindy had done this last trip, but Deb was a bit reluctant due to the general hassle, plus she felt the kids would be bored. She finally decided to go, so we were now a party of eight.
Scott and his group were going to dinner at Foxy's, so we had them order us a cab for later in the evening. About 7pm we went ashore, dragged the dinghy up on the beach and tied the line (properly called a painter) to a palm tree. Thankfully, we'd brought flashlights so we could see what we were doing when we got back. Down a little dirt road we walked, when we saw something small and low skitter across our path. What the heck was that, we wondered. Then another and another. Kind of creepy weasel-looking things. Our cab showed up ($5/person), but only had room for 7 of us. The driver said he'd drop the first load of people, and come back for us – maybe 10-12 minutes round trip. So, Deb and I stayed there on the road, to be joined by another couple staying at Sand Castles, here in White Bay. We were chatting and the fellow told us that the creatures we'd seen were mongooses. (Apparently, in 1978, a well-intentioned resident brought a pair of mongoose to Jost van Dyke. In the years since, the mongoose population has increased dramatically, posing a significant threat to local ecosystem health, and decimating ground-nesting bird and ground lizard populations.)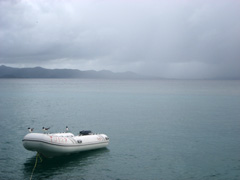 The driver returned right on time and took us and the other couple to a busy Foxy's. The gift shop had closed at 6:30pm, so there was to be no hat or T-shirt purchases. The kids had discovered "virgin" mixed drinks – coladas, daiquiris, etc. Ryan stuck with Coke…so far. But, Eric wanted to super-size his next strawberry daiquiri – as did Adam. Eric told the bartender he wanted his in the bigger cup. The bartender said, sure, then I'll charge you for two, with a big smile while looking at me. I nodded, and he went to work with the juices and the big blender. He poured a virgin strawberry daiquiri that was taller than the cup, defying gravity. As Adam reached for the cup, Eric brushed his hand away grabbing the tall cup himself. The bartender's eyes lit up. "Ahhh, you see, you see," he said, smiling at me while pointing at them. "Just for that," he said, while he poured Adam an equally large cup full, plus a second smaller cup full – all just to taunt Eric. Then he gave Eric a little extra as well, which Deb suggested he pass on to Ryan to see if he'd like it. Hey, he did like it! In fact, Cokes were forgotten whenever a virgin daiquiri was available.
A couple of rounds of Painkillers later, and after Jay cut his foot open, we were ready pack it in. Scott and his group were going back as well, so we put a few of our people in the first cab back, and the rest in the final cab back. Given all the hassles, the driver looked happy to see the last of us. Back at White Bay we pulled the dinghy back into the water and motored back to the boat. Exhausted, all to bed about 10pm.
Friday, July 30th - Last Day

Jost Van Dyke to Tortola
Up about 7:30 for our 8:30 departure from White Bay, JVD. Smooth sailing initially, but shifting winds just after West End had us convert to motor sailing – motor on, both sails up. Picked up more wind, but motor was helping us to maintain 6-7 knots speed overall. A few tacks later, and we were headed for Road Town.
Arrived about 11:45am and Jay parked the boat neatly into one of the spaces next to Charlie's restaurant. Tied off, unloaded our gear, and Cindy went to check on our rooms for the night – our air conditioned rooms! Friendly Moorings guy took all gear over to the Mariner Inn. Meanwhile, Deb, Eric, Adam and I grabbed a table at the Mariner restaurant, while Jay went through final boat checkout with the Moorings people. Recounting this later, it sounded as though he gave them a deserved admonishment about the semi-poor condition of our boat. Jay had cited the stained and faded hull, one clogged head, a broken sink faucet, and several other items. He told them considering the Moorings name, this was a disappointment. Their retort – the boat was due to be moved over to their less expensive SunSail charter operation, hence the condition was not optimum. A less-than-satisfying answer.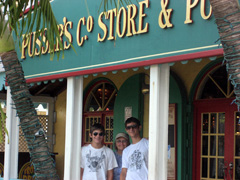 Everyone finally arrived at lunch about 1:15pm. Afterward, we registered for our rooms and dropped off our gear. Then Deb, Eric, Adam and I headed for Road Town to do a little shopping. First, we took a cab ($5/person) to Pusser's and shopped a bit. Then we walked down the block to Sunny Caribee to get some bottles of spices for gifts. Finally, we headed over to the bazaar area near the docks to search for a few more things. Adam and Deb were able to find a BVI map tile, to replace his broken one. Eric got a placemat emblazoned with cocktail recipes and pictures (he's fascinated with drink menus).
Took a cab back to Moorings, and showered and rested until our 6:30pm dinner at Charlie's. Pizza, pasta, risotto and the like were all good. Hey, they had La Crema Pinot for $10/glass. Finally, back to rooms for yet another shower and all that final packing. Gotta get up early, so to bed at 9:30.
Saturday, July 31st - 2010

Departure
Up at O'dark thirty (4:00am to be exact) to catch our ride to the airport on Beef Island. I was a little worried about the batteries in my alarm clock, so kept one eye open. It turns out Jay had asked for a wakeup call from the front desk. Remember how they didn't call about my bag? Well, they didn't give Jay the wakeup call either.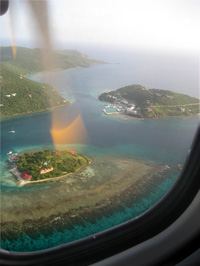 After several weak attempts to wake the kids in their room, it took some good old door pounding at 4:30 to finally do the trick. All of us pulled our bags over to the Moorings new office, where the driver was already waiting. We were there early enough to grab the first of two open-air buses, and got to the airport about 5:30am. We got into the thankfully short line, and got checked straight through to LAX, via San Juan. We paid our $20/person departure tax, and several bag and personal searches later (random and otherwise), we finally boarded the plane on time for our scheduled 7:20am flight to San Juan. Flying at 6,000 feet, we could see Marina Cay, Tortola and Jost Van Dyke easily.
Arrived San Juan about 8:00am and picked up a little breakfast at a Cinnabon-Espresso shop in the airport while we waited at our gate for the flight to LAX. The Cinnabon rolls really hit the spot, but the machine-produced Nescafe coffee was some left something to be desired. As the 11:30 flight drew closer, we all went back to get some sandwiches or pizzas to munch on during our 6-1/2 hour trip to LA.
We boarded the plane about 11:00, and left on time, finally arriving in LA about 3:15pm. From here, Jay and I grabbed a Hilton shuttle to go get the Suburban while everybody else grabbed the baggage and waited curbside. Stowed people and bags and were out of there before 4pm. Arrived home about 5pm after a bit of traffic on the 405 in Long Beach.
Epilogue -
Back home, we still had our sea legs for a few days, bobbing and weaving around the house. Funny how when you close your eyes in the shower, how wobbly you still feel. The bug bites are starting to subside too. Weird how Kennedy and Ryan got no bites at all!
The BVI was the same - yet different. Road Town looked less sleepy, and less pedestrian friendly. It seemed busier now, with lots more traffic. Our charter base, the Moorings, has changed. Although it was already beginning to go global, back in the '90s the Tortola base still had some of that last-outpost quality, like you were headed up the Amazon to discover uncharted places. But, former owners Charlie and Ginny Cary are now gone. It's much more corporate here today. Of course this has spawned a nice new restaurant (Charlie's), but the look of clubbiness to the Moorings portion of the facility was apparent, like the seating location in a sports arena.
Today, things seem a bit more crowded throughout the islands. Not unusual - secret places have a way of ultimately being discovered. We ran into more people this time (well, maybe Bitter End was an exception), especially on Jost Van Dyke, where if memory serves, we were among the few visitors during those previous visits. I also remember beach restaurants sending out dinghies to solicit, even compete for our dining business ("the Captain eats for free!"). No mas! OTOH, I also recall a paucity of T-shirts and hats in shops during our previous visits, so maybe more people translates to more available swag.
Finally, thinking back on this whole adventure, we can't thank Jay and Cindy enough for arranging things for this trip. We really owe them a debt of gratitude, as I'm sure we cumulatively raised their level of tolerance to new heights. ;-) We did have a lot of fun though, and we hope this will be a milestone adventure for our grandkids, Eric and Adam.