British Virgin Islands – May, 1988
by Eric Anderson

BVI - II
PORTS OF CALL -
Tortola
Norman Island
Cooper Island
Virgin Gorda
Marina Cay
Jost Van Dyke
(Log notes on a 2nd trip to the British Virgin Islands for some bareboat sailing. Our crew on this trip: Ed, Marge, Eric, Debbie, John and girlfriend Bridget. For those unaware, Bareboat Sailing is the term applied to sailing a chartered boat without the owner aboard. Basically, we charter about a ±40' boat, then provision it and crew and sail it ourselves around the islands of the BVI for a week or so.)
Well, hot on the heels of our 1986 trip, here we were again ready to embark on yet another sailing voyage - meaning yet another trip to the beautiful BVI! In 1986, we had had a 39' Beneteau named Greene Flash. This year, we've gotten a Moorings 43' boat called Figment II. Slightly larger, but not as fast as the Greene Flash.

Friday, May 6, 1988
Departure
Festivities began at Debbie and Eric's with a Friday evening Champagne toast. Then it was off to meet up with John and Bridget at 6:45pm for dinner at a Mexican restaurant in Costa Mesa (Juan Jose's), where as it so happened, Bridget also worked as a waitress. From here, we took two cars up to LAX to get catch our 11pm red-eye to Atlanta.
Saturday, May 7 - Day 1

More Departure & Arrival BVI
Arrived Atlanta about 5:30am, with a 7:30am connection to San Juan. Arrived in San Juan, Puerto Rico about 10:00am, and connected on Air BVI at 11:00, finally arriving at Beef Island about 11:30am. Whew, nearly 12 hours with time-zone changes.
Picked up by the Moorings bus at the airport and taken to a small motel in Road Town, named Maria's By The Sea (Mariner Inn was full). Maria's is nothing fancy, but it's right on the bay. Walked into town and did a little shopping, with lunch at the new Pussers Pub and Store. Back to the rooms where we all took naps, rising with some difficulty for dinner at the Warf (Mr. Fish) at Village Cay near Maria's. Then, back to the motel for a good night's sleep.
Sunday, May 8th - Day 2

Tortola to Norman Island
Moorings bus picked us up at Maria's at 8:00am, bringing us to the Moorings. Nice breakfast of banana pancakes at the Mariner Inn. John and Ed to Captain's meeting, and the rest of the crew was off to buy groceries and provisions at the Riteway. Much better selections than last time.
Back via taxi to the Moorings with all the provisions, and loaded the boat. Lunch at Mariner Inn, and then we cast off for the Bight, at Norman Island. Anchored near the William Thornton restaurant and bar, where Ed donned mask and fins to check the anchor. Happy hour and hot dogs aboard. One small mishap, seagulls had been hanging aroud the grill for awhile, and one of them swooped down to the grill and snached one of the hot dogs and flew off. The nerve! Of course, everybody tried to claim it was my hot dog he stole! Finally to bed about 10pm, after rigging wind scoops to each of the stateroom hatches.
Monday, May 9th - Day 3

Norman Island to Salt Island to Cooper Island
Up about 8:00 to a breakfast of fried bread and coffee. We took the dinghy over to the caves and rowed in to see (and smell) the place. Had to clear lots of snorkelers and tourists hanging around at the entrance. No wind to speak of, so we motored over to Salt Island snorkeled around the Wreck of the Rhone, a British mail packet that sank in a hurricane in the late 1860s. Motored the rest of the way to Cooper Island.
Marge & Ed, and Deb and I went ashore to the Cooper Island Beach Club bar for a drink. Back aboard, cooked some chicken on the BBQ. Sat around the cockpit telling tall tales until bed time.
Tuesday, May 10th - Day 4

Cooper Island to Virgin Gorda
Breakfast of English muffins and coffee. No wind again today, so we motored out of Cooper Island and over to the Baths, on the south end of Virgin Gorda. Lots of boats moored and anchored, with seemingly lots of people onshore. This was an easy landing on our last last trip, but apparently this time of year there is quite a shore break and accompanying waves at the Baths. John decided to dinghy in with Ed, Marge and Debbie, and was going to come back for Bridget and I. Then things horribly wrong.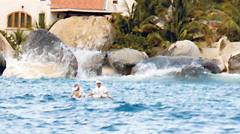 The dinghy got caught in the shore break and capsized, spilling everybody into the water. The dinghy was turtled (upside down), but John's quick thinking saved the gas tank from taking on a lot of water. Everybody was banged and bruised up a bit. Ed's camera was a victim (he later recounted that he had lost some spectacular film in the process). He apparently got the most banged up too, with the dinghy landing on top of him. All in all, it could have been much worse. From the boat, we could see that something had happened, but the swells had blocked our view of their rough landing - they just kind of disappeared behind a wave.
Getting everybody onto shore, John worked with the dinghy motor to get any water our of the gas line. After checking on everybody, John dinghied back to the boat to tell us what had happened. If we wanted to go ashore, he said he'd need to drop us off outside the shore break, and we'd need to swim in. No problem, we were up for that - plus, we needed to check on that first shore party. John said we should head for the next beach down; he'd do the pickup there, hoping there was less shore break.
John stayed aboard to keep an eye on the anchor setting. Meanwhile, the first shore party wasn't dressed for the long haul with just flip-flops and no hats or cove-rups, and were eager to get out of the sun. So, we all took a hike on the lengthy trail that winds around behind the Baths, arriving at the beach just south of our initial "landing" spot. We would miss visiting the Baths themselves, but that was a bit anti-climactic by this point anyway. This seemed to work, and John was able to make two trips in close to the beach, and we each swam out to the dinghy.
Safe aboard our boat, we sailed and motored our way to North Sound on VG, and picked up a mooring at the Bitter End Yacht Club. We had a heavy rain just before our dinner reservations on shore, but it cleared up and we headed to shore. As he stepped out of the dinghy and onto the dock, one of Ed's topsider's gave way and he went down, twisting his ankle and leaving quite a bruise. It was a tough day, though we did have a great dinner at the BEYC Tradewinds restaurant.
Wednesday, May 11th - Day 5

Virgin Gorda to Marina Cay
Up early, with breakfast of fried bread and coffee. Deb not feeling well, so Bridget, Ed, Marge and I went ashore to get some more provisions and ice, and buy some t-shirts. Made some sandwiches for lunch, and set off for Marina Cay. Arrived about 2:30pm and picked up a Mooring. Did some snorkeling along Great Camanoe, shooting up the rest of the film in our disposable underwater cameras. Happy hour and dinner aboard. Grilled some burgers.
Blocked by a reef, the water color here is spectacular. Several English boats are moored as well, apparently having sailed over from England. Our water pump gave out at this point. We called the Moorings, who said we could meet a repairman tomorrow at Trellis Bay, just across the sound.
Thursday, May 12th - Day 6

Marina Cay to Trellis Bay to Jost Van Dyke
Up at 8am, no breakfast - we have to get over to Bellamy Cay at Trellis Bay to meet Moorings repairman. Got new water pump installed, finally dumped our garbage bags and out of Trellis Bay about 11:15. As we were hoisting the mainsail, one of the winches jammed and John had to disassemble and clear it for the 2nd time.
Lunch, and wing and wing we sailed to Jost Van Dyke. Sailed past Sandy Cay and Green Cay - both gorgeous looking beaches. Anchored at Great Harbor for provisions. Marge, Debbie and I went ashore. We then weighed anchor and sailed back to Green Cay, but not suitable for overnight anchorage, so we motored back to JVD. Picked up mooring at Little Harbor, and swam around the boat before dinner of hamburgers and hot dogs.
Friday, May 13th - Day 7

Jost Van Dyke to Cane Garden Bay, Tortola
Breakfast on board, then sailed out for Cane Garden Bay, Tortola. Finally, some decent wind, and we were rail down all the way. Picked up a mooring, had lunch, and spent a great afternoon ashore swimming and snorkeling. Bought some more provisions as well.
Dinner at Rhymer's, after $1 drink happy hour and lots of Pina Coladas. Dinghied back to boat, sitting on deck for awhile, then finally to bed about 10pm. Rained a bit during the night.
Saturday, May 14th - Day 8

Cane Garden Bay to Deadman's Bay, Peter Island
Breakfast of coconut cake, cookies, and crackers - we're saving the bread for lunch. Sailed out of Cane Garden Bay, and around the point into Sir Francis Drake channel. Arrived at Deadman's Bay on Peter Island, and spent about 1-1/2 hours setting two hooks to get a better hold. (This isn't typically considered an overnight anchorage, hence our care.) It rained as soon as we got ashore on Peter Island, and we waited under some beach verandas until it stopped. Unfortunately, this little break meant we couldn't get a drink at the resort, since we were improperly dressed for after 6pm. (As we entered, we could see a group of Moorings 51s tied up at dock in Great Harbor, with all of their sailors sporting either blue blazers or dresses and having their own happy hour.) Bridget and Ed to gift shop, so two trips to get crew back to boat. No accidents, but a little "hairy" getting off shore.
Dinner aboard (can you say hot dogs), and our Painkillers did the trick at curing what ailed us. A windy night, but the anchors held quite well.
Sunday, July 15th - Day 9

Deadman's Bay to Road Town
Cokes and crackers with peanut butter for breakfast. Leisurely sail to the Moorings. Sunday brunch at Moorings, and checked into our rooms. While John napped, the rest of us walked into Road Town. Pusser's was the only store open (typical Sunday?). Had a drink at the pub, shopped in their store and walked back to Moorings. Noticed a cruise ship in port - now that was new! Happy hour and great meal at Moorings. A little walk on the dock, and off to bed.
Monday, July 16th - 1988

Departure
Early flight out, and took the Moorings bus to the airport at 6:45am. Boarded our 7:50 BVI Air flight to San Juan, arriving at 8:30. With a long layover, we decided to take a cab (Jim's Van) into Old San Juan. Hot and humid, we went to Eddie's Coffee Shop by the ship terminal for coffee and rolls. Ran into a "U.S. Info Services" guide, which was a little strange, but he got us on a free bus and told us how to get around. Ed and I went to El Morro, the old Spanish fort, and then met the rest of the group for shopping. Best deals at Ralph Lauren Polo store! Good lunch and drinks at Ambrosia, an Italian restaurant.
Jim's Van picked us up as promised, though John and Bridget cut it really close. Back at airport, our Delta flight got us to Atlanta, where all flights were delayed due to an Eastern wheels-up landing and hail storms. We finally got a new plane after ours was cancelled and the crew finally arrived from FT. Lauderdale. Left about 7 hrs late, arriving at LAX about 12:30am. Baggage was slow, but it all arrived and we finally got home and to bed about 2:30am. Whew!