British Virgin Islands – September, 1996


Looks Like 4th Time's The Charm



by Eric (Wind Scoop) Anderson



BVI - IV
PORTS OF CALL -

Tortola
Norman Island
Cooper Island
Virgin Gorda
Marina Cay
Guana Island
Cane Garden Bay
Sandy Spit
Jost Van Dyke
West End
Peter Island




(Log notes on a 4th trip to the British Virgin Islands for some bareboat sailing - the term applied to sailing a chartered boat without its owner aboard. As with the '92 trip, the stalwart crew for this voyage is comprised of Ed, Marge, Eric, Debbie, John (our Captain) and Cindy. We charter something along the line of a 45' boat, then provision it, crew it, and sail it ourselves around the idyllic waters and islands of the BVI for a week or so. We've done three previous trips in the BVI, all with boats from the Moorings, and wouldn't try anyone else.)

I'm not sure who it was that said 'you can't go home again' - certainly not me. Because, incredible as it may seem, we actually wangled (or, more properly, E & M sponsored) yet another trip to the beautiful BVI! Beginning in 1986, we had the voyage of the Greene Flash. And, in 1988 came the voyage of the Figment II. Then in 1992, our 3rd, and heretofore greatest adventure, was the voyage of the JASDIP. Now, it seems we were preparing to embark on our 4th trip to sail the waters of the BVI aboard Pacemaker, another Beneteau 445, same as the last trip. This time though, the boat was a little older - of course, so were we! Also this time, in addition to the usual battery of cameras and camera batteries we hauled along, Ed brought along his relatively new video camera to memorialize the event. (Have you ever done hour upon hour of sea watching on video?)

Thursday, September 26th - 1996




Departure & Arrival

We'd arranged to fly from Orange County-John Wayne airport on a day-time flight, rather than taking the usual red-eye from LAX. Nevertheless, we were up at o'dark-thirty, otherwise known as 4:30 am. Marge & Ed drove to our place, and the 4 of us grabbed a 5:45am cab to the terminal. John & Cindy met us at the airport after dropping off the dogs and 9-month old daughter Kennedy, at various points along the way. Our Boeing 757 left OC at 7:05, arriving in Chicago at 12:45. From there we took a 1:45 flight to San Juan, Puerto Rico, arriving about 7:30 for our 8:30pm American Eagle flight to Beef Island. Finally arrived in the BVI at 9:15, cleared customs, picked up our Mooring-supplied shuttle ride and checked into the Mariner Inn by 10:00 pm. Whew - what a long day! Luckily, we still had time for a drink at the Mariner bar before their 10:30 closing. Ignoring the several cockroaches in and around the bar, we started to relax and get on BVI time. We took a walk out onto the dock to see our boat, Pacemaker, a Benetau 445, then retired for a quiet night - in contrast to BVI-3's regatta partying.


Friday, September 27th - Day 1




Road Town to Norman Island


Up at 7:00 the next morning, we checked out our boat in daylight, and all felt fairly alert and chipper at breakfast. We all agreed that this flying-during-the-day thing was definitely the way to go! After mostly banana pancakes all around, one of the Moorings personnel, Julian, introduced himself and let us know that we could hold an informal Captain's Meeting, since we'd already seen the orientation video and there were no other boats scheduled to cast off today.

After Julian covered the usual, "...don't do this, don't do that" stuff, John asked about visiting Anegada (a reef-based island some 15 miles NNE of Virgin Gorda. We were interested in making our first visit to this out-of-the-way island and had left our itinerary a little loose to allow for a visit.) Julian advised us that, due to the reef surrounding the island, it was off limits - unless we had either sailed there before, or would arrange to follow some other boat over and in past the reef, or hire a skipper for that particular leg of the voyage. Bummer, it was our own little "catch 22" - if they won't let you sail there, how can you get the prior experience of sailing there? Well, at least we tried.

After the orientation, John stayed for the boat check-out while the rest of us went for supplies. We walked down the road a short distance to the Rite Way market, where we were able to get most of our provisions. But, we came up a bit short and still needed some near beer, bread/buns, and liquid soap. E&M picked up the rest of the items from local Captain's "Gallery" (it's really "Galley," but being a water color artist, Ed has "gallery" on the brain!). We picked out some swim fins, a couple of wind scoops, and a some extra bags of ice, then stowed our provisions and gear, and finally collapsed in a heap in the cockpit, thoroughly exhausted. (All this activity our first day in the tropics - maybe we should take a little nap first.) We decided to eat lunch while under way, and departed about 12:45 for our first anchorage at Norman Island.

With excellent winds, we arrived well ahead of schedule and opted to continue sailing out past Norman and into the Caribbean. On the other hand, maybe Helmsperson Debbie was having too much fun. We finally doubled back about 2:30 and picked up one of the newly installed moorings in the Bight. It was a beautiful and quiet setting, just a little further North than our previous anchorages.

John had bought a cool new Quicksilver widebrim hat for this trip. And, remembering how everyone got jealous with his hat on the last trip (okay, it was only me), he had secretly bought two extra hats - one for Ed and another for me. After anchoring, he held a little impromptu ceremony, and presented us with our hats. Now, with the guys outfitted in proper headgear, everyone was eager to get over to the William Thornton, or the Willy T, as everyone prefers to call it, and check out the bar once again.

As we tied up the dinghy at the Thornton dock, we looked up to see none other than Nick, still tending bar. It's as though we never left! ("Hey, Nick, we came back! You gotta remember us - we were here 4 years ago!") Nick looked the same, but somehow the boat looked a little different to us. Nick told us the original boat sank in Hurricane Marilyn, September '95. Although they raised it the following January, it was deemed too costly to repair, so the owners just bought a different boat, outfitting it to look vaguely similar to the original.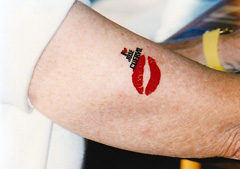 Nick supplied almost all of us with our favorite "Painkiller." However, one of us ( isn't there's always one) noticed a margarita machine churning away behind the bar, and broke with tradition by asking for one of Jimmy Buffett's "cool concoctions." It turns out Marge had the last laugh on us. Not only did she get the aforementioned margarita served in an official Jose Cuervo cactus-stemmed glass, but she got tattooed as well! Yep, Nick put a Jose Cuervo lipstick-kiss tatoo right on Mom's arm - you know, the arm where the anchor used to be before it was removed. (From here on, Cuervo was to be pronounced 'Swear-vo.') I of course inquired about gthe availability of Thornton T-shirts, but was told there weren't any XLs aboard. And, while he couldn't promise anything, Nick said to try back on Friday, as they sometimes get a delivery. We headed back to Pacemaker about 5:30, fired up the BBQ, and cranked out some hot dogs, then just relaxed. We smoked a few Cuban cigars we'd picked up at the Moorings, and reminisced about the day 'till 10:30 or so. Strong winds during the night, and some momentary heavy rains about 2:00 am.
Saturday, September 28th - Day 2
Norman Island to Cooper Island
Up at 8:30 for breakfast bars and cereal. We slipped our mooring and headed out of the Bight about 10:30. Excellent winds again today, so back out into the Caribbean we go, taking the Salt Island passage over to Cooper Island. Arrived at Cooper about 2:15 and had chicken salad sandwiches aboard for lunch. Then, ignoring the 2-hr wait before swimmin', into the water we went. John even showed us about the other use of life vests - FDLP - Floatation Devices for Lazy People.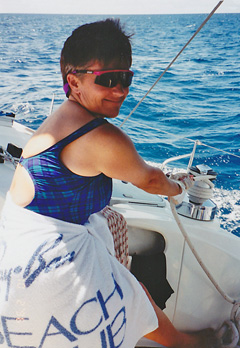 Back aboard, we showered off and got into our bar-hopping clothes for a visit to the Cooper Island Beach Club bar about 5:00. We chatted a bit with the lady bartender about the nice crop of biting bugs they've had this year (we'd already picked up some that first night at the Moorings). Then, as if right on cue, while sitting at the bar I saw an odd looking tiny critter on the stucco just under the bar itself. "That bug. He suck your blood," said one of the island locals as he pointed at the bug while handing me a can of "Off" bug spray.
Naw! I'm sure I'd have felt a bite, I thought. Nailing the bug with the tip of my topsider produced a good-sized smear of blood, both on the stucco wall and on the tip of my shoe. Hmmm. Was this my blood? Then I looked around and noticed something on the patio dining tables setup near the bar. Salt, pepper, hot sauce, and a can of Off were on each table. Guess that's got to tell you something.
We'd now been served notice by the local bugs, that we'd better be prepared to get bit. So, despite the fragrant aroma of curried-something, it appeared that any thought of eating dinner ashore would have put us in the mother of all bug battle zones. Although we had brought along various insect repellants with us (including Avon's Skin-So-Soft - which we took to calling 'Skin So Bitchin'), we figured it would be best to hit the road - or the dinghy in this case.
So, buying some T-shirts, we headed back to Pacemaker for burgers. Oops! While preparing to re-board the boat, the dinghy got a little crunched against the swimstep at the stern. I'll bet a little sail tape will fix that! The mostly tired bunch retired by 10:30; the mostly retired bunch weren't tired by 10:30. It was a good sailing day with the winds very good to great.
Sunday, September 29th - Day 3
Cooper Island to Marina Cay to Guana Island
Slipped our mooring at Cooper Island about 10:30 for the short trip to Marina Cay, just off Beef Island. Saw a sea turtle as we approached our mooring. Arrived about 12:30, and went ashore for lunch at the new Pusser's Landing. Very nice place with one of the best, if not the best views in the BVI.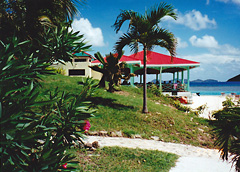 In an apparent promotions gimmick, Marina Cay recently christened itself "The Republic of Cuervo Gold," so we were hoping to score a few T-shirts emblazoned with the logo. Unfortunately, there were none to be had - we were a couple of months too late. We did have a delicious lunch though - even got a couple of drinks (Painkillers) compliments of an slowdown in service due to an "accident" in the kitchen (probably chasing some Jerk Chicken around for my sandwich). Deb noticed a wall poster advertising a Pusser's Pennant that could be had for ordering a Pusser's Painkiller at three of any of their four BVI restaurant/bar locations. They call it the Pusser's Triangle. Triangle, huh. You mean we have to go to three Pusser's? Well, now there was a challenge that we could rise to.
Now running low on bread in our own little commisary, Marge managed to locate a loaf at the Pusser's gift shop. We took a last photo opp, and then headed back to the boat for a little snorkeling expedition. Taking the dinghy over to a shallow area by Camanoe Island, we found a really good fish spotting area.
Back to boat about 3:45, we motored over to our intended overnight anchorage at Monkey Point on Guana Island. A closer look at the anchorage raised some concern that we might be wrong about this being an overnight anchorage. Judging by the color of the moorings, it appeared to be for day anchorage only. With the sun dropping rapidly, we rounded the Point, headed 1/2 mile North and put into White Bay for the night. Payed out lots of rode on the anchor, and BBQ'd hot dogs. There was a nice looking house ashore, along with a private dock and several private moorings. Over to the South on the back side of Tortola was some sort of prison or something. At least it appeared to be all fenced in. Maybe it was just a net to keep in the errant golf balls or tennis balls from going into the sea. We never did figure it out.
As darkness fell, we fed some odd-looking florescent fish off the window sill...er, transom. Any question we had as to why they call this Guana Island was soon answered. Bats kept dive-bombing the food that was being thrown into the water for the 75-watt fish. Ed tried to convince us that they were just birds. Uh-huh, rat-birds. Finally, all to bed about 10:00 to a night of odd noises, winds, and currents.
Monday, September 30th - Day 4
Guana Is
land
to Cane Garden Bay to Sandy Spit to Little Harbor, JVD
Up at 8:15 for a quick breakfast of B-bars. John winched up anchor (this turned out to be a piece of cake. Well, that's just great! Now, Ed and I were out of a job) and with very light winds, we motored over to Cane Garden Bay. Arrived about 12:15 to only one other boat in the harbor. Took our usual "team" picture, lunched aboard with snacks and jerky, then "surfed" the dinghy ashore to a small shorebreak. Cindy got a little wet, but at least we all survived! Beached the dinghy, and browsed the only open store, located behind Stanley's Beach Bar. Bought a T-shirt and some more supplies, then pushed/carried the dinghy back to the water.
Back aboard, we motored Pacemaker over to Sandy Spit for some snorkeling. Arrived about 3:00, and snorkeled ashore (Ed rock-surfed a bit on this one). Funny, it looks so inviting from the boat, but when you get there, there isn't a heck of a lot to look at.
Swam back to the boat about 4:00, and motored the short distance over to Little Harbor, Jost Van Dyke. We grabbed a mooring, and sat back to wait for someone from each of the three restaurants to dinghy out with their menus. Time passed...and...nothing! This was really unusual. Generally, each restaurant sends out a dinghy to solicit dinner business from the boats anchored in the bay.
Well, with nobody knocking on our door, our intrepid trio of guys set out to Abe's to see what was happening there. We'd heard good things about Abe's (well, at least we heard loud crowds at Abe's), and had promised ourselves to give it first call. We tied up, and walked inside to pick up a menu. They seemed friendly enough, but we were told if we wanted dinner we needed call for a reservation. Sh-yeah! Were's the big crowd, Abe? Reservation indeed. Abe's wasn't offering us any deals either, not even a complementary dinner for the Captain.
So, across the harbor we went, over to Sidney's for his menu. (On our way back from Abe's, we noticed a dinghy heading over to our boat from Sidney's. AhHa! So they did come crawling dinghing over to us to ask us to eat at Sidney's. Nope, it was just Sidney Junior offering a trash pickup. Surprisingly to us, while talking to us he left a Conch shell on the deck of our boat. Wow! Deb thought she had hit paydirt. But, once we got ashore, Sidney Jr. remembered that he'd left the shell by accident and would be back in the morning for it.)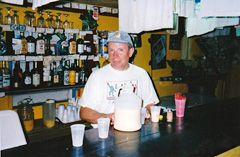 Arriving at Sidney's dock, Mrs. Sidney was only to happy to give us a menu and remind us that "...at Sidney's Peace and Love, the Captain eats for free." Looking over both menus back on our boat, we could see that Sidney's and Abe's were priced about the same, except for the complimentary meal at Sidney's for the Captain. Seemed like a no-brainer. We figured we'd had a great time the last time we were in town, plus, we wanted to check out the T-shirt that we'd hung up in '92. And besides, the Captain eats for free!
After lathering up with Skin-So-Bitchin', the Captain and crew headed for Sidney's. After a few rounds of happy-hour Painkillers we ordered our usual: lobsters all around. Meanwhile, we browsed through all the hanging T-shirts, looking for the one we'd nailed up in '92. But, we we're having a lot of success. The dinner of lobsters, potato salad, cole slaw, and green salad was just plain delicious.
After dinner we started the search for our old shirt in earnest. We think we finally found it - at least Ed had located one with the right logo on the shirt - but, it didn't have any writing. There had been more than a couple of hurricanes since our last visit, and it looked as though all the writing had just faded out over the years. Undaunted, Ed re-lettered the shirt.
Tuesday, October 1st - Day 5
Little Harbor, JVD to West End to Great Harbor, JVD
Up at 8:30 for B-bar breakfast, and departed for West End about 10:30, and arrived about 11:20 at a mooring. Going forward with the pole, I grabbed the mooring painter and prepared to cleat the line. Unfortunately, we were still moving through the water a little too fast, and I probably should have released the painter before it either snatched the pole from me or pulled me into the water. John suggested I quickly move aft with the pole, so he could try to cleat the line at the rear of the boat. Success. The line was cleated.
Suddenly, things started going wrong. First we jibed (not good in this case). While John tried to steady the boom, he told me to bring in the mainsheet. Mainsheet? I didn't see any mainsheet. I know it used to be right there. "Forget it - it's gone," says John. Gone? That didn't sound so good to me. Quickly, we dropped the mainsail and started what turned out to be a 45 minute process of re-threading the mainsheet, which, when we jibed, had pulled through the springlok clamp and travelled forward under the deck panels, and all the way up to the vang at the foot of the mast. Worst of all, John lost one of his sandals overboard. (Marge continued to look for that sandal throughout the rest of the trip - she even had the plane circle the islands as we left the BVI.)
We removed a few pieces of deck panel attempting to gain access to the roller guides so we could re-thread the line, but no luck. Then John had a brainstorm. He used one of the braided metal lifelines as a probe, and taped the line to it in order to push the line the 6'-8' or so through the hidden area. Success! Whew!
Finally done, we went ashore for some lunch and much needed Painkillers at Pusser's. This visit also allowed us to pick up our 2nd stamp toward the Pusser's Triangle Pennant. Afterward, we browsed through a few stores, picked up some provisions, and headed back to Pacemaker. Heading out, we sailed by lots of wrecks and derelict ships left over from hurricane Marilyn the year before. Our destination was Great Harbor, JVD for an overnight anchorage and dinner ashore at Foxy's.
After anchoring, the guys headed for Foxy's to check out the menu. Bummer, the bar was open, but the restaurant was closed until October 30th. The gift shop was closed too, so we couldn't even check out T-shirts. Now, what were we going to do for dinner? Hey, what about those beef and bean burritos? Yeah, that would make us all feel better. Later, we tried chumming for fish off the stern, but no luck. To bed about 9:45.
Wednesday, October 2nd- Day 6
Great Harbor, JVD to St. John to Norman Is.
Up at 7:30 for an early start on what will be our longest sail - around St. John, and over to Norman Island. Quick breakfast and set off about 9:20. Made good time getting to Cruz Bay on St. John, took a parade lap around the harbor with lucky me at the helm, then continued around the island and tacked back up toward Norman Island. By 4:30, with light winds and still several miles off the West coast of Norman, we finally decided to motor into the Bight. Anchor or moor? Heck, with the great anchoring gear on this boat, why spend Painkiller money on mooring fees?
Headed over to Willy T for Painkillers. Also hoping that the T-shirt supply had been restocked, but, no such luck. While there, the White Squall II sailed in and anchored nearby. (This was a daysail schooner built in Sydney, Australia in 1936. Marge & Ed had taken a day cruise during their trip to the BVI last Winter.) With no passengers aboard, the Captain and mate came aboard the Wm. Thornton to hoist a few.
After a few drinks, we checked out the menu. Having never eaten here, we thought it was about time. So, the kids decided to treat Mom & Dad to dinner. The shift bartender, Kevin, said he could have dinner ready for us at 7:00. So, we headed back to Pacemaker about 6:00 to dude-up.
Then, back to the Thornton for delicious dinners of roti, mahi-mahi, and shrimp creole. We even tried some of the local hot sauces, which nearly knocked off both the Captain and my anchor mate. (Too bad they're not Cajun, like some people!) This was, however, some major league hot sauce, and it seemed that the chutney was the only thing that could cool the heat. We bought some souvenirs, and Deb got a T-shirt. I was still bummed that the XLs didn't come in, but resolutely refused to buy an L. After almost too much fun, we headed back to Pacemaker about 8:45, and finally to bed at 10:30.
Thursday, October 3rd- Day 7
Norman Is. to Peter Is.
Up about 8:30, after very windy night and morning. (As it turns out, the wind scoops probably weren't necessary during most of the trip. When the wind really starts up, it turns the berths into wind tunnels. Besides, some people can't seem to get them tied down quickly or properly.) After Deb made her morning appearance in a new Willy T T-shirt, I had second thoughts about not having bought one. So, after the nagging of the crew became too much for me (I was doing them all a favor), Ed and I dinghy'd back over to the Thornton to get an "L" shirt.
With the crew finally quieted down, we departed anchorage about 11:30 for the nearby "Indians," an outcropping of pinnacles near Pelican Island that rise from the sea to provide excellent snorkeling and diving opportunities. With light winds again, we motored over, secured a day mooring, and Deb and the guys went in to check it out. Back aboard for a brief lunch of quesadillas, and then all of us took to the water to see the sights.
Overall, we had some great snorkeling, with sightings of a few jellies and lots of fish. Ed even had a thong swim right past his face! Finally, back to boat and headed out for Deadman's Bay on Peter Island about 3:30.
Arrived about 4:15, anchored, and Marge, Ed and I went ashore to explore and check on T-shirts and provisions. We noticed the beach bar/restaurant was open, but wasn't doing any business. We hiked up to the resort, but truck out on the T-shirts too (they never seem to have any of the cool shirts left in XL by this time of year). Marge was able to talk the desk clerk at the resort into selling her a pint of milk. Back to the boat. Since we'd really expected to eat ashore more often, the supplies were dwindling a bit, so pot luck became the bill of fare that evening.
Friday, October 4th - Last Day
Peter Is. to Tortola
Up at 7:30 to pack (although some had already done this the night before) and spiff up the boat a bit. Took a few more photos of everybody and Finally departed Deadman's about 10:20, for the last leg to Road Town. Slow sail, since the winds have died down a bit. We also had to thread our way through the regatta ('Anegada re-gatta, baby') of airline folks. Also sailed past a big cruise ship that was docked at the Customs House, finally arriving at the Moorings about 11:40, and disebarked with our stuff as well as some of the provisions. E & M's room was ready for occupancy, so we all dropped our stuff there until the other rooms were available. Had lunch at the Moorings and poked around the gift shops for awhile.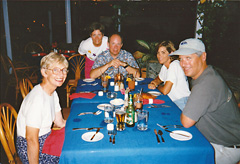 Then freshened up a bit and headed for town. Took a cab to Pusser's for the 3rd stop of our Pusser's Triangle and we each got our pennants. What a mob scene! Intending to make a dinner reservation, we found out they'd shut down the upstairs restaurant. Okay, so we looked for another little place that Ed & Marge had found on a recent trip. No luck there either; that restaurant was closed for refurbishing. Man, they're killing us with these restaurant closures. Checked out the tent bazaar across the street from Pusser's. It seemed a bit tacky, probably having been set up primarily to entertain passengers from the newly arriving cruise ships. There goes the BVI!
After a little T-shirt shopping, Deb and Eric stopped at a liquor store to pick up some Cuban cigars and Pusser's rum (cheaper than the Pusser's Company Store). In making our way back to the main street, I tripped over a really tall porch stoop, falling down on the concrete and tile walkway with the bag containing two bottles of rum and the cigars. Ugly scene. One of the bottles broke, and I got cut a bit. Broken, but unbowed, we headed over to Sunny Caribbee, the spice store that was largely responsible for the local hot sauces. Grabbed a few items, and went in search of a cab for return to Moorings. Who should pull up but the "Gill's Taxi," and the same guy that brought us back from our provisioning trip at the Rite Way the week before.
Arrived back at Moorings about 5:45, we checked into our rooms, and met at 6:30 for our "free rum punch." About 7:15, moved over to the restaurant for dinners of grouper, garlic chicken, jerk chicken, and lobster. Did a little walkabout, then back to the rooms about 8:40. Early to bed for 1st night back on land, and last night in the BVI.
Saturday, October 5th - 1996
Departure
Up at 6:45 for 8:00 breakfast at the Moorings. Usual banana pancakes all around. We did a final shopping flurry (Gourmet "Gallery," Underwater Safaris, Moorings gift shop) and checked out of rooms at 11:00. Said goodbye to the Moorings, and grabbed our cab ride to Beef Island airport at 11:15, where we waited 90 or so minutes for our 1:30 departure time. Whew! It was swelter city in the small non-air conditioned terminal - which wasn't helped at all by some people wearing sweaters. Finally boarded the American Eagle flight to San Juan, and departed on time.
From the plane window, Ed got some great video of Marina Cay and JVD, and Marge thought she saw John's sandal. From a vantage point on the other side of the plane, Deb and I got a great view of Anegada.
Arrived San Juan, and cleared Customs with no problems. (Oops, somehow, I must've accidently brought some Cuban stogies back with me.) We grabbed a bite to eat and roamed around the terminal while waiting for our flight to Dallas/Ft. Worth. Picking up our connecting flight proved close, and we had to rush to gate for our 5:15 departure for trip back to Orange County. Arrived back about 10:45, got a cab, and headed home.
What a stellar trip! Sailing conditions probably couldn't have been better. We had good weather and strong winds most of the voyage. And, when the wind did die out, it was right around the time we wanted to do some snorkeling anyway. The Marina Cay Pusser's was a great stop, all of our meals were terrific, and, except for me, no one ever became a problem to the others.
Undoubtedly, this was the best and most relaxing trip we've had to the BVI. Thanks Mom & Dad, we had a great time! When do we go back?