British Virgin Islands – October, 1992
BVI3 - Something For Everyone

by Eric (

Swab

) Anderson




BVI - III
PORTS OF CALL -
Tortola
Norman Island
Cooper Island
Virgin Gorda
Marina Cay
Guana Island
Jost Van Dyke
Peter Island
(Log notes on a 3rd trip to the British Virgin Islands for some bareboat sailing. Our crew on this trip: Ed, Marge, Eric, Debbie, John and fiancee Cindy. For those unaware, Bareboat Sailing is the term applied to sailing a chartered boat without the owner aboard. Basically, we charter about a 45' boat, then provision it and crew and sail it ourselves around the idyllic waters and islands of the BVI for a week or so. We've taken two previous trips here, each with Moorings boats, and we wouldn't try anyone else. So, on with the story.)
Call me Fishmeal Ishmael. Okay, time to get nautical. Ah yes, the shrouds, winches, guys, travelers, sheets, fairleads, the smell of the open ocean... all that stuff! Our BVI adventures began in 1986 with the voyage of the Greene Flash. Then, came the '88 voyage of the Figment II. Now, we were embarking on our 3rd and potentially greatest adventure of them all, the voyage of the... JASDIP! The what! The JASDIP? What the heck kind of name is that, we wondered? We had called ahead to check on the boat name so we could order crew T-shirts for the voyage, emblazoned with the name of the boat. But, how could we possibly put a name like JASDIP on our shirts? (These yachts are all named by their owners, and this seemed like just too much of an inside joke or something.) Well, Ed and John went ahead and had crew T-shirts made anyway...only without the boat's name. Unfortunately, I procrastinated, and Deb and I had no team shirt at all.
Monday, Oct 12, 1992
Departure
Columbus Day! Now, that seemed like a fitting day to set off on a Caribbean sea adventure. Everyone assembled at our house, and after a champagne toast, we boarded a Super Shuttle ($69) at 9:10 pm sharp, and headed to the LAX for our red-eye flight. Arriving LAX at 10:00 pm, we were quite a bit early for our 12:10 am flight. Scheduled arrival in Atlanta was 7:10 am (4-hr flight plus 3-hr time change); then a 3-hr layover, before we leave for St. Thomas at 10:10 am. (There are a couple of ways to get to the BVI - by sea from St. Thomas, USVI; or by air out of Puerto Rico. We'd been both ways before, but decided to go thru St. Thomas again for the sake of our newest crew member, Cindy, who hadn't been there before.)
Tuesday, Oct 13th - Day 1
Arrival - BVI
Arrived in Atlanta about 7:15 am, after little or no sleep for most of us (how does one sleep on a plane, anyway?). We freshened up and grabbed a bit of breakfast during the 3-hr layover. Left Atlanta at 10:15 on the "Arctic Express" for St. Thomas (boy, they keep this flight c-c-c-old), arriving about 1:45 pm. Funny, as soon as you step out the door, the humidity throws a big fog-up on your glasses.
Looks like they've built a new modern terminal since the last time we'd come through St. Thomas in '86. It's nice, but I sure do miss all the goats, chickens, broken-down DC3s, etc? What's happened to all that rural ambiance?
From the airport, we took a wild cab ride to the ferry landing in Charlotte Amalie, where we ran into the usual bidding war (argument) between ferry operators for our biz. Looks like Bomba Charger (re-named Smith's) is still in business. Comparing the timetables, we finally bought tix for the Native Son ($17 one way - $30 R/T). With a couple of hours to kill until the ferry departed, Ed, Marge, John, and I walked over to the shopping district, and just browsed about.
Finally boarded the 4:45 ferry to Tortola. After clearing Customs at West End, we arrived in Road Town about 6:00, where the Moorings van met us. Arrived at the Moorings' Mariner Inn about 6:15pm. At check-in, were informed that Mariner Inn restaurant was hosting the final day/night of Interline Regatta, and dinner was thus $35 - buffet only. Not quite what we were looking for, so we went down the road a mile of so to the Treasure Isle Hotel (now a part of the Moorings' holdings) for dinner. Nice place!
Walked back to Mariner Inn to settle down for a nice quiet night's sleep before our next day's sailing vacation was to begin. NOT!! It turns out there was a regatta in town, and although the crews stay at many different places in town, it seemed to us that the Mariner Inn was Party Central! Those Interline Regatta folks were ANIMALS!! And, they just partied on and on and on. About 2:00AM, one discovered what a fabulous noise his/her air horn would make. It didn't take long for them to turn the party into dueling air horns. Ahh, the peaceful tropics.
Wednesday, Oct 14th - Day 2
Tortola to Norman Is.
Up for a 7:30 breakfast at Mariner Inn (great banana pancakes!). We checked out the Moorings gift shop (where Ed made a major kill - a 2 inch cockroach!), then our three guys went off to the 9:15 Captain's meeting. This is where each captain and crew receive final instructions and information about all the do's and don'ts before departing. (This time out, we'd chartered a Beneteau 445 which they've just added to their fleet. This is one cool boat - something racy yet very plush and refined.)
The Captain's meeting turned out to be a major Revelation to us! As they were reading off the list of boat assignments, they came to JASDIP. We were informed, just in case we didn't already know, that our boat's name, JASDIP, was an acronym for Just Another Shitty Day In Paradise!!! Awwwk! What? -- Seriously! How could we have been so clueless on this? Plus, we also found out that JASDIP was a brand new boat, and had been taken out only once or twice before. And we passed on shirts! When we called ahead to get the name to make up our team shirts, we thought the name stunk! But now, it was the coolest name imaginable.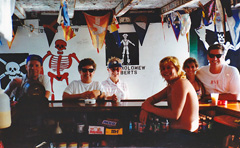 After the meeting, the whole crew went off to the local Rite Way market for provisions. Less than two minutes into the place, the market had a power failure (fairly common in the islands), and, they passed out flashlights to the shoppers. 15 minutes later the power came back on (it might have taken quite some time to do this shopping with a flashlight!). Unfortunately, they had no "box" wine for sale. Some $242 later, we carted our provisions in an abandoned Moorings cart (we hope) down the two-lane main road and back to the boat, dodging cars along the way (not recommended). Back at dockside, we loaded the boat, grabbed our fins from their big chest of flippers, along with some wind scoops (no-charge), and just relaxed a bit before finally departing for the Bight about 1:00 pm.
Smooth sail over to Norman Island (usually is), with a little helm-time for everybody. Arrived at the Bight about 3:15. Anchored fairly close to shore, dropping 2 hooks off bow. Belayed visit to the Caves, and instead dinghy'd over to the Wm. Thornton, a bar & restaurant anchored in the Bight, for some rum Painkillers. Our bartender, Nick (from England), was a fabulous host, and we had a ball. Got a nice view up topside, and just kicked back a bit, as we pondered how nice it was to only be starting our week of cruising. What a great place! Back to JASDIP for quick dip and then burger BBQ in semi darkness at 5:45 (sure gets dark early out here). Bunk time about 10-ish.
Thursday, Oct 15th - Day 3
Norman Is. to Cooper Is.
Up late about 9:30. Had a Corn Flake breakfast, then dinghy'd over to the Norman Caves. Arrived back to find a 4-master, The Flying Star, out of Luxemburg (sic), just arriving to anchoring in the Bight. Finally departed Norman Island for an outside passage to Cooper Island about Noon.
This was a great sail, and we were close hauled on port tack most of the way. Most of us took turns at the wheel, and we just had a blast (as if that was hard!) all the way over. Arrived Cooper Island about 4:00, picked up a mooring ($15) and went ashore to their nifty beach bar.
After a round of Painkillers, the fabulous aromas of curried-something, and a short photo opp we dinghy'd back to JASDIP for another burger BBQ. John made a pitcher of "house specials," and light rain fell during the evening. Cooper has some weird currents, so as usual, our boat pulled its usual 180-degree drift during the night.
Friday, Oct 16th - Day 4
Cooper Is. to Virgin Gorda
Up at 7:30-8:00 for a quick breakfast. Put a single reef in mainsail, and left Cooper Island for Virgin Gorda about 10:00. Arrived at the Baths at 11:30. Moorings are now available, rather than everyone having to anchor (they may have always been here, but if so, there were far too few of them). Most of the party dinghy'd ashore (Deb stayed aboard). Good shore conditions to land the dinghy this time (we'd actually swamped the dingy in '88 due to shore break). That said, there was quite a obstacle field of snorkelers as we moved in closer to the beach.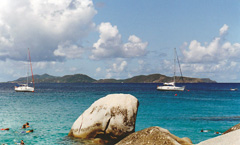 It looks as though the Baths have gone more commercial. The place was complete with T-shirt vendors right on beach (it's gotten kind of touristy - probably all a part of the Nat'l Park Systemization). Also saw an enterprising fellow selling Conch shells. After walking around the beach, we checked out the pools and grottoes, then headed back to the boat for a lunch of chicken salad sandwiches. Finally jibed out under sail about 1:30pm for Virgin Gorda's North Gorda Sound.
Arrived at Bitter End about 3:30 and picked up mooring under sail (for us casual sailors, this is really cool). Went ashore for light provisions. Whoa! $4.60 for Chips Ahoy! 4 bucks for ice! I wonder how the locals afford to eat around here. John made yet another pitcher of "house specials" for happy hour, then we settled down to a dinner of beef & bean burritos...brought in at great expense from California, no less (wonder what else Marge has packed!).
After dark, we fed fish off the stern; mostly small frys plus a few jellyfish. However, our flashlight activities did manage to draw out a bat from some local...uh...bat cave. Another squall hit; we're getting this about once a day/night now. It dumped on us off and on during the night. This is a pain in the neck, because you've got to keep closing the hatch over your head each time the rain starts, and open it up again for ventilation after the rain stops. (Does this sound like whining?)
Saturday, Oct 17th - Day 5
Virgin Gorda to Marina Cay via Spanish Town
After a rain-filled night, everyone up about 6:30-7:30AM. Ashore again (Marge stayed aboard) for a T-shirt hunt (our 1st buy). As we tied up at the dock at Bitter End Yacht Club, we were hailed by some other guests ashore. They noticed my UCI hat and told us they were from Newport Beach! (Amazing. You go half way around the world, and you bump into a next door neighbor!) Left BEYC and North Gorda Sound for a trip to Spanish Town/Virgin Gorda Yacht Harbour.
While sailing, Ed and I usually try to put out in the dingy in order to take pix of our boat under sail. We were able to take our JASDIP photo opp just out of North Sound, between Mosquito and Prickly Pear Islands. Unfortunately, the wind was a little lighter than we'd have liked, but we're hoping to have some decent pictures anyway. After we shot a few rolls, Ed and I reboarded and we continued heading south about 11:30am.
Arrived VG Yacht Harbour at 1:30. There were lots of slips available for temporary docking, but we had kind of a hairy time actually "slipping" into one. Although we'd dropped sails and were motoring into the harbor, the wind continually blew us off the mark and we had a hell of a time - plus, we were in some tight quarters as well. I guess it seemed especially tough when you're used to anchoring or grabbing a mooring with plenty of room to maneuver. Finally docked (no-charge for 1st hr; $5/hr thereafter) and most of us went ashore (John stayed aboard) for provisions and the usual T-shirt hunt. This was a very clean and beautiful harbor, and there were lots of shops ashore. We probably could have spent more time there, but many stores close for the day at 12:30 on Saturdays, plus Marina Cay was calling our name with its promise of a great lobster dinner.
Finally left VGYC at 3:30. After a really ugly beam reach (6 miles/90 minutes) we arrived at Marina Cay, to our first major dining disappointment! The restaurant was closed and not due to re-open until Nov 1. What a bummer. We had counted on Marina Cay for our first meal ashore, so we had to go for the only recognized substitute for a lobster dinner - imported beef & bean burritos (actually, they're burros). Second disappointment - this place was bug city! Apparently, the way things work here in the insect world, is that it's up to the flies to conduct all the daylight assaults, followed by major mosquito bombing runs throught the evening and into the night! Luckily it didn't last forever. And, we did get to see a fabulous lightning show over Virgin Gorda that lasted for hours!
Sunday, Oct 18th - Day 6
Marina Cay to Jost van Dyke
Quick breakfast on board, then left Marina Cay at 10:00 for Jost Van Dyke via Sandy Cay. Took inside passage between Guana Island and Tortola. John did a Gennaker set, and we flew it until we lost wind off Tortola at Rough Pt. (Lots of dolphins were crossing our bow.) We'd planned a lunch stop at a beautiful beach on a small cay off JVD. In fact, we had some heavy "discussion" about whether the correct name for this particular beach was actually Sandy Cay or Green Cay. It turns out the place we had in mind was actually called "Sandy Spit," just off Green Cay. I claimed partial credit for the "Sandy" part, and graciously gave John credit for its [distant] proximity to Green Cay. We arrived at Sandy Spit and anchored at 12:45. Lunched, then snorkeled ashore.
The reefs are breaking up around here and all around the BVI. Reason appears to be unknown - or at least no one's talking on record. We swam back to the boat, and cast off for Little Harbour at 3:00, arriving at 3:30. The guys dinghy'd ashore for menus from both Sydney's and Harris's. Not sure where to go first, we split the difference and were taking a line right between them both. As we got closer, a lone seated figure at each of the restaurants simultaneously stood-up, moved quickly to dockside, and began hailing us to their respective docks. Hmmm, what to do? Decided to dock at Sydney's first, and hit Harris's next. After Sydney offered us inducements like: the captain eats free, and happy hour drinks at the no-host bar, we didn't even bother to check out Harris'.
We'd been asked by the remainder of the crew to get menus for both places. So, we sheepishly headed back to JASDIP and explained that Sydney had adopted us, and we were expected for drinks at 5:00 and dinner at 6:00. So, we freshened up and headed back to Sydney's for happy hour. What a place!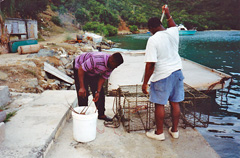 We did our own bartending, and aside from hanging up one of our T-shirts in the collection, we mostly just sat around chatting with Sydney. Come dinner time, Sydney fixed our lobsters himself ($25). Grabbing each of the crustaceans from a small cage under the nearby dock, he tossed them into a bucket and walked down the beach to a waiting pot on his open pit fire. Meanwhile, other boats started arriving in the harbor and people started showing up and the place got to jumpin'. All this, while Harris's sat nearly empty throughout the evening. Guess we picked the right place. (It turns out that in addition to being competitors, Sydney and Harris aren't the best of buddies, as Sydney explained to us later.) Had a great time chatting with strangers, and we met some nice people from Pensacola and from Annapolis.
We were wondering, and asked, "Hey, what time do 'ya close, Sydney?" "When everyone leaves, mon!" It had been a tiring day, so we headed back to JASDIP about 8:30. Back aboard, the afternoon's flies were replaced by the evening's mosquitoes. Ashore, it looked as though our departure must have signaled a breakup of the party. (Funny, we seemed to have started the party, too! Maybe everyone missed us. Whatever it was, we attracted a lot of people. Come to think of it, we attracted a lot of mosquitoes, too! What would have happened if we'd gone to Harris'?) We might have made his day. Harris's lights went out at 9:00; Sydney's at 9:15. Abe's restaurant across the other side of the harbor, is reported to be great. (Maybe next time?)
Monday, Oct 19th - Day 7
Little Harbor, JVD to Great Harbor, JVD via Cane Garden Bay
Motored out of Little Harbour for a day stop at Cane Garden Bay, back on Tortola...winds too light to sail. Picked up a mooring (you gotta pay for these - we're getting lazy), and we all went ashore to look for provisions and still another T-shirt hunt. Bought a shirt or two at Stanley's. They didn't have any bread, and it was too far to carry water, so we decided to wait for next anchorage to get more provisions. (Notice how it's "groceries" when you're home, but "provisions" when you're sailing.) Back aboard for lunch. Light rain off and on during the afternoon.
We motored back to JVD, and anchored in Great Harbour (had to reset the hook - but this was the first and only time it was necessary. What a GREAT anchor crew!)
Went ashore (Deb & Cindy stayed aboard) to Foxy's (to check out the menu and, yeah, the T-shirt selection), then to over Christine's down the beach (for baked goods), and to Rudy's (water), and finally to the Nature Basket (juice). Loaded with provisions, we headed back to JASDIP, and everyone went into the water for Ed & John's floating lessons. Provisions were now riding high, so we decided to BBQ hot dogs aboard rather than eat ashore at Foxy's. After dinner, we played a little Rummy and drank a little rummy -- all to the strains of Jimmy Buffet's Mosquito-ville. We're all getting bitten pretty good by now. (Every-body sing: "It's another mosqui-toe sunset...." Or, how about, "Why don't we git drunk, and scratch....")
Tuesday, Oct 20th - Day 8
Jost van Dyke to Peter Is. via West End
Breakfast of banana bread and coconut rolls from Christine's (a small bakery right on the beach). Then, went back to "town" for T-shirt buy at Foxy's (John & Marge stayed aboard). Motor-sailed JASDIP from Great Harbour (still light winds) to next stop at West End, Tortola. Lots of tourist-type improvements have been made here at Soper's Hole. A Pusser's and several shops made for a nice break ashore. Did lunch at Pusser's in the bar area (upstairs dining room is not opened yet). Motored out of West End between Great Thatch and (snicker) Margaret Thatch Islands, and into Sir Francis Drake Channel toward Peter Island.
With a little bit of wind puffing, we decided to go for it and abandon the iron sail for the canvas sail. Might have been able to make some progress if Ed hadn't constantly tried to sail to Nanny Cay (hey, fall off! hey, head up! hey, wake up!) Man, we got beat down with wind shifts every time we took a starboard tack. We wondered if we'd ever make it to Peter Is. (It took us 3-hrs to go 5 miles). Finally, Capt'n Ron John, came to our rescue (guess he couldn't stand to see his crew floundering so badly). After a thorough sail re-trimming, followed by a gennaker set, he got us headed up smartly. Good thing too, 'cause it was getting dark fast. As we approached Peter Is., Deadman's looked to be filled with masts, but the boats were streaming out of the anchorage in lines, and headed back to the Moorings. It looked like we broke up some gigantic Moorings employee reefing party! We anchored in Deadman's Bay and BBQ'd our last hot dog extravaganza! We also ended up being the only boat in the anchorage...now there's a first! So far, no new bug bites, but my feet are getting a nice "X" on them from my Flojos.
Wednesday, Oct 21st- Day 9
Peter Is. to Tortola
A quickie breakfast aboard and our shore party dinghy'd in (Deb stayed aboard) to Peter Is. for photo opps and (you not gonna believe this) another T-shirt hunt. The Yacht Club looks the same. Any damage from Hurricane Hugo must have been repaired, 'cause everything looked fine. Picked up a few T-shirts, and dinghy'd back to the boat.
Left Deadman's for Moorings at 10:30 under full sail. With the boat due at Noon, we arrived dockside 11:55 (we should have driven around the block a couple of times). Looking forward to a nice lunch, but a sign on the Mariner Inn restaurant indicated it would be closed for a few days, and due to re-open later in the week (probably got damaged from all that air-horn blowing by those Interline folks!). To compensate for this inconvenience, the Moorings offered us rooms at Treasure Isle - air-conditioned rooms - with, uh...cable TV!! Of course we had to refuse this generosity. Having roughed it for a week, we couldn't have anything to do with comfy surroundings at this point. And yet, we didn't want to hurt their feelings, so we went ahead took them up on their offer.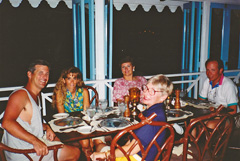 Checked into Treasure Isle Hotel, then, went back to the area behind the Moorings to check out some dry docked boats. Saw Mr. & Mrs. Big Cheese (Charlie & Ginny Cary, the Moorings owners) back at the Moorings. Once they discovered that our group was at the Treasure Isle, they apparently insisted that they be put up there as well.
We were looking forward to going into town for some shopping and dinner. But unfortunately, it was St. Ursula's Day holiday, mon! (Historical note: the Virgin Is. were named by Columbus after St. Ursula and her 1,000 virgins.) Translation: nearly everything in town was closed, restaurants being almost the only exception. After a short dip in the pool, we headed into town for dinner at Pusser's. Meanwhile, the biting continued from mosquitoes and/or no-see-ems.
Thursday, Oct 22nd - Departure
Departure
Up at 6:30 for 7:30 breakfast in Verandah room at the Mariner Inn. Hurrying, we just made our 9:00 ride to West End for the 10:30 Native Son return run to St. Thomas. (Once again, the Bomba Charger had an earlier departure time.) Arrived 11:30 at the Charlotte Amalie dock. Some of us wanted to do a little browsing in town, so we agreed to meet back at the landing for our 1:30 cab ride to airport. Had 2:50 flight back to Atlanta via San Juan. Arrived 7:50 Atlanta for 8:58 flight to LAX. Arrived 10:45 LAX, got bags, called Super Shuttle, wrestled a thief to the ground and handcuffed him (semi-true; actually it was an undercover officer that did it). We picked up our ride, and were home by midnight...others, shortly thereafter. What a trip!
About a week later, we had an after-trip-party at M&E's place and hung up all our shirts, ala Sydney's Peace and Love. Nice touch to a great trip!
JASDIP
Overnight Anchorages